Weight loss overnight oats are the best meal prep breakfast recipe. They're healthy, low calorie, easy to make, vegan, inexpensive, and so tasty! Did you know they're a great option if you want to slim down and lose weight, too?
Learn how to make cold & creamy jar of overnight oats in minutes. In the morning, you'll have a quick and satisfying make-ahead breakfast ready so you don't have to waste time and make anything from scratch.
Bonus? You can be as creative as you desire with your add-ins, this overnight oats recipe is amazingly versatile.
Weight Loss Breakfast Oats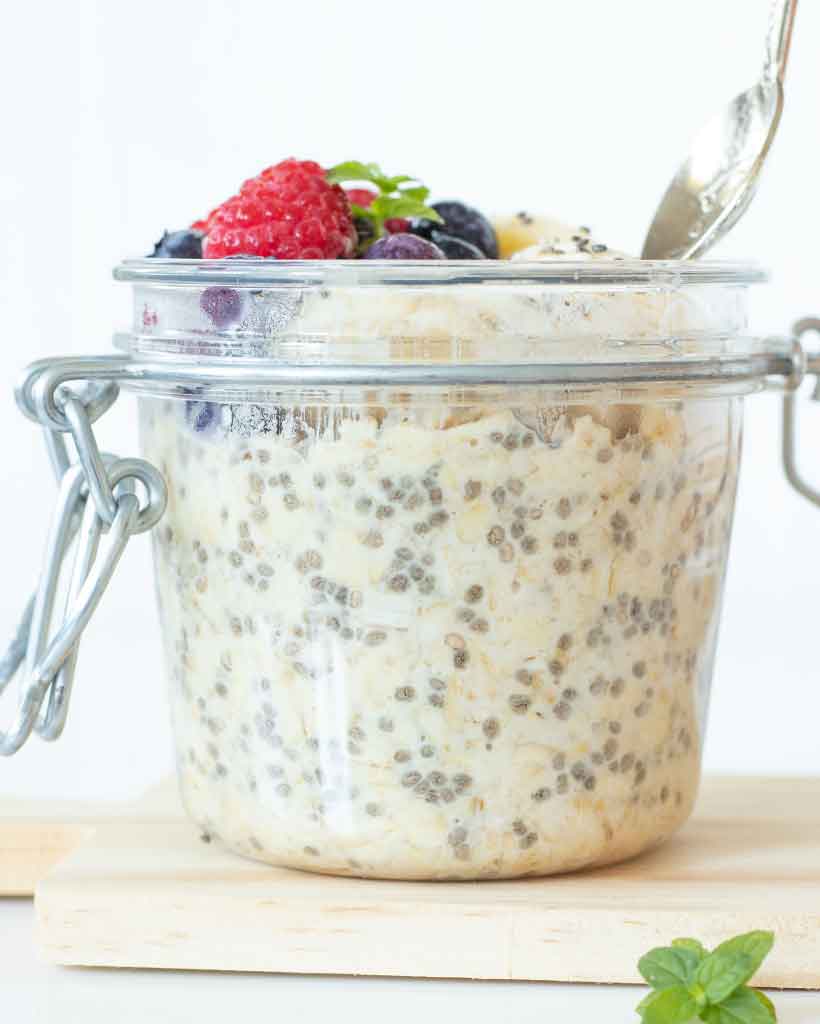 Summertime calls for fresh no-cook recipes you can make in advance and enjoy later.
In fact, they're a perfect way to simplify your morning routine, fuel your body with good-for-you ingredients, and save you some time. Besides that, this recipe for overnight oats is ideal if you love fast yet nourishing meals you can prep in advance.
Who doesn't want to get out of bed when a flavorful meal waits for you in the refrigerator?
Check out this indulgent chocolate chia pudding or this high-protein quinoa breakfast bowl for more quick breakfast ideas.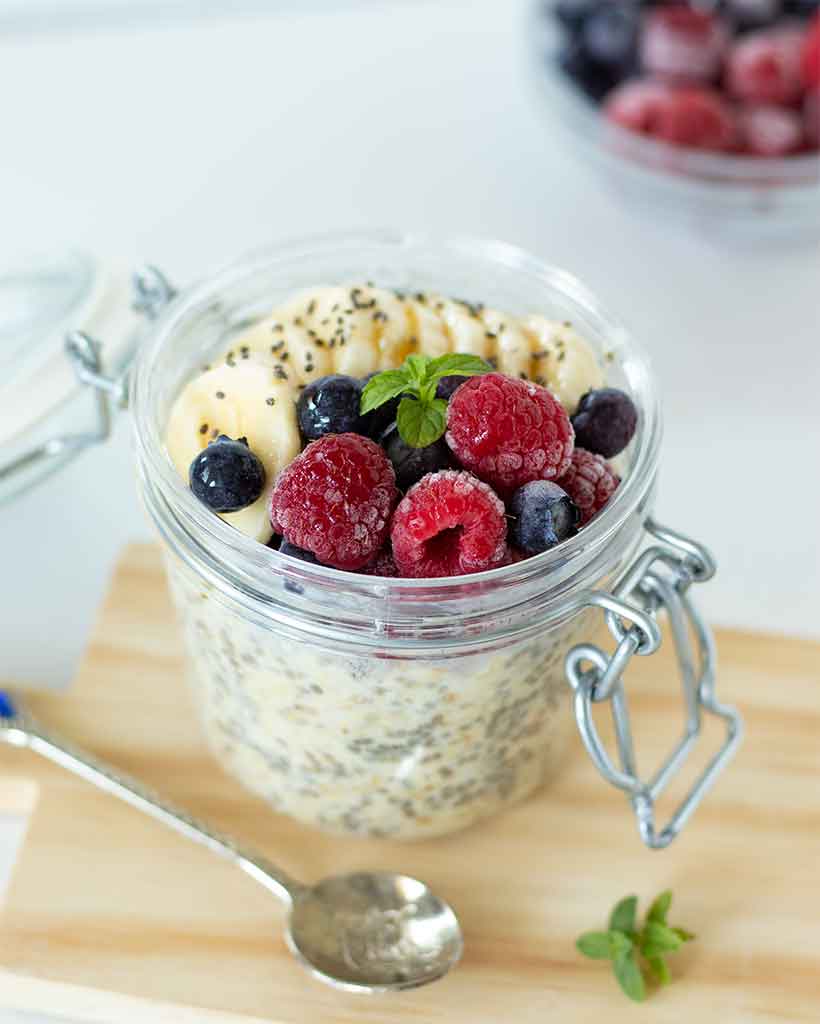 Truly, it's as simple as stirring all the ingredients in a jar, putting it in a freezer, and enjoying the next morning. Yes, that's all you need to do. No baking, no food processor, no cooking involved. Really, you can't go wrong with a light and fruity breakfast like this. Plus, it tastes like a treat while having an incredible nutritional value especially if you pair it with a yummy homemade smoothie. So good and filling, just like my kid-friendly strawberry overnight oats.
Life is so much easier and enjoyable when you have simple make-ahead recipes like this!
Weightloss Overnight Oats Ingredients
This weight-loss overnight oats recipe features a few whole foods I believe you already have in your pantry:
Old fashioned (Rolled oats)
Plant-based milk (We love to make oat milk at home, it's super affordable)
Chia seeds
Pure maple syrup
Fresh/frozen fruit of choice, nuts, seeds
As always, you can find the full recipe with a list of ingredients with measurements in a printable recipe card at the end of this post.
Time needed: 8 hours and 5 minutes.
How to make weight loss overnight oats? (step by step)

Stir everything together

In a small jar or airtight container, mix rolled oats, chia seeds, maple syrup, and oat milk (or your favorite dairy-free milk). Stir all the ingredients together until the oats are completely covered. Cover the jar with a lid.



Let it soak overnight

Transfer the jar to the fridge and let the oats soak overnight.



Top it with fruits/nuts/seeds

In the morning, stir the oats again and if the mixture is too dense add a few splashes of milk. Top it with fresh/frozen fruit of choice, nuts, or seeds you love. Drizzle with maple syrup or peanut butter to make it sweeter. Dig in and enjoy!


FAQ
Are overnight oats good for weight loss?
Yes! If you are looking for an effortless breakfast recipe that's nutrient-rich and can help you reach your weight loss goals successfully this recipe for overnight oats is just for you. Overnight soaked oats have amazing nutritional content and many health benefits. Since they are rich in fiber they can keep your stomach full for a longer period and make you feel more satiated until the next meal. At the same time, this will reduce your urge for mindless snacking. When soaked, oats become more easily digestible food that your body absorbs without problems. Resistant starch digests slowly and activates the release of digestive acids that suppress hunger and speed up the calorie burn. And if you combine it with whole foods that contain healthy fats and protein you can definitely turn it into an energy-boosting meal that can reduce your belly fat and help you lose weight naturally.
How many days ahead can you make overnight oats?
When stored in an airtight container in the refrigerator, overnight oats will last for up to 4 days.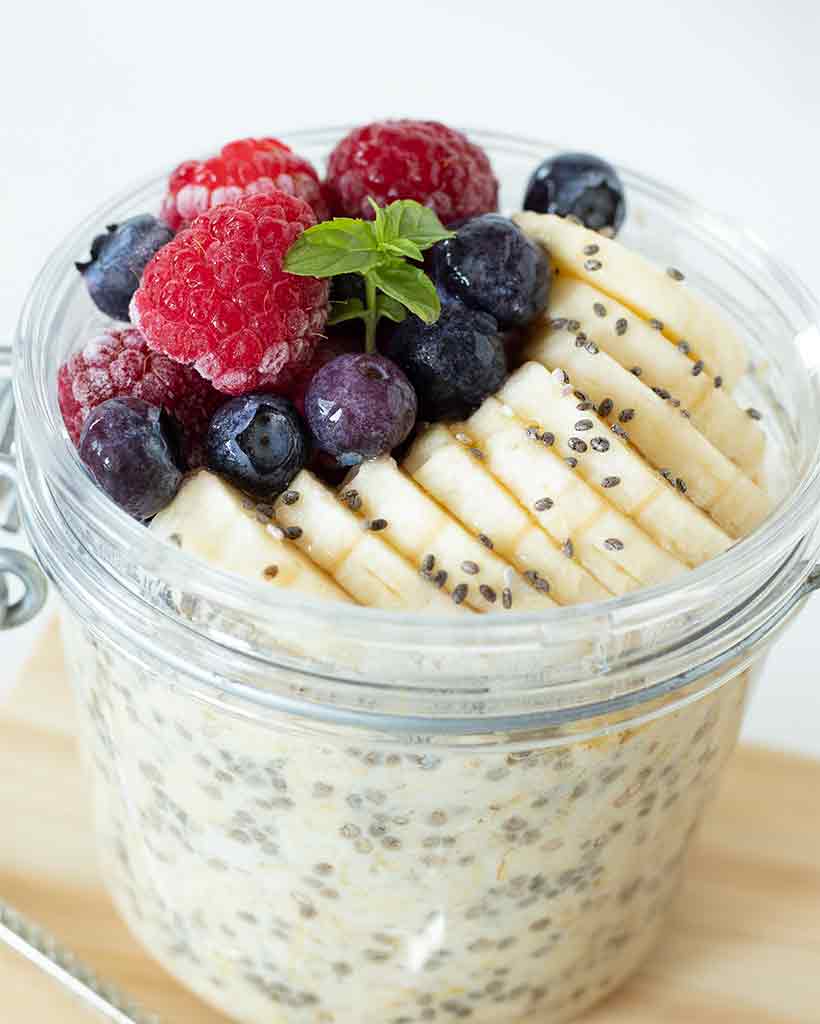 Why are my overnight oats slimy?
When you soak oats in liquid for a longer period they release starches that make the mixture slightly slimy. To achieve a thick, spoonable texture follow the 1:1 ratio of oats and milk. However, if you prefer them on a runny side add a few splashes of milk. They'll be delicious both ways.
Do overnight oats have to be rolled oats?
The best oats to use for this recipe are unsweetened/unflavored old-fashioned (rolled oats). They will get a soft texture without being too mushy. You can also use quick (instant) oats but they tend to fall apart quickly. In this way, you will get a soggy texture, so they aren't the best choice. I don't recommend steel-cut oats for this recipe.
Is it okay to have overnight oats every day?
Absolutely! It's a good habit if you eat this hearty meal every day as long as it's part of a varied well-balanced diet. Oats are one of the most nutritious whole grains on the planet. Moreover, they're an excellent source of carbs, fiber, high-quality protein, minerals, vitamins, and powerful antioxidants. They can be a great addition to a healthy well-balanced diet. Adding oats to your daily routine can have a tremendous effect on your well-being and weight loss goals.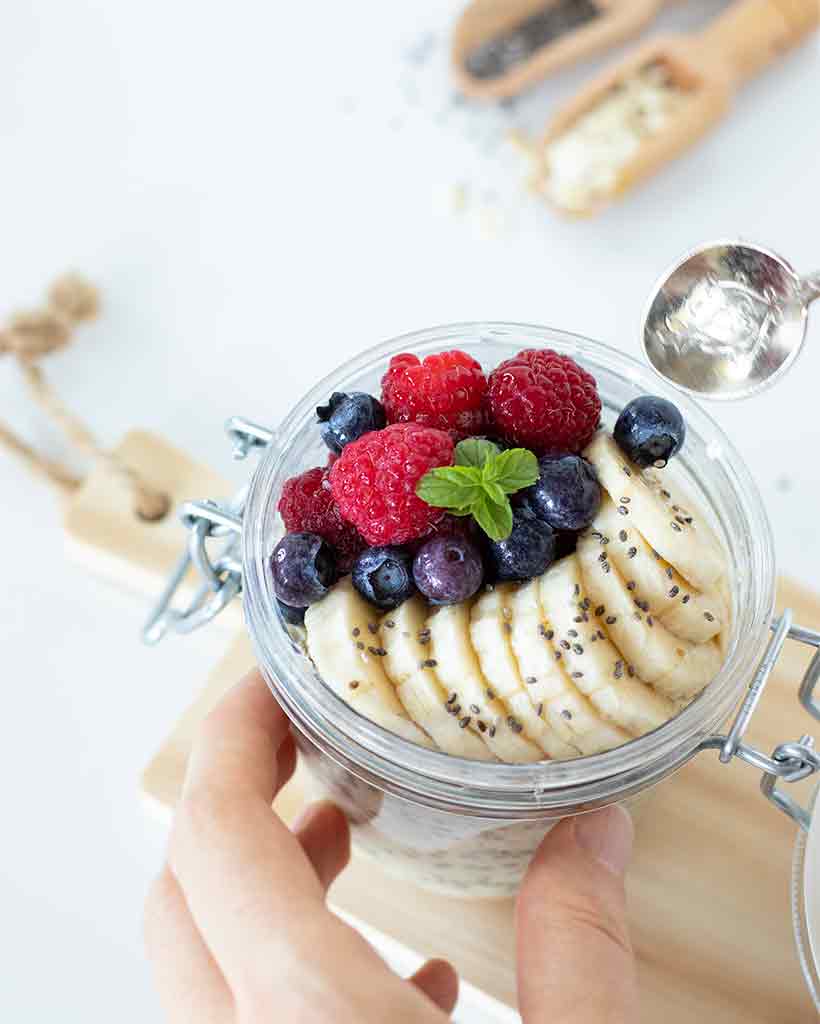 What is the best time to eat oats for weight loss?
Oats are commonly eaten for breakfast but they can be consumed later in the day, too. Since oats are rich in soluble fiber and healthy carbs thus make them an excellent choice for a wholesome breakfast. Additionally, they can help boost your metabolism and provide you with energy without dropping your blood sugar levels. Although consuming oats in the morning may be the best option for many there is really no "right" time for you to enjoy them. They can be a wonderful base for muffins, pancakes, smoothies, or cookies, as well.
Do overnight oats make you gain weight?
It really depends on what mix-ins you will choose to eat it with. Always combine it with fresh or frozen fruit like banana, apples, kiwi, blueberries, strawberries, raspberries, peaches, or mango. You can add hazelnuts, almonds, walnuts, pecans, pumpkin seeds, flax seeds, sunflower seeds, or hemp seeds, as well. Besides that, you can mix in a spoonful of peanut butter or your favorite nut butter or drizzle it with pure maple syrup for sweetness. In this way, you will add flavor, texture, and beautiful color to your weightloss overnight oats. I don't recommend using refined sugar, refined oils, or processed butter.
Do overnight oats contain gluten?
No, oats do not contain gluten. Just make sure you use certified gluten-free oats if you have any gluten intolerances.
Into oats? You should try these easy recipes with oats:
Don't forget to pin or share this post so you'll have this easy overnight oats recipe ready when you need it!
Did you try this weight-loss overnight oats recipe? If yes, please rate it, leave a comment below, and share your photo on Instagram with the tag @go_eatgreen and hashtag it #go_eatgreen. I would love to hear about your experience and your comments just make my day!
Follow me on Pinterest for more easy and delicious vegan recipe ideas.
Love, Marinela💚