The best recipe for homemade granola bars with chocolate chips and creamy peanut butter is here. These DIY no-bake granola bars are extremely easy to make in just 20 minutes with 8 whole foods I'm pretty sure you already have in your pantry. Also, they are vegan-friendly, refined sugar-free, oil-free, and gluten-free (if you use certified GF oats, of course).
What's more, these yummy chewy bars are perfect as a weight-loss-friendly dessert, a tasty on-the-go snack, and healthy enough to be enjoyed as a wholesome breakfast coupled with your fave smoothie.
Unlike store-bought, our quick no-bake energy bars are naturally sweetened without refined sugars, honey, or saturated fats. In addition, they're packed with tons of fiber, healthy fats, plant protein, and a perfect crunch. Plus they're cheaper to make at home, especially if you prefer to buy in bulk and always keep your kitchen properly stocked with real foods. In this way you'll avoid impulsive buying and unhealthy eating.
Everyone loves these nutty homemade bars when we go on picnics, on road trips, or potlucks. Truly, they are the perfect portable make-ahead snack that'll make the whole family happy and highly satisfied.
Well, peanut butter + chocolate chips + nuts + seeds - how can you get wrong?
Wait, want to know how to make a super fragrant crispy homemade granola? Check out my super simple recipe here. Let me tell you a secret: your house will smell amazing, you should try it yourself!
Healthy and Chewy Chocolate Chip Granola Bars
I've had a fondness for sweet treats for as long as I remember. Giving up on sugars was a difficult thing for me. I mean, really, really difficult. There were days when I substituted my whole meal for a big slice of cake (usually two).
Before I go plant-based, I couldn't imagine my day without lots of sweets in so many different forms: chocolates, waffles, candies, cakes... Sugar was literally everywhere: in my pantry, on the table, in my backpack, in my purse. I thought it gave me energy and improved my mood instantly. Afterward, I felt so tired with even less energy shortly after consuming it. I was so wrong! Plus, I was hungry non-stop so I needed to eat an extra chocolate bar or cookie to renew my energy and fill me up for just an hour or two.
Long story short, through the years I became more conscious of my diet and I learned to be prepared whenever that sugar craving hits. Don't get me wrong, I didn't give up on my loving desserts, I just learned to make various healthy versions of them that are super filling and scrumptious.
Today, I'll share with you a homemade granola bars recipe that's both nutrient-dense and incredibly delicious. They are so good! I'm sure you're going to love it.
Chocolate Chips Peanut Butter Recipe Ingredients
You can make your own raw energy bars in no time and with minimal effort. They're inexpensive, satisfying, and very portable! Here're the ingredients:
Rolled / Old Fashioned oats (certified gluten-free if needed)
Creamy peanut butter (we'll need creamy, not gritty PB)
Vegan mini chocolate chips (semi-sweet)
Pure maple syrup (or agave syrup)
Raw almonds
Raw pumpkin seeds (pepitas)
Dried apricots
Pure vanilla extract
Sea salt
As always, you can find the full recipe with a list of ingredients with measurements in a printable recipe card at the end of this post.
Time needed: 20 minutes.
How to make healthy homemade granola bars?

Mix wet ingredients

First, in a big bowl mix creamy peanut butter, maple syrup, and vanilla extract until well combined.



Add dry ingredients

Next, stir in oats, chopped almonds, pepitas, dried apricots, mini chocolate chips, and salt. Make sure to chop the mix-ins as small as possible, otherwise, bars won't hold together. The combination may seem dry at first but keep mixing until everything is fully incorporated into a sticky mixture. The mixture may seem dry at first but keep mixing until all ingredients stick and bind to one another. It's best to use your hands for this step.



Form the bars

After that, line an 8-inch square baking pan with parchment paper so they can lift out easily (this step is a must, don't skip it).
Transfer the mixture to the pan and press with your hands until it is evenly distributed in it. Add a few more chocolate chips on top if you like.
It's very important to press the mixture firmly and make it as flat and smooth as possible.



Enjoy

Chill for at least 1 hour and slice into bars. I divided the mixture into 12 bars. You can slice them smaller or bigger if you like. Enjoy it as a high-protein snack, healthy dessert, or breakfast.
Keep in an airtight container for up to a week in the fridge or at room temperature or up to 2 months in the freezer.
I recommend you store them with a sheet of parchment paper between them or wrap every bar individually so they won't stick together.


Recipe for Homemade Granola Bars - FAQ
How long do homemade granola bars last?
Your crunchy protein bars will last for up to a week in the fridge or at room temperature stored in an airtight container or up to 2 months if you keep them in the freezer. I recommend you store them with a sheet of parchment paper between them or wrap every bar individually so they won't stick together.
How do you make granola bars stick together?
The binding agents for our recipe will be CREAMY peanut butter and pure maple syrup. I must emphasize that you should use only smooth and creamy PB, not gritty or crunchy. If it's not creamy enough the mixture will be dry and crumbly so the bars will fall apart. Also, the liquid maple syrup will help "glue" the ingredients so they can hold together nicely.
Are homemade granola bars fattening?
In fact, these chewy granola bars are good for you if you eat them in moderation, of course. Unlike store-bought, our granola bars boast a great nutritional value that comes from the real foods we'll use. They are a convenient and flavorful snack to enjoy for dessert, between meals, or after working out. These kid-friendly treats will provide you with lasting energy and nutrition. They provide a good balance of carbs, protein, healthy fats, and fiber.
Are granola bars healthy for weight loss?
Yes, if your granola bars are made with organic, real food ingredients with no added sugar or oil, they are a fantastic dessert or snack to eat even if you want to shed some pounds. You should add these raw energy bars to your clean dieting plan right away. They are 100% worth your time and absolutely guilt-free! Why buy those highly processed alternatives that are high in sugar and empty calories when you can make your own energy-boosting and super nourishing energy bars?
Why you will love this recipe for homemade granola bars?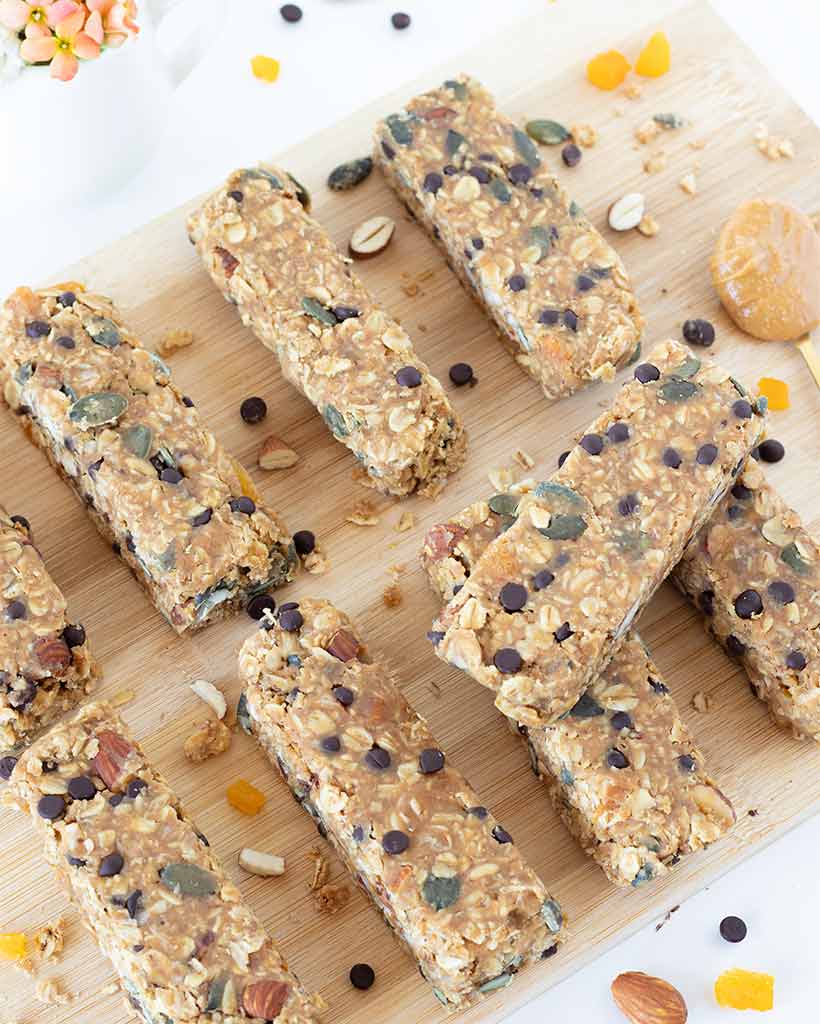 Comes together in a snap
Fiber-rich
Protein-packed
Big hit for all ages
Dairy-free
Budget-friendly
Made without oven
Perfect for kids
So delightful!
Easy recipes for no-bake desserts
📖 Recipe
Did you try this recipe for homemade granola bars? If yes, please rate it, leave a comment below, and share your photo on Instagram with the tag @go_eatgreen and hashtag it #go_eatgreen. I would love to hear about your experience and your comments just make my day!
Follow me on Pinterest for more easy and delicious vegan recipe ideas.
Love, Marinela💚