These scrumptious spirulina energy balls are vegan, naturally gluten-free, oil-free, and refined sugar-free. Easy to make as wholesome no-bake snacks or a quick tasty dessert.
Packed with plant-based protein, healthy fats, fiber, and a lot of flavors these raw spirulina date balls are both healthy and decadent!
That's why they are one of my fave make-ahead snacks recipes for meal prep. They are insanely good and simple to make with only 6 ingredients, 1 food processor in just 15 minutes or less.
No cooking experience required!
Bonus? They are kid-friendly and suitable for people with many dietary restrictions.
Spirulina Snack Bliss Balls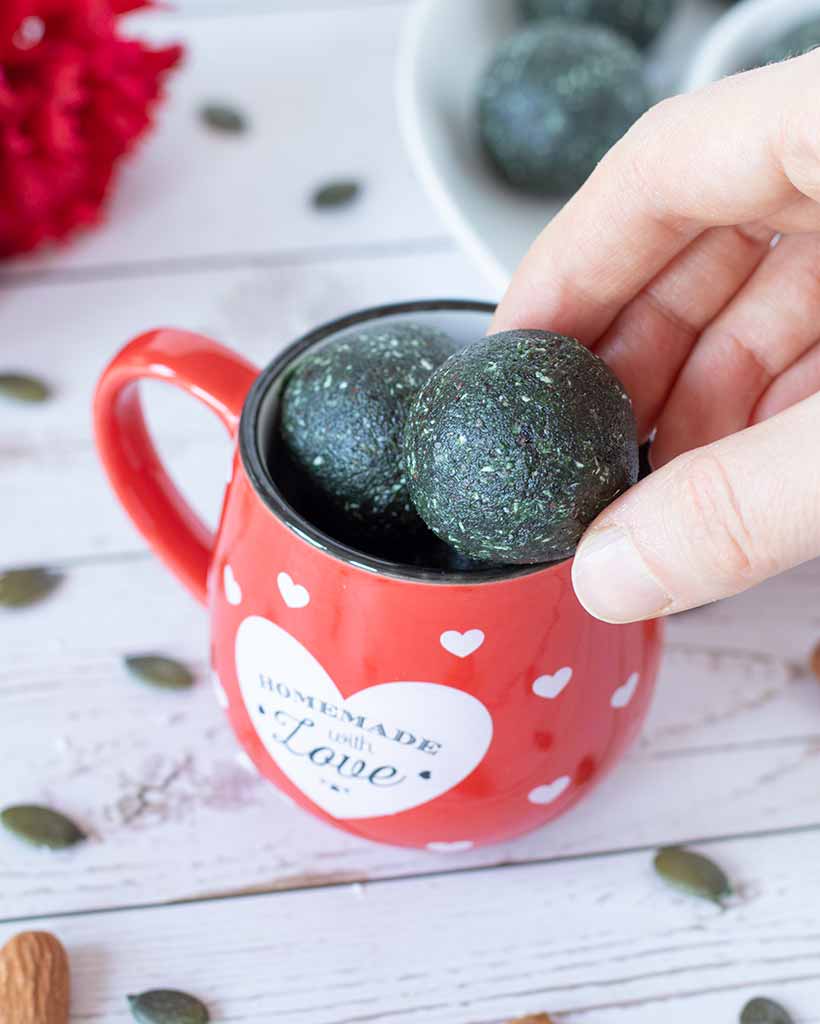 Ever since I discovered spirulina I strive to develop spirulina recipes that not only look good but actually taste good so I can share them with you, my friends. Here is one of them, my weight-loss-friendly recipe for a creamy spirulina smoothie (trust me, it's beyond delicious!).
These high-protein treats are just for you if you need a fast pre or post-workout snack idea. While bursting with nutrients and unique flavor, they are great for lunchboxes for kids and adults, too.
Also, they can make a beautiful edible gift for your loved ones, who doesn't love a sweet surprise made with love?
In addition, you can make them ahead and enjoy them as grab-and-go power balls, bring them to work, parties, picnics, or school. They are filling, satisfying, and very portable!
If you have a sweet tooth like me you want to be prepared in advance, don't you?
Now, are you ready for the best homemade energy bites?
Spirulina Protein Balls Recipe Ingredients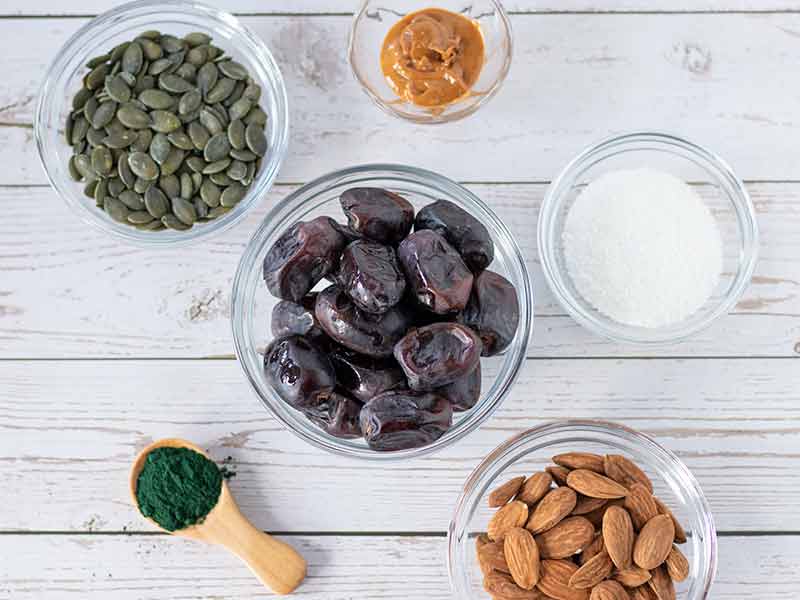 This simple vegan dessert recipe calls for a few pantry staples I'm sure you already have at hand right now. Here they are:
As always, you can find the full recipe with a list of ingredients with measurements in a printable recipe card at the end of this post.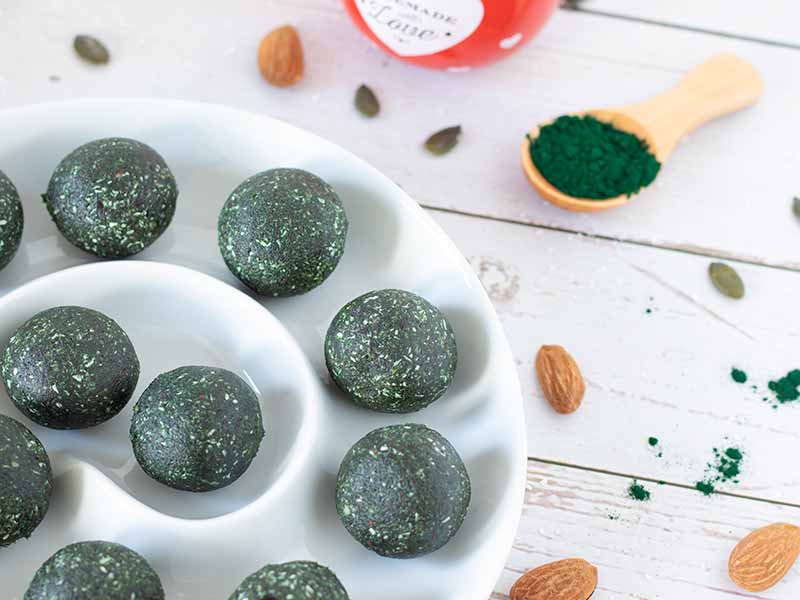 Time needed: 15 minutes.
How do you make spirulina energy balls?

Process almonds and pumpkin seeds

First, in a food processor or high-powered blender put raw almonds and pumpkin seeds. Pulse for a few seconds at a time until they are finely ground.

Blend everything together

Next, add dates, desiccated coconut, peanut butter, and spirulina powder to the ground almonds and pumpkin seeds. Process until a sticky dough is formed.
If your dates are not soft enough, make sure to soften them first. Put them in a bowl and cover them with hot, boiling water. Let them soak for 5-10 minutes. If you do this step make sure to completely drain the dates otherwise the mixture won't be sticky but too wet and the balls won't form well.

Form small balls

Then, with a tablespoon, scoop out of the mixture and roll small balls using your hands. Transfer to a plate and keep refrigerated.
Store them in the fridge for up to 5 days in an airtight container. Freeze any leftovers for up to 2 months in the freezer-friendly container. Enjoy!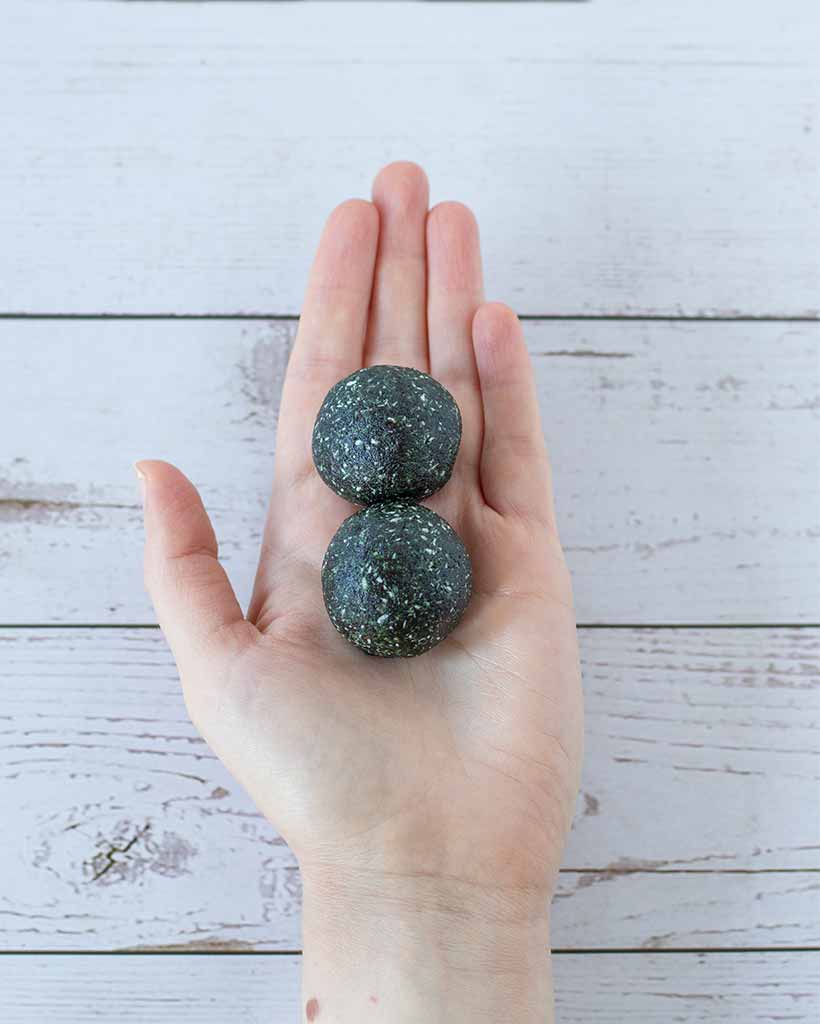 Are spirulina energy balls actually healthy?
Absolutely! These chewy energy-boosting treats are packed with antioxidants and fiber in addition to complex carbs, plant-based protein, and healthy monounsaturated fats. That's a perfect mix to reduce your hunger and fuel you on busy days. Yes, you can skip the processed donuts or granola and enjoy these guilt-free snacks whenever you need a healthy pick-me-up.
They really help me resist all that junk food and keep control over my clean eating habits.
How long do spirulina protein balls last in the freezer?
You can put them into a freezer-friendly container or bag and store them in the freezer for up to 2 months. Just defrost them for a few hours at room temperature before you enjoy them.
Can I use different nuts or seeds for this recipe?
Of course, these energy balls with dates are easily customizable. You can use walnuts, hazelnuts, or pecans instead of almonds. Likewise, you can substitute pepitas with sunflower, chia, or flax seeds. You can make many combinations depending on your choice.
Why you will love these spirulina powder balls? They are: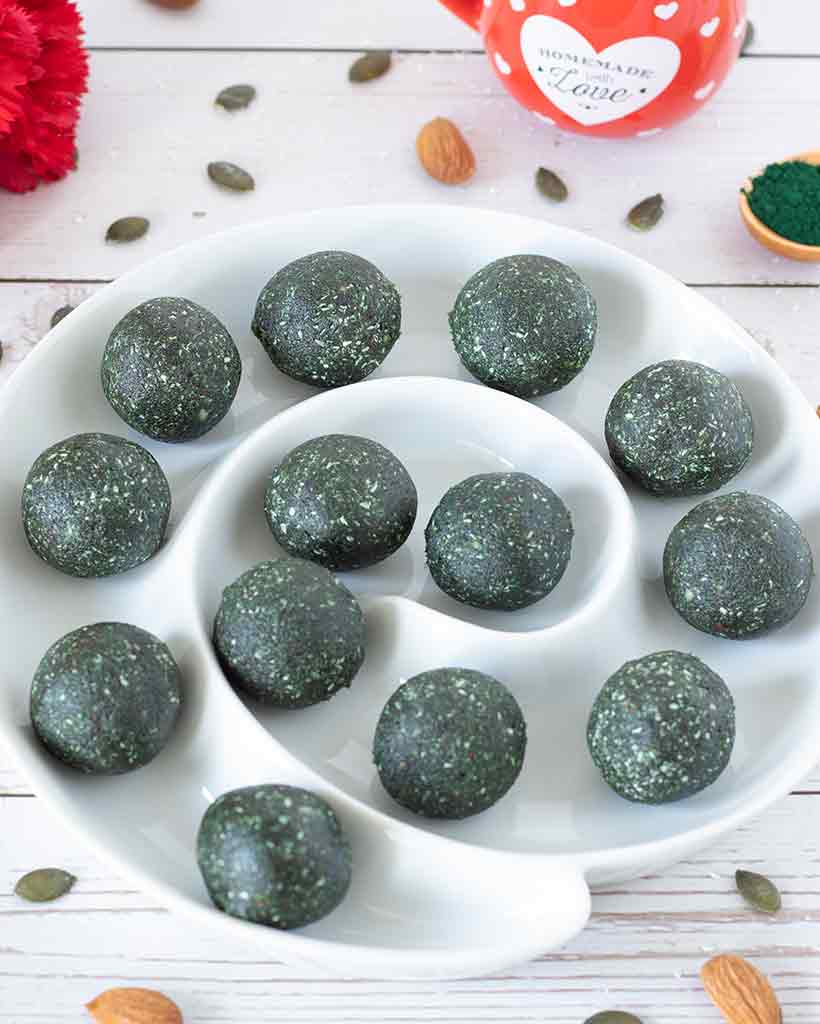 Nutty
Made without sugar
Dairy-free
Feady in a flash
Loaded with nutrients
Flourless
Family-friendly snacks
Beautifully green without food coloring
Sure to impress your guests
Mouthwatering
Full of flavor!
Looking For a Quick No-Bake Vegan Desserts (GF)
More Easy Vegan Dessert Recipes
📖 Recipe
Did you try this easy spirulina energy balls recipe? If yes, please rate it, leave a comment below, and share your photo on Instagram with the tag @go_eatgreen and hashtag it #go_eatgreen. I would love to hear about your experience and your comments just make my day!
Follow me on Pinterest for more easy and delicious vegan recipe ideas.
Love, Marinela💚