Easy recipe for vegan rice pudding on the stove is the best creamy dessert made without eggs. Quick dairy-free & gluten-free treat I'm sure vegan and non-vegans alike will absolutely love.
You can make this rich plant-based pudding with just 3 ingredients in only 25 minutes.
It's so simple but seriously delicious.
Truly, it's an amazing non-dairy and egg-free alternative to the classic Turkish rice pudding aka Turkish sutlac. No eggs, no dairy, no baking needed! Although this recipe is completely vegan, it's not lacking in flavor or texture.
Easy Vegan Rice Pudding on the Stovetop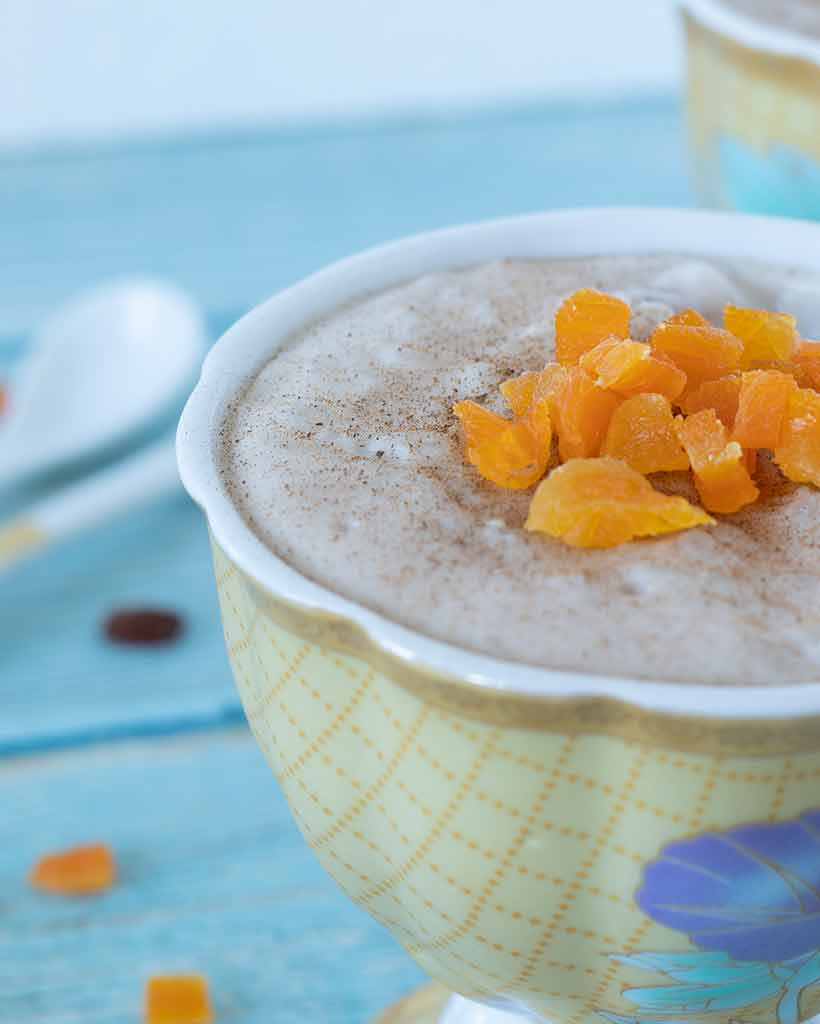 No matter how old we get the food we had eaten as kids will always live fondly in our hearts.
A warm and fragrant dish of rice pudding always brings back wonderful childhood memories to me. I remember that I couldn't wait to finish the lunch to get my portion of my sweet pudding topped with a generous amount of cinnamon and some dried fruits or nuts. It's so good! Well, I wouldn't feel guilty if I ate a double portion of it. I had a huge sweet tooth, I confess.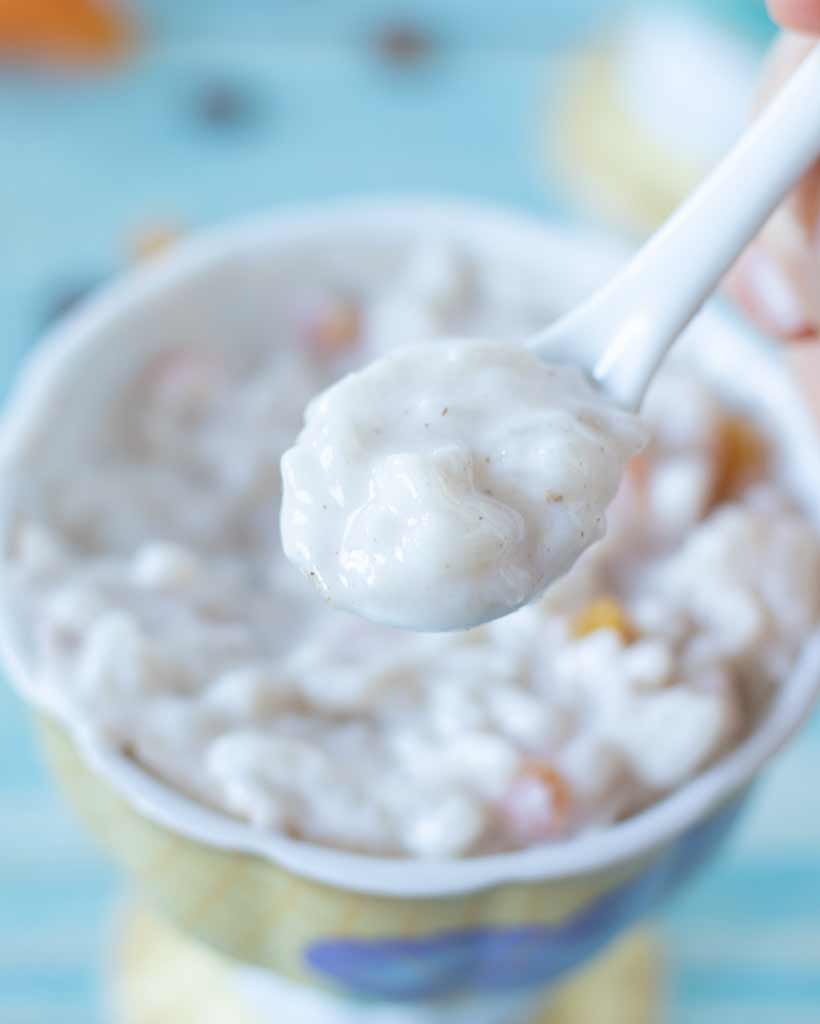 Trust me, there is nothing like thick homemade rice pudding that melts in your mouth (literally 🙂 ).
Also, I think it would make an excellent breakfast, light brunch, or cozy dinner option. Especially if you sweeten it with unrefined brown sugar, maple, or agave syrup for a healthier version. Every spoonful is a pure delight, so filling and satisfying. It's great that even people with gluten and lactose intolerances can enjoy this incredibly tasty dessert.
You should give this easy dessert a try today! Hope your family will enjoy it as much as mine does.
Homemade Turkish Sutlac Ingredients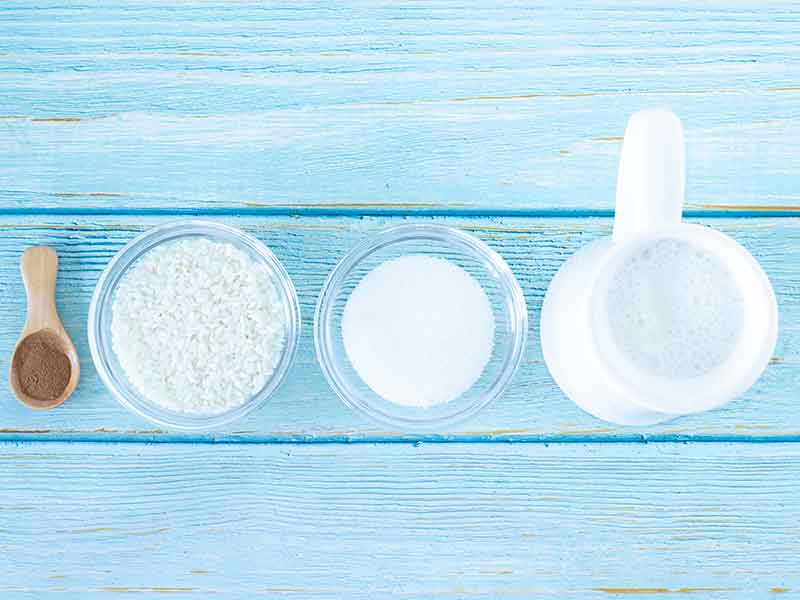 You'll need a handful of budget-friendly ingredients you surely have on hand right now to cook this luscious homemade pudding:
White rice (uncooked, preferably short-grain Arborio rice)
Almond milk (or any plant-based milk like cashew milk or oat milk)
White (granulated) sugar
Ground cinnamon (optional)
As always, you can find the full recipe with a list of ingredients with measurements in a printable recipe card at the end of this post.
Time needed: 25 minutes.
How to make stovetop vegan rice pudding?

Heat the milk on the stove

First, pour the milk into a large, deep pot. Bring the liquid to boil over medium heat. Keep an eye on the milk, to prevent it from boiling over, stirring occasionally.



Combine milk and rice

When you see light bubbling and steaming, stir in uncooked rice. Then, immediately lower the temperature to medium-low and let it simmer, uncovered. Once you've added the rice don't let it cook on its own. With a wooden spoon, stir frequently, especially in the first 4-5 minutes when the rice is prone to sticking to the bottom. Cook the rice for 15-20 minutes or until soft and mushy (this will depend on the type of rice you'll use).



Add sugar

At the last 5 minutes of boiling, add the sugar (that would be after 15 minutes of cooking the rice). If you are a cinnamon lover, at this point you can sprinkle the mixture with cinnamon. I prefer mine plain, with a dash of cinnamon at the top. Continue to cook for 5-10 minutes more, or until the mixture starts to thicken. Taste and see if the pudding is sweet to your liking. If not, add more sugar if you like.



Transfer to small containers

In the end, transfer the pudding into small pudding containers.
Don't worry if the mixture looks a little soupy, it will continue to thicken as it cools. For the creamiest consistency, let the pudding chill at room temperature for 1-2 hours.
You can enjoy it warm or cold.
Sprinkle with ground cinnamon and/or nutmeg just before serving. Top with dried apricots, dried cranberries, raisins, jam, peanut butter, homemade Nutella, or dark chocolate shavings. You can stir in your fave dry fruit at the end of cooking, to allow it to absorb some of the moisture and become plump.
Store any leftovers loosely covered with aluminum foil in the fridge for up 3-4 days.
Also, you can freeze it but I don't recommend it because it will change its texture. It'll keep in the freezer for up to 2 months.


Rice Pudding Without Eggs-FAQ
How long does homemade rice pudding keep in the fridge?
Keep your rice pudding refrigerated for up to 3-4 days.
Should you rinse pudding rice?
Of course, you should give a good rinse to the rice before cooking it. Put the rice in a strainer and rinse thoroughly with cold water. Thus you will remove any dust, dirt, or debris. Don't forget to check for some small stones, you don't want to break some teeth!
Which type of rice is best for rice pudding?
Arborio rice (short-grain rice) is the best rice type to use in this recipe. When cooked, its grains will become ultra-creamy and chewy due to their high starch content. In addition, it blends very well with other flavors. It's best to use short-grain or medium-sized rice type, but starchy long-grain rice works, too. Brown rice won't work here. Prolong the boiling time depending on the type of rice you'll use. The rice should be fully cooked until tender.
Is rice pudding best hot or cold?
You can serve your freshly made pudding warm or cold, it really depends on your taste. You can enjoy it straight from the pot but I recommend you to wait at least 30 minutes to 1 hour (or longer) to set so it becomes extra thick and creamy. As for me, I prefer it served at room temperature sprinkled with ground cinnamon. Besides that, it's so scrumptious when served cold straight from the fridge. Just like a rice ice cream. Yum!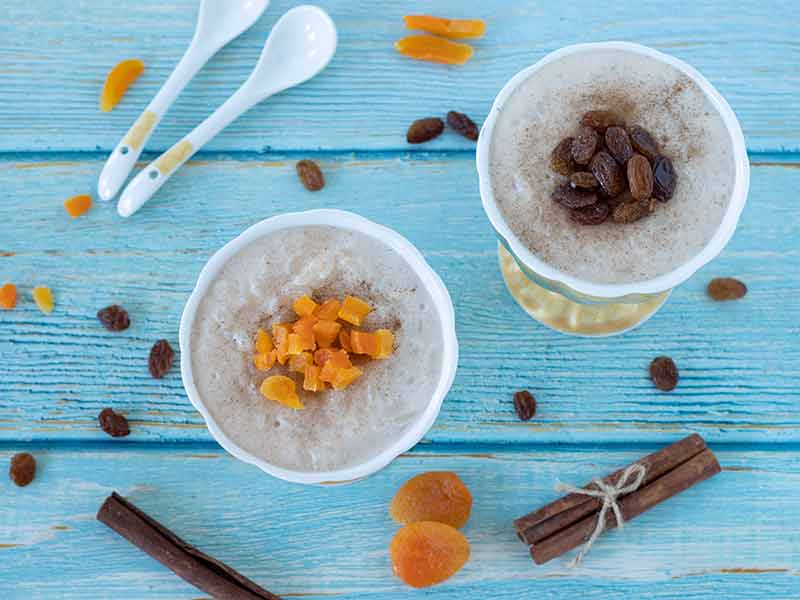 Does rice pudding get thicker as it cools?
Yes, our hearty rice pudding will get thicker as it cools. Don't worry if the mixture seems a little bit runny, just be patient and let it cool completely. Hence, rice will absorb much of the liquid and all flavors will blend nicely.
Why you'll love this vegan rice pudding?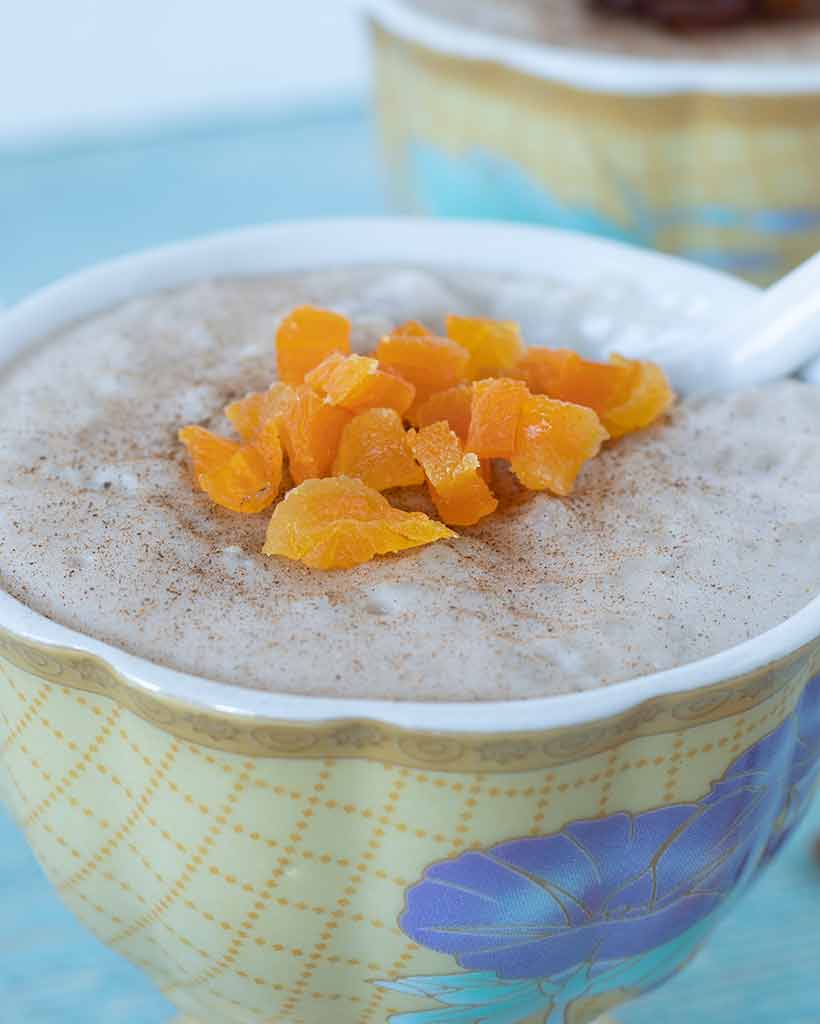 Easy to make-ahead and enjoyed later
Comforting
Eggless
Oil-free
Vegetarian
Unexpensive
All-season sweet treat (especially for fall and winter)
Requires minimal effort
Perfect for family gatherings
So decadent!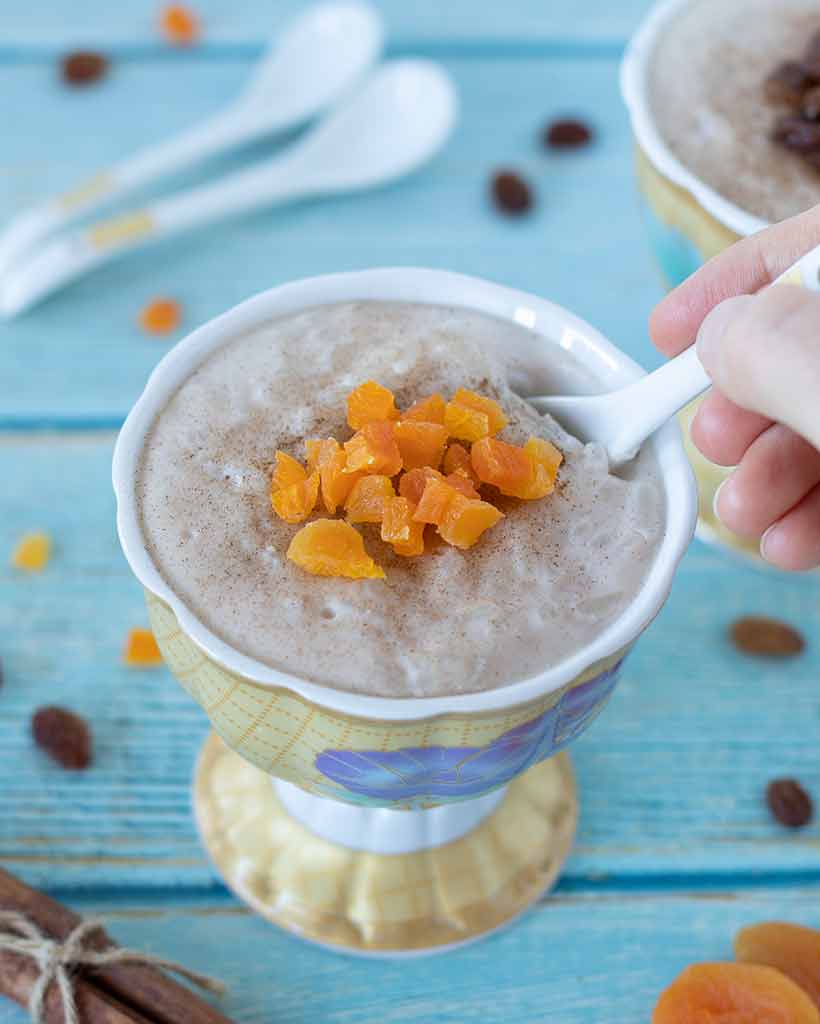 Looking for more simple vegan dessert recipes?
📖 Recipe
Don't forget to pin or share this post so you'll have this dairy-free rice pudding recipe ready when you need it!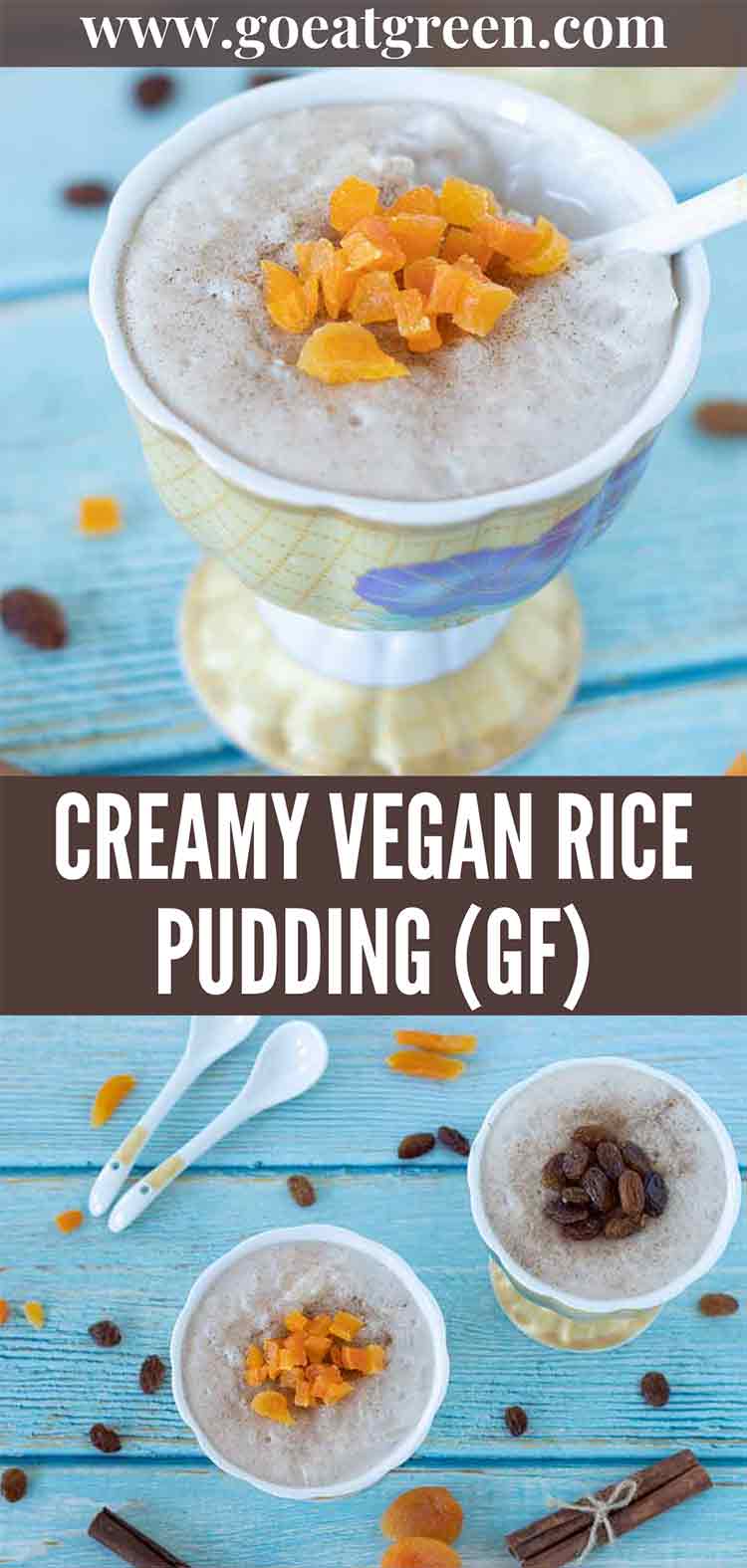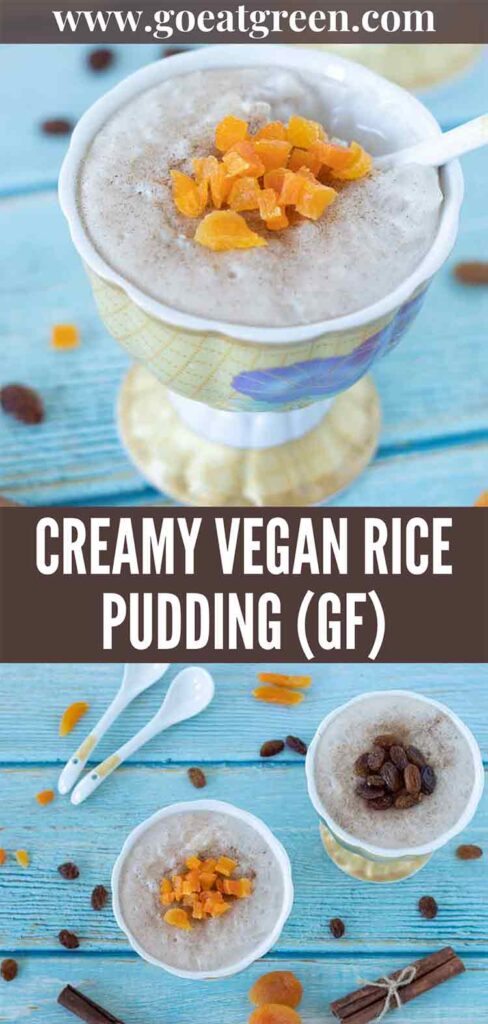 If you loved this vegan rice pudding recipe let me know in the comments below. You can share a photo of it on Instagram with the tag @go_eatgreen and hashtag it #go_eatgreen. I would love to see your pictures and your comments just make my day!
Follow me on Pinterest for more easy and delicious vegan recipe ideas.
Love, Marinela💚