Easy recipe for unleavened bread for Passover and the Feast of Unleavened Bread. Simple, homemade, 3 ingredients yeast-free flatbread.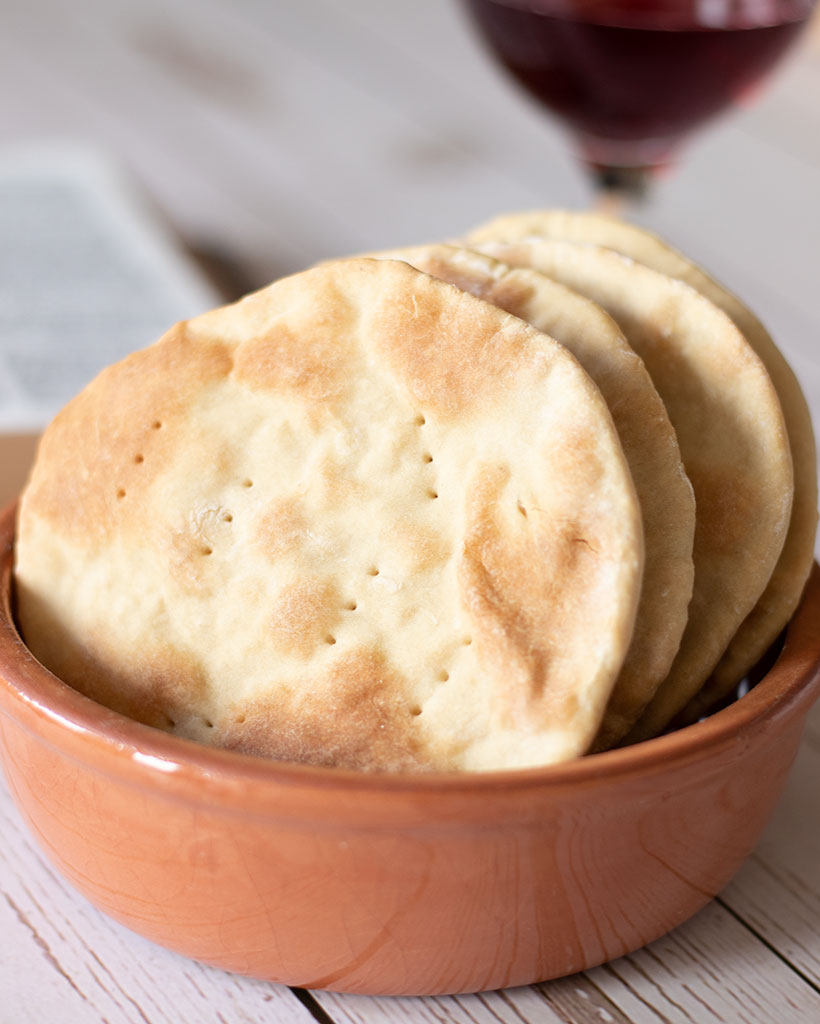 This simple recipe is just for you if you want to learn how to make bread without yeast. To point out, this yeast-free bread made with few ingredients is made without any milk, eggs, or oil. Super quick and easy to make in just 20 minutes!
What is unleavened bread?
Unleavened bread is bread that is made with no yeast or any leavening agents like baking powder, baking soda (sodium bicarbonate), and potassium bicarbonate. Leaven is an ingredient that produces fermentation or a chemical process to make the dough rise. Widely known as matzo, matzah, or matza, it's a yeast-free bread eaten by Christians and Jews during the Holy Days of Passover (Pesah) and Days of Unleavened Bread.
Time needed: 20 minutes.
How to make bread without yeast or baking powder from scratch?

Knead the dough

First, in a medium-sized bowl, mix whole wheat flour and salt. Then gently and gradually add lukewarm water. Next, knead with quick and firm movements for about 3 minutes or until you get a smooth and elastic dough. If the dough is sticky, add a little bit more flour to it. Don't let the dough rest after preparation, simply continue to form balls and roll it out immediately.



Form the unleavened flatbread

After that, divide the dough into 4 equal balls and roll them out with rolling pin-thin discs. As you are kneading it, make sure that your hands and your work surface are coated in a light dusting of flour. At the same time, preheat the oven to 400°F / 200°C.



Bake it

Next, prick the flatbreads with a fork (5-6 times each) and place them on baking paper on a sheet pan. Put it in the oven and bake for 15 minutes or until golden brown.



Serve your no-yeast bread

Finally, remove your unleavened bread from the oven and serve immediately while warm. If you have any leftovers, let them cool and store them wrapped in stretch foil for 2-3 days.


What do you serve with unleavened bread?
Serve this no yeast bread along with a fresh green salad, low-calorie cucumber-vinegar salad, for lunch or dinner. Also, it goes perfectly with this creamy avocado dip, oil-free vegan ranch dressing, super flavorful red pepper hummus, or this 5-minute homemade hummus. Maybe you'll like it with this creamy green soup, golden potato soup, purple detox soup, or combined with some cozy pea stew. Since this homemade unleavened bread has a neutral flavor you can combine it with your creamy homemade Nutella, jam, or some peanut butter and tahini. The possibilities are endless!

What is Passover and how it is celebrated?
Passover is a memorial. We observe Passover in the memorial of Jesus Christ our Savior. The Feast of Passover demonstrates our urgent need to have our sins forgiven so we can live a life of righteousness. The evening before His crucifixion while Jesus Christ was keeping the Passover with His disciples, He introduced new symbols and provided specific instructions for the New Testament Passover observance. They were given to help us solemnly remember the true Passover Lamb. On this significant day, we are reminded of both the suffering and death of our Savior.


What does unleavened bread symbolize?
Since leaven typically puffs things up, it is linked with the root of many pride and many sins. Some of the other spiritually damaging sins that leaven pictures in the Bible are hate, wickedness, hypocrisy, immorality, and wrong teachings. Yeast also spreads and permeates the dough unseen. This means that we should closely examine our lives for sin, repent and seek God's help to remove it and live in obedience to His commandments. In addition to putting sin out, we are to replace it with righteousness, good thoughts, and actions, with sincerity and truth - symbolized by eating the unleavened bread.

If you loved this Passover unleavened bread you may also love these wholesome mini chickpea frittatas without baking powder or soda or this delicious eggless frittata.
You may also like these easy desserts without any leavening agents
Don't forget to pin or share this post so you'll have this recipe for Passover bread without yeast ready when you need it!
Made this recipe for unleavened bread? If yes, please rate it, leave a comment below, and share your photo on Instagram with the tag @go_eatgreen and hashtag it #go_eatgreen. I would love to hear about your experience and your comments just make my day!
Love, Marinela💚