Mini chickpea flour frittatas are plant-based, vegan, and gluten-free savory breakfast, brunch, or snack. Easy make-ahead meal prep recipe.
Looking for a delicious and wholesome make-ahead vegan breakfast idea for busy mornings? Or a healthy, low-effort weeknight dinner? Have a bag of chickpea flour and need a really good chickpea flour baking recipe?
Look no further! This recipe for frittata in muffin tins meets all criteria. Also, these unbelievably delicious veggie frittata muffins will surely please everyone: gluten-free and dairy-free eaters, vegans, vegetarians, and meat-eaters alike.
Alternatively, you can make a full-sized Italian Vegan Frittata without eggs, dairy and tofu if you like 🙂
Since I first made these eggless muffins they quickly became a big hit in our house. My family always asks me to bake these mini chickpea flour frittatas for them so I decided to share this easy, must-try recipe with you, too. Now, you can surprise your family and friends with these adorable savory muffins. Serve them with a creamy avocado dip and wait for the compliments that will follow (unavoidably 🙂 ).
Healthy Vegan Egg Muffins (Kid-Friendly Food Idea)
Vegan mini chickpea flour frittata muffins are a delicious way to start your day on a tasty note. They are not only simple to make but also super healthy and nourishing. A great way to get your kids to eat and actually love vegetables. Veggie-packed muffins (aka mini crustless chickpea quiche) are extremely nutritious and super flavorful. A delightful vibrant and colorful clean-eating food all picky eaters will adore. They can be awesome birthday party snacks or appetizers that will impress kids and adults, too. Fun, cute, and yummy! All packed in one mini frittata muffin!
Make-Ahead Mini Chickpea Flour Muffins (Frittatas)
You can bake these vegan egg muffins for brunch Sunday morning and store them up for work or school the next day. Because chickpea omelet muffins happen to be freezer-friendly you can make a double batch and enjoy them all week long. They are a huge time and money saver! Meal prepping has never been easier with this simple vegan frittata muffin recipe.
Mini Chickpea Flour Muffins Ingredients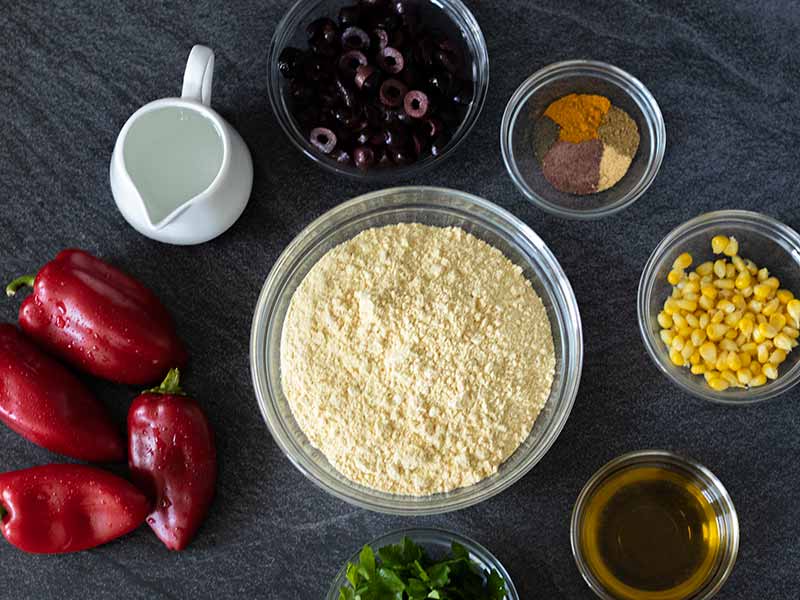 You'll need a few budget-friendly pantry staples to bake these homemade chickpea muffins:
Chickpea flour

(also known as garbanzo bean, besan or gram flour)
Kalamata olives

Red peppers

Corn

(fresh, frozen, or canned. I used fresh)

Fresh parsley

Extra virgin olive oil

Himalayan black salt

(also known as

Kala Namak or black salt

. Adds that sulfurous aroma similar to eggs and provides that egg-like flavor)

Ground cumin, turmeric powder, ground red pepper, dried garlic

Water

Sesame seeds

(for topping, optional)
As always, you can find the full recipe with a list of ingredients with measurements in a printable recipe card at the end of this post.
Time needed: 45 minutes.
How to make mini chickpea flour muffins from scratch?

Mix chickpea flour and water

First, start by preheating the oven to 400°F / 200°C. If not using a non-stick muffin tin, lightly grease with oil or use muffin liners. I used silicone muffin liners.
In a big bowl gradually mix chickpea flour and water. Whisk well to get a runny mixture without any lumps. Add the olive oil.



Add veggies and spices

Next, add finely chopped veggies and spices. Mix again.



Bake your frittata muffins

Fill each muffin cup with the batter. I used a 12 cup muffin tin and filled approximately ¾ each cup or to the full (this may vary slightly depending on the veggies you'll use). Sprinkle with sesame seeds if you like. Bake for 30-35 minutes or until an inserted toothpick comes out clean. If after baking for 35 minutes the center seems soggy, remove from the oven, and just place them on a cooling rack and let them cool. In this way, they'll firm up and will be ready to eat.



Serve and enjoy

Serve warm or at room temperature. Keep any leftovers on the kitchen counter for 1 day, refrigerated for 3-4 days. Freeze in freezer-friendly containers or bags for up to 2 months. Let them thaw before reheating. You can reheat in a toaster, microwave, or oven.


Serving Suggestions
Here are some of my favorite options to serve these breakfast chickpea flour muffins:
Perfect No Yeast Muffin Recipe
These yeast-free muffins are a perfect meal prep idea if you are celebrating the biblical Feast of Unleavened Bread. We haven't used any leavening agents (no yeast, no baking powder, no baking soda) to bake these tender and hearty muffins. They are a real crowd-pleaser, best for family gatherings.
Why you'll love these mini chickpea flour frittatas? They're:
Protein & Fiber-rich
Non-dairy
Egg-free
Allergy-friendly
Soy & Tofu free
Affordable
Wonderful go-to workday meal
More Vegan Chickpea Flour Recipes
Check out our favorite oven-baked potato-zucchini fritters or these golden-fried zucchini patties.
📖 Recipe
Don't forget to pin or share this post so you'll have this chickpea flour muffins recipe ready when you need it!
Made these hearty mini chickpea flour frittatas? If yes, please rate it, leave a comment below, and share your photo on Instagram with the tag @go_eatgreen and hashtag it #go_eatgreen. I would love to hear about your experience and your comments just make my day!
Follow me on Pinterest for more easy and delicious vegan recipe ideas.
Love, Marinela💚