Jump to Recipe
Vegan baked potato zucchini fritters made with gluten-free chickpea flour without eggs, perfect as an easy appetizer, snack, or side dish.
Searching for some simple and easy-to-make gluten-free recipe ideas to make for lunch or dinner for your kids? Or a quick meal prep to serve your guests? What about some fancy food for the next dinner party?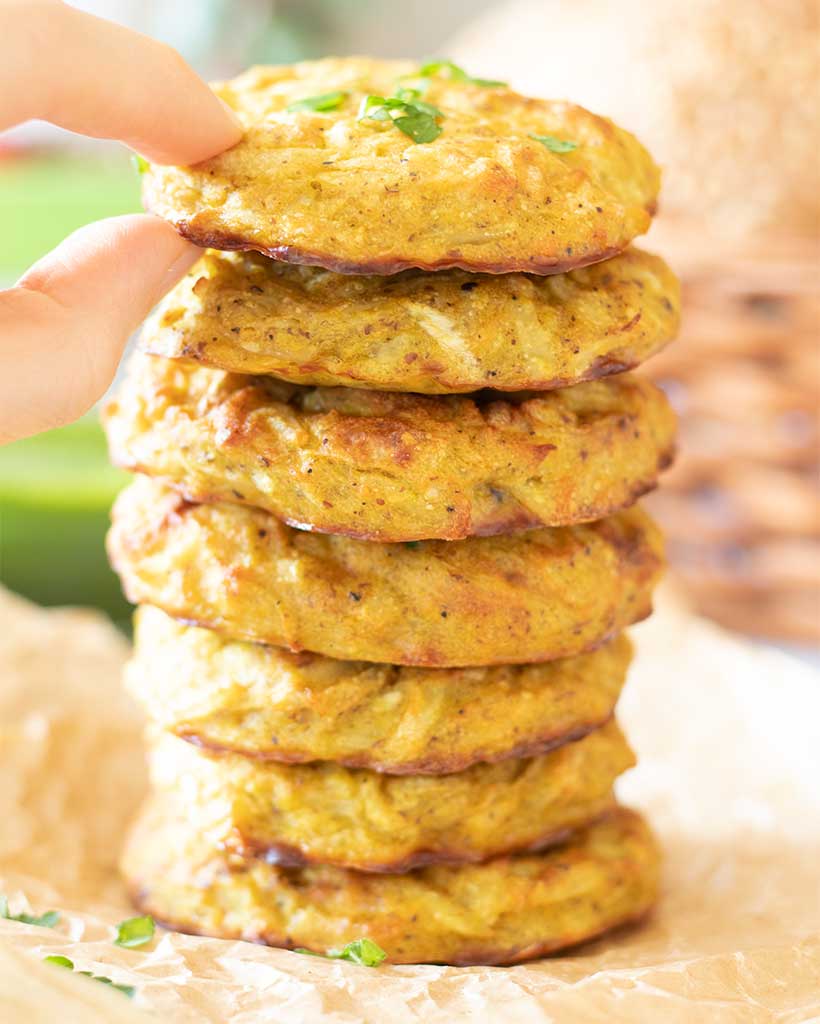 I'm sure that these yummy veggie potato fritters will become your new favorite. They are made in 1 bowl and don't require any prep work in advance. And because they are not fried, but are baked with no oil, they are unbelievably healthy and tasty!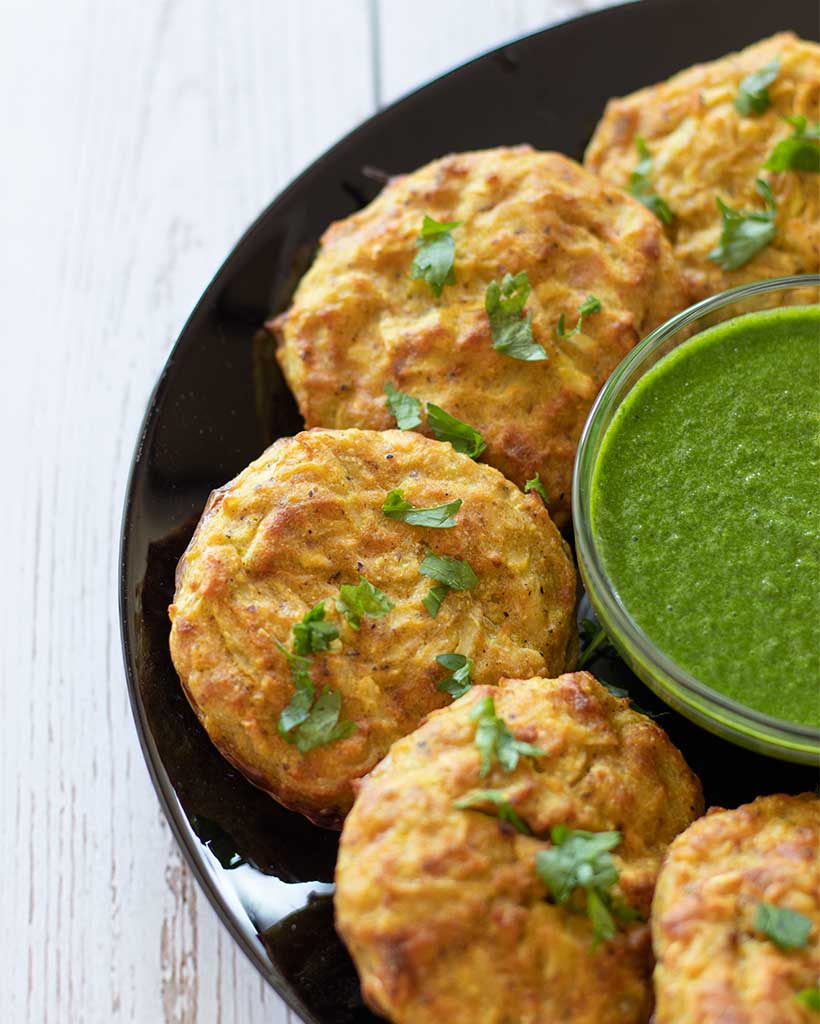 I don't have to mention that these oven-baked fritters are extremely versatile. You can combine them with a variety of dishes or simply eat them on their own, as a light, yet so filling and satisfying snack. Along with a fresh salad, they make a great low-calorie, weight-loss meal.
What to serve with potato fritters (Latkes)
These baked vegetable fritters with the golden color taste even better when combined with this creamy avocado dip, Mediterranean green sauce, or this super flavorful red pepper hummus. What an incredibly delicious combo! You should try it today!
What is chickpea flour good for
In my opinion, every kitchen pantry needs a bag of chickpea flour. Why? Because chickpea flour, also known as besan, gram, or garbanzo bean flour, is a great substitute for regular wheat flour. Chickpea flour is high in protein and rich in folate, iron, copper, phosphorus, magnesium, and manganese. Since it is very nutrient-dense and naturally gluten-free, it is a suitable alternative for people with celiac disease, wheat allergy, or gluten intolerance. Moreover, chickpea flour is protein-packed and unique flavored with surprisingly binding power, convenient for gluten-free and egg-free baking.
Ingredients for baked potato zucchini fritters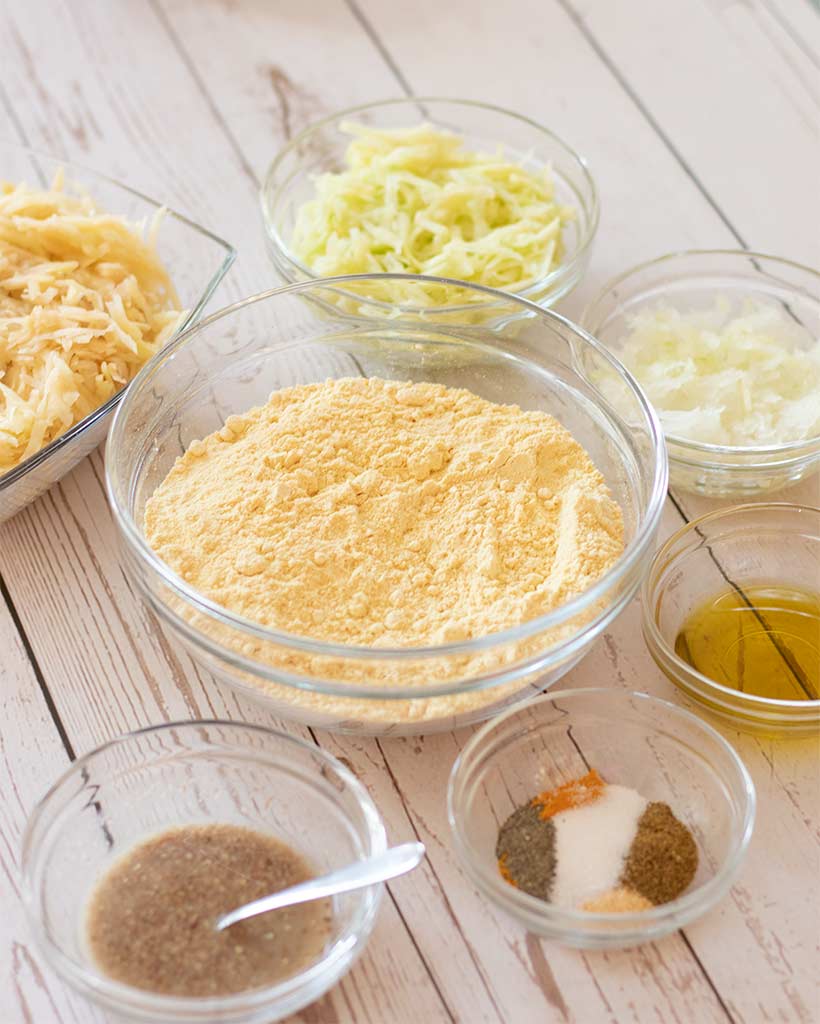 I'm certain you already have all the pantry staples you need to cook this potato fritters no egg recipe. It requires only a few wholesome, plant-based ingredients that are good for you. Here they are:
Potatoes
Zucchini
Onion
Chickpea flour
Extra virgin olive oil
Spices (salt, ground black pepper, cumin, dry garlic, dry basil, curcumin powder)
As always, you can find the full recipe with a list of ingredients with measurements in a printable recipe card at the end of this post.
Time needed: 35 minutes.
How to cook potato fritters from scratch?

These amazingly flavorful veggie patties are a great way to use up leftover potatoes and zucchini. They make a delightful savory breakfast, brunch, or side dish. Definitely, the easiest weeknight meal for all picky eaters!

Prepare the mixture

First, preheat the oven to 390°Fahrenheit / 220°Celsius and line a baking sheet with parchment paper. While the oven is heating up, grate potatoes and zucchini. Squeeze out the excess liquid. Put shredded potatoes and zucchini in a mixing bowl. Add onion, flax egg, chickpea flour, and spices. Stir until all is well combined. At this point, you can check the saltiness level and add more salt to taste, if needed.



Form and bake the patties

I used ¼ cup to scoop the batter and form the patties with my hands. You can use an ice cream scoop or use your hands only. Place them on the baking sheet and press them down slightly, to flatten. Bake for about 25 minutes, until golden from both sides and cooked through. You don't need to flip them over while baking.



Serve and enjoy

Serve your baked potato zucchini fritters immediately while still warm or cold with your favorite dips, sauces, vegan sour cream, or guacamole. Make your homemade sandwiches or serve them alongside your lunch, dinner, salads, or other side dishes.


FAQ
How do you keep fritters from falling apart?
The flax egg coupled with chickpea flour is a perfect binder in this recipe for eggless fritters. That makes these tender fritters an excellent gluten-free and vegan-friendly option, as well.
Are potato fritters vegan?
Absolutely! These golden herby fritters are 100% vegan. You can include them in your clean eating, plant-based list right now.
Are potato fritters healthy?
Baked potato & zucchini fritters are a much healthier version you can cook instead of their fried version. They are packed with many vital nutrients like fiber, vitamins, minerals, and antioxidants. Furthermore, they are quite filling and satisfying and will significantly reduce your appetite and calorie intake until your next meal.
Can you freeze potato fritters?
If you want to make ahead these simple potato zucchini fritters, let them cool completely, place them in a freezer-friendly container or bag and freeze for up to 2 months.
Can you reheat potato fritters?
To reheat the fritters, just place them in a heated oven for a few minutes until all warm through. But they taste amazing even if they are cold!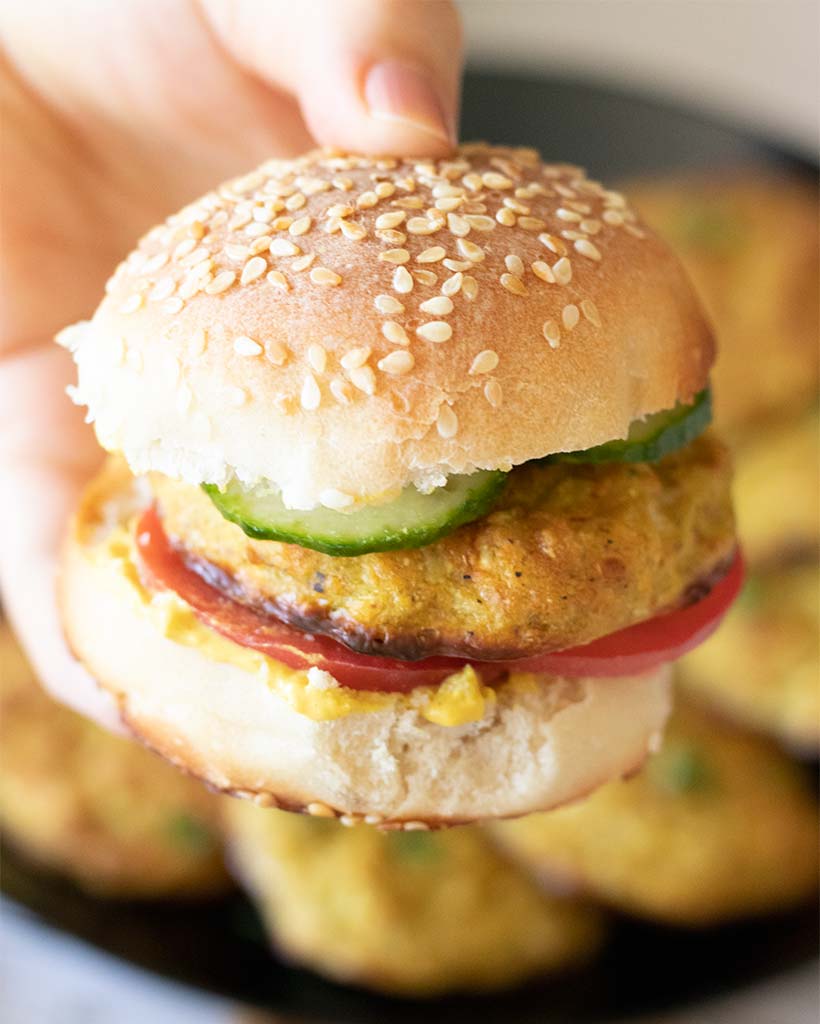 I hope you'll love these baked potato zucchini fritters. They are:
Vegetarian & Vegan

Kid-friendly food

Budget-friendly meal prep

Lunch or snack idea for work

or school

Soy-free

Nut-free

Make-ahead lunch or dinner for guests

So tempting and mouth-watering!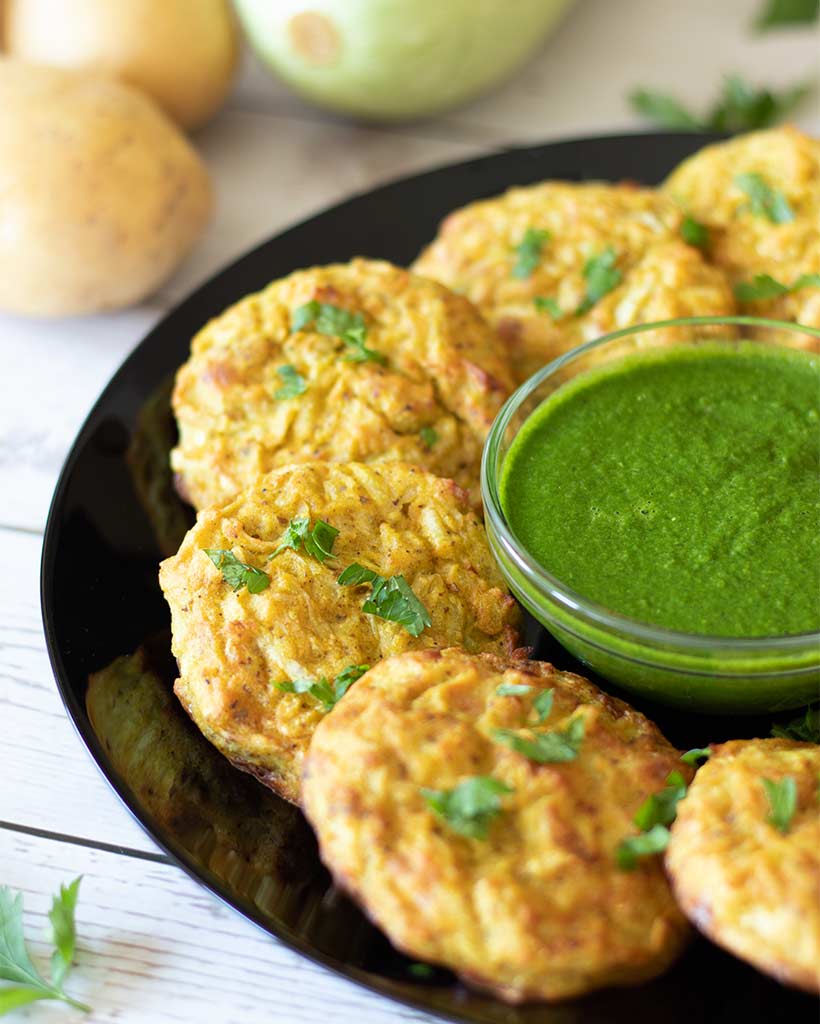 More gluten-free recipes
Love these spicy potato fritters? Pin it for later!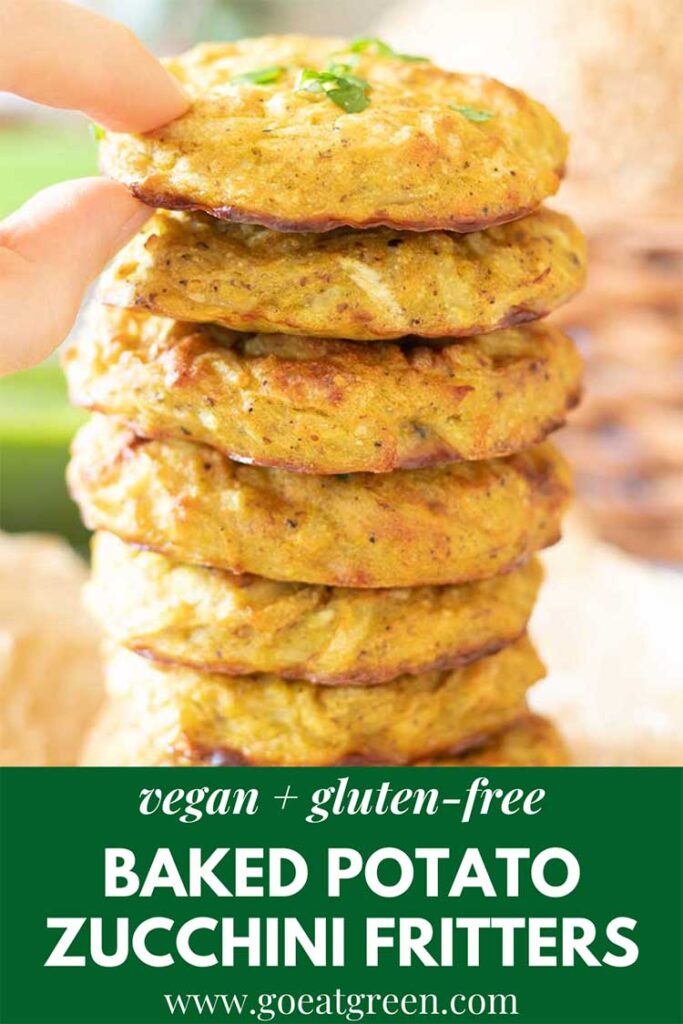 Made these baked potato zucchini fritters? If yes, please rate it, leave a comment below, and share your photo on Instagram with the tag @go_eatgreen and hashtag it #go_eatgreen. I would love to hear about your experience and your comments just make my day!
Follow me on Pinterest for more easy and delicious vegan recipe ideas.
Love, Marinela💚