Vegan zucchini fritters with chickpea flour make a delicious and healthy light meal, appetizer, or snack. Easy gluten-free friendly recipe.
Do you have a lot of zucchini in your fridge and don't know how to use them up? So, if you are searching for some tasty zucchini recipes, you are in the right place.
Recently, I made these oven-baked potato zucchini fritters and I assure you they taste amazing. This delish potato-zucchini combo is ridiculously easy to make and bake. Now, let's make the best-fried zucchini patties.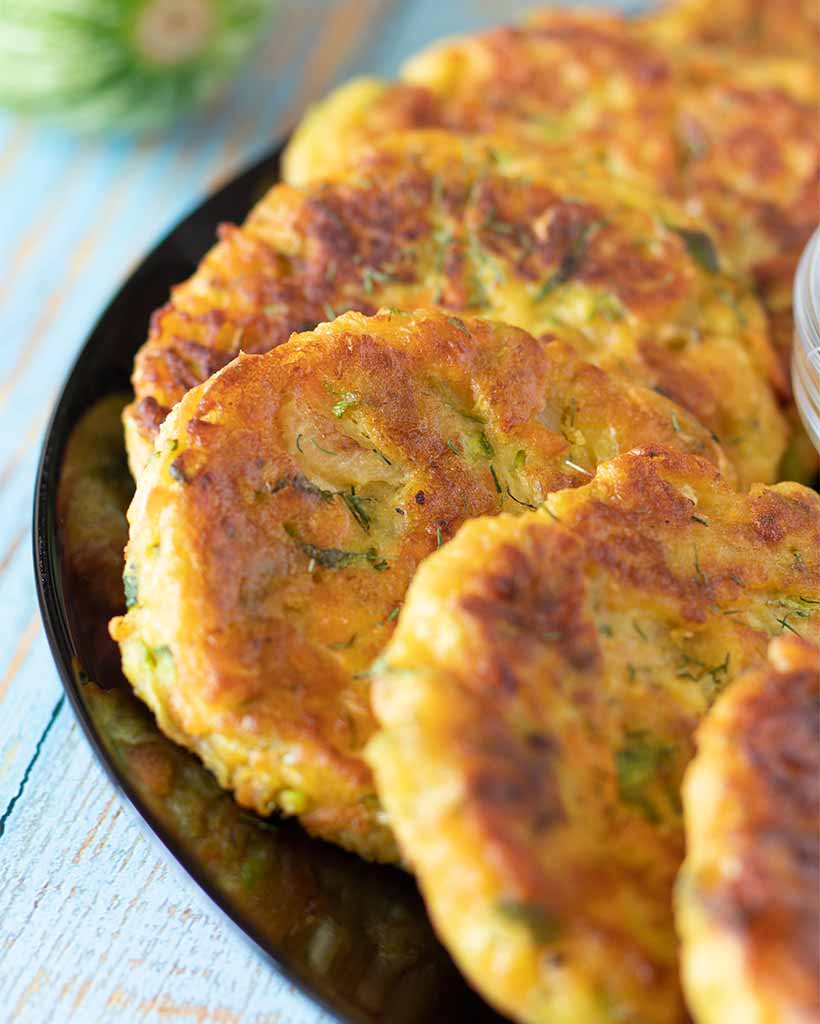 Vegan Zucchini Fritters Taste
But today, I'll share with you my favorite recipe that is tried (and tried and tried over and over again...) and always yields incredibly tasty fried vegan zucchini fritters. They are crispy on the outside and soft and moist on the inside. Perfect texture and a pleasant savory flavor. This is the ultimate meat-free meal the whole family will enjoy.
Ohh, I forgot to tell you how quick and easy this recipe is! All you need is 30 minutes or less to make these wholesome zucchini and carrot fritters for lunch or dinner.
I know you'll love this recipe. Let's make these hearty vegan snacks together!
Ingredients You'll Need to Make the Best Vegan Zucchini Fritters
Zucchini (also known as courgette or summer squash)
Carrots
Onion
Fresh parsley
Chickpea flour (also known as garbanzo bean flour)
Extra virgin olive oil
Spices (salt, ground black pepper, cumin powder, dry garlic)
Dill (fresh or dry) for garnishing
As always, you can find the full recipe with a list of ingredients with measurements in a printable recipe card at the end of this post.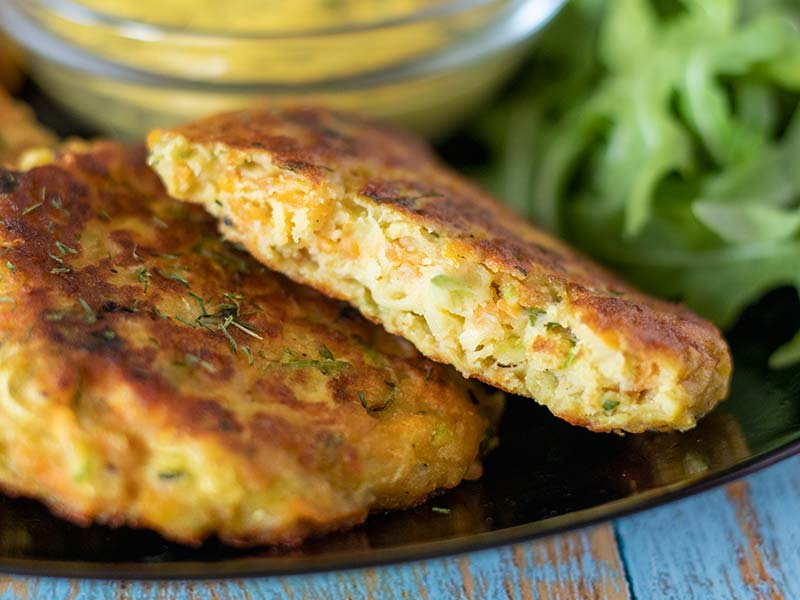 Time needed: 30 minutes.
How to make vegan zucchini fritters (step by step with pictures)

These fried zucchini patties without eggs, cheese, or dairy are the best plant-based side dish to nourish your body and soul.

Prepare zucchini

First, trim the ends of the zucchini but don't peel them. Grate it on the coarse side of the grater. Over a strainer, with clean hands, squeeze out the excess liquid as much as can. Pour out the liquid out of the bowl.



Make the batter

Next, grate carrots and onion. Finely chop up fresh parsley. Add grated carrots, onion, parsley, chickpea flour, and spices to the bowl with grated zucchini. Stir everything together until all is well incorporated.
At this point, you can check the saltiness level and add more salt to taste, if needed.
If the batter is too soggy, add more chickpea flour, a spoonful at a time.



Form the fritters

Using a ¼ cup measure or ice cream scoop form little patties with your hands or just place them directly in the frying pan and flatten slightly with a spatula or spoon. (I cook 5-6 at a time)



Cook the fritters

Heat a nonstick frying pan or skillet, lightly greased with olive oil, (I used 4 tbsp) over medium to high heat. If you have a good non-stick frying pan you may not need a large amount of oil. Once hot, fry your veggie patties for 2-3 minutes, flip and cook for 2-3 minutes more, or until the patties are golden brown on both sides. After frying, place cooked vegetable fritters on a plate lined with a paper towel.



Serve and enjoy

Serve immediately while still hot or cold with a mustard sauce, creamy avocado dip, dairy-free yogurt, homemade hummus, fresh parsley, or dill. Enjoy as a side dish, snack, or appetizer.
Store any leftovers in the fridge, covered in an airtight container, or freeze in a freezer-friendly container for up to 1 month. If frozen, thaw before reheating.


Zucchini benefits for weight loss
Not only are these crunchy GF fritters packed with flavor but they also are highly nutritious. They are rich in various vitamins, minerals, powerful antioxidants, and fiber. At the same time, chickpea flour abounds with plant protein and folate thus making these fritters a great choice for a healthy weight-loss diet. Since chickpea flour is naturally gluten-free, it is a suitable alternative for people with celiac disease, wheat allergy, or gluten intolerance. Moreover, these vegetarian fritters are easy to digest and help you feel full for longer. The vegetables are rich in water yet low in calories which makes them particularly beneficial for weight loss dieting.
What do you eat with fritters?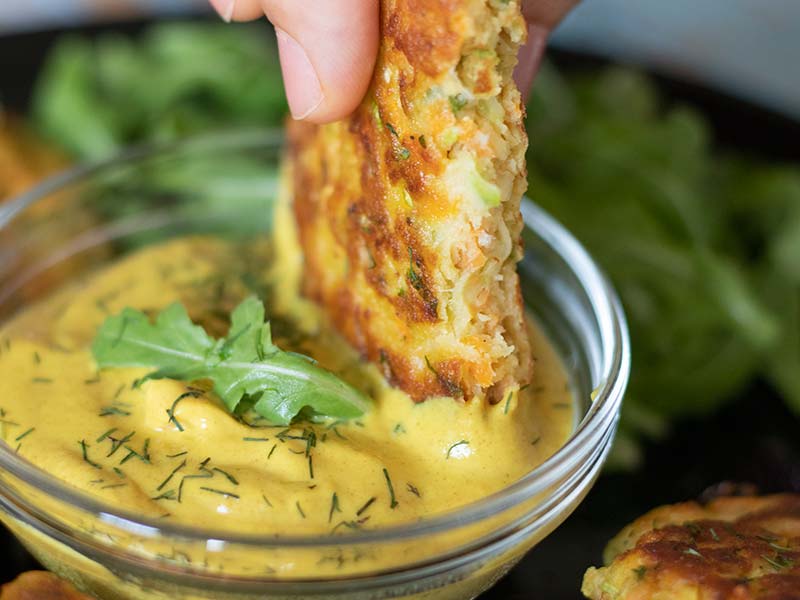 You can enjoy these budget-friendly, meatless patties as a great lunch or dinner on the go while at work or home. Also, you can easily double or triple the ingredients to feed a large crowd. They are a super cheap meal prep idea suitable for large family gatherings or picnics. Truly, they are so versatile, there are so many ways you can serve them:
Alongside a warm and comforting soup
Coupled with a fresh salad as a light, weight-loss meal that is easy to digest
Alongside your favorite vegan mayo, sour cream, sauce, and dressing. Try this green sauce that bursts with Mediterranean flavor or this 5-minute creamy avocado dip
They pair perfectly with this 1 pot of green peas stew or this filling red lentil soup
Use them as a plant-based meat alternative for burgers, pita bread sandwiches, or wraps
I hope you'll love these spicy zucchini-carrot fritters. They are:
Kid-friendly real food
Egg-free
Nut-free
Soy-free
Addictively flavorful make-ahead snacks for a party
Loaded with veggies
Healthy snacks to make in bulk
Vegan-friendly weeknight meal
So yummy!
Love these tender fritters reipe? Pin it for later!
Made these golden zucchini fritters? If yes, please rate it, leave a comment below, and share your photo on Instagram with the tag @go_eatgreen and hashtag it #go_eatgreen. I would love to hear about your experience and your comments just make my day!
Follow me on Pinterest for more easy and delicious vegan recipe ideas.
Love, Marinela💚