I'm so excited to share with you the best vegan sour cream recipe made with whole foods! This is an ideal dairy-free sour cream substitute that's ultra-creamy and super simple to make with just 5 plant-based ingredients. Besides that, this homemade cashew sour cream is soy-free, gluten-free, and oil-free, completely lactose-free.
Whether you are craving a hearty pasta salad or cozy soup with a dollop of velvety cream, or maybe just need a bit of creaminess in your life this non-dairy sour cream alternative really hits the spot. It's rich, smooth, tangy, and incredibly versatile. You can use it to amp up your dips, sauces, dressings, baked goods, or soups.
I'm sure you'll want to drizzle it over anything, from baked potatoes, and roasted broccoli, to crispy potato latkes or eggless frittata. I like to spread it on warm tortillas stuffed with a fresh Mediterranean salad, as well.
In fact, you don't need any fancy dish to eat this veggie dip with. Last night I enjoy it by the spoonful with crusty bread and smoky kalamata olives. Quick, light, and oh-so-delicious dinner ready in no time. My go-to-recipe for busy mornings//nights!
Really, this nutritious condiment is a common staple in my kitchen alongside my DIY vegan parmesan cheese. Plus it's an excellent source of healthy fats, copper, magnesium, manganese, and fiber. Yes, it's both good for you and incredibly flavorful.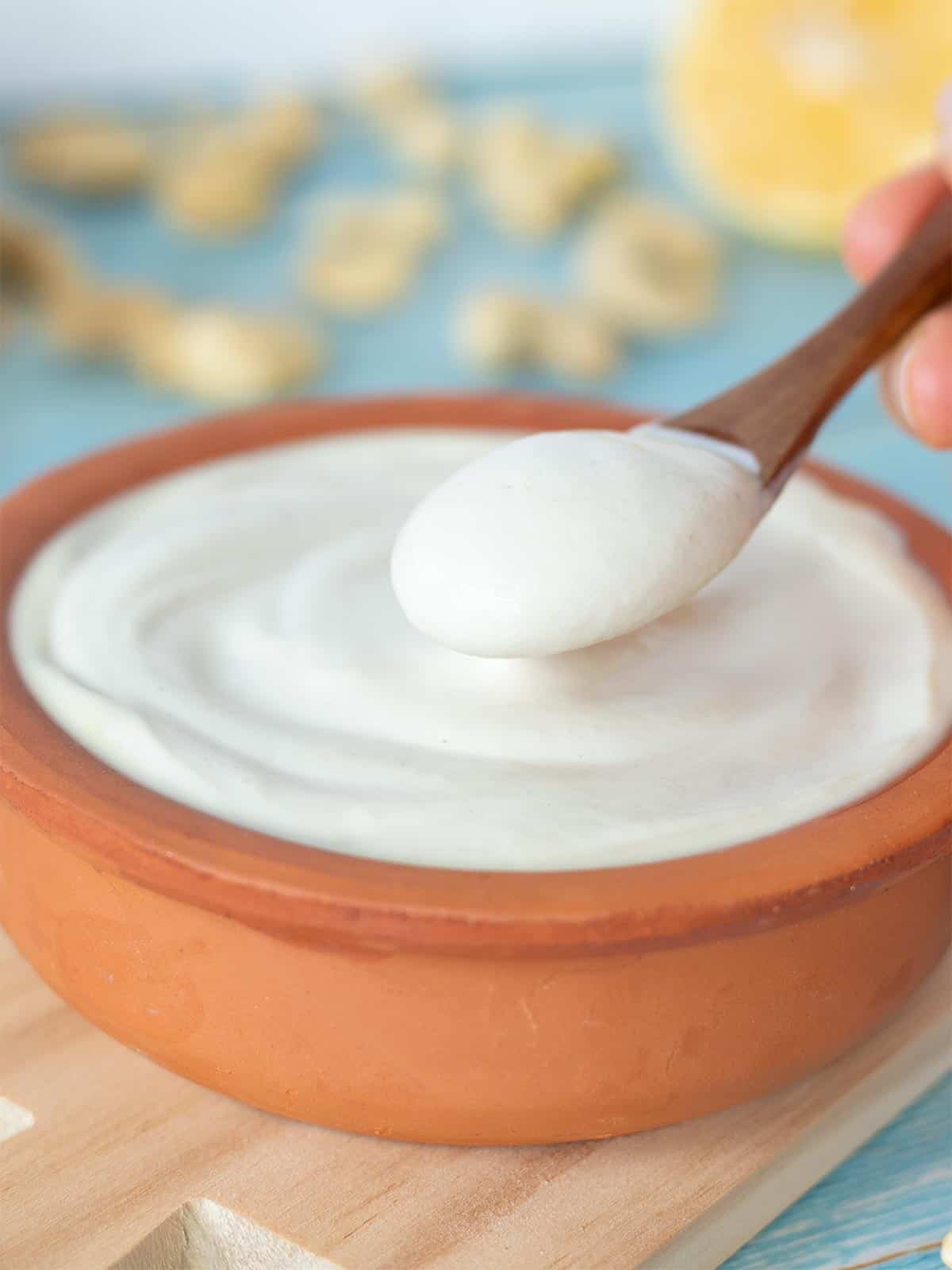 Definitely, this vegan cashew-based dip is not only the perfect replacement for regular sour cream but way healthier and cheaper than the store-bought stuff.
Thanks to its fantastic savory taste and thick, velvety texture it turned out to be a crowd-pleaser in my house, I hope you'll love it too.
Jump to:
Vegan Sour Cream Ingredients
What is vegan sour cream made of? Here are the ingredients:
Cashews (organic, raw, unsalted)
Lemon juice (freshly squeezed)
Apple cider vinegar
Mineral salt
Water
As always, you can find the full recipe with a list of ingredients with measurements in a printable recipe card at the end of this post.
How To Make Vegan Sour Cream
First, soak the cashews for at least 30 minutes, covered, in hot water, or overnight with regular tap water. The longer you let them soak, the softer they will become, and the creamier the consistency of your vegan sour cream recipe turns out. After soaking, drain, rinse, and drain again until the water runs clean.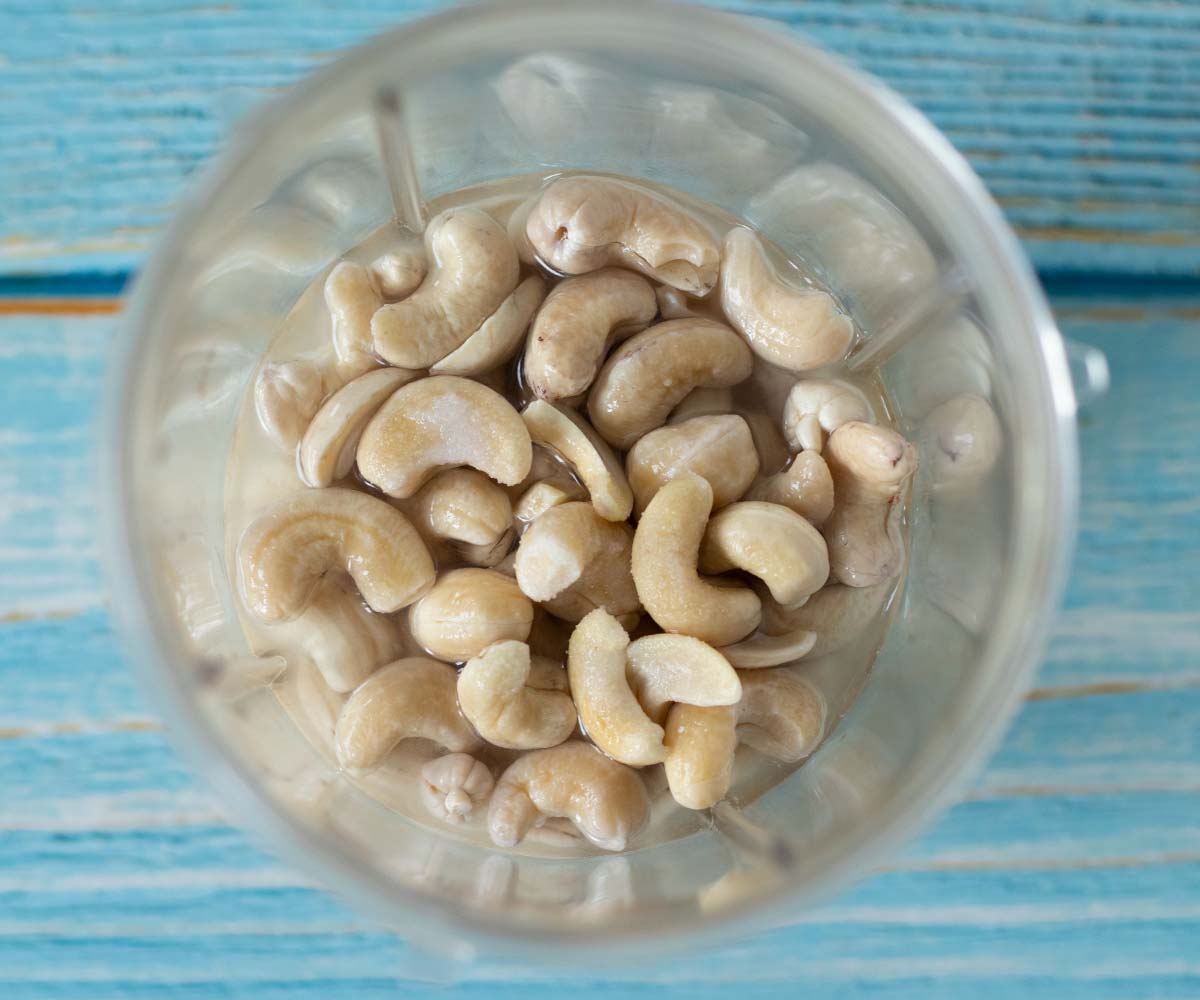 In a high-powered blender combine cashews, lemon juice, apple cider vinegar, salt, and water. Blend until you get a silky smooth and creamy consistency. Stop and scrape down the sides if needed.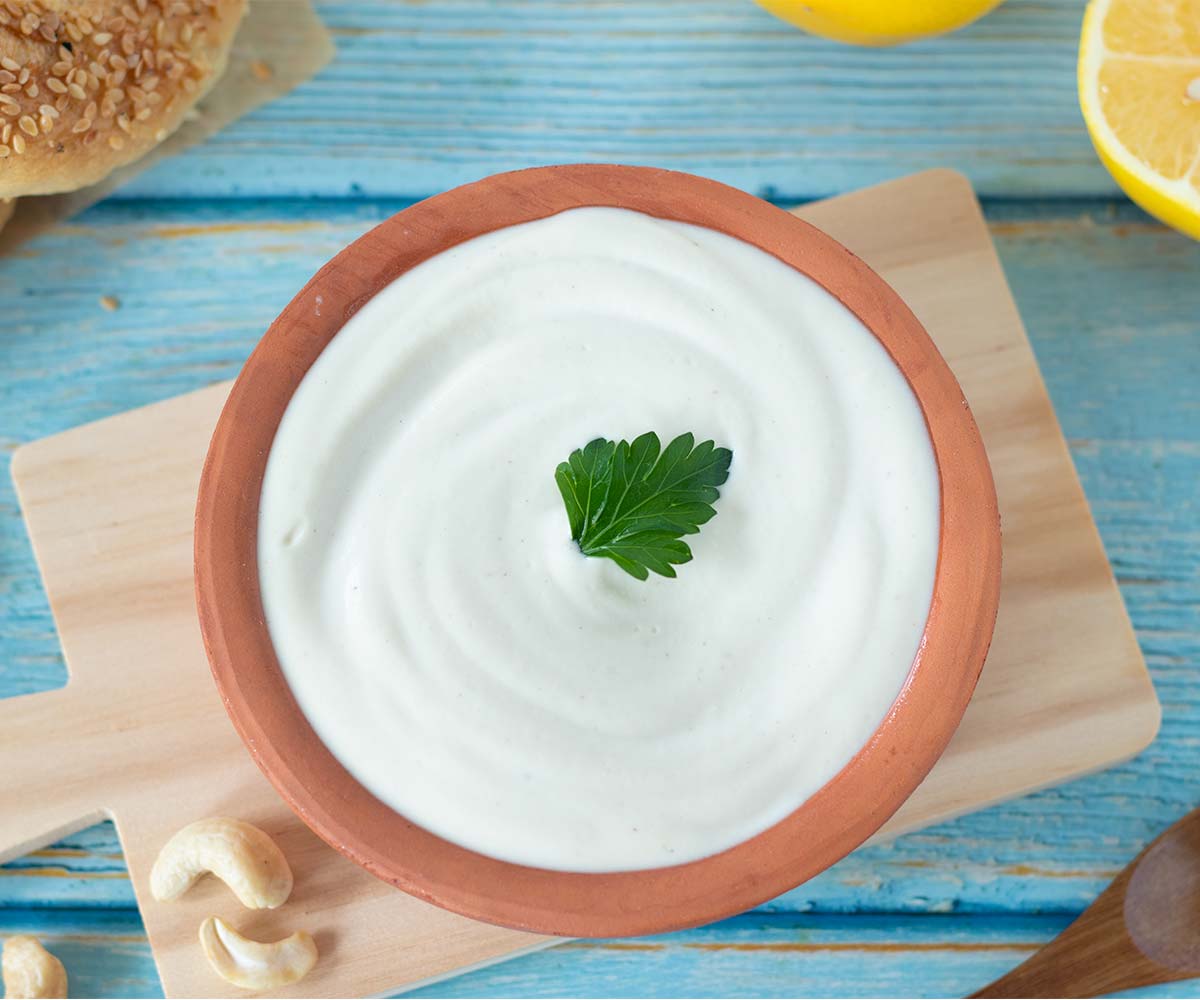 Taste and add an additional teaspoon of lemon juice or more salt as per taste. Serve immediately or store in an airtight container (glass is always the best!) in the fridge for later. You can keep any leftovers, refrigerated, for up to 4 days. Give it a good stir before serving. Enjoy!
Storage
Keep any leftovers in an airtight container in the fridge for up to 4 days. Use a glass container if you have one since it preserves flavor and freshness better. It may thicken as it sits, in that case just stir in 1-2 teaspoons of water. In my opinion, the flavors are fully developed and the cream really tastes amazing after chilling for a few hours in the fridge or the next day.
Top Tips
Even if you have a high-powdered blender don't skip the soaking step. By soaking the cashews, not only do you get that amazingly creamy texture but this also boosts their nutrition and improves digestion.
Always use only raw organic cashews, not roasted ones. Roasted cashews are usually salty and have a strong flavor that is not typical for sour cream. Additionally, they can contain high levels of added oils.
If you don't have a high-powered blender you can still reach a smooth texture by soaking cashews longer (overnight will be the best option). They should plump and become soft and fluffy.
I get the perfect texture and flavor with the listed ingredient measurements. Nonetheless, if you think your homemade sour cream is too thick feel free to add a bit more water, non-dairy milk, or vegan yogurt if you like. Additionally, you can add more lemon juice/salt if you desire. Test with a small amount of the additional ingredients to avoid undesirable consistency/taste.
You can add 1 tablespoon of nutritional yeast for a pronounced cheesy flavor.
FAQ's
Can vegan sour cream be frozen
Yes, you can freeze it in a freezer-friendly container in the freezer for up to 5 months. To thaw, simply let it sit in the fridge overnight. Note that it will change the texture a bit. Just stir with a spoon to reach a smoother consistency. You can add 1-2 teaspoons of water or plant-based milk to thin it out.
Is cashew cream healthier than dairy cream
Absolutely! This cashew-based sour cream is loaded with heart-healthy unsaturated fats, plant protein, powerful antioxidants, and various vitamins and minerals that are good for your health. On the other hand, dairy versions are full of unhealthy saturated fat (the primary cause of bad LDL cholesterol), can make you feel bloated or gassy, and can cause allergy or lactose intolerance. Moreover, this dairy-free dip doesn't contain additional preservatives or artificial ingredients.
Is vegan sour cream gluten-free
Sure, this vegan sour cream dip is totally gluten-free. Cashews are naturally gluten-free nuts as well as the other ingredients we use in this recipe.
Can you use vegan sour cream in baking
Yes! You can use a 1:1 ratio in any baking recipe that calls for sour cream. It's a wonderful vegan substitute for regular dairy cream.
More Vegan Recipes With Cashews
📖 Recipe
Did you try this vegan sour cream recipe? If yes, please rate it, leave a comment below, and share your photo on Instagram with the tag @go_eatgreen and hashtag it #go_eatgreen. I would love to hear about your experience and your comments just make my day!
Follow Go Eat Green on Pinterest for more easy and delicious vegan recipe ideas.