This easy recipe for cashew butter is absolutely amazing! You will make it in just 25 minutes and no oil or sugar is needed. It's plant-based, oil-free, refined sugar-free, gluten-free, dairy-free, and luxuriously creamy. Also, it's budget-friendly, vegan-friendly, exclusively made with whole foods, and wayyyy tastier and healthier than any store-bought version of it.
This naturally sweet nut spread makes a yummy, protein-rich snack or a healthy addition to various dishes. What's more, it's an excellent source of plant-based protein and heart-healthy fats, especially for those who eat no animal products. Moreover, this homemade cashew butter is a delicious option for breakfast, snacks, or dessert for kids and adults alike.
Here is how to make the best cashew butter at home. I'm sure you will want to spread this nut butter on just about everything. My favorite way to enjoy it? I spread it on dates. This lovely combo instantly satisfies your sweet tooth without using any sugar at all!
Vegan Cashew Butter Without Oil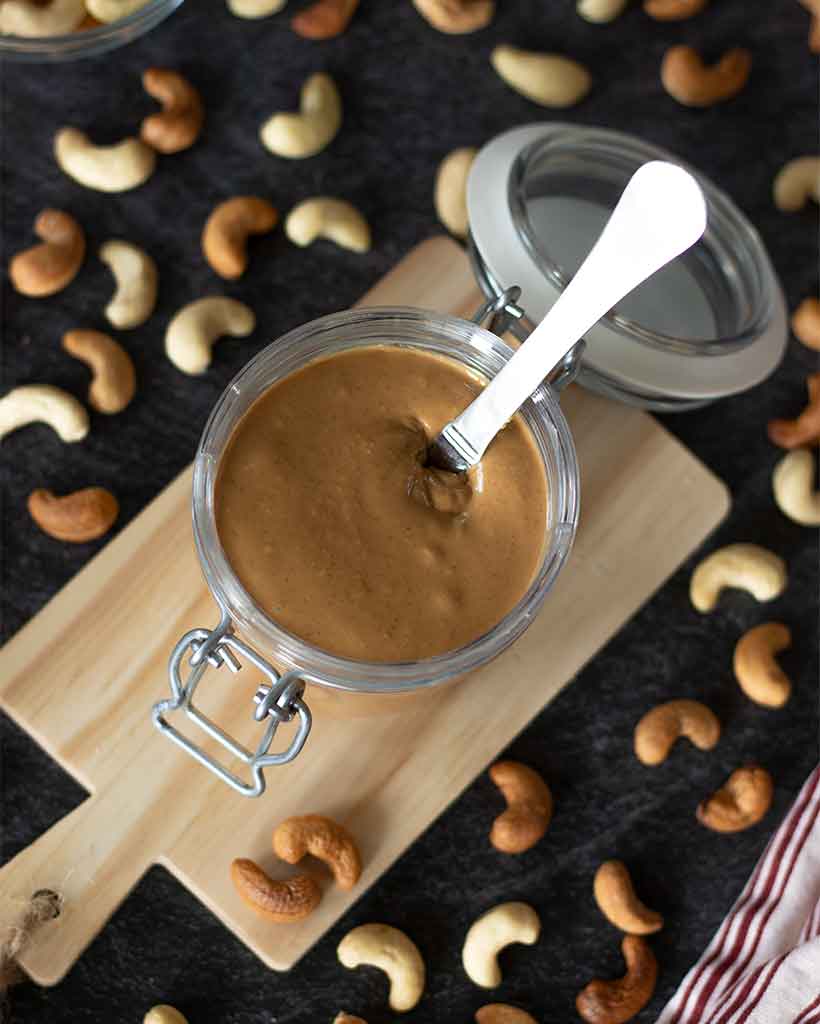 Since I went plant-based, a jar of homemade peanut butter become a common staple in my kitchen. I find it so versatile, I could enjoy it in so many different ways. I use it to make my no-bake granola bars, my quick chocolate brownies, or blend it in my chocolate PB smoothie. Well, when we talk about homemade butter and spreads, I can't help mentioning my fabulous vegan Nutella (without sugar) here. You can check out this simple recipe, I know you'll love it.
Recently, I started making my own cashew butter and I grew quite fond of its unique buttery sweetness and perfect creaminess. Toasted cashews have an aromatic nutty flavor that is even more pronounced when blended into a silky-smooth consistency. This rich velvety butter is so good, now I need to always have a jar of it at hand. Besides that, this wholesome butter is a wonderful alternative if you are allergic to peanut butter or not a big fan of almond butter.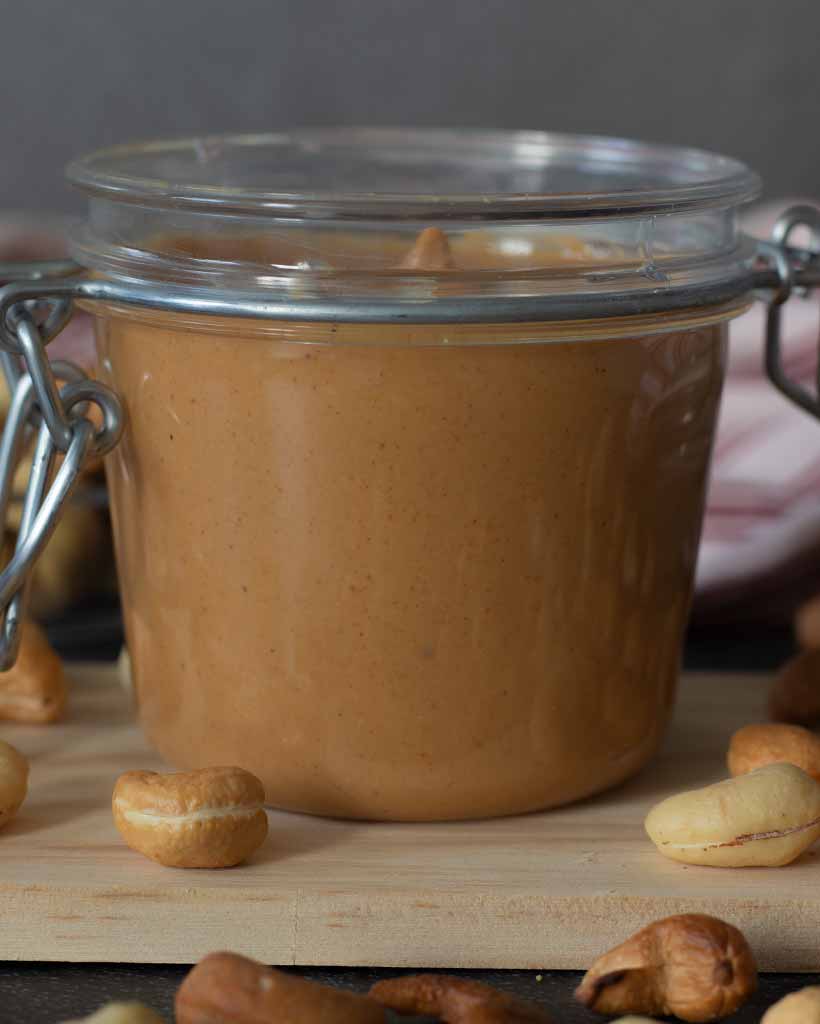 Why buy expensive nut butter when you can make your own with almost no effort and save some money alongside?
It's time to treat yourself without feeling guilty. This sweet vegan dip is fresh, nutritious, and amazingly fragrant. Bonus? It's cheaper than traditional nut butter you can buy at the grocery store.
Get ready to be surprised because this recipe for cashew butter will certainly put you in a deliciously good mood!
Cashew Butter Ingredients
All you need to make this recipe for cashew butter is just one ingredient - raw, organic cashews. But you won't believe how easy it is to make it. There are literally two steps to make this simple DIY spread: roasting and blending your cashews. You can add a pinch of salt since it enhances the flavor of the nuts and plus, acts as a natural preservative.
Time needed: 25 minutes.
How To Make Cashew Butter At Home?

Roast cashews

First, preheat the oven to 302°F / 150°C. Spread your cashews in a single layer over a baking sheet lined with parchment paper. Roast them for 12-15 minutes or until they get a deep golden color. With a spoon, stir them every 4-5 minutes to help them toast evenly. Let them cool completely before processing.

Blend cashews

Next, transfer roasted, unsalted cashews with a pinch of salt into a food processor or high-powered blender and process on high until you get a smooth and creamy mixture.

The butter will go through different stages (see photos below).

First, it will be dry and chunky, next it will clump together into a sticky ball, then it transform into a sticky paste, and finally it will get a creamy consistency. Give your food processor a break every few minutes at the same time scraping the sides to avoid overheating and to make sure all nuts are processed evenly.

If your food processor/blender isn't very powerful, you can add 1-2 tablespoon of oil (coconut oil, avocado oil, or grapeseed oil) at the last stage or blend for an extra 5 minutes to achieve the desired consistency.

In addition, you can add maple syrup, agave syrup, vanilla extract, cocoa powder, or ground cinnamon to make it sweeter.

The whole process should last 7-10 minutes. Please be patient and don't give up until your spreadable butter is ready.

Serve and enjoy

Enjoy your butter immediately or store it in a mason jar or glass airtight container. You can keep it in a cool, dry, and dark place in the pantry for up to a month or keep it refrigerated for three months.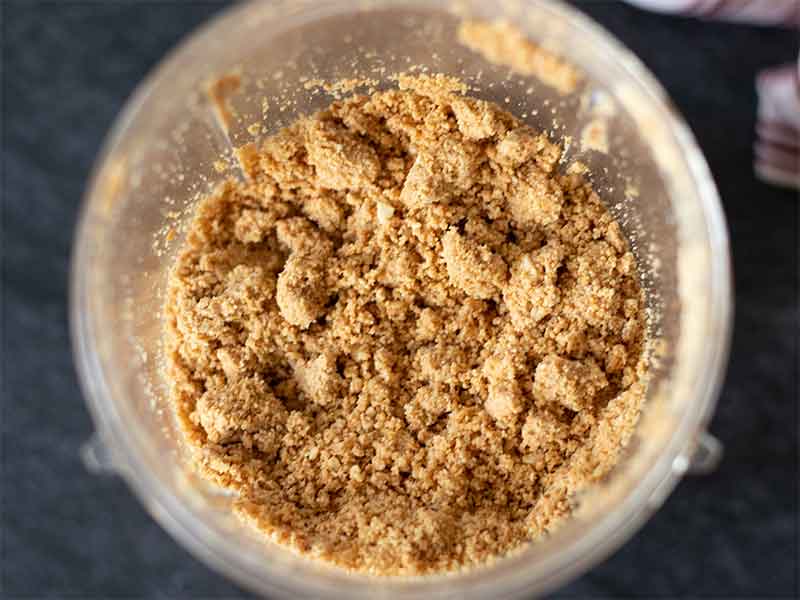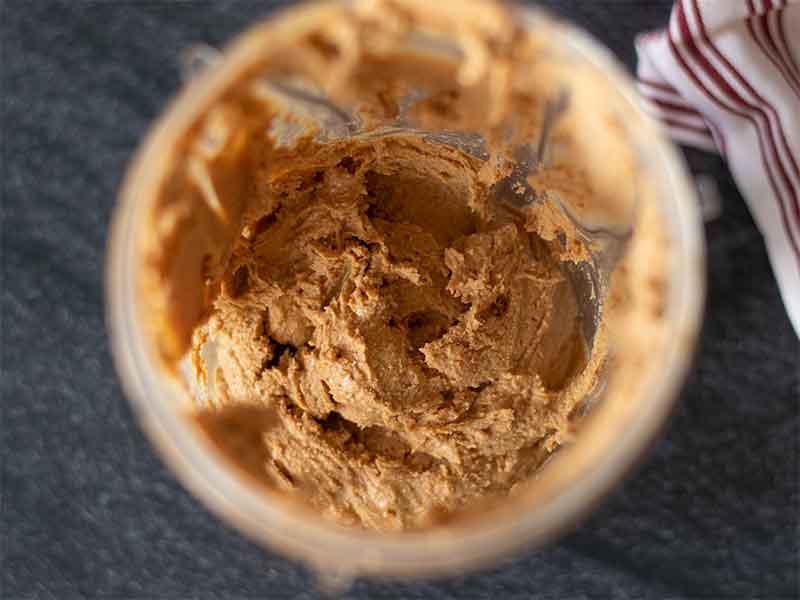 Cashew Butter Uses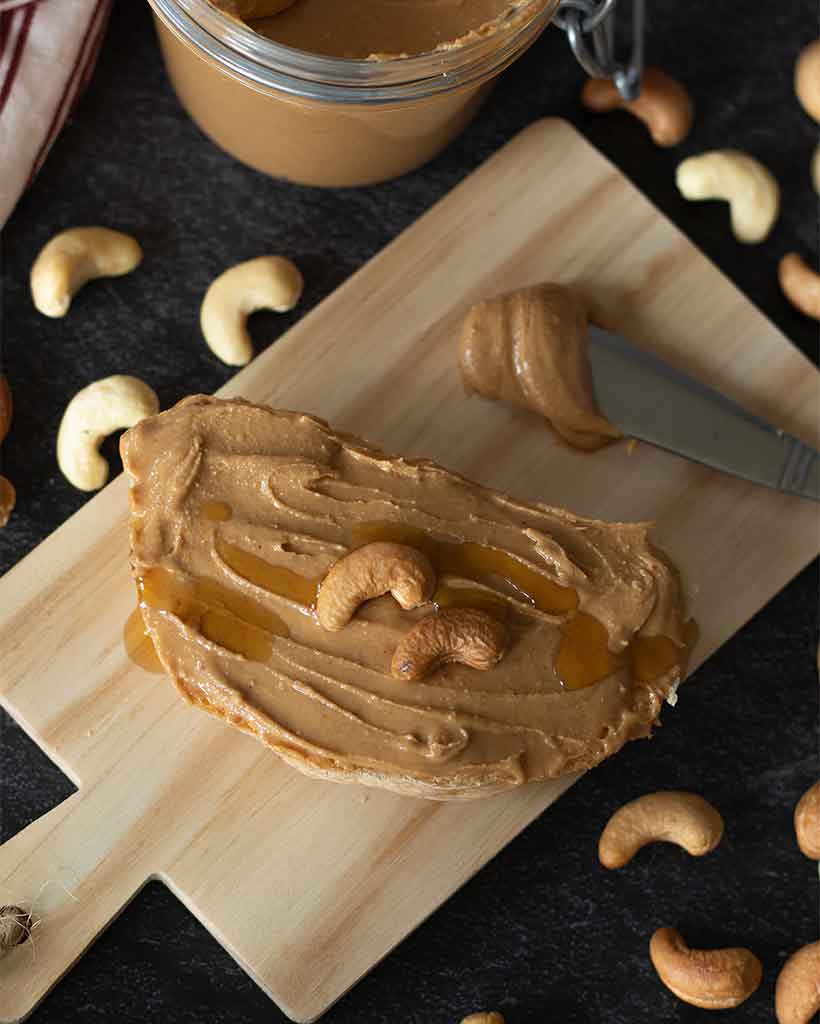 Is cashew butter healthy?
Absolutely! This DIY cashew butter is full of good-for-you nutrients. It's rich in fiber, heart-healthy unsaturated fats, powerful antioxidants, and plant-based protein. Despite the fact that cashews are relatively high in calories, they are low in sugar and surprisingly nourishing. That's why eating the right amount daily together with a balanced diet and physical activity will actually help improve your overall health and keep your body in shape.
Is cashew butter healthier than peanut butter?
Both cashew butter and peanut butter have an exceptional nutrition profile and are a good addition to a clean, well-balanced diet. Both of them are highly beneficial for your health and can help you boost your energy levels, may improve your heart health, and lower your cholesterol. Even though cashew butter is slightly lower in protein than peanut butter, it's richer in carbohydrates, magnesium, phosphorus, iron, and zink. While peanuts contain more protein, calcium, potassium, vitamin B3, and vitamin B9. Also, cashews contain vitamins C and K, which peanuts lack completely.
Should you refrigerate cashew butter?
No, don't need to refrigerate your butter. You can keep it in a mason jar or glass airtight container, with a closed lid, in a cool, dry, and dark area, at room temperature, in the pantry for up to a month. Since it may go rancid if exposed to warm or hot temperatures for a long period of time it is best to store it in the refrigerator for up to three months. This will make it hard to spread but will retain its quality and prolong its shelf life.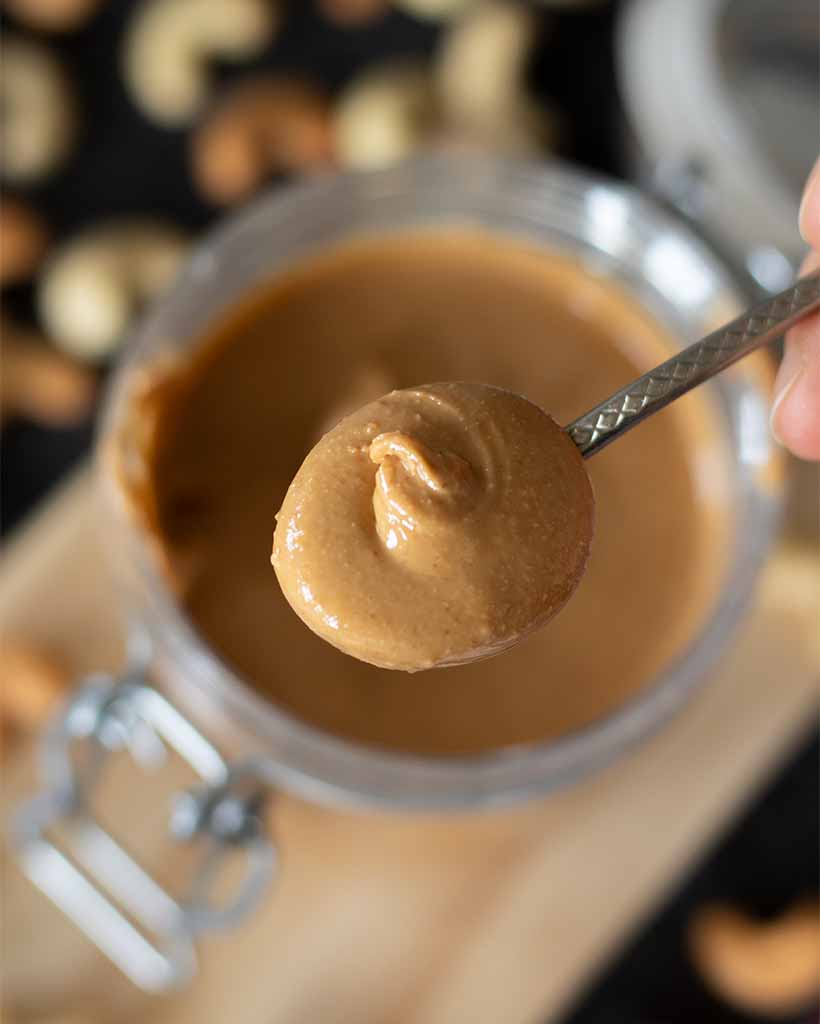 Which vitamin is found in cashew?
Cashews contain vitamin K, Vitamin E, vitamin B3 (niacin), vitamin B9 (folate), and a minimal amount of vitamin C.
Are cashews anti-inflammatory?
Cashew nuts possess various anti-inflammatory and anti-oxidative properties which can help fight inflammation and hence reduce the risk of chronic diseases.
Do cashews raise blood sugar?
Cashews have no negative effect on your blood sugar levels. They don't increase blood sugar, and can actually aid regulate glucose levels naturally without any side effects.
How many cashew butter calories are in one tablespoon?
There are 89 calories in one tablespoon of cashew butter.
Why You Will Love This Healthy Nut Butter? It is: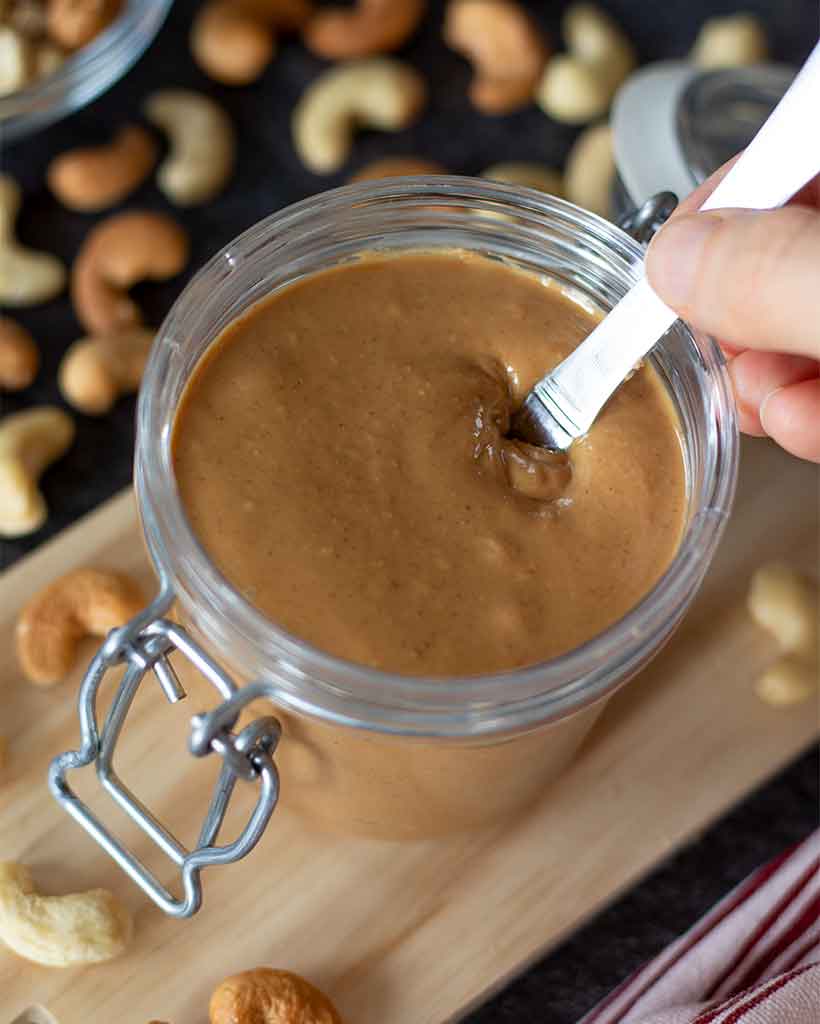 Made with 100% cashews
Contains no artificial ingredients
No added sugar
Tasty PB substitute
Thick and creamy, not runny
Guilt-free treat
Perfect mason jar gift
Simply irresistible!
Love Cashews? Try Out These Recipes:
Don't forget to pin or share this post so you'll have this homemade recipe for cashew butter ready when you need it!
Did you try this easy recipe for cashew butter? If yes, please rate it, leave a comment below, and share your photo on Instagram with the tag @go_eatgreen and hashtag it #go_eatgreen. I would love to hear about your experience and your comments just make my day!
Follow me on Pinterest for more easy and delicious vegan recipe ideas.
Love, Marinela💚