Make your morning special with the best recipe for cranberry orange muffins! These homemade vegan cranberry orange muffins are packed with delicious tart cranberries and fresh orange juice. Moreover, they are incredibly moist, tender, and full of flavor. They're particularly good as a healthy breakfast treat, sweet snack, or decadent dessert.
Besides that, these bakery-style muffins are eggless, dairy-free, and freezer-friendly. I usually whip them up in 10 minutes and bake them while I prepare for sleep so I will have my ready-to-go morning meal when I wake up. What could be better than a freshly baked muffin and a cup of hot cocoa or tea?
They really are an amazing make-ahead breakfast idea!
Bonus? You need no mixer at all to bake these simple cranberry muffins.
This post has been featured in Twinkl's Delicious MacMillan Coffee Morning Recipes List that's part of a fundraising event for Macmillan Cancer Support.
Healthy Cranberry Orange Muffins
God blessed us abundantly this year with these tiny, round, red superfood fruits.
I am especially fond of small-sized fruits and vegetables. In my opinion, they have a more intense flavor and are cheaper than the large fruits and veggies supermarkets are trying to sell us for premium prices (something to think about).
However, we all live in different parts of the world and have access to different types of produce. That's why I believe that the LORD provides us with the best food we need according to the region we live in and our dietary needs. Likewise, local greens always taste fresher, have more nutrients, and are more affordable.
Just like these little wild beauties!
Don't worry, this recipe for cranberry & orange muffins is so versatile, you can use fresh or frozen cranberries, whichever you have on hand. They both fit perfectly into this fragrant muffin dough.
Check out our creamy cranberry smoothie or this warmly spiced cranberry sauce. for a delightful way to use up fresh or frozen cranberries.
Recipe for Cranberry Muffins (Ingredients)
You'll need a few pantry staples to make these easy cranberry muffins. Here they're:
Cranberries (frozen or fresh)
Fresh oranges (for orange juice and zest)
All-purpose flour
Flax egg (ground flaxseed + water)
Unrefined brown sugar
Sunflower oil
Sparkling water
Pure vanilla extract
Apple cider vinegar
Baking soda
Salt
As always, you can find the full recipe with a list of ingredients with measurements in a printable recipe card at the end of this post.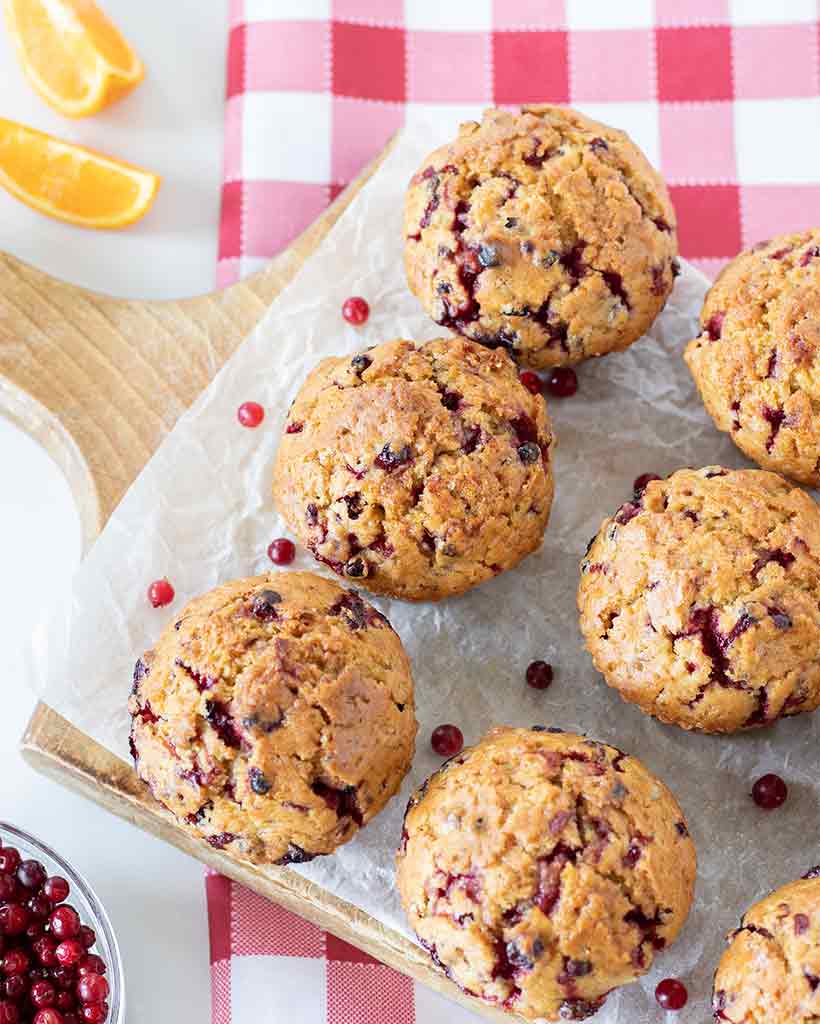 Time needed: 35 minutes.
How to make vegan cranberry orange muffins from scratch?

Prepare your flax egg

First, in a small bowl mix ground flaxseed (flaxseed meal) and water. Let the mixture rest while you prepare the other ingredients.

Zest and squeeze your oranges

Next, rinse well your oranges and finely grate 1 heaping tablespoon orange zest. Freshly squeeze ¾ cup of juice from them. In the meantime, preheat the oven to 392°F / 200°C. If not using muffin liners, lightly grease your muffin tin holes with oil. I used silicone muffin liners (the easiest way to remove whole well-shaped muffins).

Mix dry ingredients

After that, in a bowl, whisk together flour, brown sugar, baking soda, and salt.

Mix wet ingredients

Then, in another bowl mix your flax egg, freshly squeezed orange juice, sparkling water, sunflower oil, apple cider vinegar, and vanilla extract.

Make the batter

After that, pour out wet ingredients into the bowl with dry ingredients and gently mix until well just combined. Be careful to NOT OVERMIX the batter, otherwise, your muffins will be too dense. Once the batter is made, gently fold in frozen cranberries (do not thaw) and freshly grated orange zest.

Bake muffins

Finally, fill each muffin cup with the mixture. I used a 12-cup muffin tin and filled each muffin cup to the top. Bake in the center rack of the preheated oven for 27-30 minutes until the tops are golden or an inserted toothpick comes out clean.
Let them cool in the muffin tin for 5-10 minutes, remove and place on a cooling rack until completely cool and ready to eat. Enjoy!
Can you freeze cranberry orange muffins?
Of course, you can store your cranberry muffins in an airtight container (after completely cool) at room temperature for up to 3-4 days or freeze them in a freezer-friendly bag or aluminum foil for up to 2 months. Let them defrost before serving.
How long do you bake cranberry muffins?
Baking time will depend on your oven, about 27-30 minutes. The best way to check if your muffins are done is to insert a wooden toothpick into the center of one of the muffins in the center row. It should come out clean or with a few small crumbs.
Can you substitute dried cranberries with fresh/frozen in muffins?
Yes, you can but use only ¾ cup-1 cup dried cranberries because they are very sweet. In addition, you can soak dried cranberries in warm water for 10 minutes to soften them before adding them to the batter. Although you can use dried cranberries, keep in mind that your muffins will be chewier and sweeter and will not have the same texture.
Do you have to cook cranberries before baking?
No, this recipe does not require cooking them before baking. You can use frozen (not thawed) or fresh cranberries. I recommend you rinse them in a colander under cold running water and allow them to drain before folding them into the batter.
Are cranberry orange muffins healthy?
Since these muffins are loaded with cranberries and fresh orange juice but are low in sugar they can be an excellent choice if you need a quick, comforting breakfast or a filling snack. Plus, they are a better and healthier option than McDonald's or Starbucks muffins. They contain real orange juice and way more cranberries with no preservatives at all.
Why you'll love these homemade cranberry orange muffins?
Pleasantly sweet (not overly sweet)
Pretty
Plant-based
Soft
Made without eggs, without yogurt
A perfect combo of sweet & tart
No milk, no butter, no eggs needed
Portable
Kid-friendly
Bursting with natural colors and flavors!
Looking for more vegan muffins recipes?
Don't forget to pin or share this post so you'll have this cranberry & orange muffins recipe ready when you need it!
Did you try this recipe for cranberry orange muffins? If yes, please rate it, leave a comment below, and share your photo on Instagram with the tag @go_eatgreen and hashtag it #go_eatgreen. I would love to hear about your experience and your comments just make my day!
Follow me on Pinterest for more easy and delicious vegan recipe ideas.
Love, Marinela💚