Healthy recipe for peach smoothie without yogurt or banana. Easy non-dairy vegan beverage naturally sweetened with peaches and maple syrup.
In the mood for a delicious smoothie inspiration?
Love peaches? A drink that tastes like dessert? Then this peach raspberry smoothie is just for you.
Power up your mornings with this wholesome vegan peach smoothie. This raspberry and peach combo never fails. Delicious summer in a cup mix!
Easy raspberry peach smoothie without yogurt
Quick and so easy to make in a matter of minutes, this refreshing peach smoothie will become one of your favorite smoothie recipes once you try it. You can make it as a tasty on-the-go-breakfast, midday treat when you crave something sweet or a nourishing post-workout snack. Besides that, you can enjoy it any time throughout these warm summer days!
Peach and raspberry smoothie ingredients (no banana, no yogurt!)
This no yogurt & no banana smoothie recipe uses only 4 simple, real food ingredients that are good for you. It'll hydrate and fuel your body with plant-based energy and keep you in a good mood all day long. Isn't it great?
Here is what you'll need:
Fresh peaches

(you can chill them in the fridge if you like)

Frozen raspberries

(for that lovely icy texture)

No dairy milk of choice

(I used oat milk )

Maple syrup
As always, you can find the full recipe with a list of ingredients with measurements in a printable recipe card at the end of this post.
Time needed: 5 minutes.
How to make a peach smoothie recipe without yogurt?

There is nothing better than a light and cold beverage on a hot summer day. Definitely, the best way to end your summer meal. Oh yes, and it's a perfect way to satisfy your sweet tooth without refined sugar!

Gather the ingredients

Place all ingredients in a blender or food processor. Use 2 medium-sized peaches (do not peel the peaches), 1 cup of frozen raspberries, 1 cup of oat milk  (use any dairy-free milk of choice, maybe try this super quick homemade cashew milk or almond milk ), and 1 tablespoon maple syrup.

Blend, serve and enjoy

Blend until super smooth and creamy. Garnish it with some raspberries and sliced peach (I used a fruit cutter for a fancier finish). Serve dividing it into 2 glasses and enjoy it immediately! This recipe yields 2 large glasses but it's easy to halve, double or triple it for larger batches.
Do you peel peaches for smoothies?
No, there is no need to peel peaches for making a smoothie. You won't even notice it once it's blended. Peach skin and flesh are both edible and safe to eat. It's important to note that peach skin contains much of the fiber found in this yummy, juicy fruit. In addition, peach skin has more antioxidants (including polyphenols) than the flesh itself.
How can you tell when a peach is ripe?
Gently touch and squeeze it with your fingers (never squeeze it hard, it bruises easily), it has to be slightly soft. Even if you buy unripened peaches, don't worry, they continue to ripen at home (leave it at room temperature for a couple of days).
Is peach smoothie good for weight loss?
Absolutely! Feel free to add this raspberry-peach shake to your clean eating list right away! Plus, it's low in calories and sugar, while high in fiber, vitamins, and minerals. Its nutrient-dense content makes it a perfect weight-loss and fat-burning drink. Replace any junk food for breakfast or brunch with this flat belly detox smoothie. Your body will surely thank you.
Will fruit smoothies help with constipation
Peaches and raspberries are one of the best foods to relieve constipation fast. This peach smoothie without banana and dairy is a real metabolic booster. It can greatly help you ease or prevent constipation, especially if you drink it on empty stomach, right after waking up paired with lots of water. Do not peel the skin of the peach because a lot of fiber is in it.
What fruit blends well with peaches
Now you can easily add fruit to your diet by mixing your favorite fruit combo. The possibilities are endless. Here are some fruits that go well with peaches:
Apples
Apricots
Bananas
Oranges
Strawberries
Blueberries
Raspberries
Pineapple
Plums
Papaya
Mango
Cherries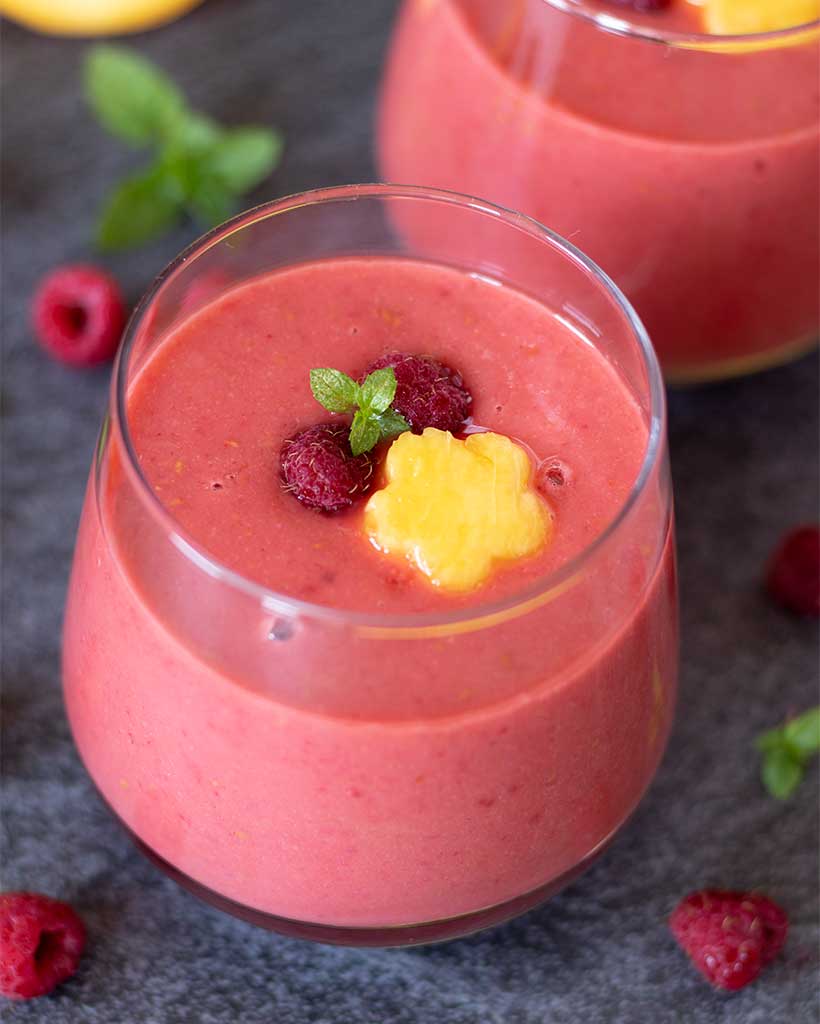 What can replace yogurt in a smoothie
If you are lactose intolerant or have any allergy to dairy products you may ask yourself what can you use instead of yogurt in your smoothies. Here are some yogurt substitutes to make your vegan smoothie thicker and creamier:
You'll love this no yogurt peach smoothie recipe. It's:
Kid-friendly summer beverage
Gluten-free
Refined sugar-free
DIY drink for body cleanse
Vegan & Vegetarian friendly
Guilt-free smoothie
Incredibly nutritious
So satisfying!
More smoothie recipes without yogurt
📖 Recipe
Don't forget to pin or share this post so you'll have this peach smoothie recipe without yogurt ready when you need it!
Made this creamy peach and raspberry smoothie? If yes, please rate it, leave a comment below, and share your photo on Instagram with the tag @go_eatgreen and hashtag it #go_eatgreen. I would love to hear about your experience and your comments just make my day!
Follow me on Pinterest for more easy and delicious vegan recipe ideas.
Love, Marinela💚