Easy watermelon smoothie recipe with banana, mint, and lime. Refreshing summer drink that is naturally sweetened, low calorie, and vegan.
It's watermelon season again, yay! As you already know, I love making tasty recipes from all those colorful plants God gave us to eat and nourish our bodies. They are all good for you and you'll never go wrong whatever fruit or veggie you choose.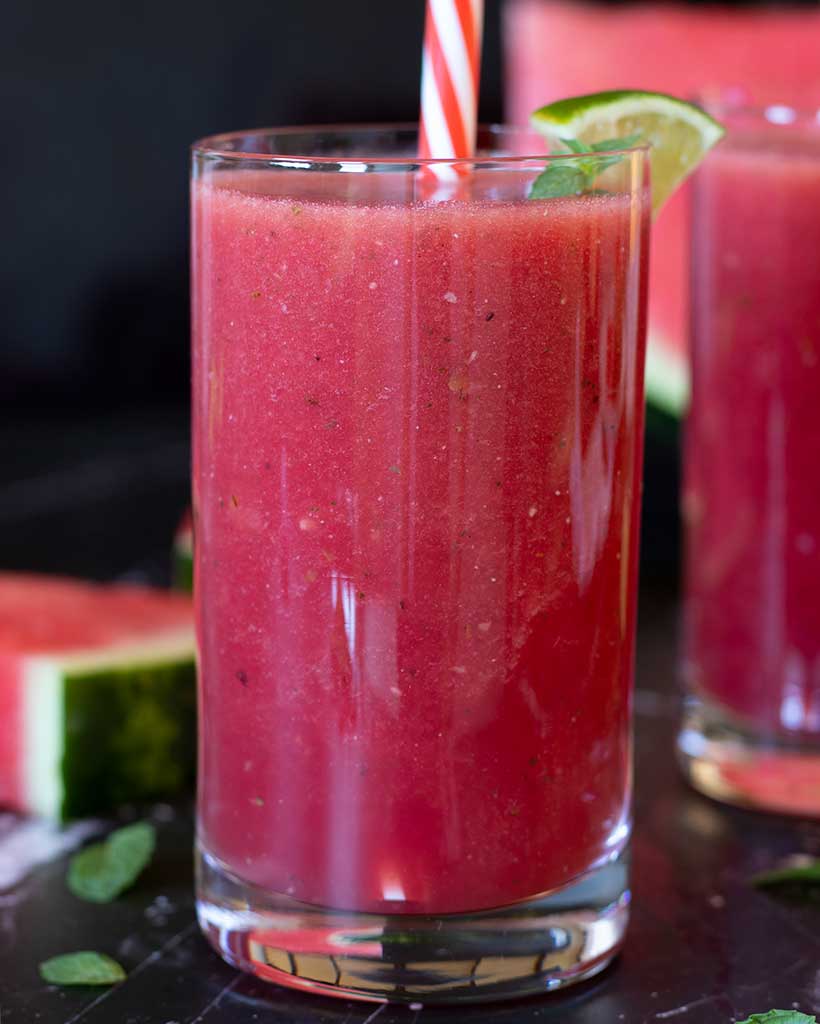 Today we'll make something quick, simple yet so unbelievably enjoyable - watermelon smoothie mix without yogurt or dairy. The best way to chill out on a warm sunny day!
This super hydrating and perfectly sweet blend is great as a light morning breakfast or brunch, post-workout recovery drink, or a super indulging healthy snack. Just like this fabulous peach smoothie I made recently.
Now, are you ready to quench your thirst with this cold banana watermelon smoothie?
Best chosen watermelon smoothie recipe ingredients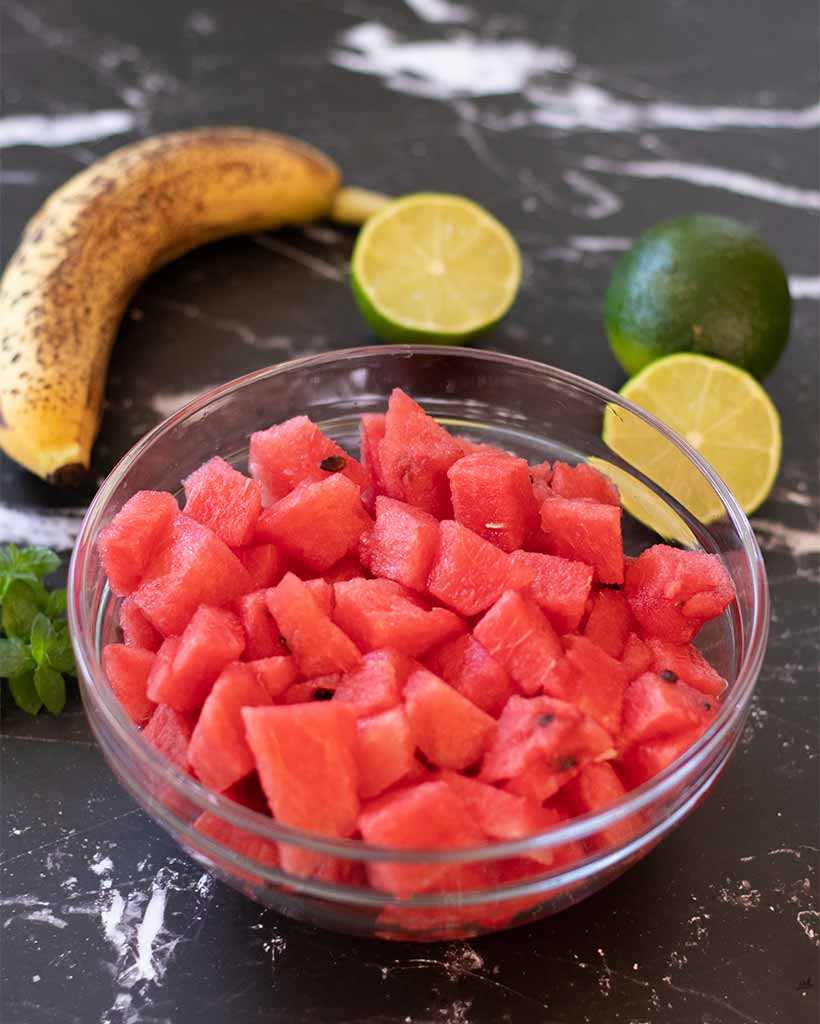 This dairy-free watermelon smoothie recipe uses a few raw and wholesome fruits. It contains no milk, no yogurt, not even water! It's easy to throw the ingredients together in minutes and get the ultimate refreshment when the weather gets hot! You'll need:
Fresh watermelon

(tasty and juicy, chilled in the fridge)

Frozen banana

(for that well-known sweetness and creamy texture)
Lime juice (we\ll need a sparkiling zesty note here, why not?)

Fresh mint

(this herb makes all the difference 🙂 It wonderfully freshens up this nondairy beverage)
Time needed: 5 minutes.
How to make a smoothie with watermelon?

This quick, refined-sugar-free watermelon smoothie recipe is an amazing and creative way to use up any watermelon leftovers. Satisfy your thirst, boost your energy and mood, and keep your digestive system on track naturally. A must-try fruity summertime drink you should include on your list right away.

Gather the ingredients

The most important thing - keep your watermelon refrigerated before making this recipe. Add cubed melon, frozen banana, freshly squeezed lime juice, and mint leaves in a blender or food processor.



Blend, serve and enjoy

Blend until super smooth and creamy. Garnish with sliced lime or fresh mint. Serve immediately while cold dividing it into 2 glasses and enjoy! This recipe yields 2 large glasses but it's easy to halve, double or triple it for larger batches.


As always, you can find the full recipe with a list of ingredients with measurements in a printable recipe card at the end of this post.
Watermelon smoothie taste
This tropical watermelon blast with a touch of lime and mint creates this glowing smoothie that tastes like dessert. It truly is like drinking summer in a cup, in a unique and yummy way. How awesome!
Q & A for preparing Watermelon Smoothie Recipe
Can you freeze fresh watermelon?
Absolutely! You can cut it into chunks or create small balls with a melon baller and pack the pieces into freezer-friendly bags or containers. Note that frozen watermelon chunks will become mushy when thawed so it's better to use them only in preparing smoothies, sorbets, or ice cream recipes. To point out, if you use frozen watermelon, you'll get a thicker and creamier smoothie texture. But keep in mind that in this case, you'll have to add some liquid, water, or plant-based milk, and fresh banana so the mixture will blend well.
Can I put a watermelon in a smoothie?
Yes! You can treat yourself to this creamy plant-based smoothie every single day in this hot sunny season. Not only will it fill you up but will successfully satisfy your sweet tooth without sugar fast. What a wise and healthy choice! Clean eating and drinking have never been so easy! And pleasing! Ahh, I started with my rhymes again 🙂


Can I put watermelon seeds in a smoothie?
The simple answer is yes, you can blend your homemade minty watermelon-banana shake with the seeds. You can remove them if you like but I find it an unnecessary and time-consuming task. Especially if you know that they are very low in calories and have a rich nutritional value. They contain an array of nutrients like magnesium, iron, copper, zinc, monounsaturated and polyunsaturated fats. They are actually highly beneficial and good for you.
Benefits of eating watermelon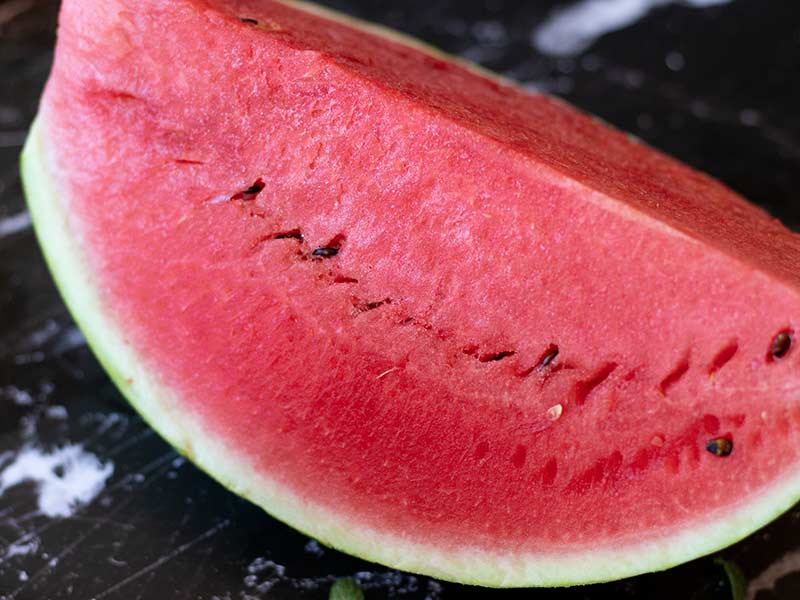 This wonderful pink-and-green fruit is highly beneficial for men, women, and children alike. Here are the top 10 benefits of eating this luscious fruit.
Rich in powerful antioxidans, especially lycopene and cucurbitacin E. Lycopene is an essencial nutrient which triggers many healthy reactions in your body
Its high water content aids in hydration of your body and keeps you full for a long time
Is rich in vital vitamins and minerals that help you prevent cancer and other diseases
Has anti-inflammatory properties that boost your overall immunity and well-being
May lower inflammation and oxidative sterss thanks to its high lycopene and vitamin C content
Greatly improves digestion
Keeps your eyes healthy and may help prevent macular degeneration
May help relieve muscle soreness - watermelon juice is super powerful recovery beverage after an intense workout
Works wonders for your skin and hair thanks to vitamin C, citamin A and other essencial nutrients
Weight-loss friendly food - it's one of the best foods to eat when you're trying to lose weight and burn body fat (the healthy way!)
What can I do with lots of watermelon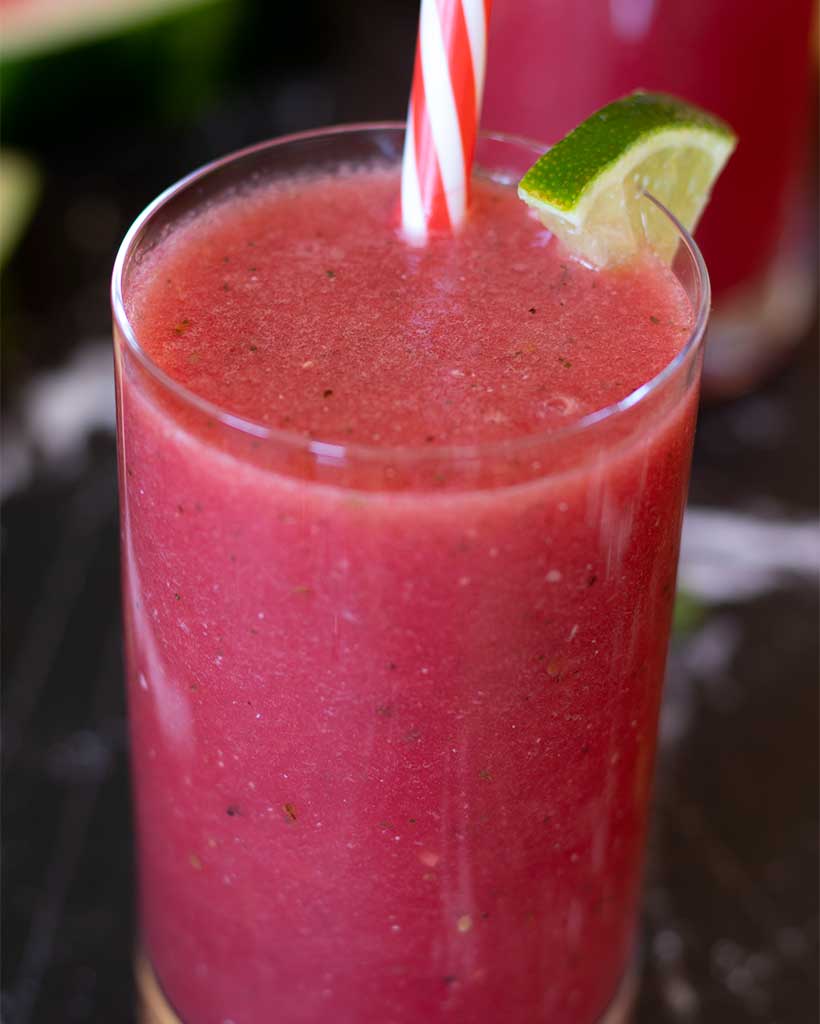 There are lots of tasty ways to use up an entire watermelon. Sip on summer's yummiest flavors with this incredibly delicious and vibrant pink drink. Enjoy the best-unprocessed fresh produce from the farmer's market or grocery store while it lasts! Also, you could try this fragrant Mediterranean watermelon salad (perfect idea for a party!), make a watermelon mojito smoothie, prepare watermelon sorbet or shake up some tropical cocktail. Even make some ice-cold watermelon popsicles, kids will absolutely adore!
What fruit goes well with watermelon
You can get your daily dose of plant-based nutrients in an instant! Watermelon goes well with a variety of fruits like bananas, strawberries, lemon, other berries, or tropical ones such as mango and pineapple.
Is it healthy to have a fruit smoothie everyday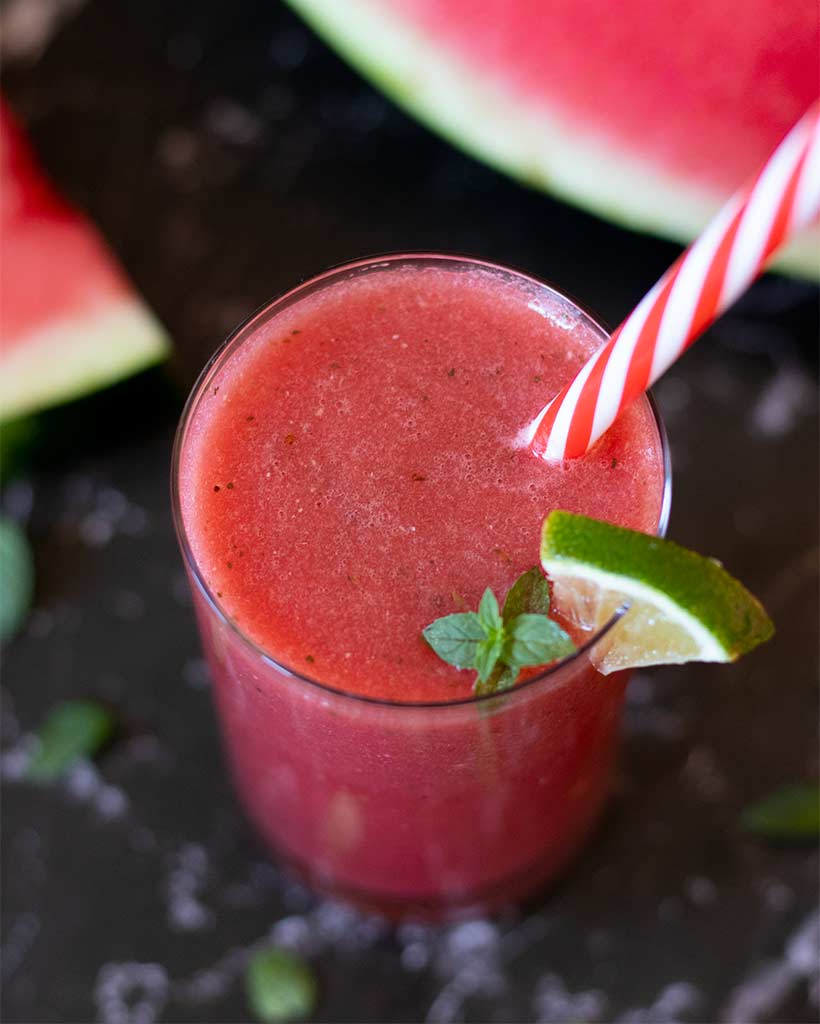 It's completely safe to drink a fruit smoothie every day, just make sure you are using only whole fruits to make your sweet drink. You'll make an excellent choice. Because of the high amounts of vitamins, minerals, antioxidants, and fiber, it will strengthen your immune system, improve your digestion, and will keep you full and satisfied until your next meal.
Why you'll love this easy watermelon smoothie? It's: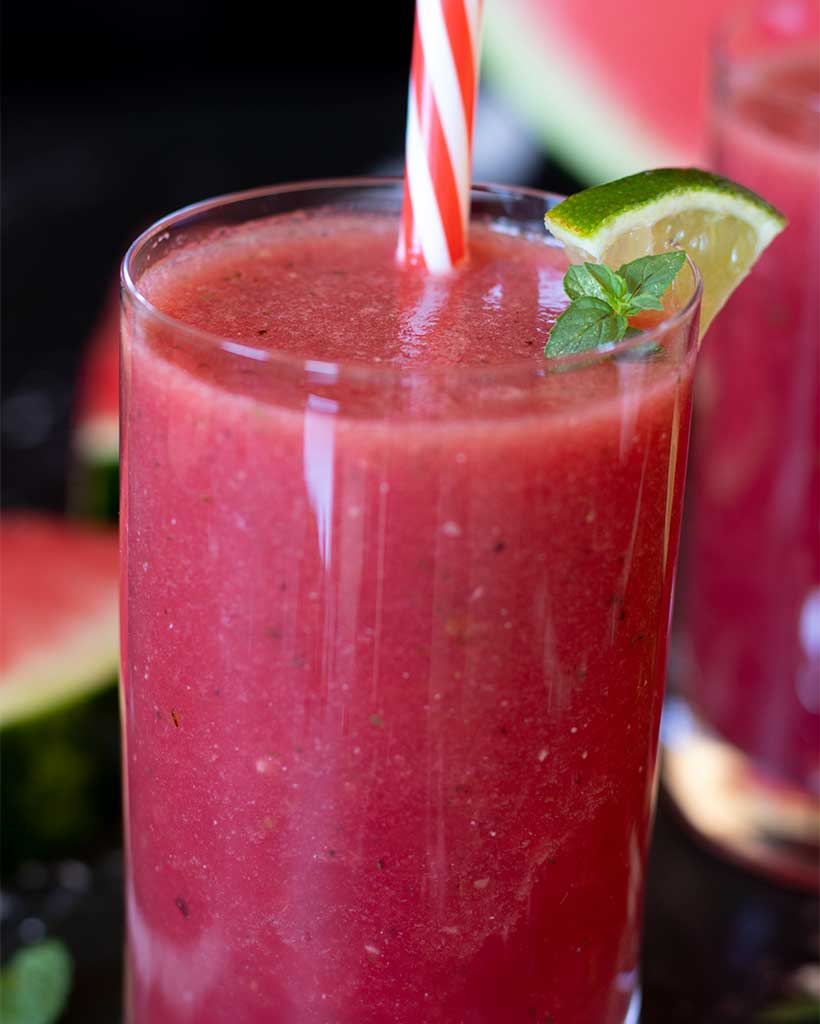 Vegan & Vegetarian

Gluten-free

Kid-friendly

Non alcoholic

Affordable

So refreshing!
Healthy breakfast smoothies recipes
📖 Recipe
Don't forget to pin or share this post so you'll have this easy watermelon smoothie recipe ready when you need it!
Made this easy watermelon smoothie recipe? If yes, please rate it, leave a comment below, and share your photo on Instagram with the tag @go_eatgreen and hashtag it #go_eatgreen. I would love to hear about your experience and your comments just make my day!
Follow me on Pinterest for more easy and delicious vegan recipe ideas.
Love, Marinela💚