Jump to Recipe
Vegan strawberry banana smoothie with 3 ingredients! Best dairy-free recipe for a healthy strawberry banana smoothie. Easy breakfast idea for kids and adults that even picky eaters will love.
Fresh Strawberry Banana Smoothie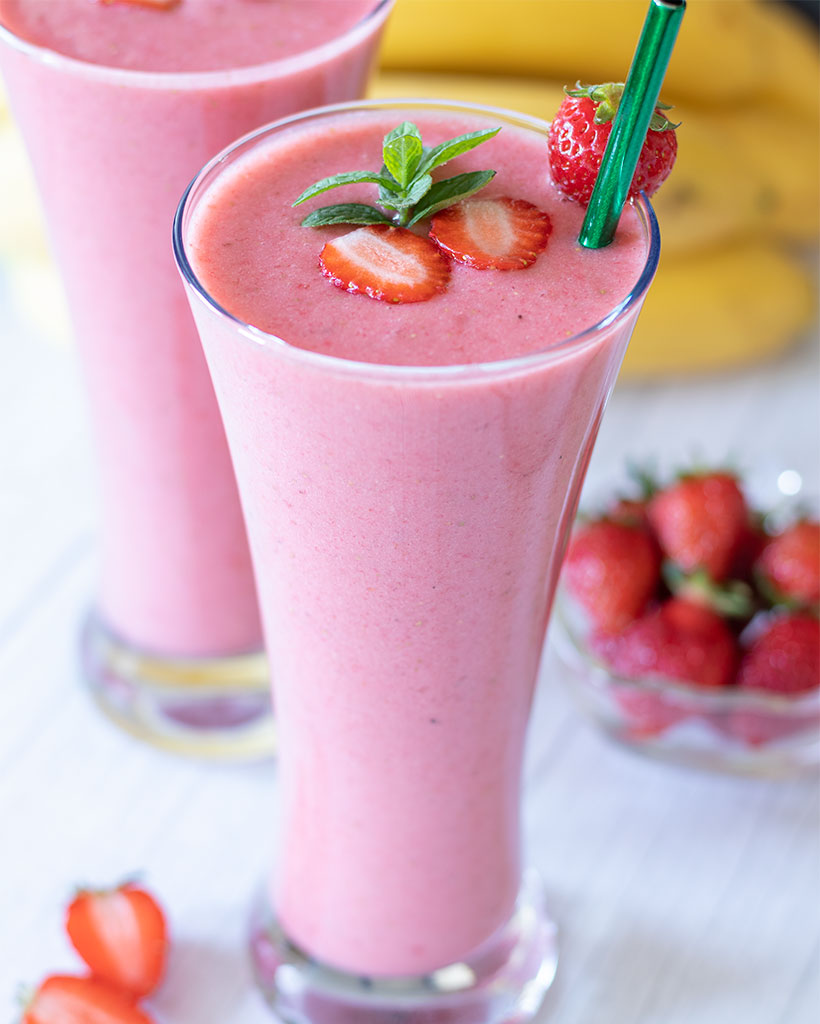 I strongly believe that what you eat matters. The famous phrase "You are what you eat" is actually true! Plant-based, fresh ingredients fuel your body with healthy nutrients. One of them is my all-time favorite, super juicy and flavorful strawberry. Strawberries are so versatile! You could enjoy them fresh or prepare so many delicious recipes with them, like this vibrant and refreshing spinach strawberry avocado salad.
You know that I am a smoothie lover. I always start my day with a fresh smoothie. Smoothies are loaded with tons of healthy nutrients that are good for you. Plus, they are easily portable, so you can take them wherever you go. This sweet and creamy strawberry banana smoothie mix is all you need to start your busy day too. Delicious and quick snack on the go!
Easy Vegan Strawberry Banana Smoothie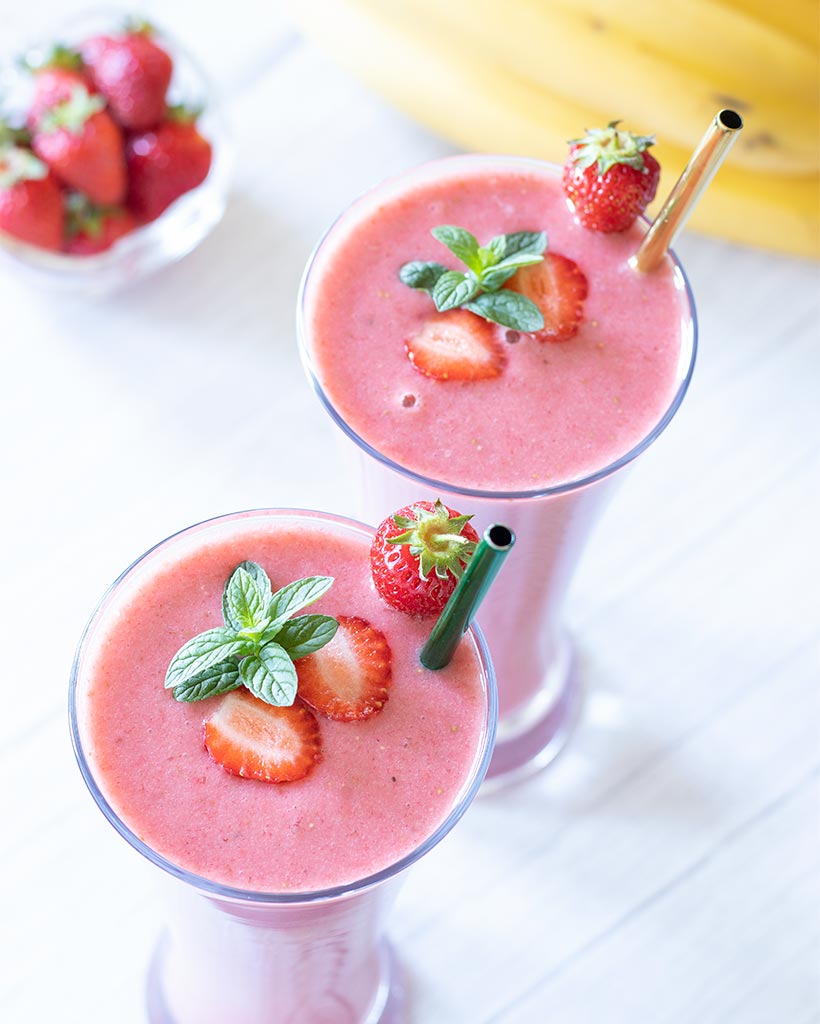 One of the simplest fruit smoothies for beginners is definitely this easy strawberry banana smoothie recipe. It calls for only 3 wholesome, seasonal and fresh ingredients. You'll just love this filling breakfast smoothie.
Kid-Friendly Smoothie Recipe (picky eaters-approved)
Maybe you ask yourself, is this strawberry banana smoothie healthy for kids? Absolutely! You can't go wrong with this recipe. In fact, this vitamin C-packed delightful strawberry smoothie is ideal for kids. Coupled with a fluffy muffin or two, it makes a complete breakfast, after-school snack, or dessert even for picky eaters!
Strawberry Banana Smoothie Ingredients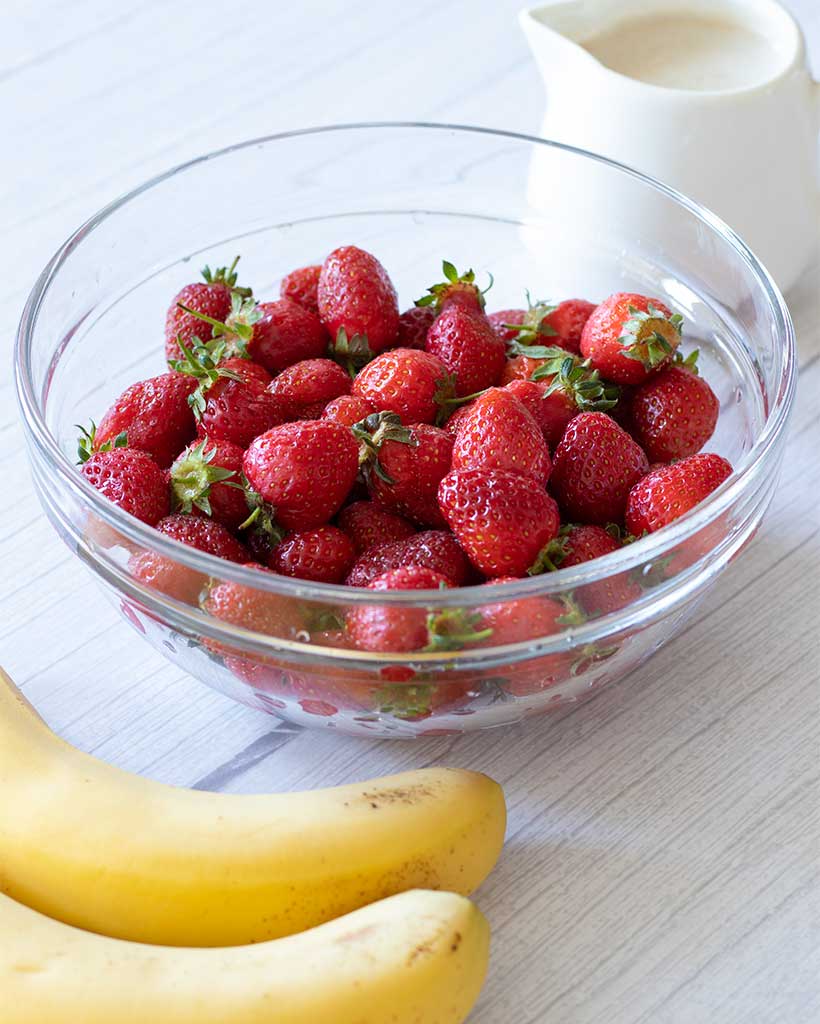 This strawberry banana shake is super simple to prepare in a few minutes. All you need is:
Fresh strawberries (you can use frozen too)

Bananas

Almond milk (or any plant-based, vegan-friendly milk of choice)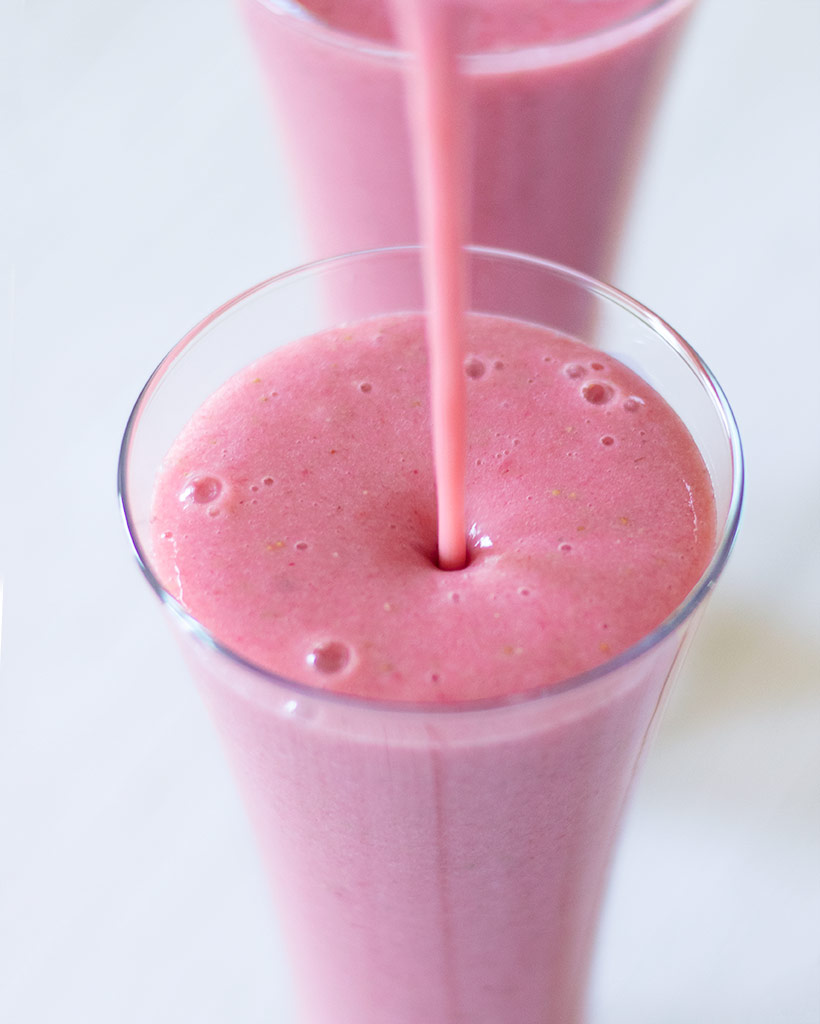 Time needed: 5 minutes.
How to make a healthy banana strawberry smoothie from scratch?

Truly, this fresh strawberry banana smoothie without yogurt is the best cold and refreshing drink you need today. You'll love it because it is entirely vegan, dairy-free, gluten-free, and naturally sweetened without added sugar or artificial colors. Super nutritious, filling, and flavorful vegan meal on the go.

Blend all ingredients

Place all ingredients in a blender or food processor. Use 2 cups fresh strawberries (you can use frozen too), 2 bananas, 1 cup of almond milk (use any dairy-free milk of choice, maybe try this super quick homemade cashew milk or oat milk). Blend until smooth and creamy.

Serve immediately

Serve your vegan strawberry banana smoothie with almond milk immediately, dividing it into 2 big glasses or smoothie jars. Enjoy this really good smoothie straight from the blender, while fresh and creamy. This recipe yields 2 large glasses but it's easy to halve, double or triple it for larger batches.
Perfect Smoothie for Weight Loss
How many calories strawberry banana smoothie?
You can enjoy this low-fat and low-calorie smoothie blend any time of the day. It's totally guilt-free! You can add it to your clean eating diet list right away. If you are craving some delicious treat or snack, this low-calorie strawberry banana smoothie is the best option. It tastes amazing! In a way, you can consider it as a tasty weight-loss dessert.
Are strawberry banana smoothies good for you?
Yes, certainly! This strawberry-banana combo abounds in vitamins, minerals, antioxidants, and fiber. Strawberries are surprisingly rich in vitamin C and manganese. At the same time, bananas are an excellent dietary source of potassium and magnesium. These nutrients are essential for your heart health. Also, they contain high content of resistant starch and pectin. Both help you in reducing your appetite and keeping you full longer. Truly, it's easy to stay fit and feel good when you have easy smoothie recipe ideas on hand.
Are strawberries and bananas good for weight loss?
This delicious combination is a great addition to your weight loss diet. Together they provide you with vital nutrients and a large amount of plant fiber. Since this raw vegan smoothie is significantly sweet, it will undoubtedly satisfy your craving for sugar after a meal or exercise. Besides that, this simple vegan strawberry banana smoothie may help you lose belly fat and successfully balance your weight. It helps your digestive system work properly while boosting your metabolism. It's perfect to improve your digestion and your overall health.
You will simply love this creamy strawberry smoothie. It's:
Naturally sweetened (contains no refined sugar at all)

Gluten-free & Dairy-free

Real food ingredients smoothie

Kid-friendly

Vegan-friendly

Incredibly delicious!
📖 Recipe
More Delicious Smoothie Recipes
Love this perfectly sweet strawberry smoothie? Pin it for later!
Made this vegan strawberry banana smoothie? If yes, please rate it, leave a comment below, and share your photo on Instagram with the tag @go_eatgreen and hashtag it #go_eatgreen. I would love to hear about your experience and your comments just make my day!
Follow me on Pinterest for more easy and delicious vegan recipe ideas.
Love, Marinela💚