Jump to Recipe
This definitely is the BEST Cranberry Smoothie Recipe Idea for a light morning breakfast or healthy snack. Quick 5-ingredient SUPERFOOD healing drink that will detox and cleanse your body.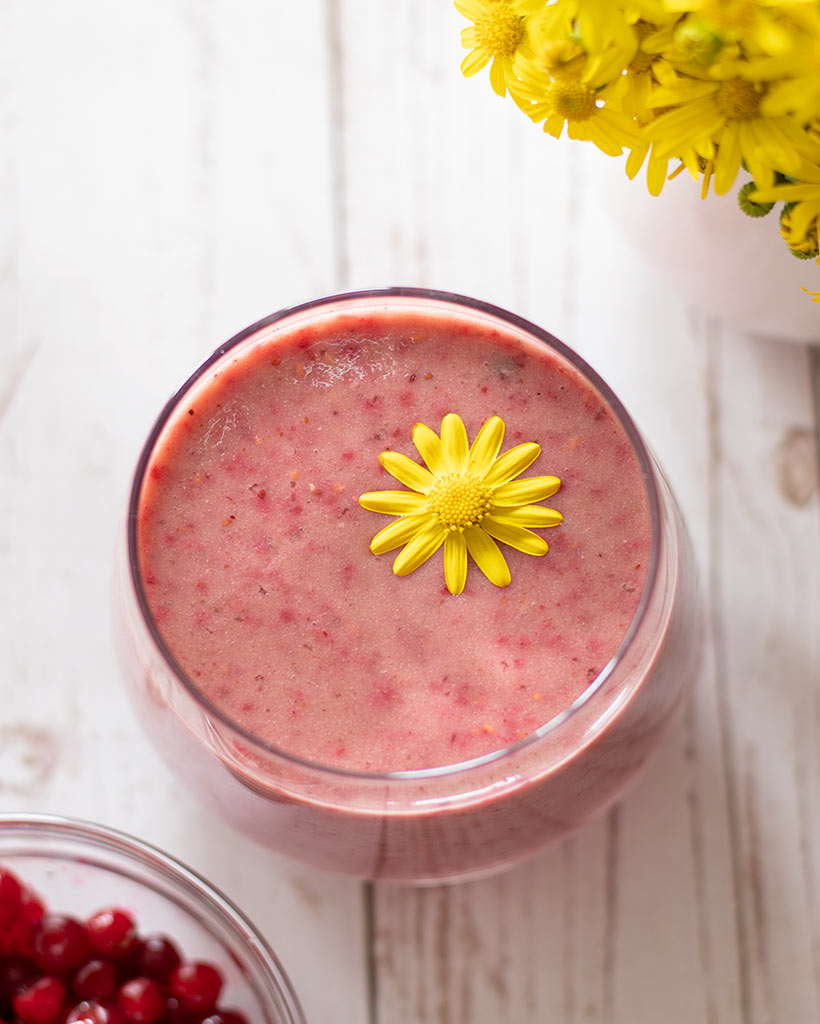 Recently, I discovered these delightful bright-red-colored berries. And I fell in love with them. Seriously. For my entire life, I have known for a dried version of them until last autumn. My mom's friend lives in a mountain region that abounds with wild cranberries. So she served us a baked pumpkin topped with these small extraordinary berries with a delicate sour taste. Since then, they became one of my favorite fruit I incorporate in my daily dose of vitamins and minerals.
Cranberries are known for being slightly tart but the banana and agave syrup balance them out. They add just the perfect amount of sweetness to help compensate their bitterness.
Is cranberry smoothie good for you?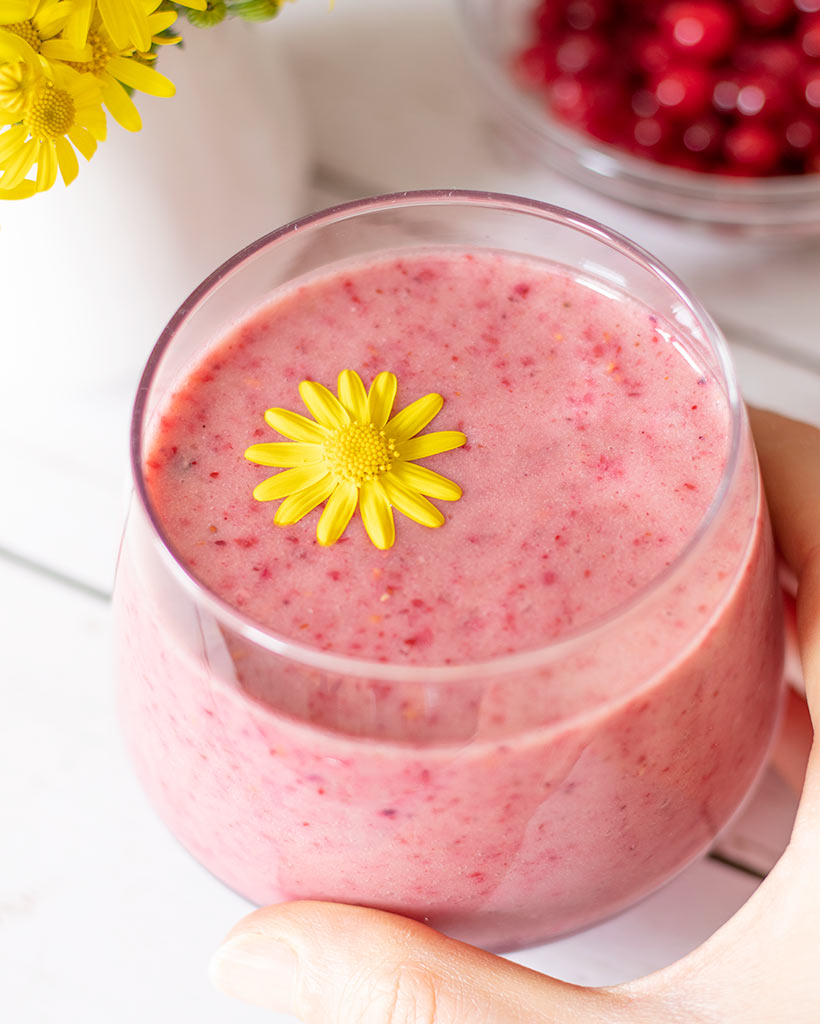 It certainly is! Whole cranberries are a POWERHOUSE of many nutrients, like vitamins and minerals, fiber, and antioxidants. This simple cranberry-raspberry-banana smoothie is so easy to make in less than 5 minutes! It's filled with lots of good-for-you wholesome, plant-based, and dairy-free ingredients. Plus, it's refined sugar-free and dairy-free. So incredibly refreshing and nutritious!
I usually enjoy this highly nutritious vegan smoothie for breakfast. It pairs amazingly with these gluten-free muffins. Perfect breakfast idea for kids and all family.
Cranberry smoothie benefits
Cranberries offer you a range of health benefits. These refreshing tart and tasty berries are a rich source of important nutrients, especially Vitamin C. Vitamin C is a powerful, natural antioxidant that is essential for the maintenance of your skin, bones, and muscles. In addition, it improves your iron absorption and boosts your immune system. They also abound in manganese, copper, Vitamin K, Vitamin E, and fiber. They contain unique phytonutrients, A-type proanthocyanidins, that help you prevent Escherichia Coli and reduce the risk of any UTIs. Equally important to note is that these powerful berries may also reduce the risk of stomach cancer and ulcers. Not to mention their benefit for your heart health and regulating your blood pressure and cholesterol levels.
Time needed: 5 minutes.
How to make the best dairy-free cranberry smoothie?
This cranberry smoothie recipe is perfect for using up any fresh or frozen cranberry leftovers found in your freezer. This delicious blend brings together the flavorful tartness of frozen cranberries, the aromatic taste of raspberries, and the satisfying sweetens of banana and agave. This combination makes a healthy on-the-go breakfast or snack that will cleanse your body and help you lose weight.

Blend all ingredients

Place all ingredients in a blender or food processor. Use ¾ cup frozen cranberries (you can use fresh too), ½ frozen raspberries, 1 banana, 1 cup of almond milk (use any plant-based milk of choice, maybe try this homemade cashew milk or oat milk), and ⅛ cup agave syrup. Blend until smooth and creamy.

Serve immediately

Serve your cranberry drink immediately, dividing it into 2 big glasses or smoothie jars. Smoothies are best when enjoyed fresh and creamy. My recipe yields 2 large glasses but it's easy to double or triple it for larger batches.
Healthy Ingredients for this Healing Smoothie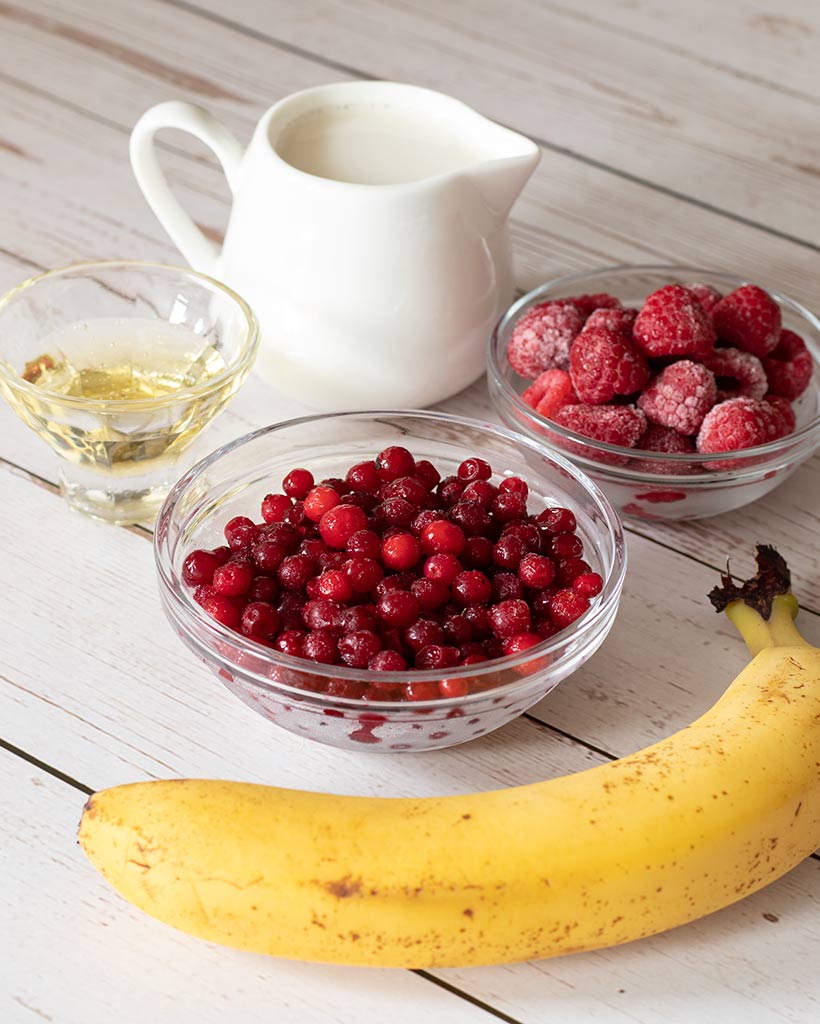 Frozen cranberries

Frozen raspberries

Banana

Agave syrup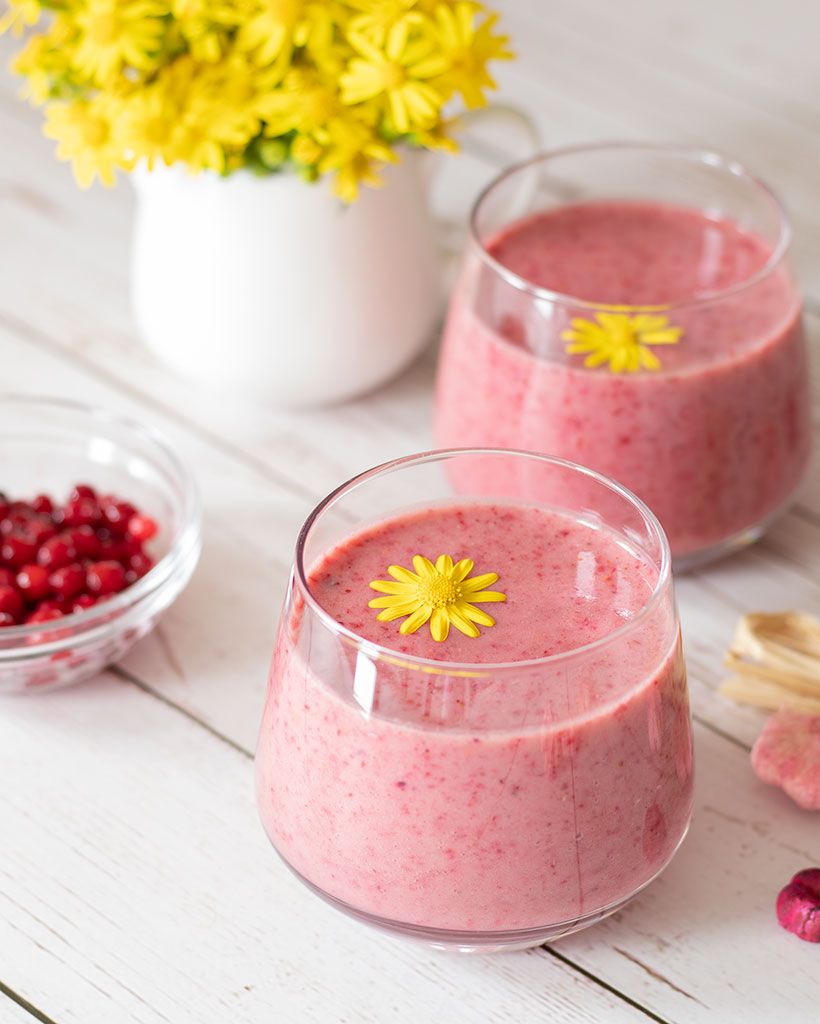 What does cranberry cure?
The antioxidants in cranberries strengthen your immune system allowing your body to successfully fight infections. That is why they are considered a superfood due to their high antioxidant and nutrient content. Moreover, they support your digestive health, improve your heart health and your eyesight, help prevent urinary tract infections (UTIs) and protect your liver. As a matter of fact, studies have shown that they may have anti-cancer and anti-inflammatory effects.
Are cranberries good for weight loss?
Because fresh and frozen cranberries are low in calories and sugar they can be included in any weight loss diet. They contain only 46 calories and 4 grams of sugar in one entire cup. Since these juicy berries are a rich source of beneficial fiber they can aid your digestion. Incorporating these amazing berries in your weight loss menu will help you achieve a flat belly faster than you think.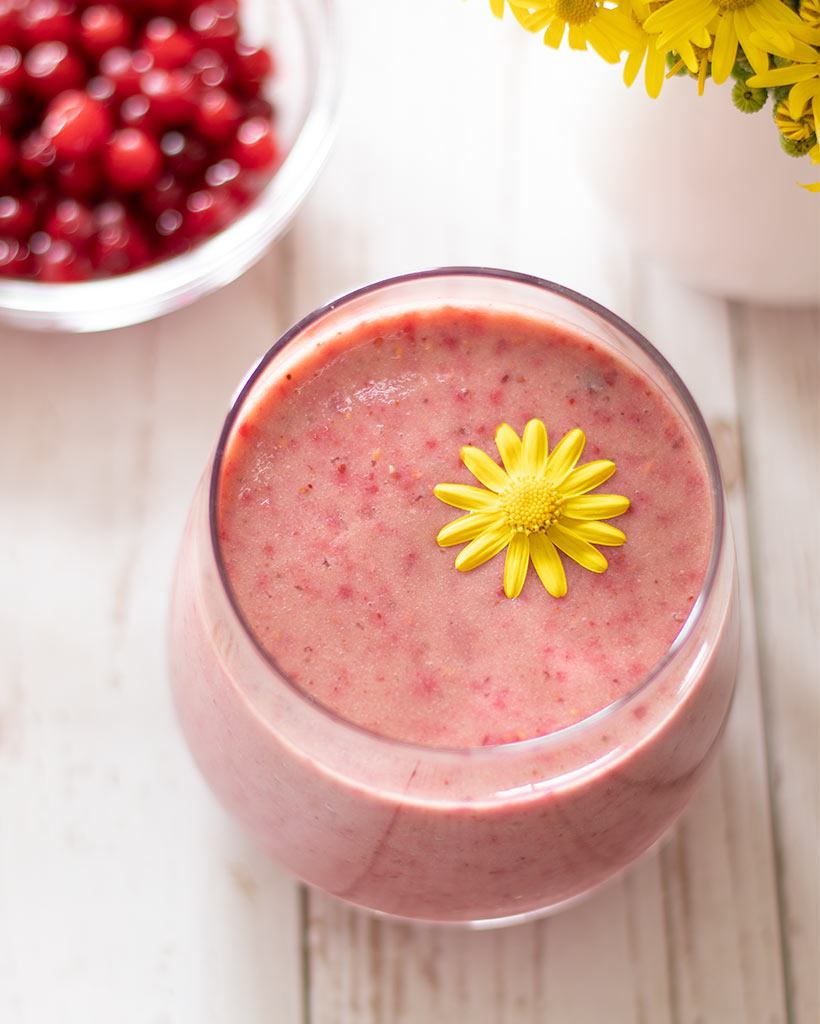 How do you clean and store wild cranberries?
In order to clean wild cranberries, simply put them in a fine-mesh strainer or colander under fresh water and let them drain. Remove any leaves or residuals. Place cranberries in food storage bags or other containers and freeze them. Do not thaw frozen cranberries before using them in recipes, just rinse and drain them.
This Vibrant Cranberry Smoothie is:
Quick and Easy to make in less than 5 minutes

Dairy-free, Sugar-free, Nut-free

Vegan and Vegetarian Drink

Creamy Plant-Based Beverage

Healthy and Nutritious

Perfectly Refreshing, Cleansing, and Detoxifying

So Simple and Enjoyable!
📖 Recipe
CRAVING MORE NON DAIRY BREAKFAST SMOOTHIES?
Love this delicious cranberry smoothie? Pin it for later!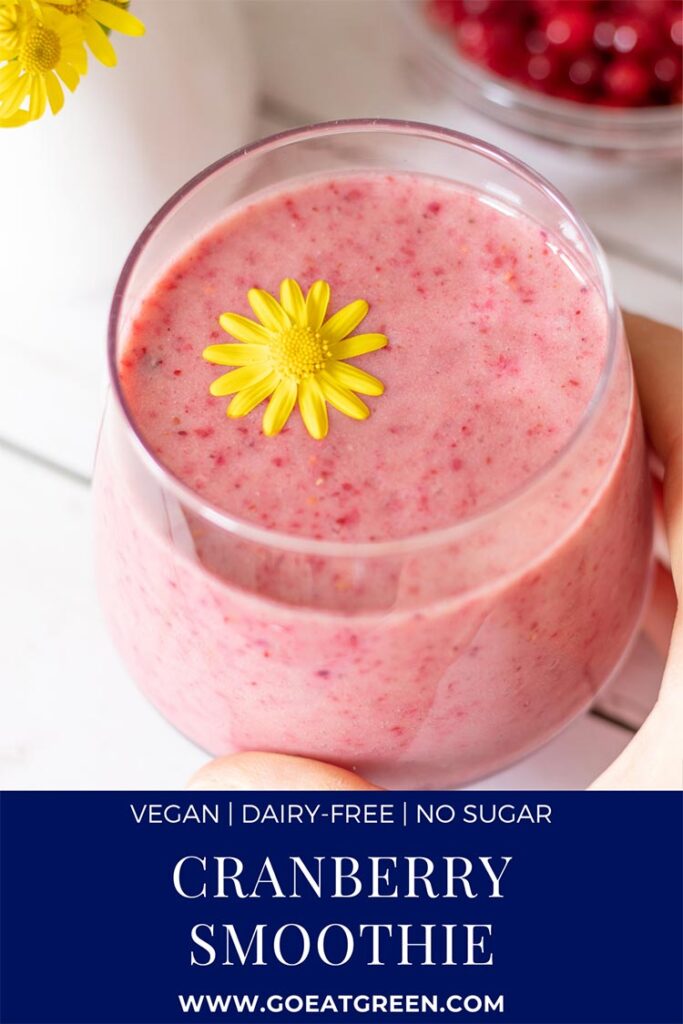 Made this easy cranberry smoothie recipe? If yes, please rate it, leave a comment below, and share your photo on Instagram with the tag @go_eatgreen and hashtag it #go_eatgreen. I would love to hear about your experience and your comments just make my day!
Follow me on Pinterest for more easy and delicious vegan recipe ideas.
Love, Marinela💚