Jump to Recipe
The best recipe for potato latkes without eggs, cheese, or dairy. These crispy potato fritters are vegan and gluten-free. Also, these no-eggs savory pancakes are quick and easy to make at home with only 8 simple everyday ingredients.
Easy Recipe for Potato Pancakes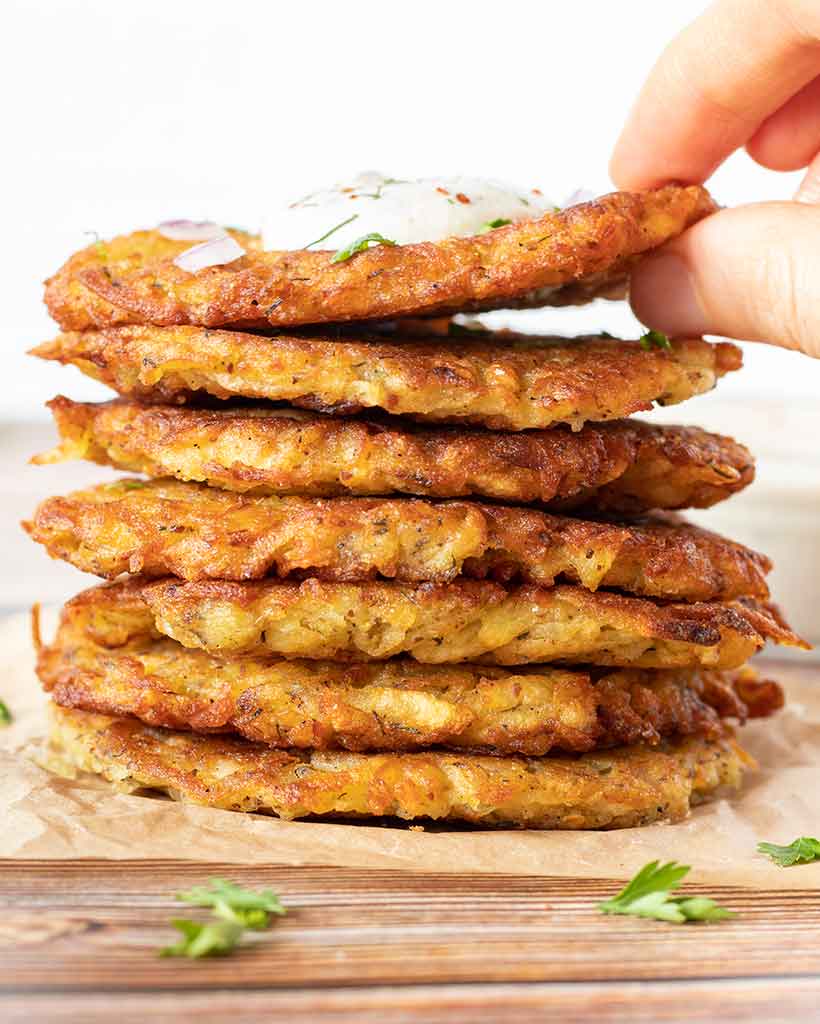 Are you craving warm, tasty, and super crispy snacks?
Looking for truly special and delicious appetizers, brunch, or side dishes ideas?
Or maybe you bought a big bag of potatoes and now you need easy and uncomplicated recipes to use them up?
A batch of richly golden latkes will surely hit the spot! Yum!
You can check out other vegan potato side dishes ideas at the end of this post.
Jump to:
What Are Potato Latkes?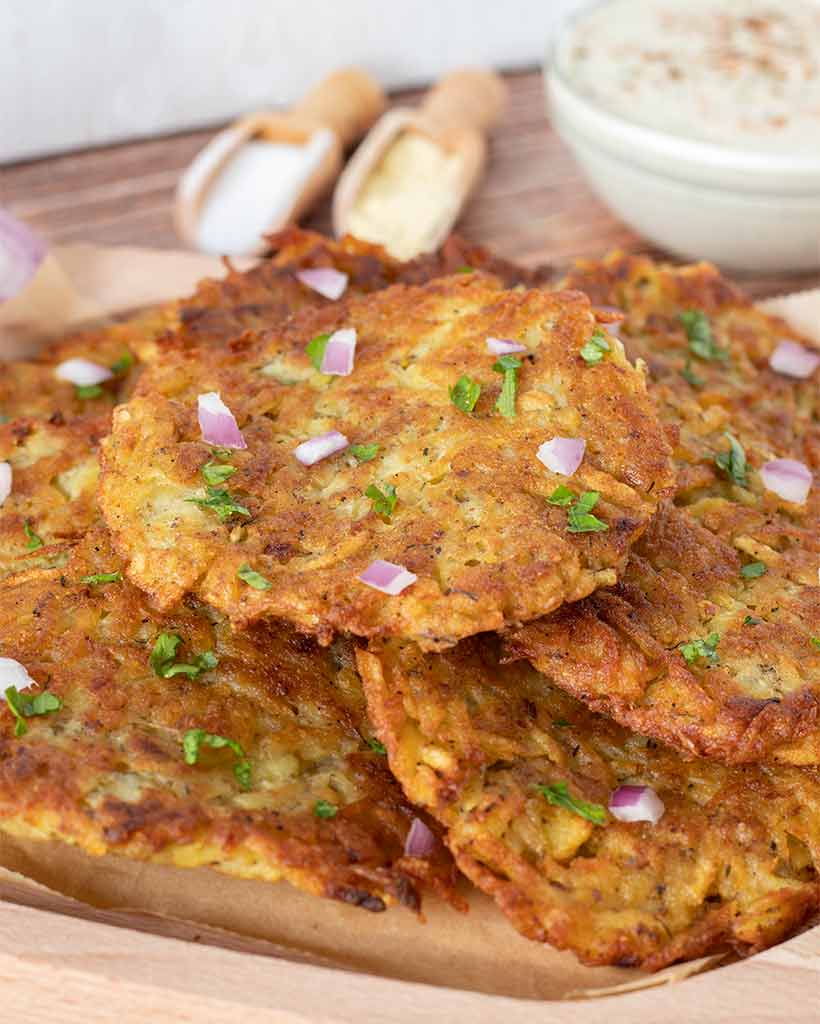 Latkes are traditionally cooked as a classic Jewish food for Passover. Hannukah or Rosh Hashanah celebration. But that doesn't mean you cannot enjoy them any time of the year.
These filling fritters are simply a mix of shredded potatoes, onion, chickpea flour, and spices fried in vegetable oil.
This recipe for potato latkes makes the perfect meal any time of the day. Yes, you can serve them for breakfast, brunch, lunch, or dinner. They are so versatile and beyond scrumptious. Kids love them as much as adults. Even the pickiest of eaters will hardly resist them. I know this recipe will become your new favorite once you give it a try.
It's an ideal way to use up extra potatoes you may have on hand, indeed.
Ingredients for Vegan Potato Latkes (No Eggs Needed)
We'll make these spicy potato fritters without eggs, matzo meal, or food processor. You'll need a few pantry staples that are super cheap and affordable, I'm sure you'll already have them in your kitchen. No excuses for not trying them right away! Here is what'll need:
Potatoes (Yukon Golds or Russets work the best)
Onion (yellow or white)
Chickpea flour (to keep our latkes gluten-free)
Flax egg (flaxseed meal + water)
Sunflower oil (or other neutral vegetable oil for frying)
Salt, ground pepper, dried dill (you can skip the dill if you don't like it but I assure you that it makes all the difference here)
As always, you can find the full recipe with a list of ingredients with measurements in a printable recipe card at the end of this post.
Time needed: 40 minutes.
How to Make Homemade Potato Latkes Without Eggs? (step by step instructions with pictures)

Grate potatoes and onion

First, prepare your flax egg. In a small container, mix 1 tablespoon ground flaxseed with 3 tablespoon water. In the meantime, grate potatoes and onion on the coarse side of the grater.
After that, over a fine-mesh strainer, with clean hands, squeeze out the excess liquid as much as can. Pour out the liquid out of the bowl. You can use a cheesecloth for this step.
To achieve perfect crispiness, the potato-onion mixture must be as dry as possible.



Make latke mixture

In a big bowl, mix all the ingredients together, except for the oil, until everything is well incorporated.



Form latkes

Next, scoop ¼ cup of the batter, form latkes with your hands, or just place it directly in the heated frying pan and flatten slightly with a spatula or fork.



Fry your latkes

You don't need much oil to fry your potato latkes but it's important to heat up the oil on high BEFORE you start frying the latkes. In this way, you'll keep them from sticking to the pan or becoming too greasy. They should sizzle immediately after entering the oil.
At this point, reduce the heat to medium-high. Cook each side for about 5 minutes or until your latkes are golden-brown on both sides. I cook 4 at a time.
After frying, place cooked latkes on a plate lined with a paper towel.



Serve and enjoy

Our favorite way to enjoy them is directly from the frying pan, while still hot and crispy with this ultra-creamy ranch dressing (without mayo), homemade hummus, sugar-free applesauce, or avocado dip as a starter, side dish, or simple snack.
Store any leftovers in the fridge for up to 3 days or freeze in a freezer-friendly container (after completely cooled) for up to 1 month.


How Do You Serve Potato Latkes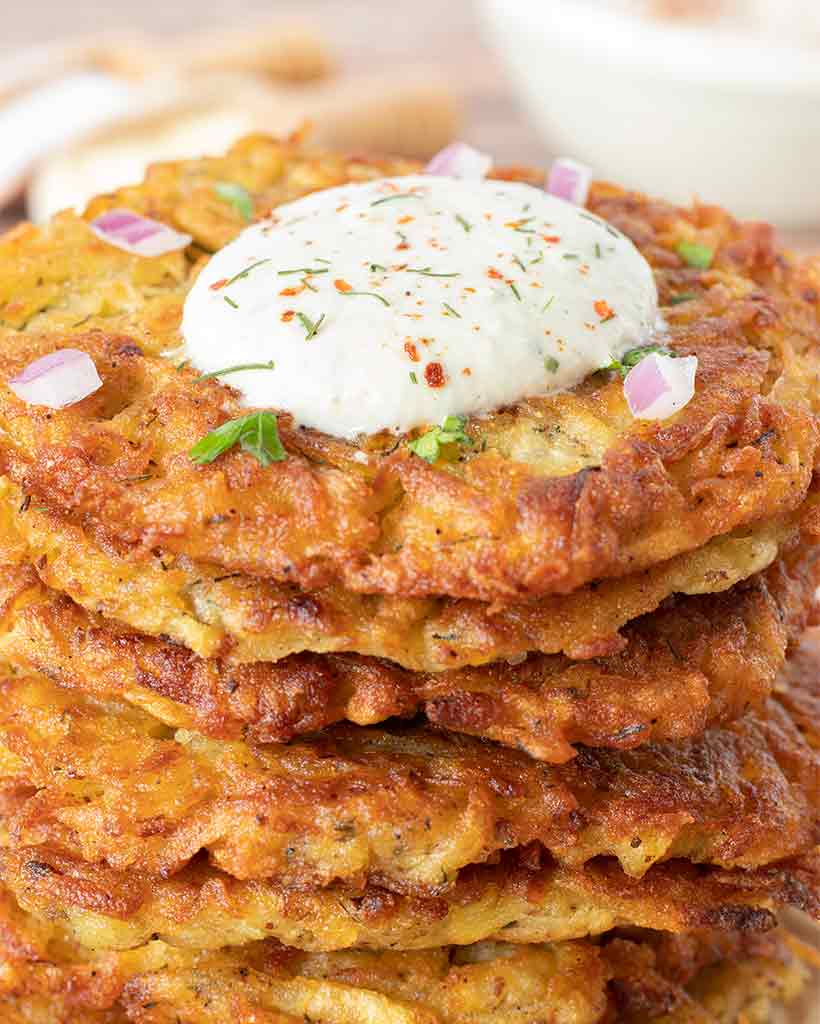 You can make these flavorful latkes for your vegan, vegetarian, gluten-free, all plant-based friends.
Serve them with a dollop of this creamy homemade ranch dressing and freshly chopped veggies for an extra healthy touch. Alternatively, pair them with a 5-minute DIY avocado dip or this vibrant Mediterranean sauce. I just love to enjoy them with a wholesome cucumber salad or a crunchy butter lettuce salad as a light, weight-loss-friendly meal.
Also, you can serve them with homemade applesauce.
These mouthwatering potato fritters will certainly please everyone! They're guaranteed to be the hit at the next gathering or dinner party. My advice is to make a double batch because they'll be gone in a snap!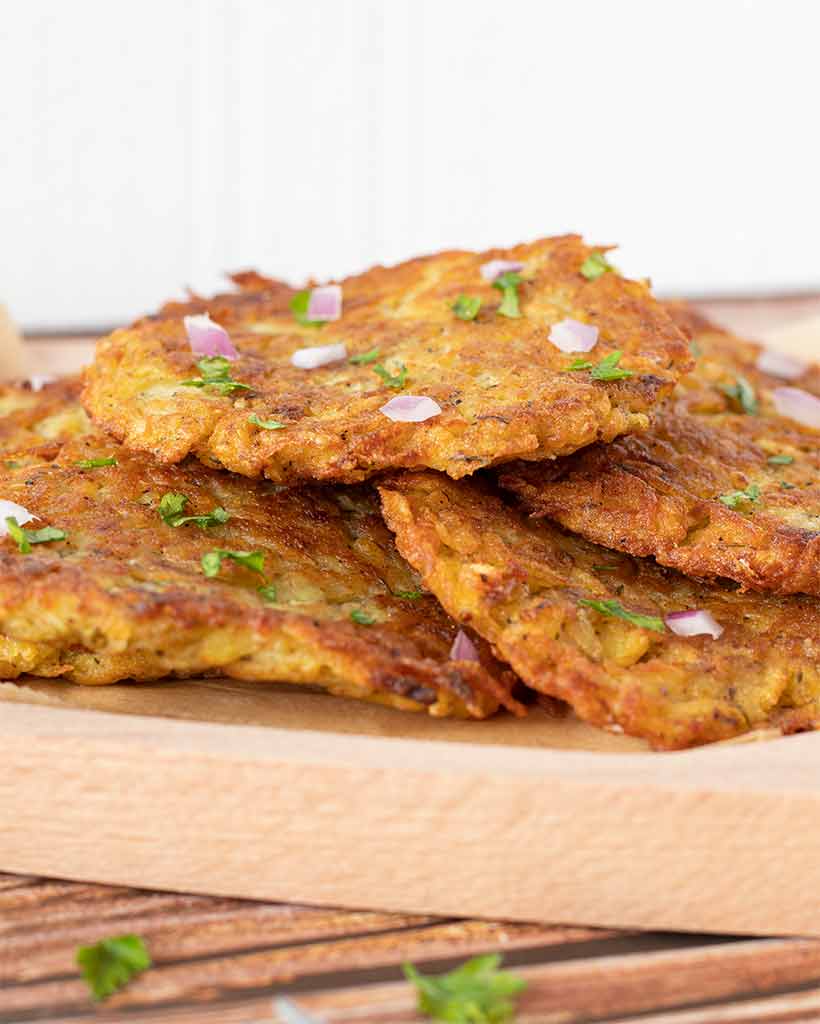 What is the best potato to use for latkes?
It's best to use starchy potatoes like Yukon Golds or Russets. Because of their high-starch content, they won't fall apart and you'll need less flour to bind the mixture.
How do you keep latkes crispy?
After frying, keep them on a plate lined with a paper towel-lined in one layer or rack instead of keeping them in one stack.
Why are my potato latkes falling apart?
That's because shredded potatoes and onion are not squeezed well. In this case add more flour, a tablespoon at a time, to get a manageable consistency (see the images above).
Can you make latkes a day ahead?
Sure, you can make them one day ahead, they still taste amazing. You can eat them cold or reheat them in a preheated oven at 350°F / 176°C layered on a baking sheet for up to 10 minutes. Be careful not to burn them out!
Are potato latkes gluten-free?
Yes, this recipe for potato latkes is entirely gluten-free. That's why we used chickpea flour, known as gram or garbanzo bean flour.
Why You'll Love These Potato Pancakes?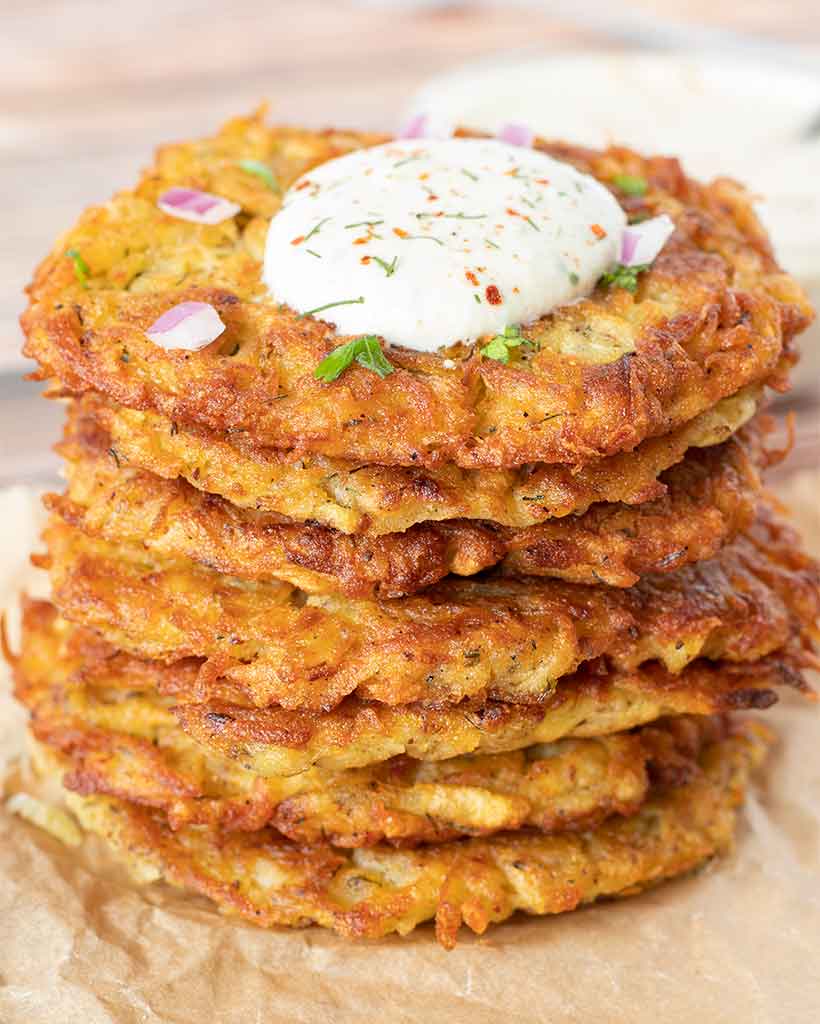 Hearty
GF
Kid-friendly
Herby
Budget-friendly
Picky eaters-approved
Crowd pleasers
Fancy
Delicately irresistible
So satisfying!
Looking for More Vegan Potato Recipes?
📖 Recipe
Did you try this easy recipe for potato latkes? If you tried it, please rate it, leave a comment below, and share your photo on Instagram with the tag @go_eatgreen and hashtag it #go_eatgreen. I would love to hear about your experience and your comments just make my day!
Follow me on Pinterest for more easy and delicious vegan recipe ideas.
Love, Marinela💚