Cucumber vinegar salad recipe is simple and easy to make as a light, summertime side dish. Plant-based, vegan, low-calorie, and gluten-free.
Looking for a side that will make your lunch or weeknight dinner a million times better?
This refreshing cucumber salad with vinegar and onion will brighten up any meal. You won't have to fuss with a lot of ingredients or seasonings to fix this cucumber vinegar salad recipe. Plus, it comes together in just 10 minutes of prep!
Make this vibrant, eye-catching salad for your next picnic, potluck, or when unexpected guests pop by. Impress everyone with this brilliant colorful salad dish.
If you need a fancy and super filling salad for big family gatherings you could try my Mediterranean rainbow quinoa salad. It will surely amaze everyone around the table!
Is cucumber salad good for you?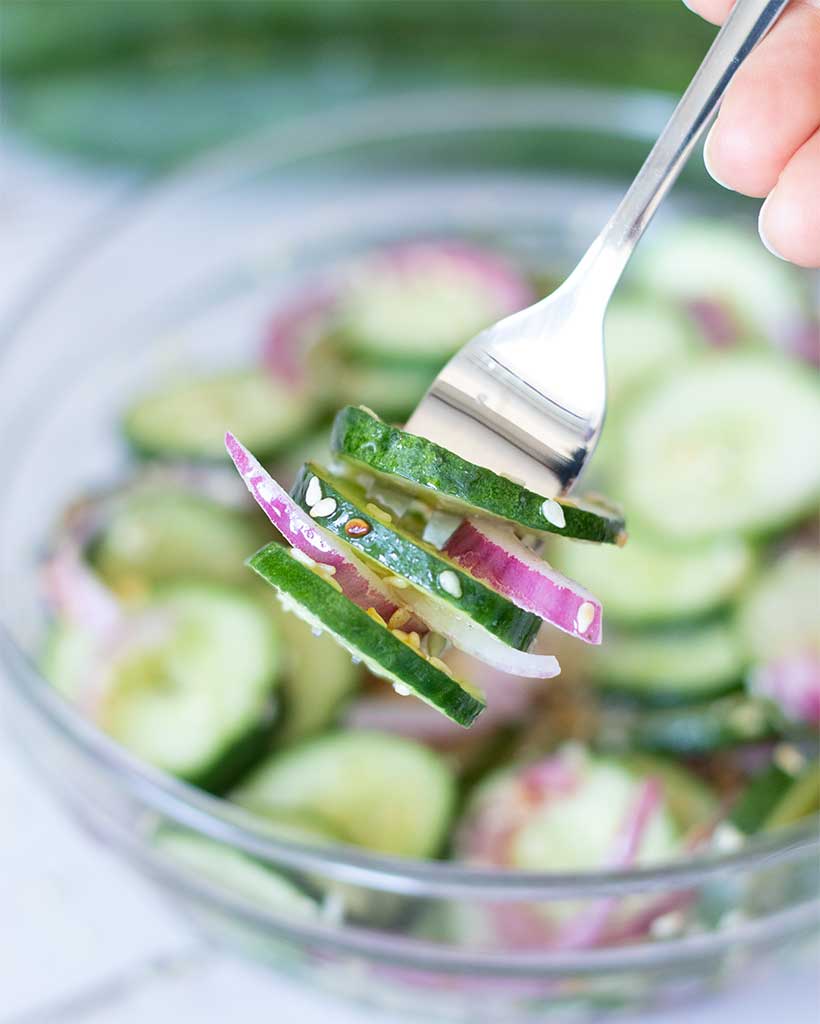 Besides being quick and easy to prepare in no time, this nourishing side dish is loved by everyone in my family. Since cucumbers are so abundant here in spring and summer, we eat them daily, without any exceptions :). And, yes, they are good for you and safe to eat every single day, there would be no problems, only many health benefits!
I'm sure this hearty salad will become a regular part of your clean-eating menu.
Let's make this healthy and delicious cucumber salad with sesame seeds right away!
What does a cucumber vinegar salad recipe contain?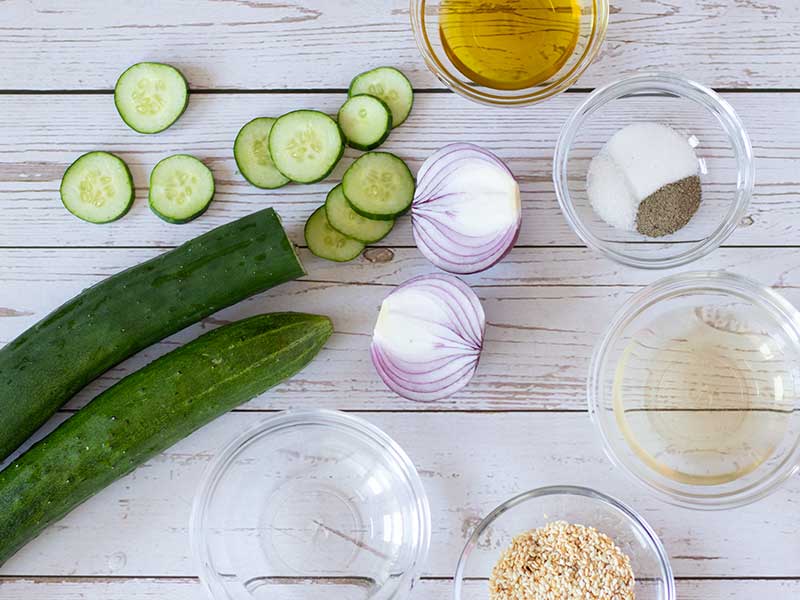 This Asian-inspired recipe for cucumber salad with vinegar uses only wholesome, real food ingredients. Take advantage of seasonal cucumbers and onions and enjoy this time-tested winner vegetable salad that is both affordable and incredibly tasty. All you need is:
Fresh cucumbers (English cucumbers preferably)
Onion (red, yellow, or white - you choose)
Sesame seeds (toasted)
Apple cider vinegar (or any vinegar of your choice)
Extra virgin olive oil
Salt and sugar
Water
Freshly ground black pepper (optional)
As always, you can find the full recipe with a list of ingredients with measurements in a printable recipe card at the end of this post.
Which cucumber is best for salad
You can use any cucumbers you have at hand and are available in your country: English cucumbers, Persian cucumbers, Kirby cucumbers, or any garden cucumbers. I highly recommend you to use English (European) cucumbers because they have thin skin and a mild taste. They are also known as hothouse or seedless cucumbers. Actually, they have small seeds but you can easily chew and digest them - simply rinse, slice, and serve. We want to keep things simple and uncomplicated! Yay!
Which vinegar for cucumber salad
I always choose apple cider vinegar whenever I make salad recipes that call for vinegar-based dressings. I think it's the best choice for salad recipes because it's not so strong and has a pleasant flavor. But you can use red wine vinegar, balsamic vinegar, or rice vinegar instead. For an even more intense sour flavor, you can use plain white vinegar, too.
Time needed: 10 minutes.
How to make a cucumber vinegar salad recipe?

This classic side dish is a real crowd-pleaser. Its fresh flavor will make every meal special and nutritionally complete.

Slice cucumbers and onion

Start by slicing the cucumbers with a knife into thin slices. You can use a mandolin if you desire. Chop up the onion into thin half-moons as well. Slicing the veggies as thinly as possible is very important because that will allow them to absorb the dressing and seasonings easily. Combine cucumbers and onion in a medium-sized bowl.

Season it

Season with salt, sugar, and freshly ground black pepper. Omit the pepper if you don't like spicy flavors.

Make the dressing

In a small jar mix apple cider vinegar, olive oil, and water. Pour the mixture over cucumbers and onion. Toss until veggies are evenly coated with the vinaigrette and well combined.

Sprinkle with toasted sesame seeds

In the end, sprinkle with toasted sesame seeds. This step is optional but it gives the salad a nice earthy and nutty finish. If you want to learn how to toast sesame seeds at home read my blog post about making your own homemade tahini. The first step explains the process.
After that, I recommend you refrigerate your cucumber salad for at least 30 minutes or until serving (the longer they marinate in the dressing, the better the flavor).

Serve it and enjoy

Before serving, stir again to evenly mix the vinegar dressing. Enjoy it as a healthy snack on its own or serve it alongside your lunch or dinner.
Store covered and refrigerated for up to 2 days.
How long does cucumber salad last
Store this tangy, dairy-free cucumber vinegar salad in an airtight container in the fridge for up to 2 days, but in my opinion, it's best to be eaten after a few hours after being made.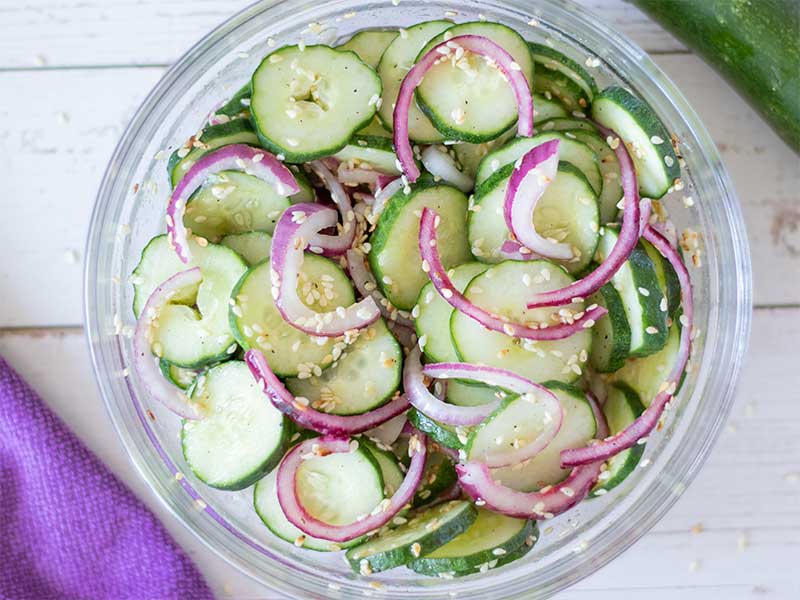 What happens if you eat a cucumber every day
Cucumbers are very low in calories (one raw, unpeeled cucumber contains only 45 calories) but rich in important vitamins and minerals. Eating cucumbers may lead to numerous health benefits like balanced hydration, lower blood pressure, weight loss, and improved digestion. You can add them to your diet easily, including them in many salads or simply eating them on their own.
Is this cucumber vinegar salad recipe good for weight loss?
Wondering how to shed belly fat fast without depriving yourself of delicious food? This light and savory salad is the right choice for you then. It's excellent for people who want to lose weight and get a flat stomach without being hungry or being on a strict"diet". Thanks to its high water and fiber content, this vegan cucumber salad will keep you full and satisfied. Couple it with a nutrient-dense lunch or dinner and you'll get a full and complete meal that will keep your body in shape.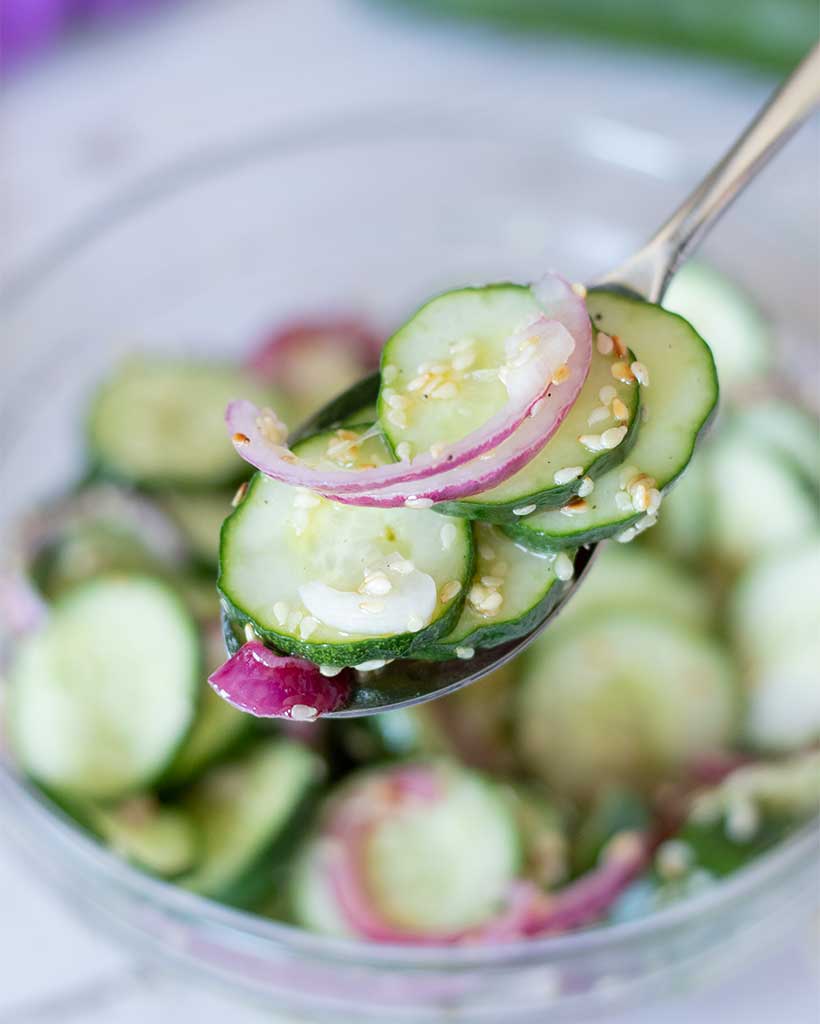 Is it good to eat cucumber with vinegar?
You may ask yourself what do cucumbers and vinegar do to your body? This Asian cucumber vinegar salad is widely known for its many health benefits. It contains plenty of nutritional values, boosts your immune system, and greatly helps in detoxifying your body.
Should you peel cucumbers for a salad
It's best to eat unpeeled cucumbers since peeling reduces their nutritional content. Don't miss out on all the nutrient value the cucumber peel has to offer. To make sure you get all the health benefits, always eat cucumbers unpeeled unless their peel is excessively bitter or thick. Just make sure to wash them well first.
Can you lose weight by eating cucumbers?
Eating fresh cucumbers in any kind of form is totally guilt-free! This powerful superfood that has zero fat and is low in calories may aid in weight loss and fat burning. Hydrate your body and regulate your bowel movements - the easy way - by eating a plant-based, low-sugar, and low-fat diet that includes lots of fruits and veggies. And cucumbers are among the first on this list!
Can I make this cucumber vinegar salad recipe oil-free?
Sure! You can omit the olive oil and still have the yummiest, low carb, no oil cucumber salad with sesame seeds.
What do you serve with cucumber salad?
This budget-friendly salad is so versatile, it goes with so many meals, you can serve it up with:
More vegan salad recipes
Made this cucumber vinegar salad without tomatoes? If yes, please rate it, leave a comment below, and share your photo on Instagram with the tag @go_eatgreen and hashtag it #go_eatgreen. I would love to hear about your experience and your comments just make my day!
Follow me on Pinterest for more easy and delicious vegan recipe ideas.
Love, Marinela💚