Jump to Recipe
Best Fruit Winter Salad Recipe for a crowd ready in 15 minutes. This gorgeous salad with homemade poppy seed dressing is perfect for a healthy breakfast or brunch, an easy side for your Thanksgiving meal, or a quick snack.
Blessed be our God for providing us with a wonderful gift of fresh and healthy food!
Trust me, this weight-loss-friendly dessert salad will be a winner at every get-together. Let's get our daily dose of vitamins this winter (and autumn) in a surprisingly tasty and satisfying way.
Whether you are whipping up crunchy apple salad, hearty pasta salad, or a low-calorie butter lettuce salad for your next potluck or dinner party, simple salad recipes can be such a colorful addition to your meals!
Loaded with texture, color, and flavor this light seasonal salad is a real crowd-pleaser. The sweet-sour lemon maple poppy seed vinaigrette elevates wholesome fruits like pomegranate, kiwi, mandarin orange, pear, and apple.
Even though I can't get enough of cozy soups and freshly baked muffins in these chilly months, I also appreciate a big portion of my beloved fruits to nourish and detox my body. Eat smart and boost your immunity fast with God-given fresh produce that's both highly nutritious and wonderfully delicious. Now let's make this sunshine salad together.
Jump to:
Winter Fruit Salad Ingredients
Do you store big bags of apples, mandarin oranges, and kiwi fruits like me in the winter season? If yes, you definitely need to make this scrumptious fruit salad. Here is what you'll need: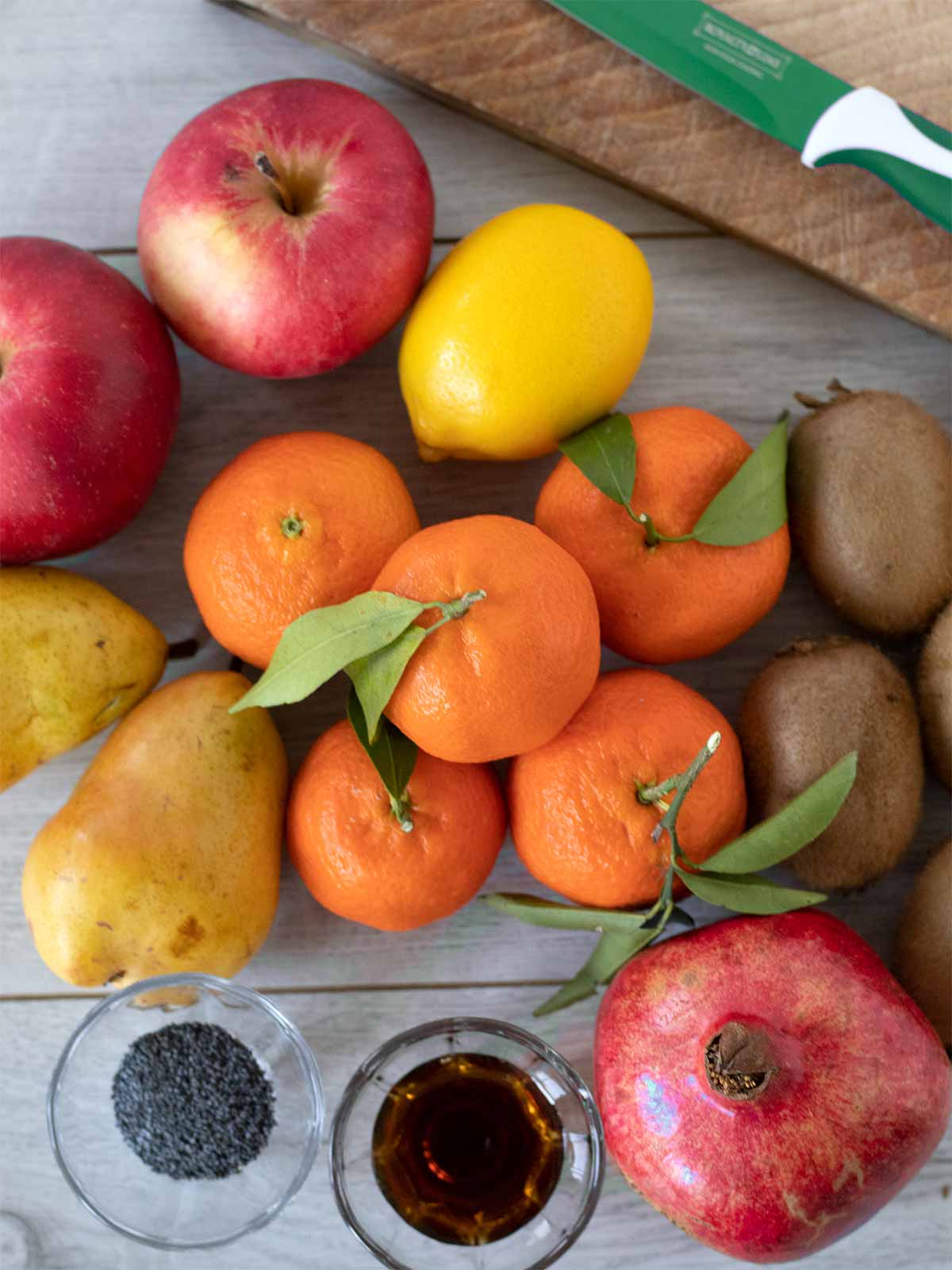 Mandarin oranges
Kiwi
Apples
Pears
Pomegranate seeds
For The Poppy Seed Dressing
Lemon juice (freshly squeezed)
Pure maple syrup
Poppy seeds
As always, you can find the full recipe with a list of ingredients with measurements in a printable recipe card at the end of this post.
How To Make Simple Winter Fruit Salad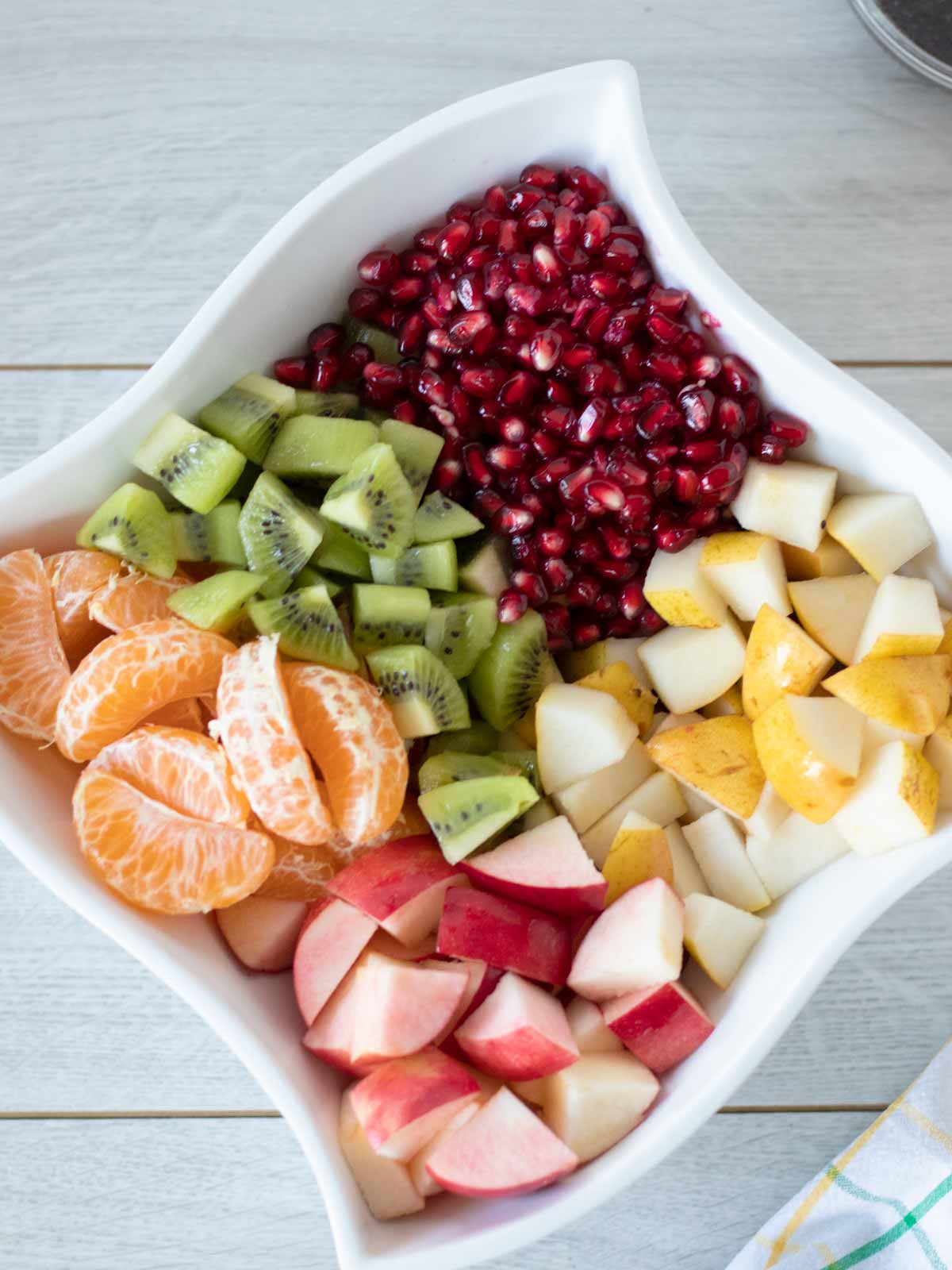 Combine mandarin orange slices, diced kiwi, apples, pears, and pomegranate seeds in a big salad bowl. Chop fruits into bite-sized pieces to make them easy to eat and digest.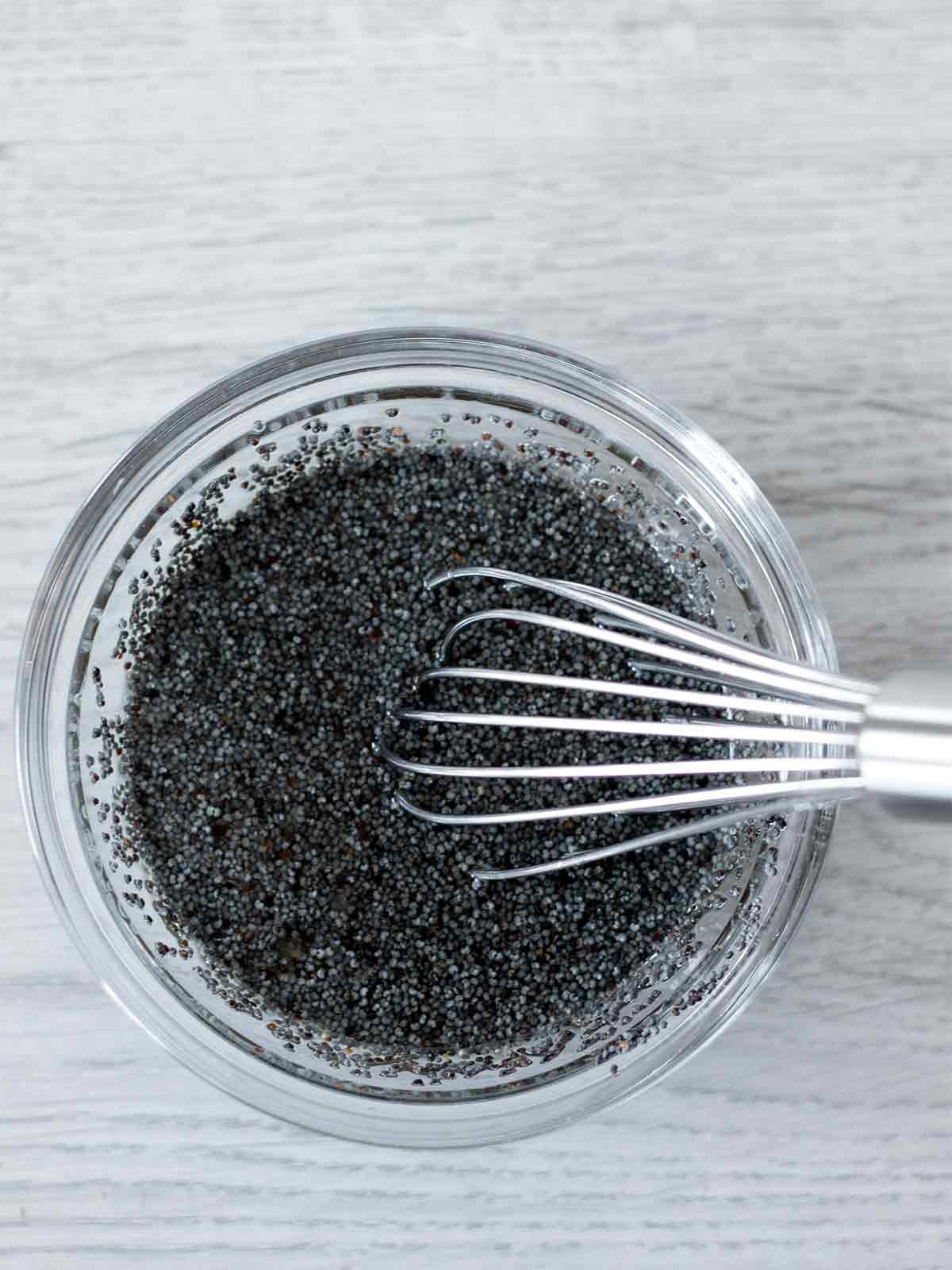 In a small bowl or jar mix freshly squeezed lemon juice, maple syrup, and poppy seeds. Whisk well until completely combined.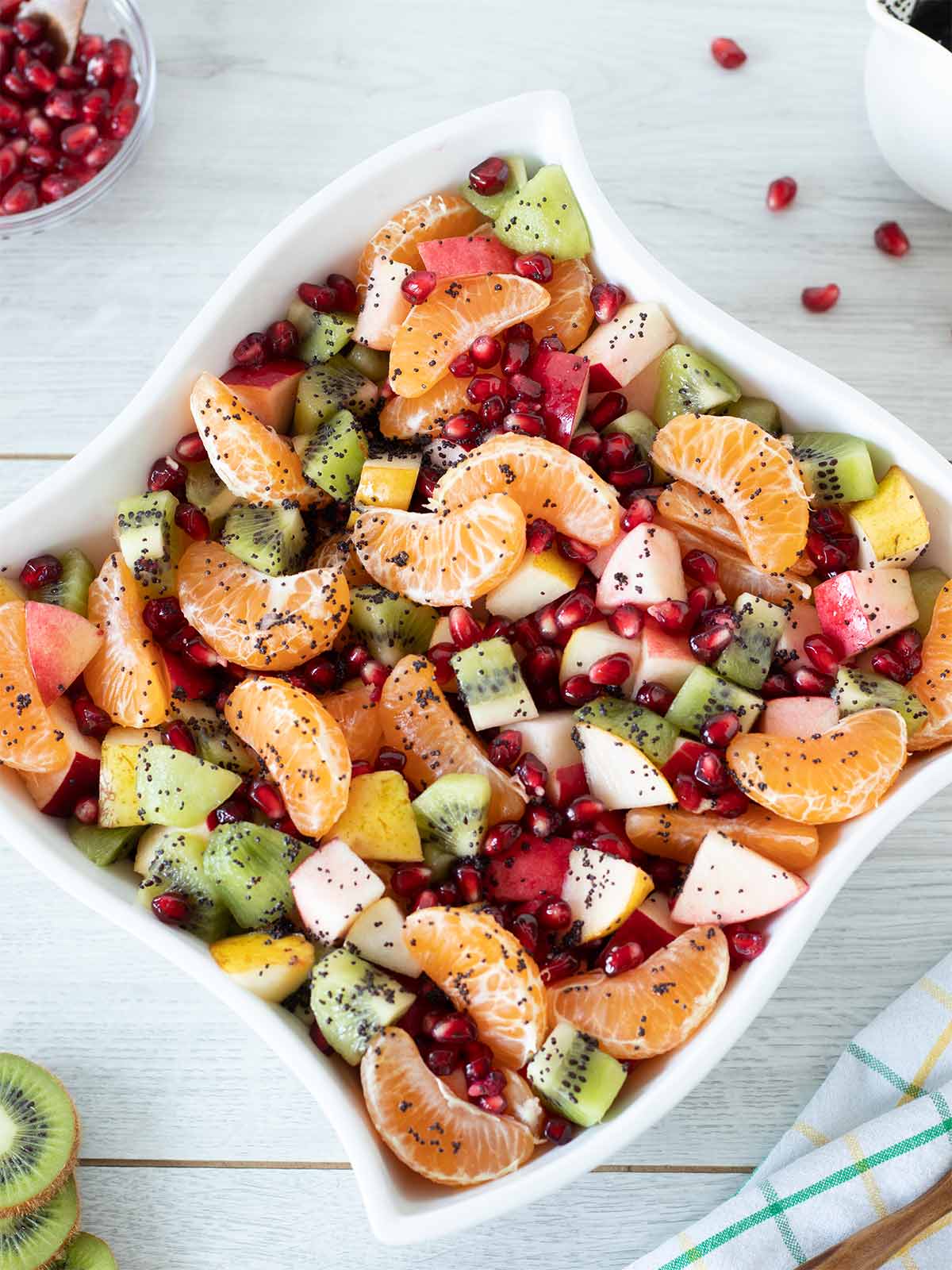 Drizzle your poppy seed dressing over the salad and gently toss to combine. Taste and adjust lemon juice/maple syrup as per taste. Serve immediately or refrigerate for up to 24 hours. You can freeze any leftovers to use in smoothies. Enjoy!
Substitutions
Do you miss an ingredient? Don't worry, this salad is super customizable.
Mandarin Orange - instead of mandarin oranges, you can use orange fruit or grapefruit.
Pears - use pineapple, mango, sliced bananas, cubed pumpkin, or butternut squash instead of pears.
Pomegranate seeds - pomegranate seeds can be replaced with cranberries, frozen raspberries, blueberries, or red currants.
Maple Syrup - substitute it with agave nectar or date syrup.
Storage
Although it's best to plan ahead and save your fruit salad for last when you want to serve it you can keep any leftovers in an airtight container in the refrigerator. Using an airtight container will prevent any air from getting to it and keep the salad fresh. Don't worry, apples and pears won't brown quickly due to the lemon acidity in the lemon-maple dressing. The citric acid will minimize the oxidation process.
Top tips
First, make your dressing. Then start with de-seeding the pomegranate. After that peel and slice mandarin oranges and kiwis. Finally, chop the apples and pears and add them just before adding the dressing. The lemon juice will keep them from browning.
Chop everything up into small bite-sized chunks for easy eating and serving.
Make sure your kiwis are ripe (sweet with just a hint of tanginess). Don't use them if they are unripe and super sour to eat.
Leftovers are amazing for blending into smoothies with some ice and plant-based milk (or water).
Top your salad with heart-healthy nuts or seeds to add an additional crunch and make it more filling.
FAQ
How long can fresh fruit salad keep in the fridge
This simple fruit salad will keep well for up to 24 hours in the fridge. You can freeze any leftovers in freezer-friendly bags for up to 3 months. They'll be great for making thick and creamy smoothies.
Is eating a fruit salad everyday healthy
Absolutely! Eating a big bowl of vibrant fruit salad is probably one of the healthiest meals you should enjoy on a daily basis, especially if want to strengthen your immunity or slim down. It will fill you up with good-for-you nutrients like vitamins, antioxidants, and plant fiber. Eating fresh fruit every day is an important part of a healthy, clean diet.
What are the best fruits for winter fruit salad
We used pomegranate seeds, mandarin oranges, kiwis, apples, and pears. But you are not limited to these. Add grapefruit, bananas, pineapple, oranges, cranberries, or your favorite fruit to your immunity-boosting salad bowl.
Why Make This Salad
Can feed a big crowd
Perfect for family gatherings
Nutrient-dense
Kid-friendly
Budget-friendly
Minimal prep time
Full of fat-burning ingredients
Bursting with fresh winter flavors!
More Fruit Salad Recipes
📖 Recipe
Did you try this easy fruit salad recipe? Maybe you make some changes? I would greatly appreciate it if you have a minute to rate the recipe and leave a comment below. You can also share your photo on Instagram with the tag @go_eatgreen and hashtag it #go_eatgreen. We would love to see your creations! Thank you for sharing your experience with us, we are so grateful you are here 🙏
Follow Go Eat Green on Pinterest for more easy and delicious vegan recipe ideas.