Jump to Recipe
This fresh salad with apricots and strawberries makes a delicious light morning meal or dessert with super sweet delicate flavor and texture.
Bring the taste of summer to your salad bowl. Get your fork and dive in!
If you've just bought some golden, velvety apricots or already have them in your pantry or fridge, you must try this incredibly flavorful cake without eggs, butter, or milk.
Want a delightful family-friendly side dish? This refreshing, good-for-you apricot-spinach-strawberry salad is our summer favorite. The best way to cool down and relax on a long, warm day is with a quick and cool salad blend ready in just 10 minutes!
Healthy salad with apricots, spinach and strawberries
We all know that how we start our morning sets the tone for the rest of the day, right? So why not make it a habit to fuel our bodies with a big vibrant fruit bowl and a refreshing smoothie glass? Perfection!
What about a colorful summer fruit salad for a morning breakfast? Ohh yes, please! This dreamy apricot salad is the most perfect and healthy way to start your day off. It boosts your metabolism and energy levels while at the same time helps you burn calories and fat more effectively during the day.
What does fruit salad contain?
This simple fresh apricot salad recipe contains a few wholesome, plant-based ingredients. No animal ingredients here, it's completely vegan and vegetarian. Besides that, this fruit salad recipe is gluten-free, suitable for people who are gluten sensitive or intolerant. That means that everyone can enjoy it!
These are the ingredients:
Fresh apricots

Fresh strawberries

Baby spinach

Orange

Lemon

Fresh mint

Walnuts

Agave syrup (or maple syrup)
Time needed: 10 minutes.
How to make apricot fruit salad?

Combine all ingredients

First, in a large salad bowl combine sliced apricots, halved strawberries, and spinach leaves. Top it with raw walnuts.

Prepare the dressing

Next, prepare the fresh mint dressing. In a jar or airtight container pour the juice from the orange and lemon. Add finely chopped fresh mint leaves. Mix it with agave or maple syrup. Shake until all well combined. Gently toss the salad and vinaigrette until everything gets together nicely.

Serve immediately

It's best to serve immediately after being tossed together. Enjoy it as a healthy breakfast, brunch, side dish, dessert, or snack. Add more walnuts or other nuts of choice as desired. Omit the walnuts for a nut-free, allergy-friendly salad.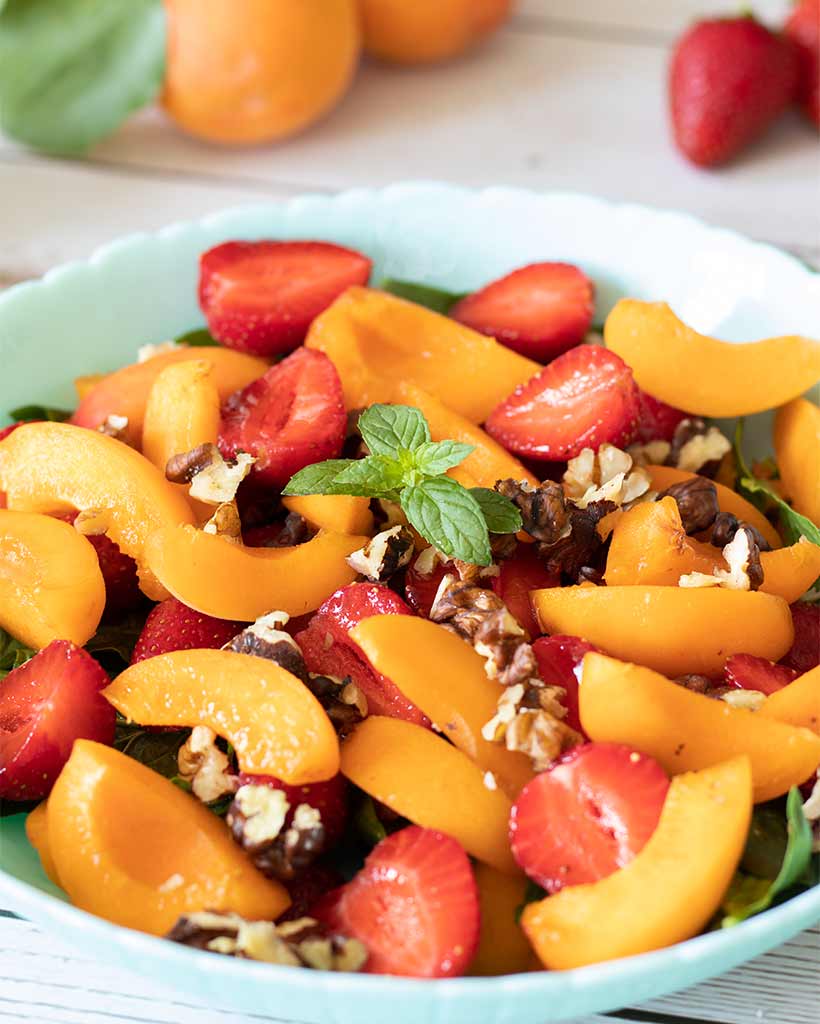 Is fruit salad good for weight loss?
Need to lose weight? Skip all those restrictions and fad diets.
Focus on eating raw, fresh, minimally processed food. Fruits, vegetables, and nuts are an essential part of a healthy, weight-loss diet. They are easy to add to your clean eating meal plan. Fresh apricots, strawberries, and spinach are very low in calories while rich in nutrients, fiber, and powerful antioxidants. At the same time, they contain important vitamins and minerals your body needs to function properly. Furthermore, they promote good gut health and may speed up your digestion naturally. To conclude, eating fresh fruit is helpful to lose weight and reduce the risk of obesity without problems
Is eating a fruit salad everyday healthy?
Absolutely! It's not only healthy but also very satisfying and enjoyable. You'll want to eat this sweet combo every single day!
Can I use frozen fruit?
I don't recommend using frozen fruit simply because it will become watery after thawing. It's best to eat it within few hours after making it. If you want to prepare it in advance, you can chop up the fruits and refrigerate but keep the dressing immediately before eating it. In that way, it keeps its texture without becoming soggy.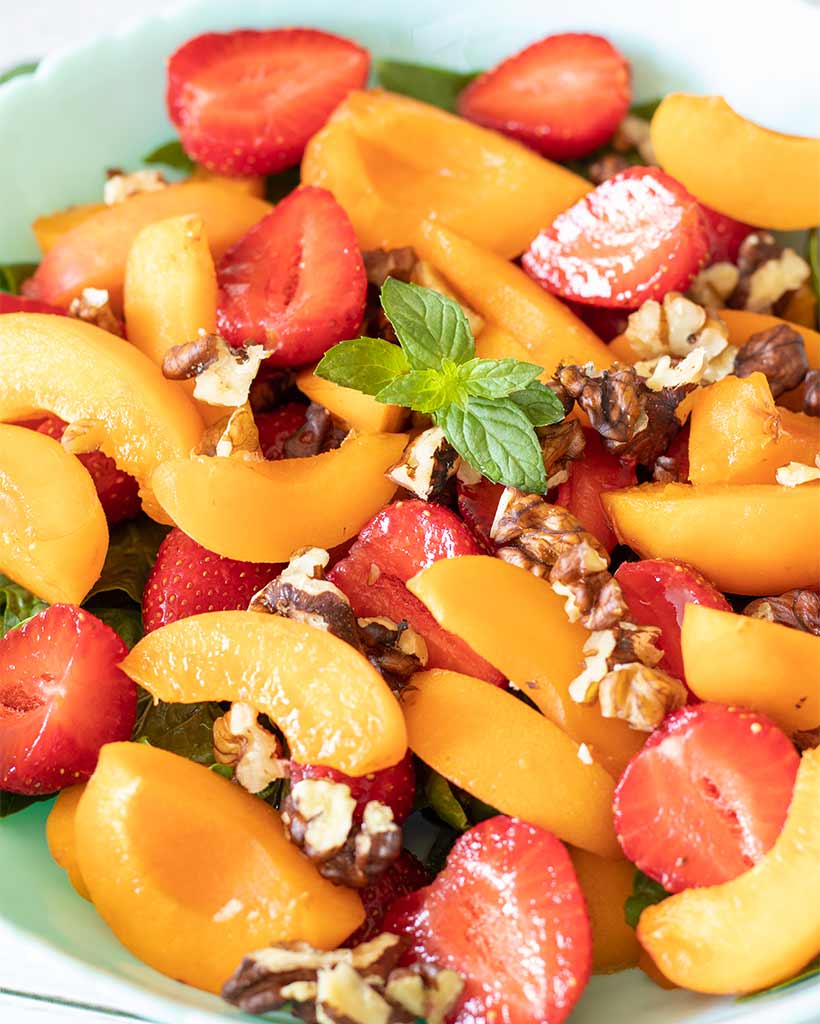 I hope you'll love this hearty salad with apricots: It's:
Naturally-sweetened

Citrusy

Summery

Crunchy

Budget-friendly

Loaded with plant-based nutrients

So tasty!
More sweet and savory salad recipes
Love this shiny vegan salad? Pin it for later!
Made this lovely salad with apricots and strawberries? If yes, please rate it, leave a comment below, and share your photo on Instagram with the tag @go_eatgreen and hashtag it #go_eatgreen. I would love to hear about your experience and your comments just make my day!
Follow me on Pinterest for more easy and delicious vegan recipe ideas.
Love, Marinela💚