Jump to Recipe
Perfect butter lettuce salad recipe for lunch, dinner, and spring cookouts! Fresh and healthy side dish loaded with plant-based nutrients.
This time of the year, as local markets start filling up with fresh early-spring vegetables, it's finally time for green leafy veggies to take their place on the table. This gorgeous, rich, and crispy butter lettuce salad just goes with any meal. I love pairing it with this creamy lentil soup or this cozy green peas soup. Who doesn't need a light, quick and enjoyable plate full of vitamins and minerals?
What is Butter Lettuce
Butter Lettuce or sometimes called by its full name, butterhead lettuce, is a type of lettuce that includes Bibb lettuce and Boston lettuce. It has a bright green or deep reddish-purple color and soft, round loosely-coiled leaves. In fact, this Mediterranean-tender leafy lettuce has a fairly mild, slightly sweet flavor that melts in your mouth like butter. An ideal plant-based ingredient for your clean eating salad recipes!
Fresh Ingredients for this Butter Lettuce Salad Recipe
Medium-sized Head of Butter Lettuce

3 Radishes

1 Cucumber

3 Spring Onions

Lemon Vinaigrette

(extra virgin olive oil, freshly squeezed lemon juice, apple cider vinegar, and salt)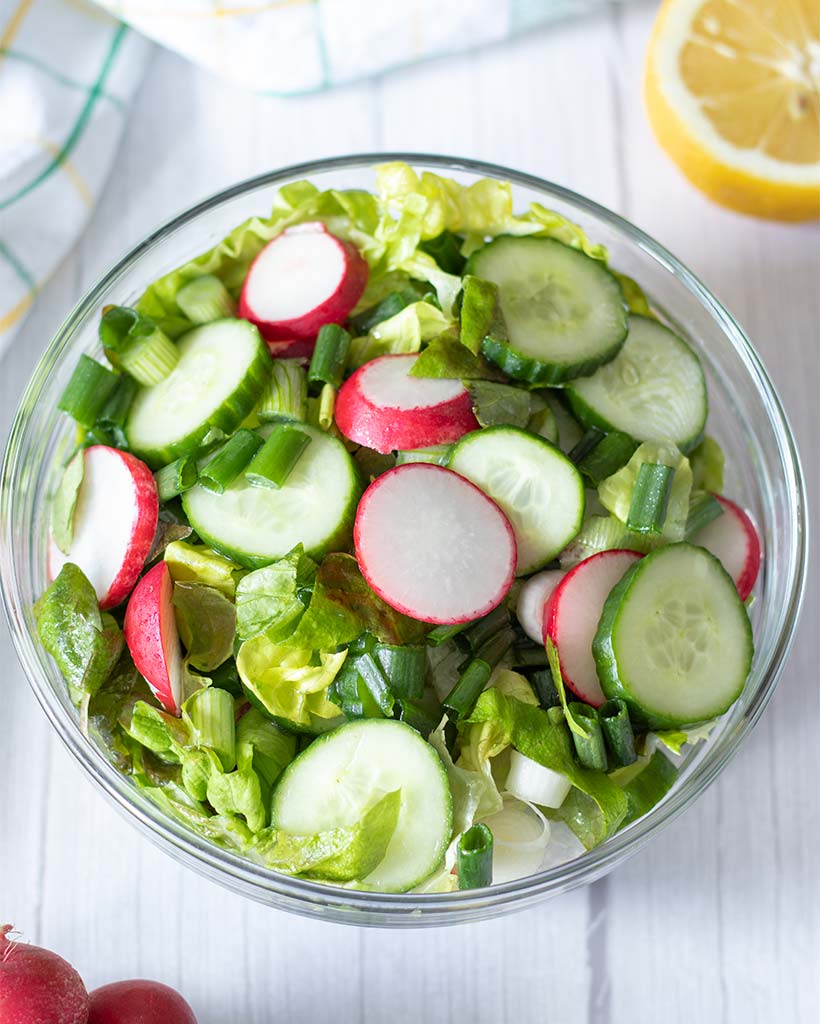 Time needed: 10 minutes.
How to make a mixed salad using butter lettuce, radishes, spring onions, and cucumber?

This simple and delicious, nutrient-dense butter salad recipe can easily be doubled or tripled to accommodate for more people. Truly, this fresh green side dish is a fabulous accompaniment to just about any weeknight meal.

Rinse and chop all veggies

First, rinse well all vegetables. Next, in a medium-sized bowl mix bite-sized chopped butter lettuce and thinly sliced radishes, spring onions, and cucumber.

Drizzle with lemon vinaigrette

Drizzle with lemon vinaigrette: extra virgin olive oil, freshly squeezed lemon juice, apple cider vinegar, and salt to taste. Toss gently until salad is evenly coated. Serve it as a side dish with your lunch or dinner or simply enjoy it as a light meal on its own!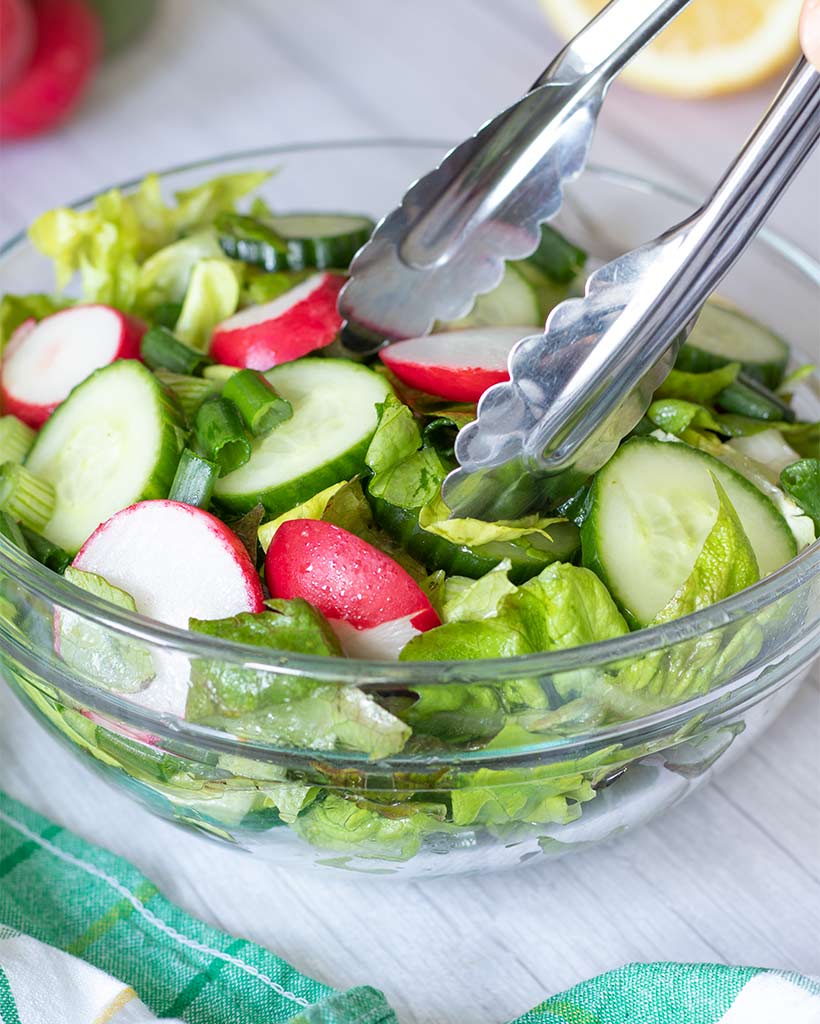 What is butter lettuce good for?
Due to its rich nutrient content, this buttery lettuce provides you with lots of carotenoid antioxidants such as beta carotene, zeaxanthin, and lutein. For this reason, it protects your eyes from macular degeneration. Moreover, butterhead lettuce contains a very high amount of iron. It's important to realize that this nutrient is crucial for creating red blood cells in your body. It's particularly high in folate and Vitamin A and K. In addition, butter lettuce is a low-fat, low-calorie, low-sodium salad choice that literally goes with any main course.
How many calories are there in this lettuce salad?
Combine a portion of this healthy salad with your everyday meals. You'll be surprised to see what an incredible difference it can make in your body transformation. To emphasize, this low-calorie crunchy mixed salad with radishes and cucumber contains only 294 calories. So, if losing weight is your goal, you should start your meals with green salad ingredients.
This butter lettuce salad recipe is:
Light

Simple

Quick and easy to make

Healthy

Low in calories

So refreshing!
Love this green vegan salad? Pin it for later!
Made this butter lettuce salad recipe? If yes, please rate it, leave a comment below, and share your photo on Instagram with the tag @go_eatgreen and hashtag it #go_eatgreen. I would love to hear about your experience and your comments just make my day!
Follow me on Pinterest for more easy and delicious vegan recipe ideas.
Love, Marinela💚