Jump to Recipe
Mediterranean quinoa salad is an easy vegan and high-protein meal prep you'll certainly love! Healthy, gluten-free, and meat-free lunch, dinner, or side. You choose!
Looking for simple and authentic Mediterranean food recipes that taste really good and aren't difficult to make? Need something special but not so complicated?
Here is the most exciting, vibrant, and hearty quinoa salad that will surely amaze everyone at home or at the next picnic, party, potluck, or any special occasion!
This Mediterranean salad with quinoa, chickpeas, and lots of veggies is a great option for everyone on a vegan, vegetarian, gluten-free, and dairy-free diet. It's suitable for both kids and adults, even picky eaters will adore it!
I know it will become one of your favorite go-to quinoa recipes.
Best quinoa salad with vegetables
What could be better than a bountiful bowl of fresh protein-packed salad? Don't skip your light and yummy salad ever again, make it today and delight in it with your family and friends.
This gorgeously vibrant Mediterranean salad mix that bursts with flavor will make you feel good and well-nourished. Whether you want to lose weight and shed some extra pounds or trying to adopt a healthy, well-balanced diet that will help you improve your overall health this veggie salad is just for you.
Ready for this enjoyable and super filling rainbow salad recipe? Let's make it together!
What's in a Mediterranean salad
What does a Mediterranean salad contain? Do I have all the staples to prepare it? I'm sure you already have almost all (if not all) the ingredients to make this bright everyday salad recipe.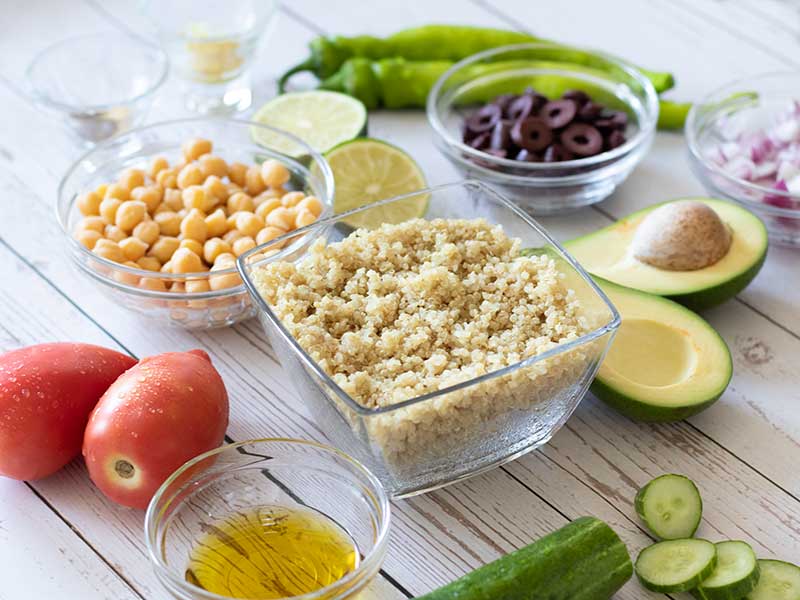 For the vegan quinoa salad (no cheese, no dairy)
Cooked quinoa

Cooked chickpeas (garbanzo beans)

Avocado

Kalamata olives

Red onion

Cucumber

Tomatoes

Shishito peppers
For the Mediterranean quinoa salad dressing
Extra virgin olive oil

Mustard

Lime (juiced)

Spices (salt, dry garlic, oregano and ground cumin)
Time needed: 30 minutes
How to prepare vegan Mediterranean salad?

This shiny colorful salad comes together very quickly, especially if you have cooked the quinoa in advance. It's a brilliant salad idea for busy weeknights or any part of the day. Truly, it will make the cooking time a real pleasure and your life less stressful.

Cook the quinoa and chickpeas

First, cook the quinoa according to the package instructions. Let it cool completely. My advice is to cook it ahead of time (even the night before), store it in the fridge so it will be nice and cold the day after. In that way, you can easily assemble all the ingredients together in 10 minutes or less. For this recipe, you can use home-cooked or canned chickpeas.



Chop up the vegetables

Next, chop up all the vegetables into small pieces.



Prepare the dressing

After that, mix all salad dressing ingredients together in a small container or jar.



Combine and enjoy

Finally, in a big bowl combine cooled quinoa, chickpeas, chopped veggies, and salad vinaigrette. Give it a nice toss and enjoy it on its own or serve it as an appetizer, meze, side dish for lunch, or dinner.
Serve it cold or at room temperature for those Mediterranean flavors to really pop up.
Store any leftovers in an airtight container, refrigerated for up to 3 days.


As always, you can find the full recipe with a list of ingredients with measurements in a printable recipe card at the end of this post.
Chopped rainbow salad recipe (kid-friendly)
Do you have a kid who refuses to eat his/her daily portion of greens? Need nutritious (yet delicious) back-to-school lunch ideas? This rainbow recipe is the ultimate winner. It abounds with grains, veggies, and legumes that will certainly impress your children and make them feel full and happy. Pack their lunch boxes only with wholesome and nutritious food. Don't forget that healthy habits start at a very early age from the comfort of our homes. So be a loving parent and don't miss the opportunity to set a good example for your child.
Is this salad mix gluten-free
Yes, this fresh homemade salad is naturally gluten-free and dairy-free, too. It's safe to eat if have any gluten intolerances, coeliac disease, or dairy (cow's milk) allergies. Treat yourself and include this unique combination loaded with Mediterranean flavors in your gluten-free food list so you can enjoy it whenever your want throughout the day.
How to cook fluffy quinoa on the stove?
Put the quinoa seeds into a fine-mesh strainer and rinse well under running water. Combine quinoa and water in a medium-sized pot. Keep the liquid-grain ratio to 2 cups water with 1 cup quinoa. Bring to boil, then reduce the heat and let it simmer, for 10-15 minutes. Remove from the stove and let it sit, covered, for 5 minutes. Fluff the quinoa with a fork.
Is quinoa salad healthy?
The traditional Mediterranean diet is rich in fruits, vegetables, fiber, and healthy fats. That makes it an amazing choice for people who want to adopt clean eating habits. What makes this recipe for quinoa and garbanzo bean salad even more indulgent is that is packed with plant-based protein and contains no meat in it. It's 100% vegan. Avocado and olive oil are rich in beneficial, healthy fats, and tomato, cucumber, green peppers, and red onion are packed with essential antioxidants, vitamins, minerals, and dietary fiber. This nutrient-rich salad will boost your immunity, keep off any disease and keep your mind and body young and strong.
Quinoa health benefits and nutrition facts
Quinoa-the world's most popular gluten-free SUPERFOOD. The quinoa seeds are one of the main sources of complete nonanimal protein. In fact, 1 cup of cooked quinoa provides you with 8,14 gr plant protein. In addition, this whole-grain food offers you a large range of amino acids which are crucial for muscle development. Unlike many other grains, it's an outstanding source of lysine that is vital for the synthesis of protein in your body.
This highly beneficial edible seed with exceptional nutrient-dense content is rich in phosphorus, iron, magnesium, manganese, copper, and folate.
Thanks to its high-fiber content, this versatile ingredient is with a low glycemic index is also good for your gut. It may also be helpful for improving your metabolic health by boosting your metabolism and help you lose weight when combined with other plant-based foods and daily physical activity.
Why you'll love this stunning Mediterranean salad with quinoa and chickpeas. It's:
Perfect make-ahead salad for a crowd
Inexpensive
Fancy weekday summer salad
Weight-loss friendly
Simple go to family salad
Perfectly savoury
So refreshing and versatile!
More must-try vegan salad ideas
📖 Recipe
Vegan Mediterranean Salad (Healthy High-Protein Meal)
Mediterranean quinoa salad is an easy vegan and high-protein meal prep you'll certainly love! Healthy, gluten-free, and meat-free lunch, dinner, or side. You choose!
Equipment
Knife

Cutting board

Saucepan

Big bowl

Small container or jar

Spoon
Ingredients
2

cups

cooked quinoa

1

cup

cooked chickpeas (garbanzo beans)

1

avocado

diced

½

cup

Kalamata olives

pitted, sliced

½

cup

red onion

diced (approximately 1 small onion)

1

cup

fresh cucumber

circle sliced (approximately 1 English cucumber)

1 ½

cup

tomatoes

diced (approximately 2 small-medium sized tomatoes)

½

cup

shishito peppers

thinly sliced ( approximately 2 shishito peppers)
For the Mediterranean salad dressing
3

tablespoon

olive oil

extra virgin

1

teaspoon

mustard

1

tablespoon

lime juice

freshly squeezed

½

teaspoon

salt

or adjust it to your taste

¼

teaspoon

dry oregano, dry garlic, ground cummin
Notes
You can totally adapt this quinoa salad to your taste because it's easily customizable. Add any other veggie you prefer more and leave out any ingredient you don't like.
I recommend you cook the quinoa in advance and keep it refrigerated so it will be completely cool before adding the other ingredients.
Always serve it cold or at room temperature.
Nutrition
Calories:
251
kcal
Carbohydrates:
25
g
Protein:
5
g
Fat:
15
g
Saturated Fat:
2
g
Polyunsaturated Fat:
2
g
Monounsaturated Fat:
10
g
Sodium:
530
mg
Potassium:
450
mg
Fiber:
7
g
Sugar:
3
g
Vitamin A:
431
IU
Vitamin C:
13
mg
Calcium:
41
mg
Iron:
2
mg
Made this beautiful Mediterranean quinoa salad with raw veggies? If yes, please rate it, leave a comment below, and share your photo on Instagram with the tag @go_eatgreen and hashtag it #go_eatgreen. I would love to hear about your experience and your comments just make my day!
Follow me on Pinterest for more easy and delicious vegan recipe ideas.
Love, Marinela💚