Best Mediterranean corn salad with black beans tossed in a spicy homemade dressing! Simple side dish or appetizer that's amazingly flavorful, super filling, and requires no cooking at all.
Truly, this easy salad mix with corn, black beans, tomato, avocado, cucumber, and pepper is the perfect blend of textures, color, and flavor. Not to mention it looks brilliant, especially if you serve it with warm homemade tortillas, crispy roasted potatoes, or crunchy chickpeas. You can sprinkle it with vegan parmesan cheese for another level of deliciousness.
Easiest. Healthiest. Tastiest. Salad. Ever.
Love more Mediterranean salad recipes?
Try our high-protein quinoa salad or this vibrant pasta salad.
Jump to:
Healthy Black Bean And Corn Salad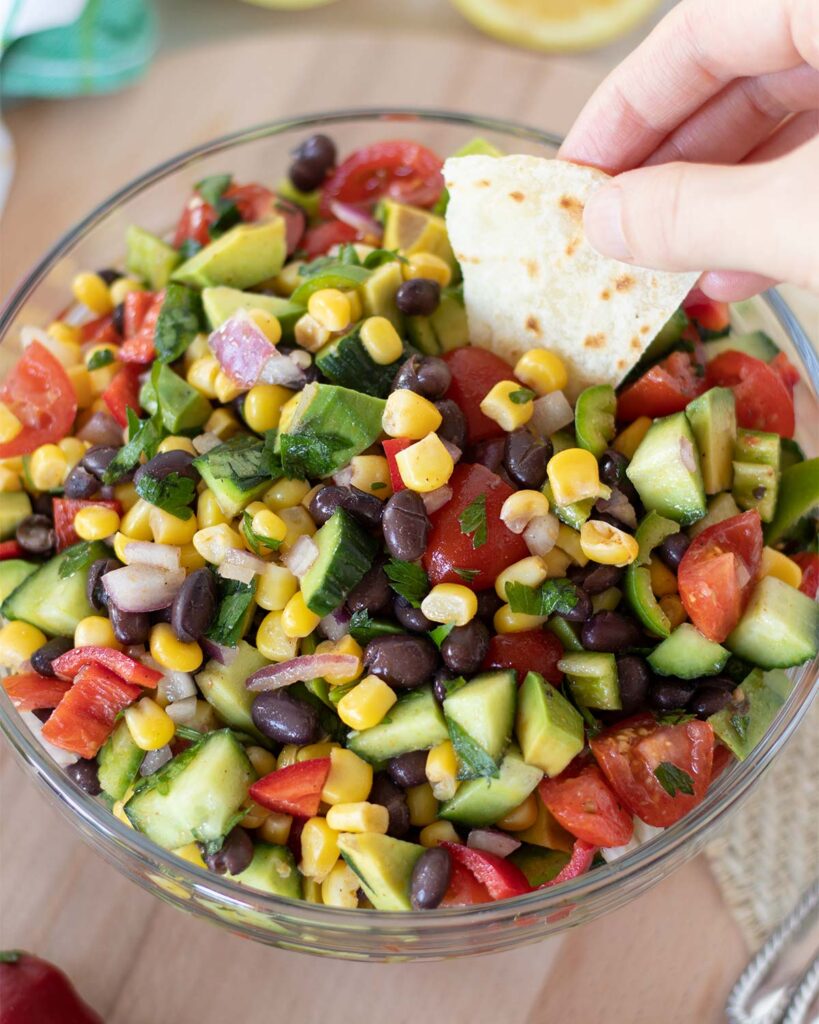 Having access to plenty of fresh fruits and vegetables daily is a great blessing from God. It may sound strange to you, but I find real joy when I come home from the trip to the local farmer's market. I can't wait to taste each of the healthful produce and make some nutritious dishes for lunch or dinner.
A good salad is the favorite part of my plant-based diet. Recently, I made this quick and nutrient-dense salad that features lots of colorful veggies and zingy Mediterranean-style vinaigrette.
And trust me, this corn salad with black beans tastes as good as it looks. It's a yummy way to add plant protein and get your daily dose of greens into a single vegan meal. Feel free to make it ahead and save it for later, it even tastes better the day after! Super yum!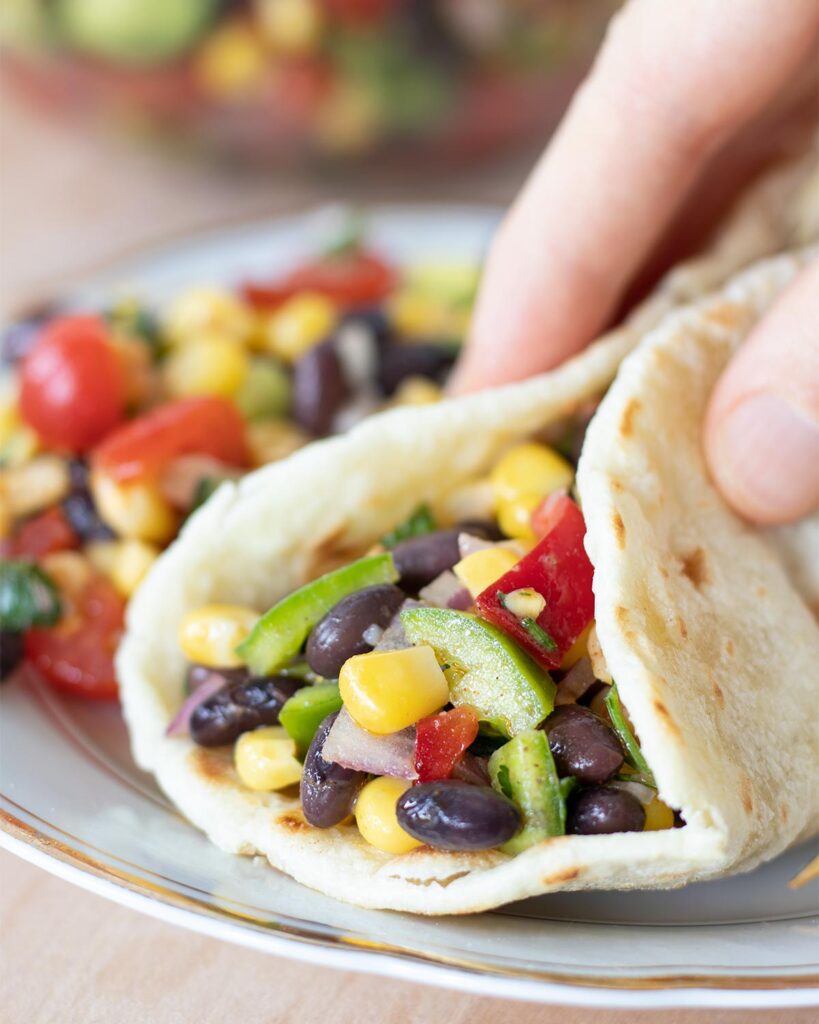 Regardless of the season this black bean and corn salad with surely amaze everyone around the table. Besides that, it's such an inexpensive meal that completely beats any store-bought salad or pre-made meal.
Moreover, it's a cheap meal prep idea to keep your budget on track and please your entire family. Plus, you can easily double and triple the recipe for a large party or gathering.
Now, let's go into the kitchen, put on our favorite song, and start chopping!
Ingredients For This Black Bean And Corn Salad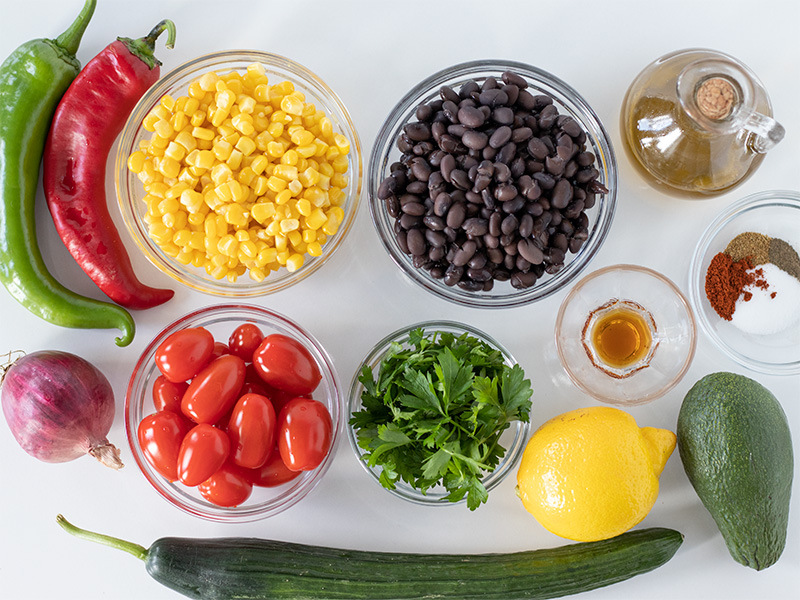 This recipe for corn salad with black beans calls for a delicious mix of colorful whole foods:
Black beans (canned)
Corn kernels (fresh, frozen, canned)
Plum cherry tomatoes (or any tomato you have on hand)
Avocado
Cucumber
Red and green peppers
Red onion
Fresh parsley
Extra virgin olive oil
Lemon juice (freshly squeezed)
Pure maple syrup
Salt, ground cumin, chili powder, ground black pepper
As always, you can find the full recipe with a list of ingredients with measurements in a printable recipe card at the end of this post.
Time needed: 15 minutes.
How do you make corn salad with black beans?

You will need around 15 minutes to make this gorgeous bowl of corn salad with black beans and fresh veggies.

Make the dressing

First, in a small container whisk olive oil, freshly squeezed lemon juice, maple syrup, salt, ground cumin, chili powder, and ground black pepper.



Assemble the veggies

Then, in a big salad bowl mix rinsed black beans, corn, quartered cherry tomatoes, diced avocado, finely chopped cucumber, finely chopped red and green pepper, diced onion, and parsley.
Pour the dressing over the vegetables and gently toss to coat evenly.



Serve and enjoy

Serve immediately and enjoy with tortilla chips, crispy roasted potatoes, or crunchy chickpeas. You can make it ahead, and store it in an airtight container in the fridge for up to 3 days in advance. Just wait to add the avocado and dressing just before serving.


FAQ's
How long can you keep black bean and corn salad
Without the avocado and dressing added, this corn salad with black beans keeps quite well in an airtight container in the refrigerator for 2-3 days.
Do you have to cook canned black beans
No, canned black beans are already cooked and ready to eat right away. Simply drain and rinse them well before serving.
Are canned black beans healthy
Canned black beans are a convenient, ready-to-use ingredient you can enjoy in so many dishes. They are packed with plant-based protein, fiber, folate, iron, magnesium, and other essential nutrients. At the same time, they are low in fat and calories. This makes them an excellent weight-loss-friendly food to add to your diet. However canned black beans can be high in salt so it is a good idea to always drain and rinse them before consuming.
How do you make black bean and corn salsa
You can easily transform this Mediterranean black beans and corn salad into salsa. The ingredients are the same, just chop them finely into small uniform chunks.
Is black bean and corn salad vegetarian
Yes, this salad is both vegetarian and vegan. It's also gluten-free and dairy-free, suitable for people with allergies and dietary restrictions.
What Goes With Black Bean And Corn Salad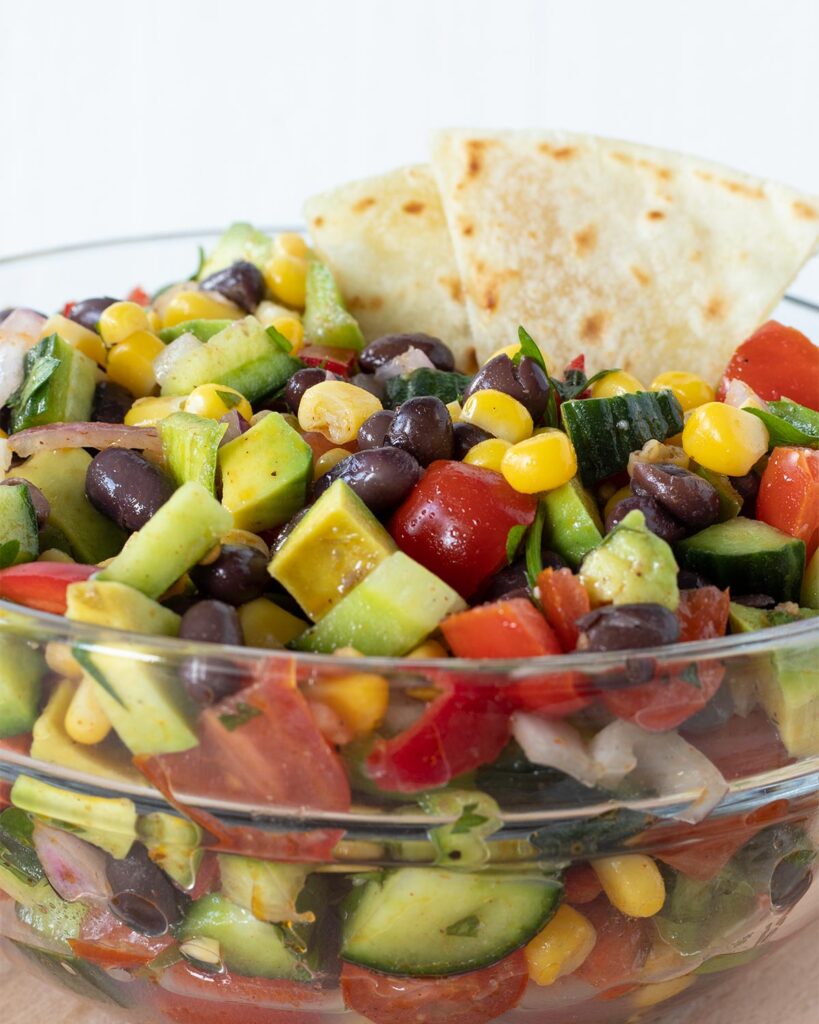 More Easy Salad Recipes (Vegan)
📖 Recipe
Don't forget to pin or share this post so you'll have this filling Mediterranean salad recipe ready when you need it!
Did you try this easy corn salad with black beans? If yes, please rate it, leave a comment below, and share your photo on Instagram with the tag @go_eatgreen and hashtag it #go_eatgreen. I would love to hear about your experience and your comments just make my day!
Follow me on Pinterest for more easy and delicious vegan recipe ideas.
Love, Marinela💚