Here is the best recipe for roasted chickpeas that stay crunchy for days! Spiced roasted chickpeas are vegan protein-savory snacks that are healthy, crispy, plant-based, dairy-free, gluten-free, and incredibly tasty.
Truly, they're so easy to make ahead so you can have them on hand whenever that salty snack craving hits!
Spiced Roasted Chickpeas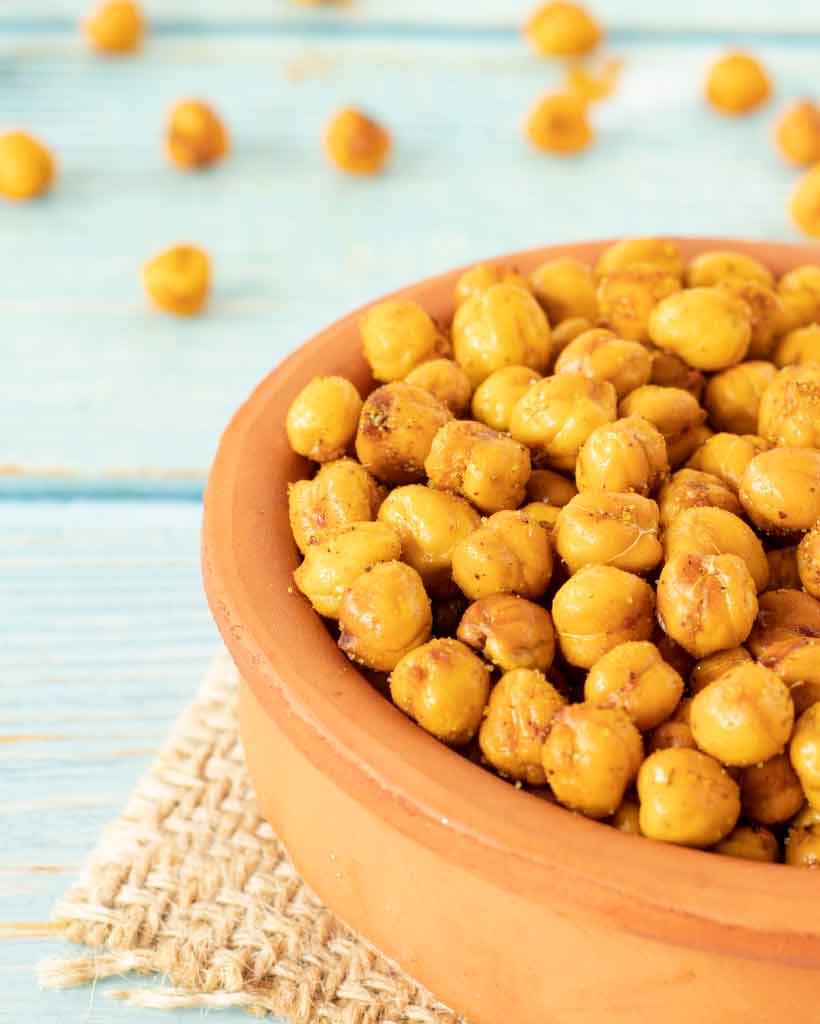 Let me introduce you to a new, delicious way to eat your beloved chickpeas - crunchy spiced chickpeas roasted in the oven.
I always need some kind of hearty snack to help me stay energized and productive throughout the day. That's why I find these portable chickpea snacks such a convenient food to nibble on whenever I need to fill my body with additional energy and nutrients.
Did I mention how versatile these satisfying savory treats are?
You can enjoy them on their own or add them to your salads, stews, soups, or sandwiches for extra protein and texture.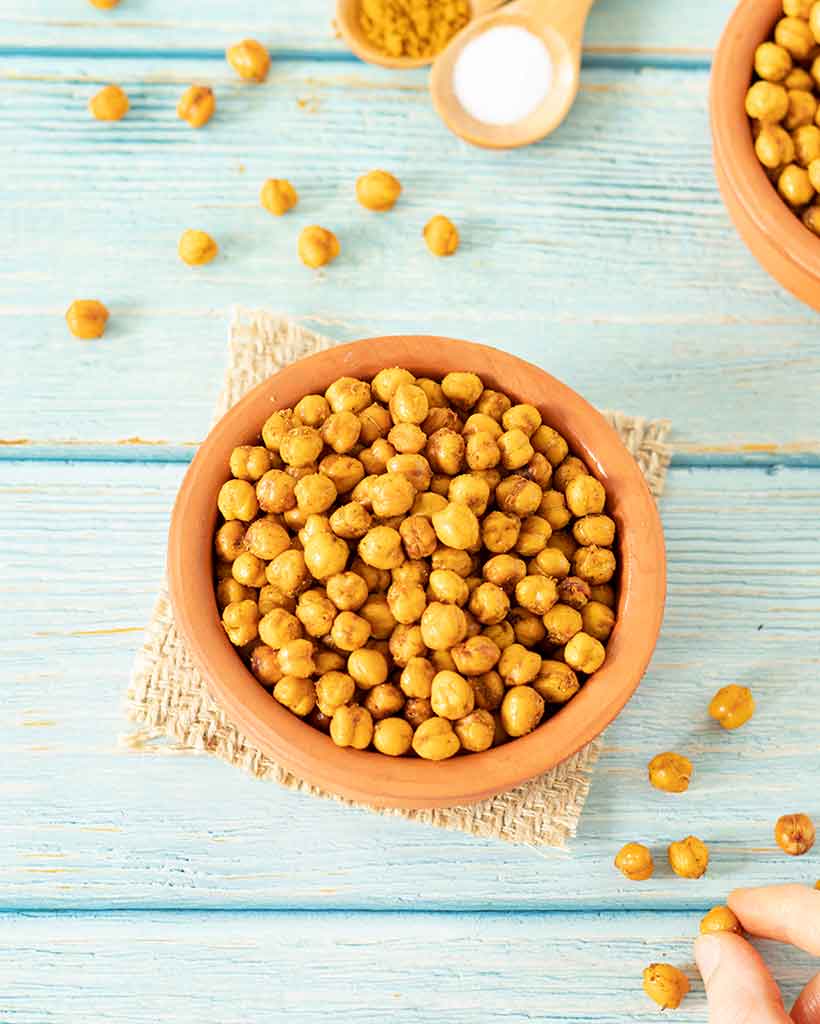 Also, they're a wonderful way to sneak some bonus nutrition into your daily diet. In fact, these crispy golden bites are packed with plant protein, dietary fiber, and healthy carbs. They'll certainly keep you full and satisfied until your next meal. Isn't it a good idea to always have a portable low-calorie snack option that's both highly nutritious and yummy?
Now, are you ready for some guilt-free snacking?
Ingredients You'll Need for These Crunchy Spiced Chickpeas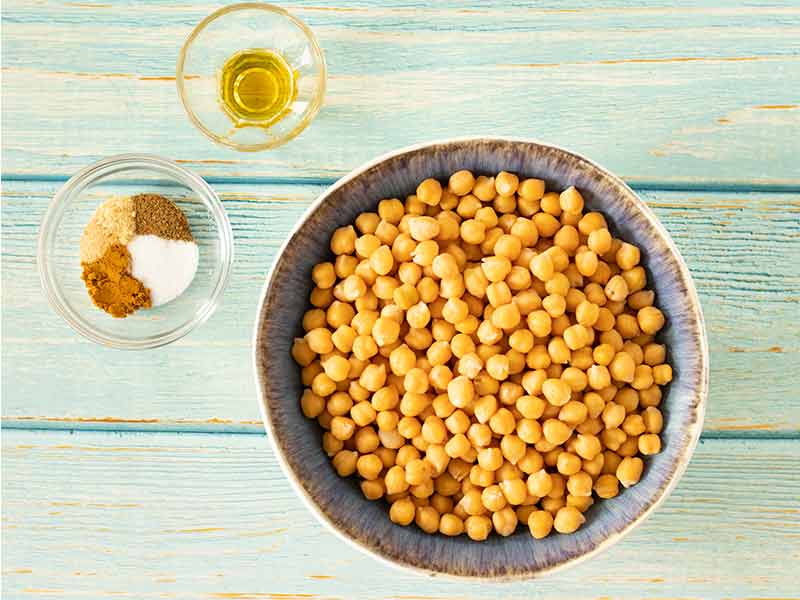 All you need to make this protein-rich vegan snack are 3 basic ingredients I'm pretty sure you already have in your pantry:
Cooked chickpeas (also known as garbanzo beans)
Olive oil (extra virgin)
Salt and spices (curry powder, cumin powder, onion powder, garlic powder)
As always, you can find the full recipe with a list of ingredients with measurements in a printable recipe card at the end of this post.
Time needed: 45 minutes.
How to make crispy roasted chickpeas in the oven?

Rinse and drain your chickpeas

For the purpose of this recipe, your can cook your own chickpeas from dry or use canned. Pour the cooked chickpeas into a strainer. Rinse and drain thoroughly.

With a clean kitchen towel or paper towels dry the chickpeas as much as possible. Use enough pressure to dry them without squashing them. Remove any loose skins that come off while drying.

Line a large baking sheet with parchment paper and turn on the oven to 392°F / 200°C. Spread your chickpeas evenly and transfer immediately to the oven while it's still preheating (3-5 minutes). This will help them become totally dry.



Roast chickpeas

Next, roast chickpeas at 392°F / 200°C for 25 minutes. With a spoon stir the chickpeas or shake the pan every 10 minutes. A few chickpeas may pop - that's normal.
After 25 minutes, remove them from the oven. Drizzle with the olive oil and toss with salt and spices. With a wooden spoon, mix until they are completely coated with the oil and spices. Roast for additional 15 minutes or until golden brown and crispy. Because ovens can vary, check their crispiness. If they're still soft inside, roast for additional 5-10 minutes.



Serve and enjoy

And that's it! Your chickpea snacks are ready to be eaten! Store completely cooled chickpeas at room temperature in a glass jar or an airtight container for 1-2 weeks. There is no need to refrigerate them, they'll remain perfectly crispy for days.


Are roasted chickpeas healthy?
Absolutely! If you are looking for a good-for-you crunchy snack you can surely count on chickpeas. Since they're rich in fiber, naturally gluten-free, and protein-packed, they're an excellent choice for healthy snacking.
How long do roasted chickpeas last?
They will last for 1-2 weeks at room temperature stored in a glass jar or an airtight container.
Do roasted chickpeas need to be refrigerated?
No, you don't need to refrigerate roasted chickpeas. They're best when stored at room temperature in your pantry.
Are roasted chickpeas good for weight loss?
Yes, due to their high protein and fiber content, oven-roasted chickpeas may keep you feeling fuller and reduce your calorie intake between meals. Instead of reaching out to a package of salty chips when you are hungry, you can opt out for a much healthier option - crunchy spiced chickpeas!
Are roasted chickpeas a good source of protein?
Chickpeas are a good source of plant-based protein thus making a wonderful choice for people who don't eat meat or animal products.
What can you do with roasted chickpeas?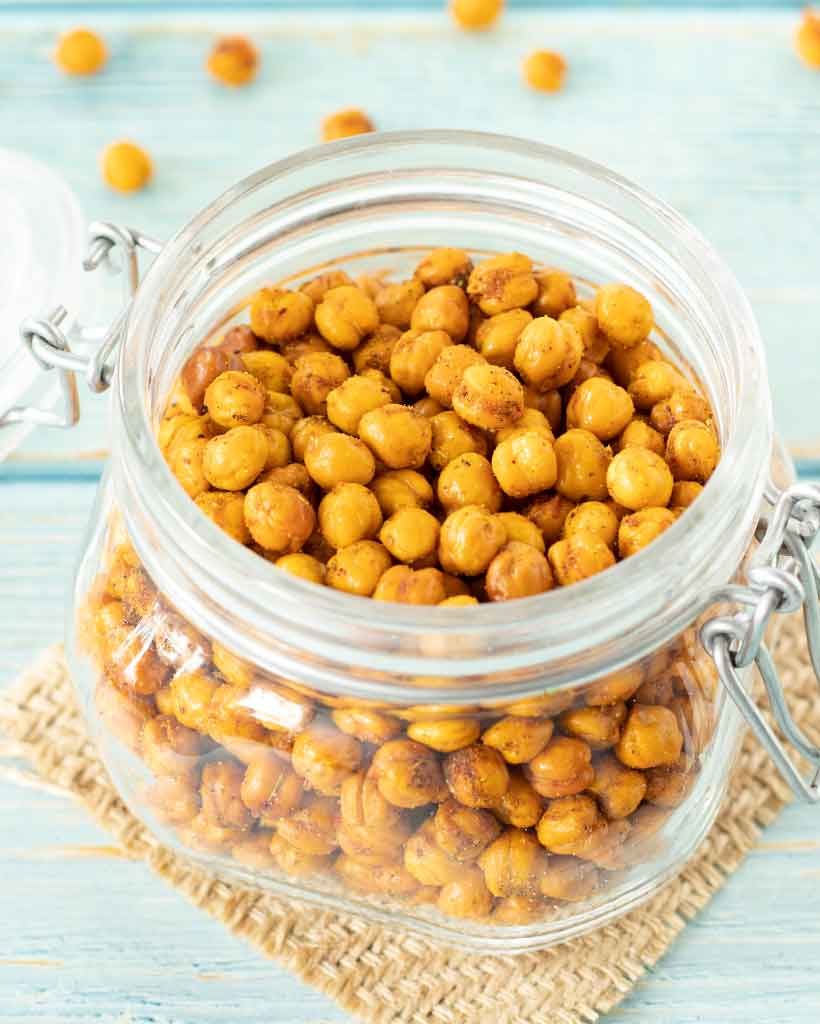 Why you'll love this recipe for roasted chickpeas? It's: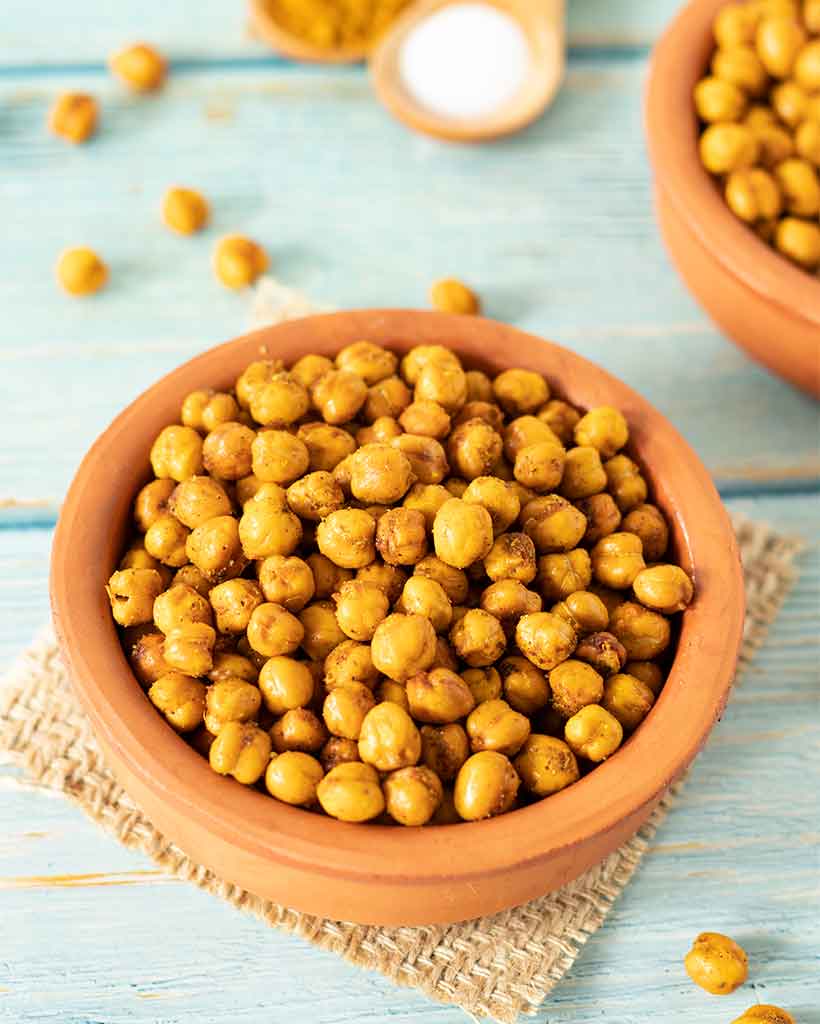 Simple
Cheap
Kid-friendly
Wholesome
Crowd-pleasing
Nutrient-dense
Weight loss-friendly
Ideal for work, school, road trips, or picnics!
More must-try chickpeas recipes (easy to prepare)
Did you try this easy recipe for roasted chickpeas? If yes, please rate it, leave a comment below, and share your photo on Instagram with the tag @go_eatgreen and hashtag it #go_eatgreen. I would love to hear about your experience and your comments just make my day!
Follow me on Pinterest for more easy and delicious vegan recipe ideas.
Love, Marinela💚