Welcome the best homemade carrot parsnip soup that's creamy, easy to make, incredibly healthy, and utterly delicious. Moreover, this super soup recipe is gluten-free, dairy-free, vegetarian, vegan, entirely gut-friendly, and weight-loss-friendly. This one-pot cozy carrot-parsnip-broccoli soup will surely warm you up on a cold fall/winter day and make you feel full, satisfied, and rejuvenated.
Brighten your mood with a vibrant antioxidant-rich and fiber-packed soup. Truly, it's an excellent choice as a quick cold-weather meal. It's light, simple, cheap, and wonderfully hydrating.
Perfect for chilly winter nights when you crave something nourishing and tasty for dinner. Besides that, it could be a fantastic side for lunch, filling starter, appetizer, or a nice balanced breakfast option.
Reset your body with a warming bowl of soup that's both flavorful and healing.
It hits the spot with plant-eaters and meat-eaters, too!
Is Carrot and Parsnip Soup Good For You?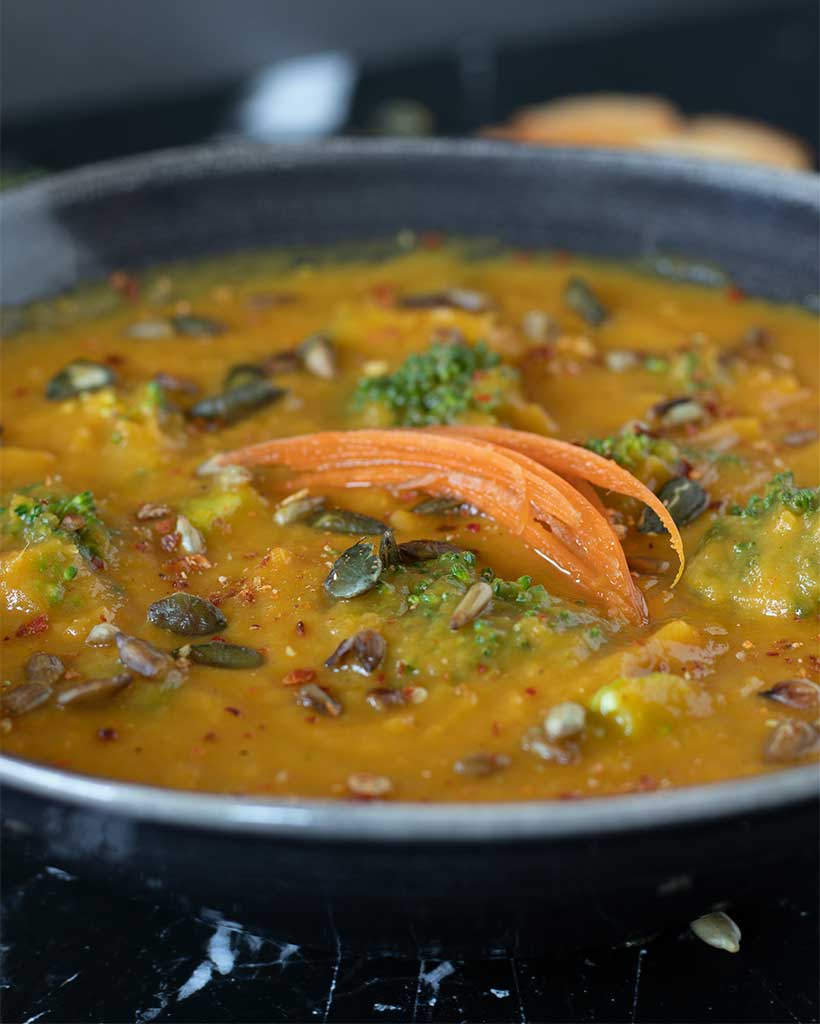 Veggie-loaded and spicy, this easy carrot and parsnip soup helps detoxify your body and boost your immune system naturally and fast.
Make it ahead and reheat it later, it's even better the day after. Plus, you'll save some time when you come home from work to the best pot of this minimal effort comforting soup.
Not only does this vegetable soup tastes scrumptious (even without heavy cream), but it's also one of the best remedies for a runny nose or when you're feeling sick. It contains an abundance of vitamin-rich veggies that help you recover easily and strengthen your immunity system.
In addition, this ultra-silky soup will especially aid your digestive system to run smoothly and normally. It features only nutrient-dense ingredients that promote healthy vision and skin, strengthen your bones, and reduce the risk of cancer, diabetes, and heart disease.
You can feel well even during flu season without eating heavy meals or taking pills!
Now, let's make it!
Carrot and Parsnip Soup Recipe Ingredients
I'm sure you probably have all the ingredients in your kitchen already to prepare this wholesome soup. Here they're:
Carrots
Parsnips
Small head of broccoli
Yellow onion
Extra virgin olive oil
Spices: (salt, turmeric powder, ground cumin, garlic powder, paprika powder, freshly ground black pepper, ginger powder)
Water
As always, you can find the full recipe with a list of ingredients with measurements in a printable recipe card at the end of this post.
Time needed: 45 minutes.
How do you make creamy carrot & parsnip soup?

Chop up your veggies

First, cut your broccoli into small florets. Leave them aside while you cook the soup. According to dr. Michael Greger, in this way an important compound, sulforaphane is formed. Then, finely dice the onion and thinly slice carrots and parsnips. Don't peel them, just wash and scrub them thoroughly to remove any dirt or debris.



Sauté onion

Start by heating a large pot over medium heat. Add olive oil and finely diced onion. Sauté for 3 minutes, stirring occasionally.



Add sliced carrots and parsnips

Next, add finely sliced carrots and parsnips. Stir everything very well. Cook for 5-7 minutes, over medium heat, stirring frequently, allowing the vegetables to release their fragrances. Be careful not to let them burn.



Add water and spices

After that, season with salt, paprika powder, ground cumin, freshly ground black pepper, garlic powder, and ginger powder. Pour in the water, stir to combine, and bring to boil. Reduce the heat, cover partially with a lid, and let it simmer for 25-30 minutes or until the carrots and parsnips are soft enough to be blended. In the end, when you turn off the heat, add turmeric powder. We want to add it last because the curcumin compound will degrade greatly when boiled. Taste, and adjust seasonings as needed.



Blend the soup

Remove the pot from the stove. If you have an immersion blender, quickly purée the soup until soft and creamy.
You can use a standard blender or food processor to blend it but first, make sure you allow it to cool down before transferring and blending in full or in batches.
After blending, return the pot to the stove, stir in finely chopped broccoli florets, and let it reheat on low for about 3-5 minutes. Thus, they'll retain almost all of their nutritional content.

Serve and enjoy

Finally, enjoy it warm as a side dish, starter, brunch, appetizer, or as a main course for lunch or dinner. Garnish with julienned carrots, roasted pumpkin and sunflower seeds, crunchy bread, or croutons. Store cooled leftovers for up to 3 days in the refrigerator or in the freezer for up to 1 month.


Do you peel parsnips for soup?
No, you don't need to peel parsnips for soup. You should only wash them thoroughly and give them a good scrub before using them in this soup.
What is the difference between a carrot and a parsnip?
Besides the noticeable difference in color, each of them has a unique sweet flavor. While carrots are generally sweet, parsnips have a more fragrantly spicy taste. Although parsnips resemble carrots they aren't of the same plant family but their nutritional content is very similar. Also, they both have anti-cancer and anti-diabetic properties. The main difference is that carrots are richer in vitamins B2, B3, and B6. They're especially rich in beta carotene which your body converts into vitamin A. Meanwhile, parsnips are richer in vitamin C, B1, B5, vitamin K, and folate. Furthermore, parsnips are higher in carbohydrates, protein, and calories. Given all these benefits you could get from these veggies, you should definitely incorporate them into your diet if not already.
How do you store carrot and parsnip soup without stock?
Our carrot & parsnip soup keeps well both in the fridge and freezer. If you keep it in the refrigerator simply store it in an airtight container for up to 3 days. Alternatively, you can freeze it in freezer-friendly containers for up to a month.
How does this soup taste?
This colorful soup made without cream, flour, or vegetable stock perfectly balances sweet and savory notes coupled with the warming spices for the ultimate delicate flavor.
What to serve with this gluten-free carrot parsnip soup?
Why You'll love this Immunity Boosting Soup? It's:
Soothing
Full of freshness
Easy to digest
Good for sore throat
Low-calorie
Kid-friendly
Anti-inflammatory
Budget-friendly
Luscious
A wonderful winter warmer!
Looking for more Weight-Loss Friendly Soup Recipes?
📖 Recipe
Did you try this carrot parsnip soup? If you tried it, please rate it, leave a comment below, and share your photo on Instagram with the tag @go_eatgreen and hashtag it #go_eatgreen. I would love to see your pictures and your comments just make my day!
Follow me on Pinterest for more easy and delicious vegan recipe ideas.
Love, Marinela💚