Recipe for red cabbage soup is an easy and wholesome hearty one-pot meal. This homemade vegetable detox soup is cozy, warming, super tasty, and low in fat and calories. Also, this chunky & creamy soup is gluten-free, dairy-free, vegetarian, and vegan.
Did you know you can quickly boost your immunity, improve your digestion, and effectively lose weight with the cooking and eating choices you make every day?
Plant-based food is a God-given remedy for many diseases and health problems. And this red cabbage potato soup is one of my favorite incredibly flavorful, gut-healing soups that are especially filling and satisfying.
Hearty Red Cabbage Soup
Are you looking for a simple recipe for a light, comforting weeknight dinner? A warm supper that will fill you up with nutrient-dense, immunity-boosting ingredients on these cold, rainy nights?
This beautifully vibrant cabbage detox soup is the ultimate definition of comfort food. It's healthy, super easy to make from scratch, and so delicious!
Truly it's the best soup in the world that abounds in dietary fiber, minerals, and powerful antioxidants.
What is the benefit of cabbage soup?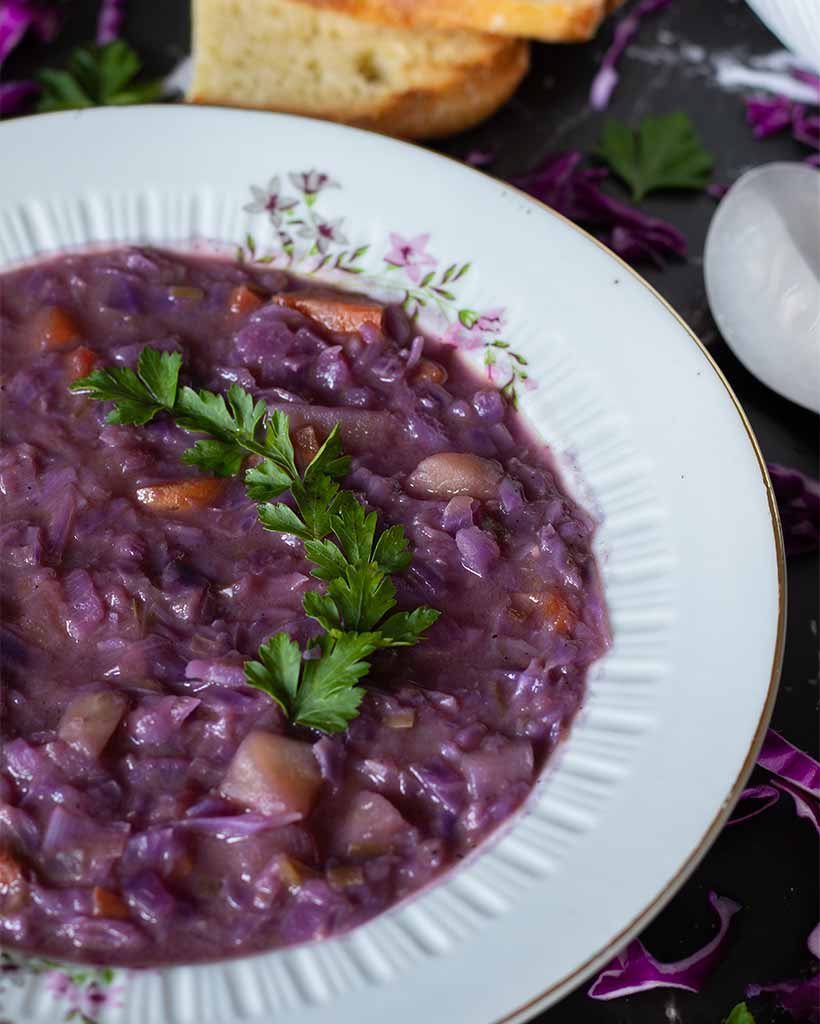 I regularly use purple cabbage in fresh, crunchy salads. However, for today, it'll be our main ingredient in this cleansing, weight-loss soup.
Because it's packed with essential vitamins, minerals, and antioxidants it's an easy way to fight seasonal flu and colds. In fact, it acts as a natural, soothing remedy to stay nourished, hydrated, and feel better.
This rich, colorful stew is a delightful way to strengthen your immune system and remove harmful toxins from your body. Surely, it'll be a wonderful addition to your clean eating diet plan.
And now, let's make it together!
Red Cabbage Soup Recipe Ingredients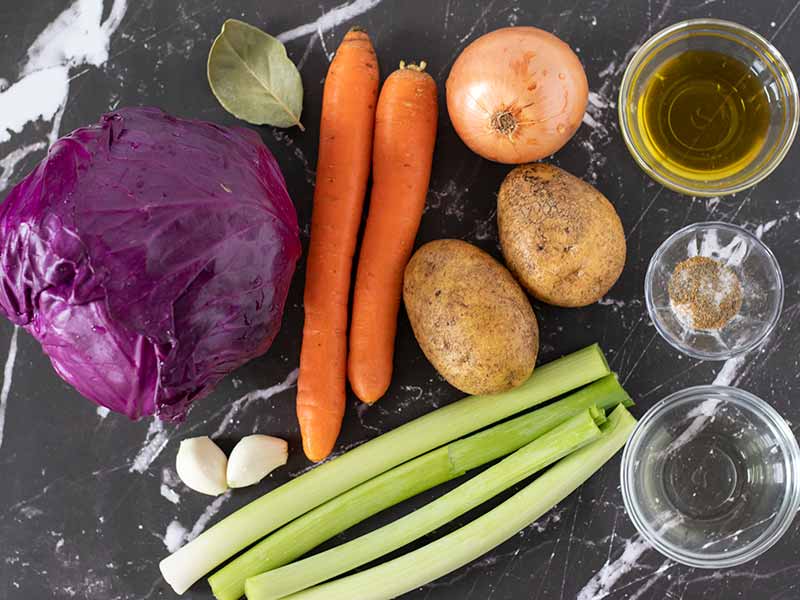 You'll need a few everyday ingredients to prepare this hearty soup. They are both good for you and budget-friendly pantry staples, you may already have in your kitchen. Here they are:
Fresh red cabbage
Potatoes (yukon gold or russet potatoes)
Carrots
Onion
Leek stalks
Garlic cloves
Olive oil (extra virgin)
Apple cider vinegar
Bay leaf
Salt, ground black pepper, ground cumin
As always, you can find the full recipe with a list of ingredients with measurements in a printable recipe card at the end of this post.
Time needed: 50 minutes
How to cook red cabbage soup from scratch? (Step-by-step with pictures)

Sauté onion, leek, carrots, and garlic

First, start by heating a large pot over medium heat. Add olive oil, diced onion, sliced leek stalks, and carrots. Sauté for 3 minutes, stirring occasionally. Add finely chopped garlic and sauté for additional 2-3 minutes.



Add purple cabbage and potatoes

Next, add finely chopped cabbage and potato cubes. Stir everything very well. Cook for 10 minutes, over medium heat, stirring frequently, allowing the vegetables to release their fragrances. Be careful not to let them burn.



Add water and spices

After that, season with salt, ground cumin, and freshly ground black pepper. Put in the bay leaf. Pour in the water, stir to combine, and bring to boil. Reduce the heat, cover partially with a lid, and let it simmer for 25-30 minutes or until the cabbage is soft and potatoes are fork-tender. In the end, stir in a tablespoon or two apple cider vinegar. At this point, taste, and adjust seasonings as needed.



Blend a portion for creaminess

I prefer this healing cabbage soup half chunky-half creamy, that's why I recommend you blend about 2-3 cups of it in a blender or food processor. But first, make sure you allow it to cool down before transferring and blending (see complete instructions in the "note section" in the recipe card at the end of the post).



Serve warm and enjoy

It's best to enjoy it warm as a side, starter, brunch, appetizer, or as a main course for lunch or dinner. Garnish with fresh parsley or spinach leaves and serve with crunchy bread or croutons. Store cooled leftovers for up to 3 days in the refrigerator or in the freezer for up to 1 month.


FAQ for This Red Cabbage Potato Soup
Is red cabbage anti-inflammatory?
Like many plants, red cabbage may successfully fight inflammation. It's rich in phytonutrients that may reduce chronic inflammation. Moreover, the insoluble fiber found in this cruciferous vegetable may help you prevent constipation and relieve symptoms of some gastrointestinal conditions. Besides that, it contains highly beneficial compounds, like sulforaphane, that are associated with potent cancer-fighting properties.
Is purple cabbage soup good for you?
Absolutely! This nutrient and fiber-rich soup is a wonderful addition to your diet. Like I mentioned above, it'll keep inflammation in check and detoxify your body in a natural way. In addition, it may lower your blood pressure and cholesterol levels, greatly improve your digestion, and keep your heart healthy. Furthermore, it can promote weight loss when combined with other healthful foods, of course.
Can you eat red cabbage raw?
Of course, you can eat it raw in salads or snack it plainly, on its own (like me, while chopping it 🙂 ). It has a fresh and slightly peppery taste. When cooked, it develops a sweeter flavor, that's why we'll balance it out with apple cider vinegar at the end of the cooking process.
How do you store cabbage soup?
Our detox vegetable soup keeps well both in the fridge and freezer. If you keep it in the refrigerator simply store it in an airtight container for up to 3 days. Alternatively, you can freeze it in freezer-friendly containers for up to a month.
Why You'll Love this Red Cabbage Soup Recipe. It's: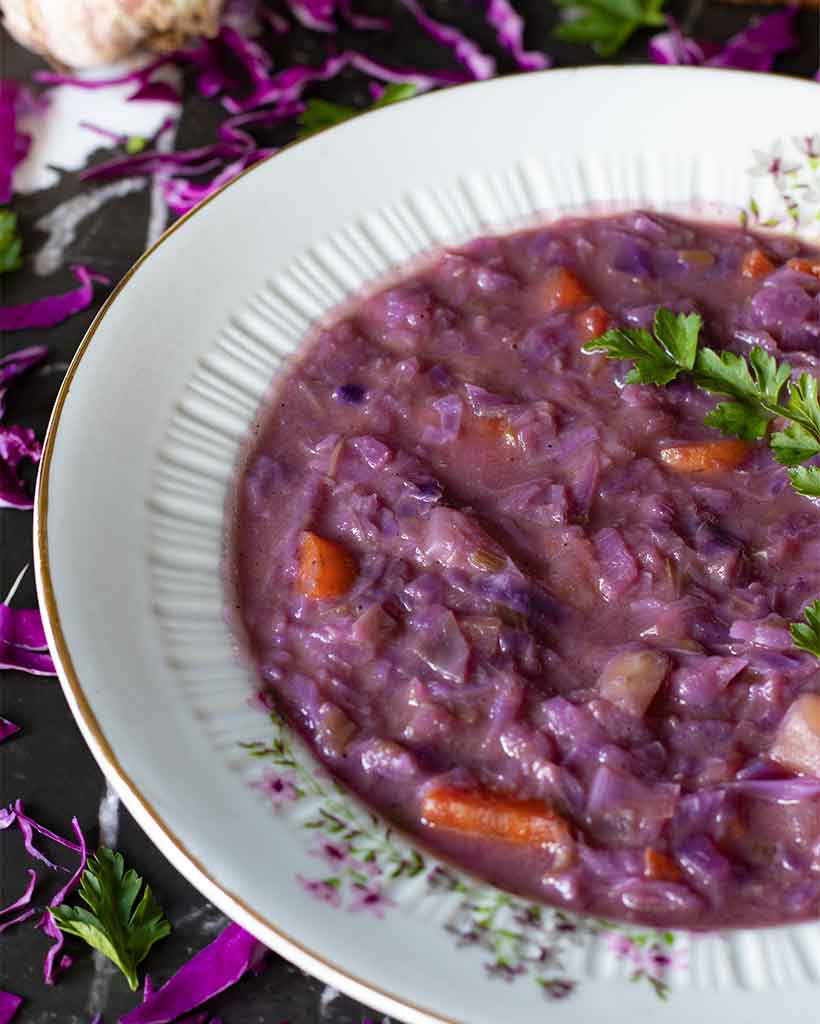 Immune-friendly

Packed with veggies

Kid-friendly

Soul warming

Affordable

Ideal for cold weather

Tangy

Incredibly tasty
Other Homemade Vegetable Soup Recipes You May like:
Try Out These Easy Vegan Recipes for Dinner
📖 Recipe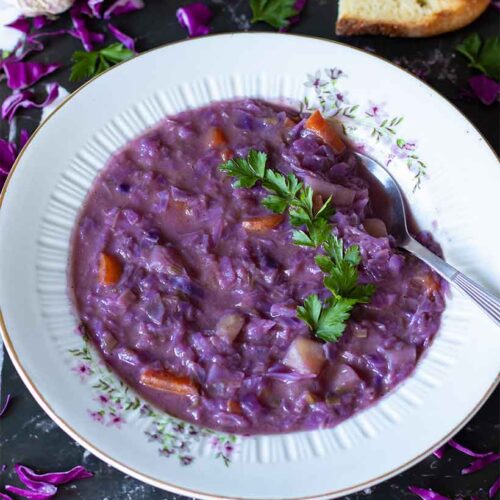 Recipe for Red Cabbage Soup (Easy Vegetable Detox Meal)
Recipe for red cabbage soup is an easy and wholesome hearty one-pot meal. This homemade vegetable detox soup is cozy, warming, super tasty, and low in fat and calories. Also, this chunky & creamy soup is gluten-free, dairy-free, vegetarian, and vegan.
Equipment
Large cooking pot

Cutting board

Knife

Wooden spoon
Ingredients
1

small head of fresh red cabbage

finely chopped (approx. 8 cups chopped)

2

medium-sized potatoes

peeled, finely diced into approx. ½ inch pieces (Yukon gold or russet potatoes work best)

2

carrots

cut into half or quarter thin slices

1

onion

finely diced (yellow or red onion)

2

leek stalks

sliced in thin rings

2

garlic cloves

finely chopped

2

tablespoon

olive oil

extra virgin

2

tablespoon

apple cider vinegar

add more to taste

1

bay leaf

2

teaspoon

salt

add more to taste

½

teaspoon

black pepper

freshly ground

½

teaspoon

cumin

ground

4

cups

fresh water
Notes
Try to chop potatoes and carrots pieces about the same size so they can cook evenly. I like to chop mine very small, about ½ inch each piece thus reducing the cooking time.
Never put hot liquids in your blender because it may create enough pressure to "blow" the lid off the top thus making a big mess in the kitchen. If you have an immersion blender, quickly purée part of the soup until soft and creamy. You can totally control the consistency of this easy cleansing soup depending on the amount you'll blend it at the end.
You can substitute leek with celery. Also, you can use cauliflower instead of potatoes.
Instead of apple cider vinegar, you can use balsamic vinegar, freshly squeezed lemon juice, or white vinegar for a more strong sour taste.
For a completely smooth and silky texture, puree all soup mixture.
If your soup is too thick to your liking simply stir in more water or dairy-free milk and reheat.

Store cooled leftovers in a sealed container or in individual containers as an easy grab-and-go meal. Keep in the refrigerator for up to 3 days or in the freezer for up to 1 month. Reheat on the stovetop over medium heat.
Nutrition
Calories:
248
kcal
Carbohydrates:
43
g
Protein:
6
g
Fat:
8
g
Saturated Fat:
1
g
Polyunsaturated Fat:
1
g
Monounsaturated Fat:
5
g
Sodium:
1257
mg
Potassium:
1101
mg
Fiber:
8
g
Sugar:
13
g
Vitamin A:
8184
IU
Vitamin C:
146
mg
Calcium:
153
mg
Iron:
4
mg
Did you try this red cabbage soup recipe? If you tried it, please rate it, leave a comment below, and share your photo on Instagram with the tag @go_eatgreen and hashtag it #go_eatgreen. I would love to see your pictures and your comments just make my day!
Follow me on Pinterest for more easy and delicious vegan recipe ideas.
Love, Marinela💚