Learn how to make stovetop popcorn from scratch in just 10 minutes. With almost no effort and only 3 ingredients, this homemade stovetop popcorn recipe yields crunchy and fluffy popcorn, perfect every time!
Plus, you need no microwave and no special equipment. Using a deep, stainless steel pot with a lid is the easiest way to make the best popcorn at home. You'll never return to microwave popcorn again!
Perfect Homemade Popcorn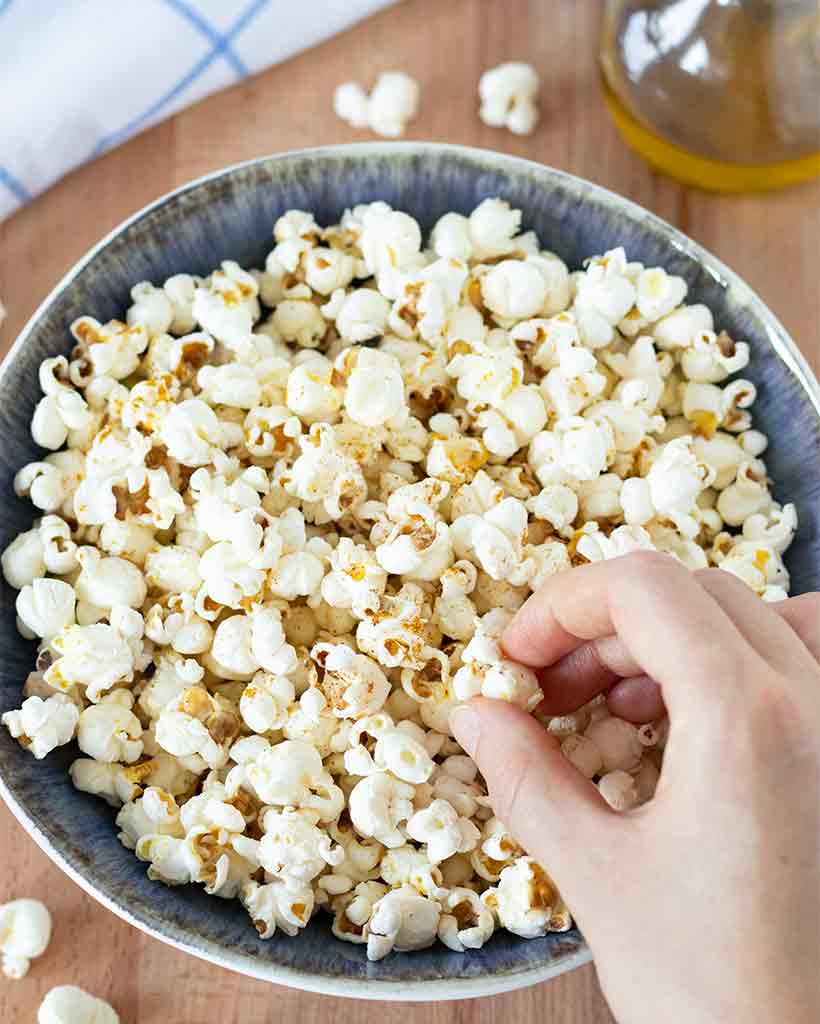 Do you know what's better than a bag of popcorn from a movie theater? Homemade popcorn, of course!
Popcorn is a classic inexpensive snack and it's incredibly easy to make even without a microwave or an air popper.
If you've ever tried to make popcorn on the stove, you know that it can be a little bit tricky. You have to really keep an eye on it and make sure the kernels don't burn or get stuck together. With my popcorn-making tips, though, you won't have any of those problems!
Whether you want to treat yourself or cook a big batch of popcorn for a party, this cheap and tasty snack will surely impress everyone. Another bonus? This low-calorie snack made without added sugar is vegan, vegetarian, gluten-free, dairy-free, and budget-friendly. Absolutely healthy & delicious salty snack idea!
If you are a fan of salty & spicy homemade snacks that are totally guilt-free check out my high-protein roasted chickpeas, too.
Now, let's make it together!
Popcorn Ingredients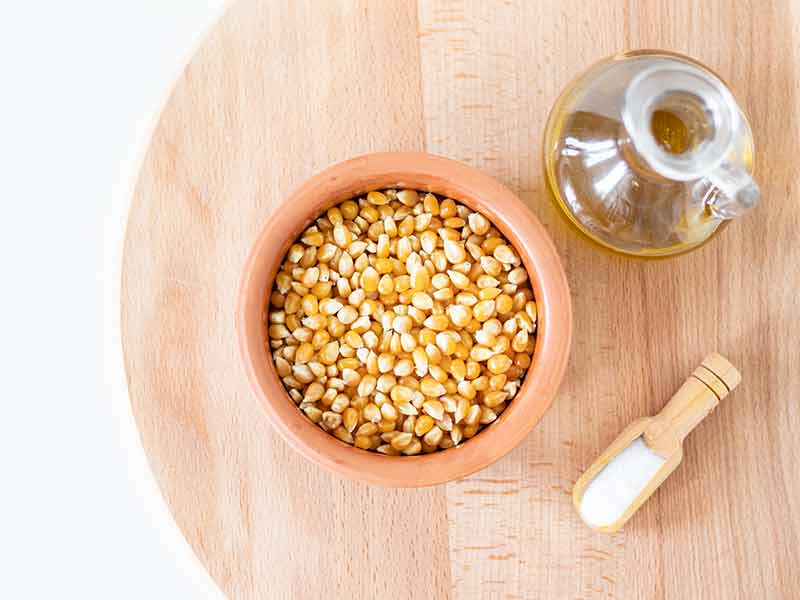 You will need a few simple pantry staples to cook this quick savory snack:
Popcorn kernels
Olive oil (extra virgin)
Fine seas salt
As always, you can find the full recipe with a list of ingredients with measurements in a printable recipe card at the end of this post.
Time needed: 10 minutes.
How to make stovetop popcorn without burning it? (step by step with pictures)

Popping a big batch of warm homemade popcorn is easy if you follow these simple steps:

Heat the oil

First, in a large, heavy-bottomed pot heat up the oil on medium-high heat. Immediately put 3 popcorn kernels in it and cover it with a lid.



Wait until 3 kernels pop

Wait until the 3 kernels pop. After that, remove the pot from the heat, carefully take out the three popped kernels, and add the rest of them to the pot.



Add the rest of the kernels

Cover with the lid, and gently shake the pot so the kernels will be distributed evenly in one layer. Don't put them on the burner yet! Let them rest for 1 minute at the bottom of the pot. This will bring all the kernels at near popping temperature, so when you put them back on the heat they'll pop at about the same time.



Return to heat and let them pop

Next, return the covered pot to heat. Once the popping starts, gently shake the pot by moving it back and forth over the burner. Keeping the pot moving during the popping time is the KEY to making them all pop. Once the kernels start popping, keep the lid slightly opened (just a touch). If you have a vented lid, skip this step. In this way, the steam will be released and popcorns will be dry and crispy.



Transfer to a big bowl and enjoy

As soon as the popping noises slow down to every few seconds, turn off the heat, let the last kernels pop, then immediately remove the pot from heat. You don't want your popped popcorns to be burned.
Transfer to a big bowl, sprinkle with fine sea salt or any spice to taste, while popcorns are still hot. Toss your popcorn and serve right away for the best flavor and texture.


Tips for How to Make Good Stovetop Popcorn
Use a big, sturdy, stainless steel pot with a lid, one that heats up quickly. Cheap pots don't diffuse the heat evenly so you may end up with dark burned spots on the bottom.
Don't overheat the oil because your popcorn will taste burnt.
Make the 3 kernels test to measure the right temperature - you will know that your oil is ready when they pop.
If you double or triple the recipe, cook in batches. Don't overcrowd the bottom of the pot. The kernels should be distributed in a single layer or enough to cover the bottom of the pot.
It's important to slightly open the lid while the popcorn is popping if you want to achieve that airy & crispy texture. If you allow the steam to get trapped in the pot while they're popping the result will be chewy popcorn.
As I mentioned above, when the kernels start popping you should shake the pot back and forth constantly to ensure every kernel reaches the bottom and pops.
Season with salt or any seasonings of choice immediately after popping, while the popcorn is still warm to easily absorb the flavors.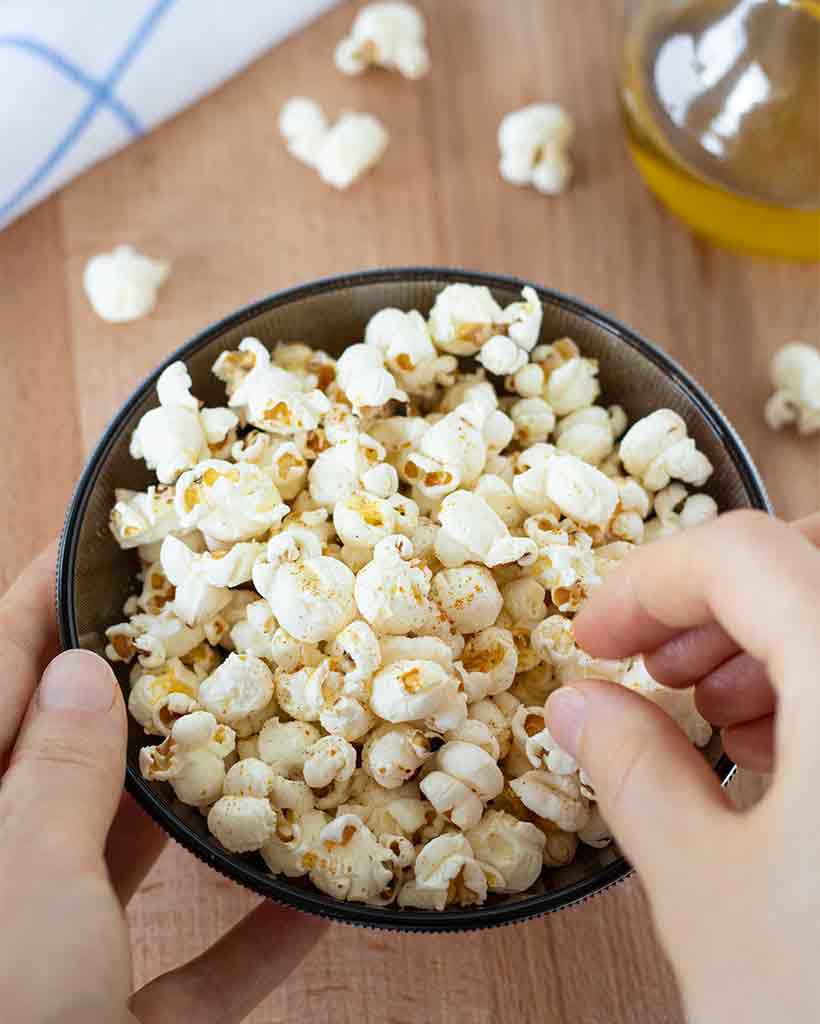 How long does it take to make stovetop popcorn?
You will need 10 minutes or less to make a batch of warm homemade popcorn.
Is stovetop popcorn healthy?
Without a doubt, homemade popcorn is an excellent choice for a nutritious snack. Popcorn is a great option for healthy snacking since it's rich in dietary fiber and low in calories. Because it's a great fiber source, popcorn will keep you full and satisfied between meals. Also, it's good for your digestive health and it promotes regular bowel movements. It definitely is a wonderful whole food snack you want to have on your clean eating list to be part of your balanced diet in case you need a good nourishing snack.
Is popcorn gluten-free?
Yes, popcorn is naturally gluten-free and is a safe snack food for people with gluten intolerances or celiac disease.
What is the best oil to use to pop popcorn?
Extra virgin olive oil is the best when you make popcorn on the stovetop. You can use avocado oil, sunflower oil, or grapeseed oil, as well.
How much oil do you put in pan for popcorn?
1 tablespoon of olive oil is enough for a ⅓ cup of corn kernels. The oil should cover the whole bottom of the pot.
How long will popped popcorn stay fresh?
Your DIY popcorn retains its texture when consumed within a few hours after cooking. After that, it loses some of its crunchiness and takes on a softer, chewy texture. Keep any leftovers in an airtight container in a dry, cool place.
Why is stovetop popcorn better than movie theater popcorn?
Unlike movie theater popcorn which is loaded with calories, highly refined oils, and artificial flavors homemade popcorn is healthy, fast, and chemical-free. This whole-grain snack is tasty, preservative-free, and so satisfying.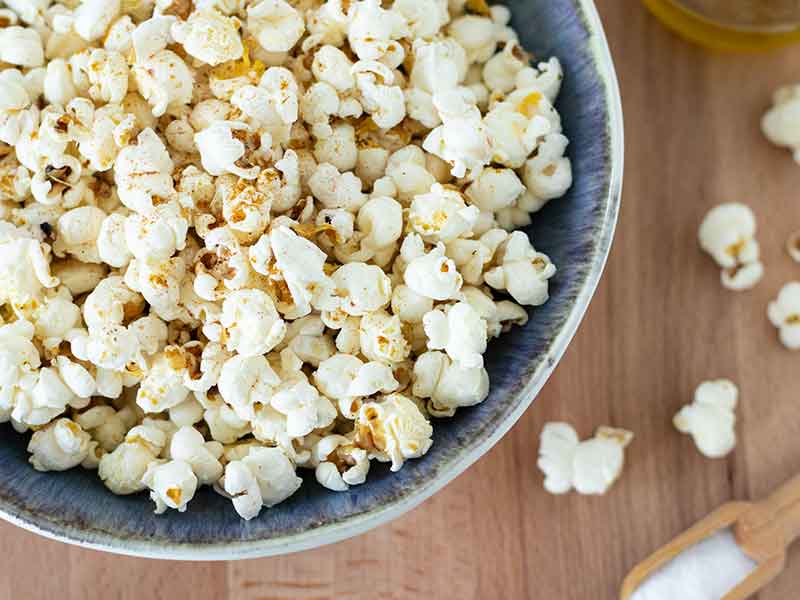 What are some good seasonings to put on popcorn?
Fine seas salt
Nutritional yeast
Ground black pepper
Red pepper flakes
Smoked paprika
Curry powder
Chili powder
Maple syrup and cinnamon
Melted butter
📖 Recipe
Don't forget to pin or share this post so you'll have this easy homemade popcorn recipe ready when you need it!
I hope you enjoyed my simple guide on how to make stovetop popcorn. Did you try to make it for yourself? If yes, please rate it, leave a comment below, and share your photo on Instagram with the tag @go_eatgreen and hashtag it #go_eatgreen. I would love to hear about your experience and your comments just make my day!
Follow me on Pinterest for more easy and delicious vegan recipe ideas.
Love, Marinela💚