Jump to Recipe
This recipe for roasted red pepper hummus is much better and cheaper than store-bought. Learn how to make the best homemade hummus that is easy, creamy and so flavorful!
Got a bunch of ripe sweet red peppers? Looking for tasty recipe ideas to use them up? I'm here to help!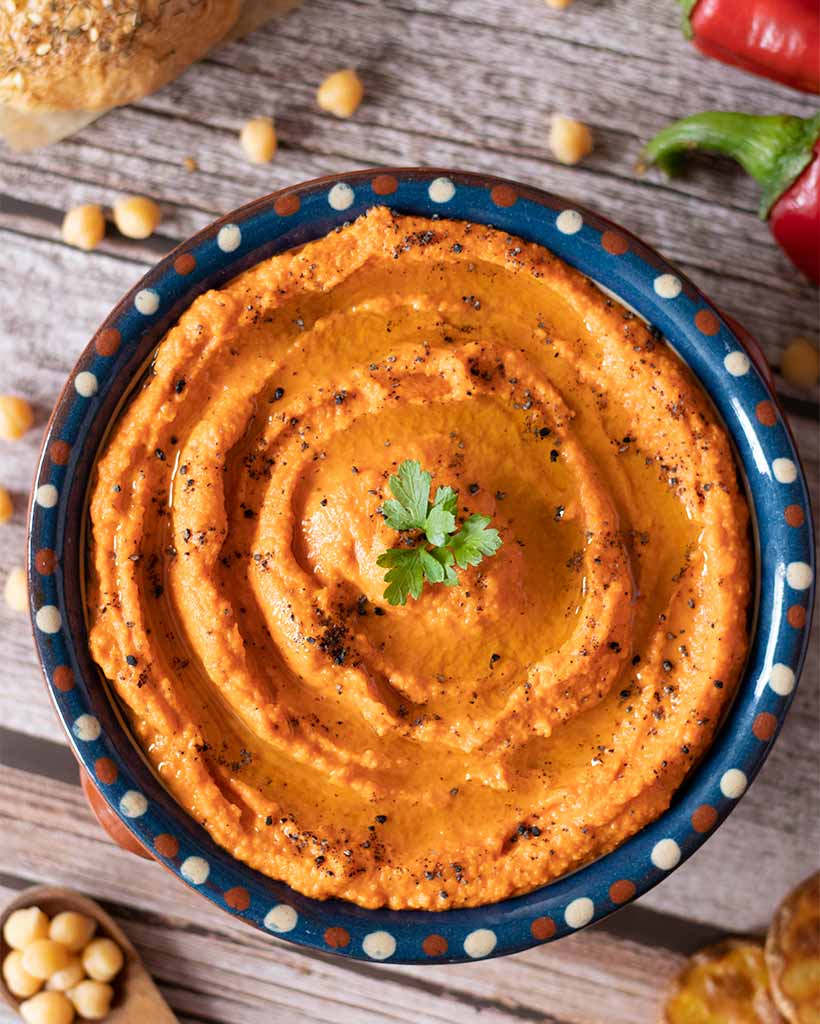 Today's simple recipe for creamy red pepper hummus calls for freshly roasted, vitamin-rich red peppers that are full of flavor. This vegan red pepper hummus is an amazing way to incorporate this surprisingly delicious and nutritious vegetable. Give your traditional homemade hummus a new and original peppery twist.
Warning! Every bite is pure delight!
I highly recommend accompanying it with warm homemade flatbread or these yummy vegan zucchini fritters. These ones pair perfectly together, you must give it a try.
What is red pepper hummus
Red pepper hummus is a smooth and creamy blend made with protein-packed chickpeas (garbanzo beans), roasted red peppers (Rich in Vitamin C and A), deeply-flavored tahini paste, extra virgin olive oil, freshly squeezed lemon juice, and antioxidant-packed spices.
This eye-popping red pepper hummus dip originates from Mediterranean and Middle Eastern cuisine. It's the most filling vegan spread with a gorgeously rich texture, a savory, mildly sweet, and earthy taste, and fantastic bright orangey-red color.
This recipe calls for tahini paste which you can make at home (with only 2 ingredients!) or you can buy it at the store. But if you are not a fan of tahini at all, I have a classic hummus recipe without tahini just for you.
What is red pepper hummus made of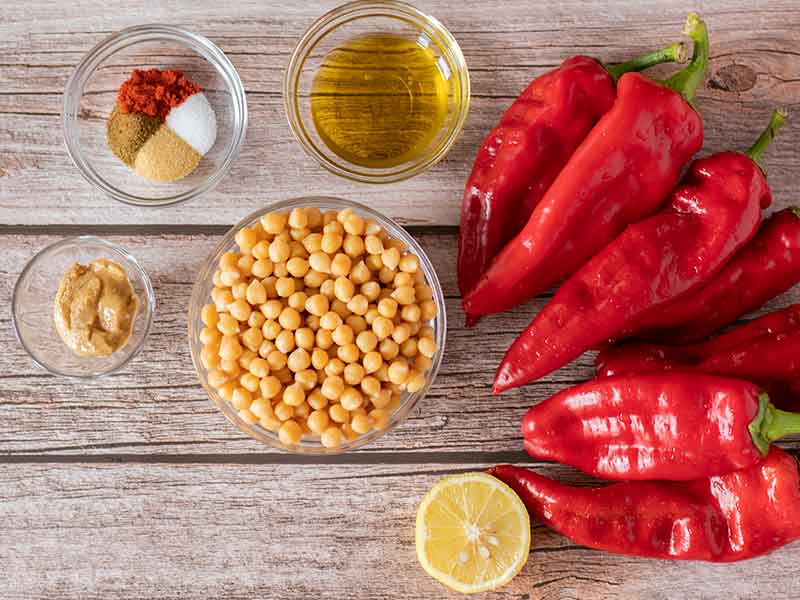 You need a handful of wholesome, real food ingredients to make this inexpensive plant-based dip. You can safely put it on your clean eating recipe list and enjoy it whenever you need a fast, low-calorie meal. Here is what you'll need:
8 whole-roasted red peppers

(or about 2 cups chopped jarred red peppers)

Cooked chickpeas

(you can use canned if you like)

Homemade tahini

(it's rediculously easy to make at home but you can use store-bought tahini if desired)

Extra virgin olive oil

Freshly squeezed lemon juice

Spices (salt, freshly ground black pepper, cumin powder, dry garlic)

Water
As always, you can find the full recipe with a list of ingredients with measurements in a printable recipe card at the end of this post.
Easy homemade hummus from scratch
Time needed: 40 minutes.
How to make roasted red pepper hummus

Roast the peppers

Preheat oven to 400°F / 200°C. Line a large baking sheet with parchment paper.
Rinse your peppers and dry thoroughly with a clean towel.
Lay peppers on the sheet and roast for 20-25 minutes or until peppers are fragrant, tender, and well-charred (this will depend on their shape and size). If they aren't ready, leave them in the oven for a couple of minutes more.
Skip steps 1 and 2 if you are using jarred roasted red peppers.

Peel pepper's skins

Once you've roasted your peppers you need to peel them and remove the seeds. You can put peppers into a sealable plastic bag, or in a bowl and cover them with a lid or plastic wrap. Let them steam for 15-30 minutes (the longer the better, it helps to easily remove the skins off).
After that, gently skin and seed your baked peppers. Be sure to let them cool enough so you don't burn yourself. You can peel and clean them under cold running water to speed up the cleaning process. Drain any excess water.

Combine all ingredients

In a food processor or a high-powered blender, mix all ingredients together. Combine roasted red peppers, cooked chickpeas, tahini, olive oil, lemon juice, water, and spices. Process until everything is well incorporated and you get a smooth and creamy consistency. Taste it and adjust the seasonings if needed.

Serve and enjoy

Garnish your smokey red pepper hummus with just a little ground black seed, finely chopped parsley, and drizzle with olive oil.
More about this recipe for roasted red peppers hummus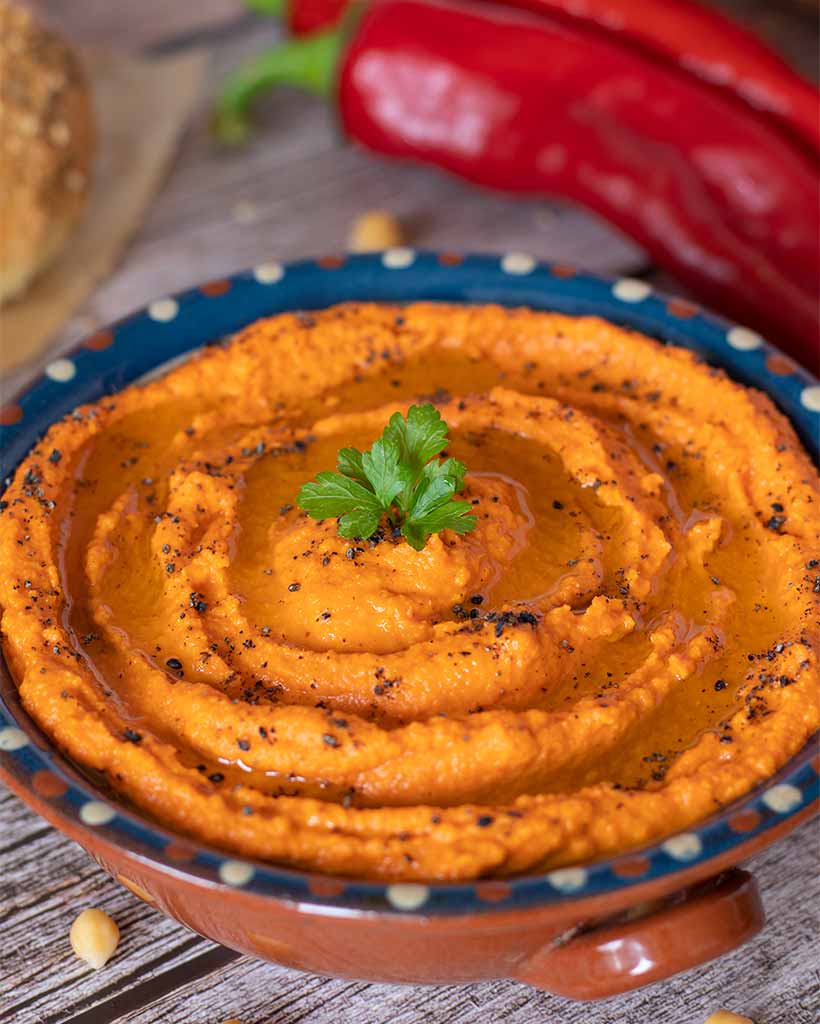 Is red pepper hummus good for you?
Absolutely! This soft and vibrant hummus is very beneficial for you. It's an excellent source of plant protein, packed with vital nutrients like vitamin A, C, and B6, and a great source of dietary fiber and healthy carbs. Also, the powerful antioxidants that came from red peppers may protect your cells from free radicals and reduce the risk of many diseases. That's why this red-colored hummus recipe is an extremely healthy choice for people who avoid animal products and want to live a healthy lifestyle.
Is red pepper hummus gluten-free?
Yes, all the ingredients used in this simple recipe are naturally gluten-free. Not only that, but it's also suitable for all vegan, vegetarian, and gluten-free eaters. It truly is a crowd-pleaser.
Is it cheaper to make homemade hummus?
Homemade hummus is cheaper, fresher, and tastier than its store-bought rivals. It's not only a budget-friendly alternative, but it's quite an easy, fun, and healthier option. Unlike any ready-made hummus, it's unprocessed, made with 100% natural ingredients, and doesn't contain any harmful preservatives, unhealthy oils, or tons of sodium.
Why do you add tahini to hummus?
Tahini adds that luxurious texture and smoothness to this incredibly tasty roasted red pepper hummus. You can leave it out if you like, but I wouldn't miss it out for sure.
What to use if you have no tahini
You can substitute tahini with unsweetened cashew butter or almond butter. Maybe try it with additional 1-2 tablespoon olive oil, a few avocado chunks, or simply leave it out. It'll taste quite delicious anyway.
How long does homemade hummus last
Keep your silky DIY hummus in an airtight container or sealable jar, refrigerated for up to 3-4 days.
Can you freeze hummus?
Yes, you can store it in a freezer-friendly container and freeze it for up to 2-3 months. Thaw it completely and stir well before serving. But keep in mind that the sooner you get it out of the freezer, the better its quality will be.
What do you eat with roasted red pepper hummus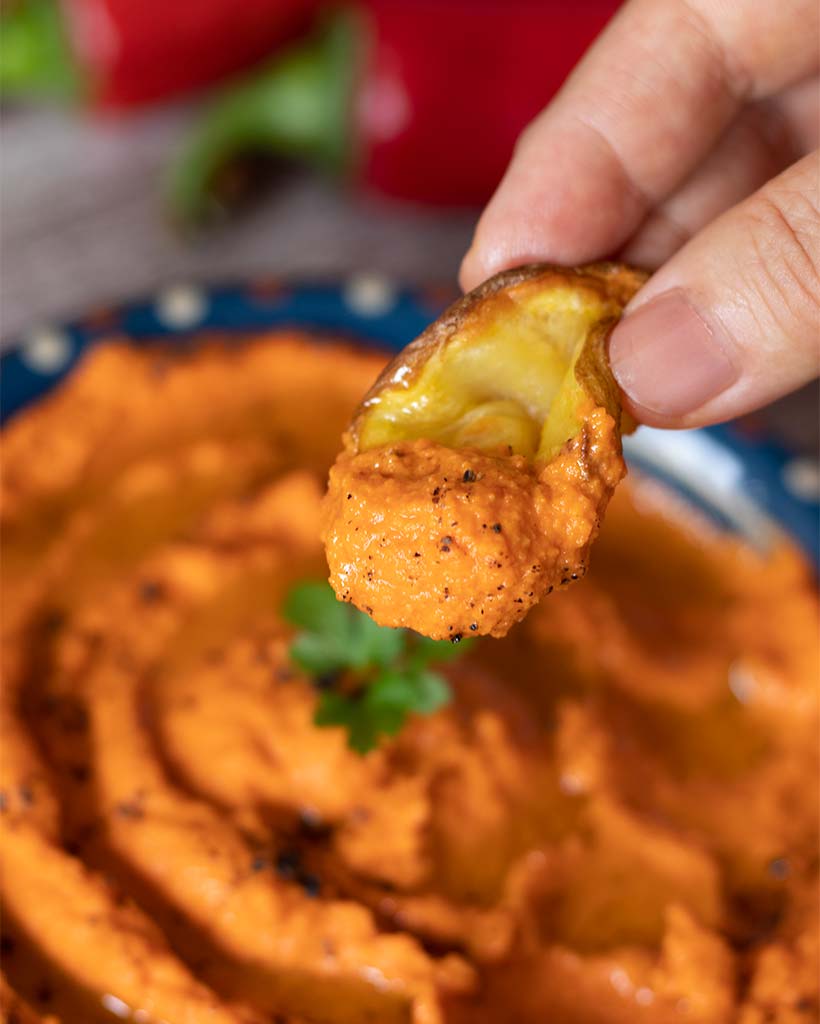 Did I mention how versatile this healthy Mediterranean-inspired spread is?
Homemade dips and spreads can easily flavor a variety of foods and meals. You can eat this vegan-friendly hummus as a side dish with your lunch or dinner, as a topping for salads, dip it in your favorite veggies, snack it with crunchy chips, crackers or use it as a filling for sandwiches, pita bread, toasts, and wraps. Another fun way to incorporate more veggies into your kid's diet. They will devour it in no time. I'm sure they love it!
Is hummus good for a diabetic
Red peppers along with chickpeas are high-fiber, high-protein, low glycemic index food. That's why this delicious hummus is an excellent choice for a healthy, balanced diet for people with diabetes. Combine this creamy hummus with lots of vegetables or other clean eating foods so you can always keep your blood sugar under control. It belongs to the nutrient-dense foods that promote long-term health and satisfy your hunger - in a guilt-free way.
More Tasty Vegan Side Dishes
📖 Recipe
Best Recipe for Roasted Red Pepper Hummus (Creamy and Flavorful)
This recipe for roasted red pepper hummus is much better and cheaper than store-bought. Learn how to make the best homemade hummus that is easy, creamy and so flavorful!
Equipment
Blender or food processor

Baking sheet

Parchment paper
Ingredients
8

long red peppers

rinsed, dried, roasted, cleaned from skin and seeds

1 ½

cup

cooked ( or canned) chickpeas

drained

1

tablespoon

tahini

2

tablespoon

olive oil

extra virgin

2

tablespoon

lemon juice

freshly squeezed, do not use bottled lemon juice

1

teaspoon

salt

½

teaspoon

dried garlic powder

½

teaspoon

cumin powder

½

teaspoon

ground paprika

3

tablespoon

water
Notes
You can use jarred red peppers (about 2 cups) if you don't have time to roast them at home. I don't recommend you to use raw peppers because you won't get that smoky flavor.
You can use home-cooked chickpeas or canned chickpeas.
If you find your hummus too thick add 1 tablespoon at a time, blend and check until you get the desired consistency.
Adjust the seasonings to your taste.
Nutrition
Calories:
104
kcal
Carbohydrates:
9
g
Protein:
3
g
Fat:
7
g
Saturated Fat:
1
g
Polyunsaturated Fat:
2
g
Monounsaturated Fat:
4
g
Sodium:
1179
mg
Potassium:
158
mg
Fiber:
3
g
Sugar:
1
g
Vitamin A:
349
IU
Vitamin C:
25
mg
Calcium:
41
mg
Iron:
1
mg
Made this easy recipe for roasted red pepper hummus? If yes, please rate it, leave a comment below, and share your photo on Instagram with the tag @go_eatgreen and hashtag it #go_eatgreen. I would love to hear about your experience and your comments just make my day!
Follow me on Pinterest for more easy and delicious vegan recipe ideas.
Love, Marinela💚