Jump to Recipe
Learn how to make tahini at home. Quick and easy recipe for super creamy homemade tahini with only 2 ingredients in less than 15 minutes! It tastes so much better than the store-bought version. It's not only easy to make but so much cheaper and super delicious.
What is tahini?
Do you know what tahini is? Tahini is a Middle Eastern paste or spread made from ground sesame seeds. Sometimes the sesame seeds are hulled, sometimes they are left unhulled. In this recipe, we'll use hulled sesame seeds. This flavorful and smooth sesame paste is vegan, gluten-free and so simple to make. It usually sells in pricey jars in the grocery stores but you can easily make it at home in minutes. I use it to make dressings, hummus, cookies, or other delicious snacks and dishes. The possibilities are endless!
What is tahini made of?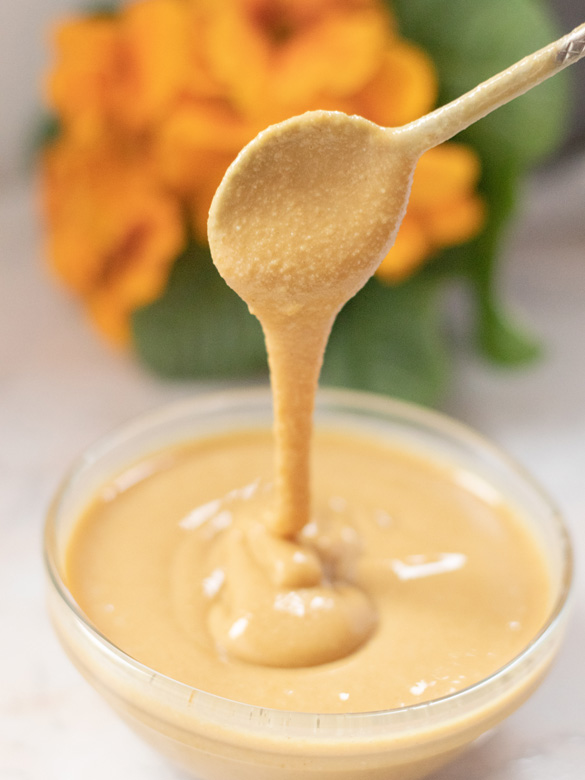 Sesame seeds are tiny, oil-rich seeds that are an excellent source of healthy fats, antioxidants, and dietary fiber. They can be hulled or unhulled. I almost always use hulled sesame seeds when I make this healthy paste. Hulled seeds have a lighter color while the unhulled seeds are darker because they have the outer, edible husk intact. The hull gives the seeds a golden-brown color. In hulled sesame seeds, the outer covering or hulls have been removed during the manufacturing process. I prefer hulled over unhulled seeds because they have a less bitter taste. However, unhulled sesame seeds provide more nutrition, so feel free to choose your favorite version.
Time needed: 15 minutes.
How to make tahini at home?

This is a super quick and easy, 2 ingredient DIY tahini recipe. It requires only a few simple steps. Tahini is perfect for adding to dressings, hummus, cookies, and more!
Toast sesame seeds

I use a stovetop (not the oven) to toast the sesame seeds because they are so tiny and can burn up very quickly. Throw them into a wide, dry frying pan over medium to low heat, stir frequently with a wooden spoon until they begin to turn golden, then stir constantly until seeds become fragrant and get a slightly golden brown color (but not dark brown). To emphasize, be careful because sesame seeds burn very quickly. This step should take about 10 minutes in all.



Let them cool

After toasting, let sesame seeds cool for a few minutes. If you want to speed the process, just transfer them to a large tray or baking sheet and let them cool completely. It's important to note that you should grind the sesame seeds first and then add olive oil. In this way, you'll get extra smooth tahini.

Process sesame seeds

Next, after the sesame seeds are cooled, throw them into your food processor or high-speed blender and grind them until you get a crumbly paste. Make a few stops to scrape the sides and bottom of the bowl. Add the oil and process until you get a smooth and creamy mixture. Check tahini's consistency. It should be smooth and pourable, not gritty. You may need to process it a little more or add an additional tablespoon of oil to reach the desired smoothness. I find that the perfect ratio for the super-rich and velvety tahini is 1 cup sesame seeds with 1 tablespoon olive oil. If you like, you can eliminate the oil but the tahini won't be as smooth and creamy. In addition, you can add a pinch of salt. This step is optional. I prefer my tahini salt-free but it's up to you.

Use tahini in your favorite recipes

Finally, store your extra smooth tahini into a jar or other airtight container and use it in your favorite recipes. I find it so delicious to spread it on a piece of bread with a layer of peanut butter or agave syrup and nuts on the top. Note that if the mixture separates, just stir it well to combine.


The ingredients
You need only 2 common ingredients to make homemade tahini:
Sesame seeds - As I mentioned above, I prefer to use hulled sesame seeds to make this easy tahini recipe. It's always better to lightly toast the seeds to enhance their natural nutty flavor and also reduce their bitterness.
Olive oil - The oil helps your tahini to turn out into a creamy, smooth paste. You can add oil per choice, for example, avocado, grapeseed, sesame, or any vegetable oil. In fact, you can even make tahini without any added oils. However, it'll take longer to grind and the final result will not be as smooth and runny tahini.
How long does it last?
You can keep tahini refrigerated for up to a month. To point out, like any other nut butter oil separation is normal. So the paste may become hard when kept in the fridge if it hasn't been stirred in a while. For this reason, I recommend you not to make big batches because it's so quick and easy to make whenever you need it. Also, you can keep it at room temperature for 2 weeks.
Is it cheaper to make your own tahini?
Absolutely! Making tahini at home is less expensive than buying it from the store. You know that fresh is the best! As quick and easy as it's to make, you don't need to buy it ever again. First, you can make the quantity you need at the time. Second, it's a lot cheaper and more affordable to make it by yourself. And third, it tastes so much better (it's fresh and deep-flavored)!
What does it taste like?
Tahini looks like any nut butter but it doesn't taste the same. Its flavor is strong, nutty, and earthy, not sweet like the other butter. Tahini is the best flavor-enhancer in so many dips, sauces, and dressings!
Can I use a blender?
If you have a high-powered blender then you can certainly make tahini at home. Just be sure to stop and scrape down the sides and the bottom of the blender a few times so all seeds are ground together.
What if I don't have tahini for hummus?
Don't worry, even if you don't have tahini, you can still make the best homemade hummus recipe without tahini at all.
What is it used for?
Tahini is so deliciously versatile! It's one of the essential ingredients in preparing hummus. Also, it's a key ingredient in many salad dressings, dips, and spreads. At the same time, tahini is a great oil substitute for many oil-free recipes too.
Nutrition and health benefits:
Tahini is highly nutritious. It's rich in healthy fats, minerals, and vitamins. It's also full of anti-inflammatory monosaturated fats.
Tahini contains powerful antioxidants which help prevent free radical damage in your body and reduce the risk of disease.
It contains anti-inflammatory compounds.
May strengthen your central nervous system. It protects your nerve cells and protects your brain's health.
It offers anticancer effects.
Tahini helps protect your kidney and liver function.
It's so easy to incorporate it into your everyday diet.
I hope you'll love this recipe. It's: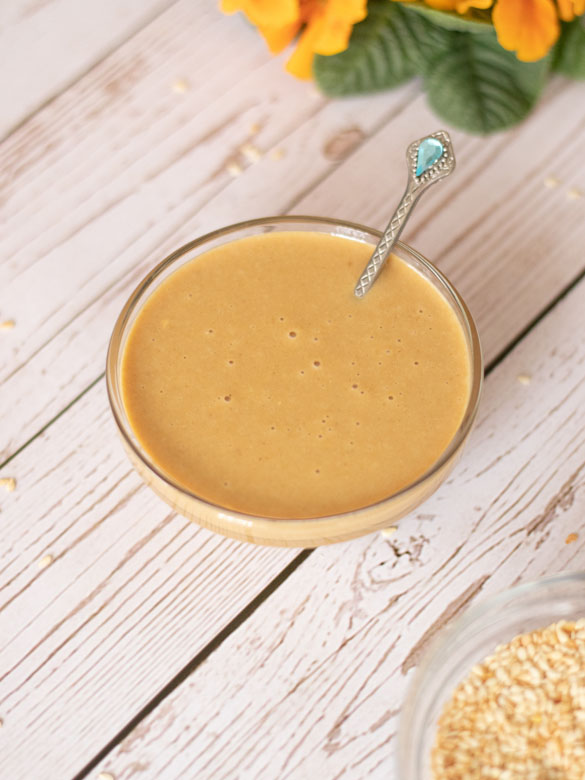 Soft and creamy
Cost-effective
Gluten-free
Dairy-free
Fresh
Deep-flavored
Versatile
So healthy and delicious!
📖 Recipe
Did you try this quick and easy tahini recipe? I would love to hear about your experience and your comments just make my day! And don't forget to rate it, leave a comment below, and share your photo on Instagram with the tag @go_eatgreen and hashtag it #go_eatgreen.
Love, Marinela💚