Jump to Recipe
Mediterranean Parsley Avocado Garlic Dipping Sauce ready in 5 minutes. Quick vegan recipe for delicious parsley dip you can put on EVERYTHING!
I adore springtime. It's the time of the year when you could enjoy all those vibrant greens and fruits that come out of the ground. I love to incorporate them in every dish I make from crispy salads, rich dips, or spreads to lunches and light dinners. They perfectly fit in everything I cook for me and my family.
Last Tuesday I came home from the farmer's market in my town with three bunches of parsley! Now, I was wondering how to use those lush parsley bouquets. I came with a brilliant idea! Why not blend my favorite vegetables and see what I will get. And, I wsn't dissapointed at all. I came up with the most creamy immunity boosting mix with perfect texture and taste.
Is fresh parsley good for you?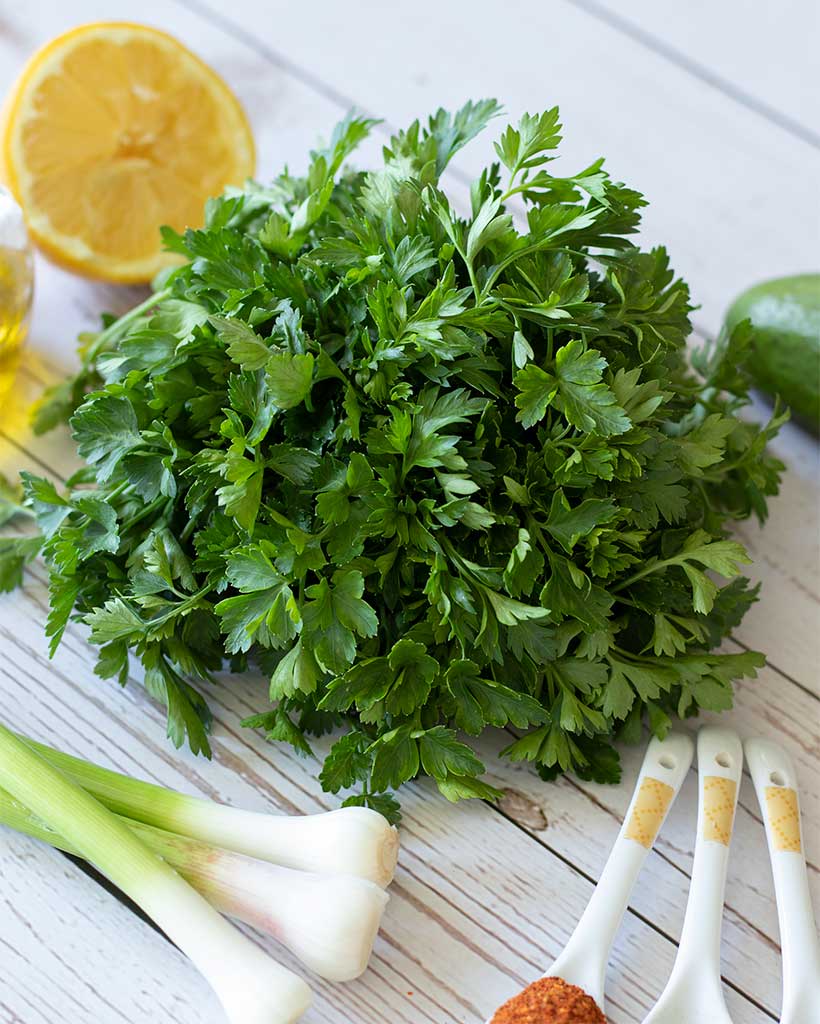 This raw vegan parsley dip is a simple and easy way to add tons of flavor to your healthy food. Plus, it's loaded with wholesome ingredients like fresh parsley, avocado, green garlic, and lemon juice.
In fact, this creamy dressing is abundantly packed with important good-for-you nutrients. So colorful and tasty and at the same time surprisingly beneficial for your health and wellness.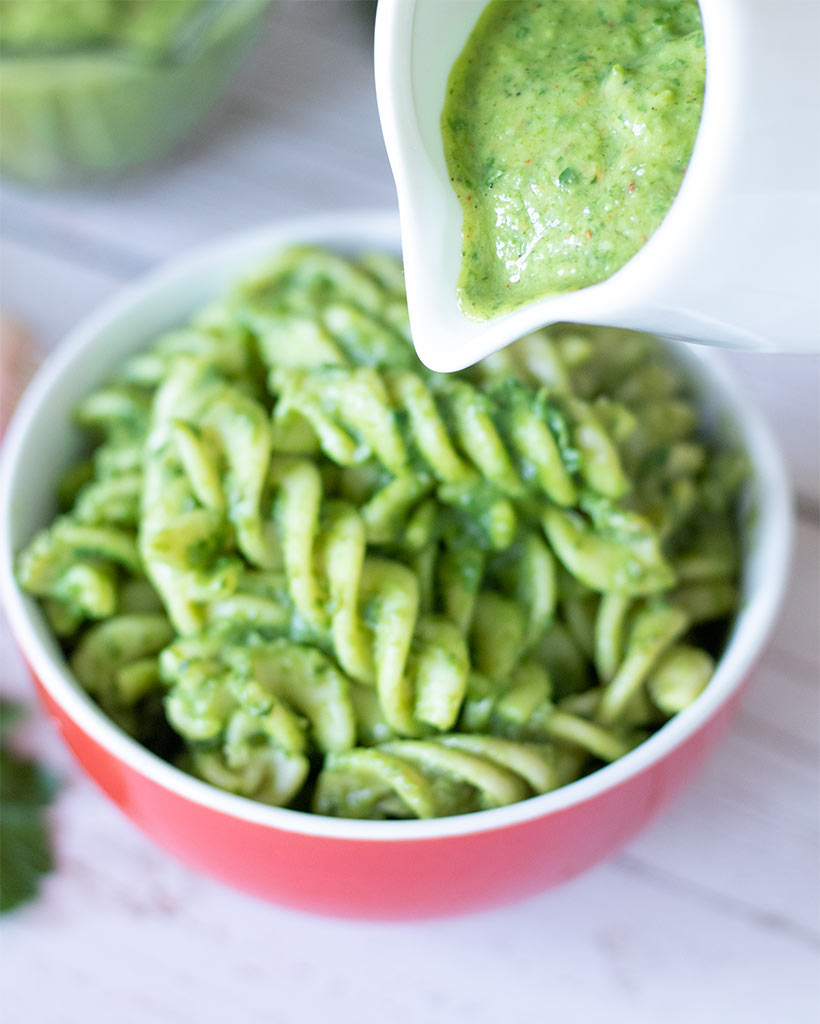 I know you already include these superfood veggies if you are on a plant-based diet or you even if you are a beginner in this clean eating journey. Who doesn't love easy sauces that take only minutes to make? Therefore, let me show you how to make the most delish dipping sauce with parsley and avocado.
Time needed: 5 minutes.
How do you make homemade parsley and garlic dipping sauce?
Blend all ingredients

First, gather all ingredients. Wash your parsley thoroughly under clean, running water. Do the same with the avocado, stalks of spring garlic, and lemon. Gently squeeze the lemon and take 2 tablespoon of the juice. Next, combine all ingredients in a blender or food processor. Blend until smooth and creamy. Try it and season it with more salt per taste if needed. So simple!



Serve it and enjoy

Serve your uncooked fresh parsley avocado sauce immediately or store it in the fridge for up to 1-2 days. You can put your homemade dipping sauce on pretty much everything. Use it to enhance the flavor of your pasta dishes, or roasted veggies like potatoes, broccoli, carrots, or brussels sprouts. Also, you can coat your leafy green salads, use it as a topping for pizza or a spread for sandwiches.


Ingredients you'll need for this parsley dip recipe: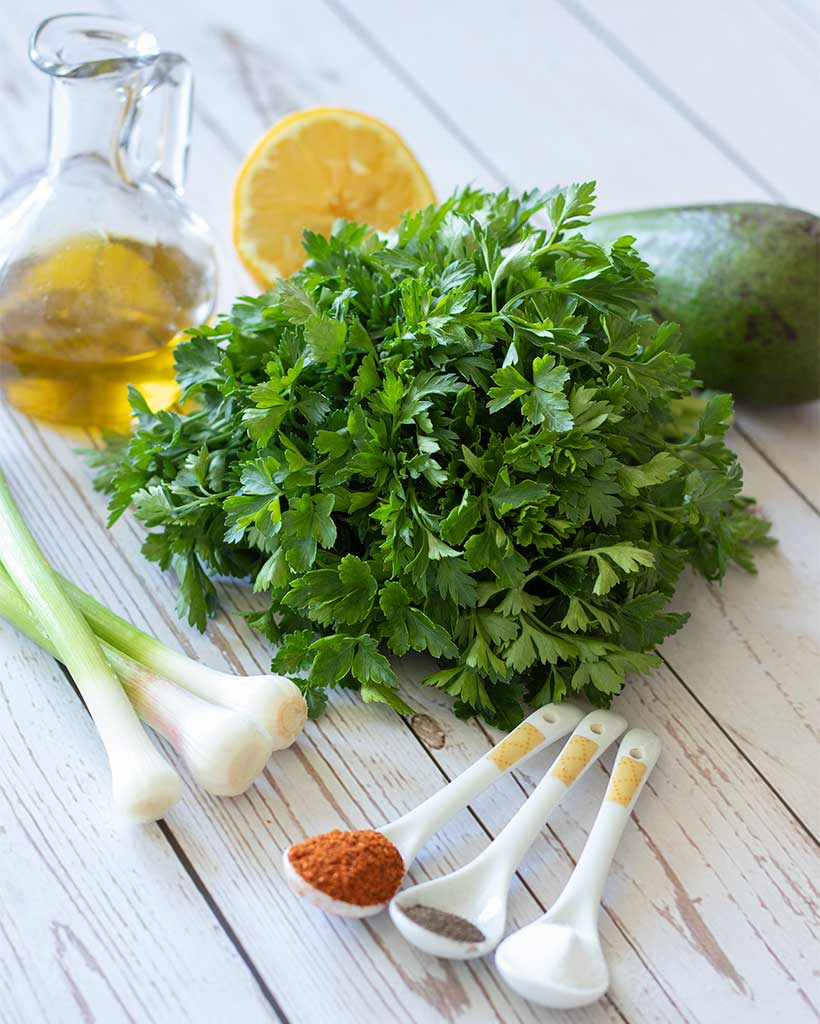 Fresh parsley (not dry)

Avocado

Spring (green) garlic

Freshly squeezed lemon juice

Extra virgin olive oil

Salt, ground black pepper, and red pepper flakes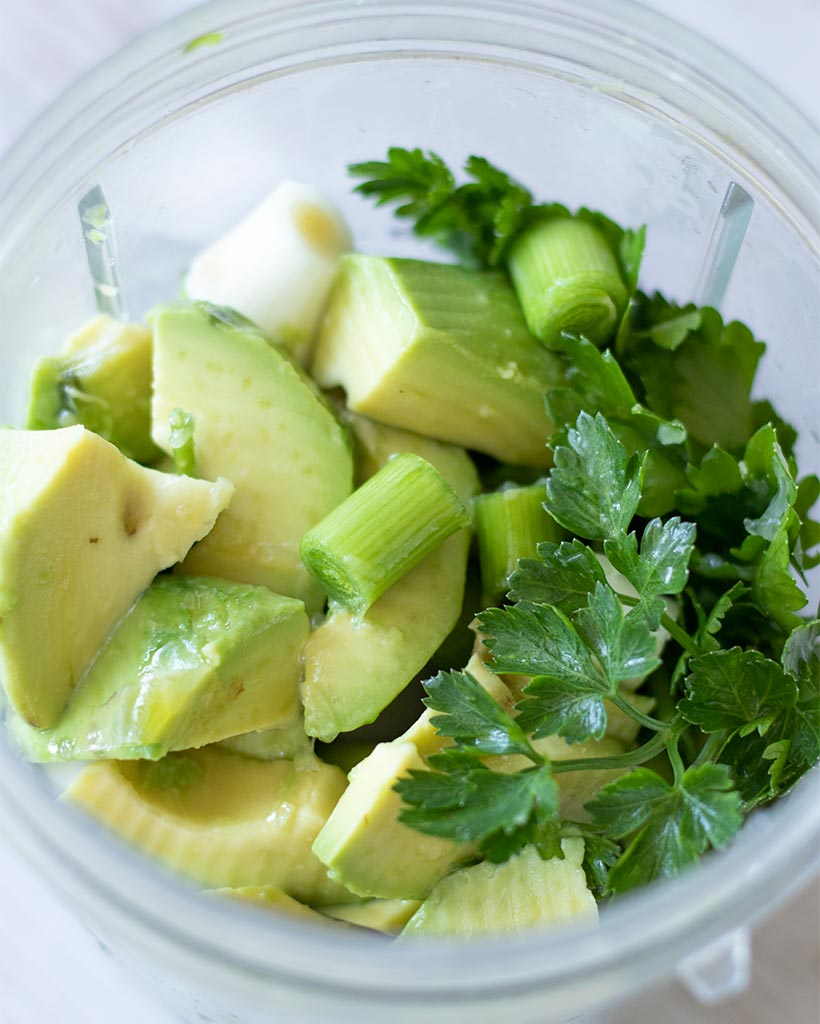 What can I do with a lot of extra parsley?
You can put fresh parsley on pasta, roasted potatoes or vegetables, pizza, various soups or stews or salads. Apart from using parsley as a garnish or decorating a serving plate you can make versatile dips, dressings and sauces from this extremely healthy leafy green.
How long can you keep parsley sauce in the fridge?
Even though it is best to consume this parsley garlic lemon dipping sauce immediately when you make it, you can store any leftovers in the fridge for 1-2 days. It only takes a few minutes to make, so it's best to blend a fresh batch whenever you need it.


Is fresh parsley good for you?
This disease-fighting plant provides you with lots of potential heal benefits. This nutrient-dense is a food rich in many vitamins, particularly vitamin K, which plays a key role in helping blood clotting, fast healing wounds, and bone health. Moreover, parsley is a great source of vitamins A and C, essential nutrients with antioxidant properties. This fresh herb improves your heart health and protects your eyes. Additionally, it's very low in calories, making it an exceptionally low-calorie ingredient in many weight-loss recipes.
Can I eat parsley raw?
Yes, absolutely! Parsley can be eaten raw. Uniquely, this bright green herb may act as a natural breath freshener so you can chew it after eating to freshen up your breath. It's equally important to note that it helps for detoxification to your body and supports weight-loss. It's detox, healing and cleansing properties are already well known.
I love this Parsley Avocado Dipping Sauce. It's: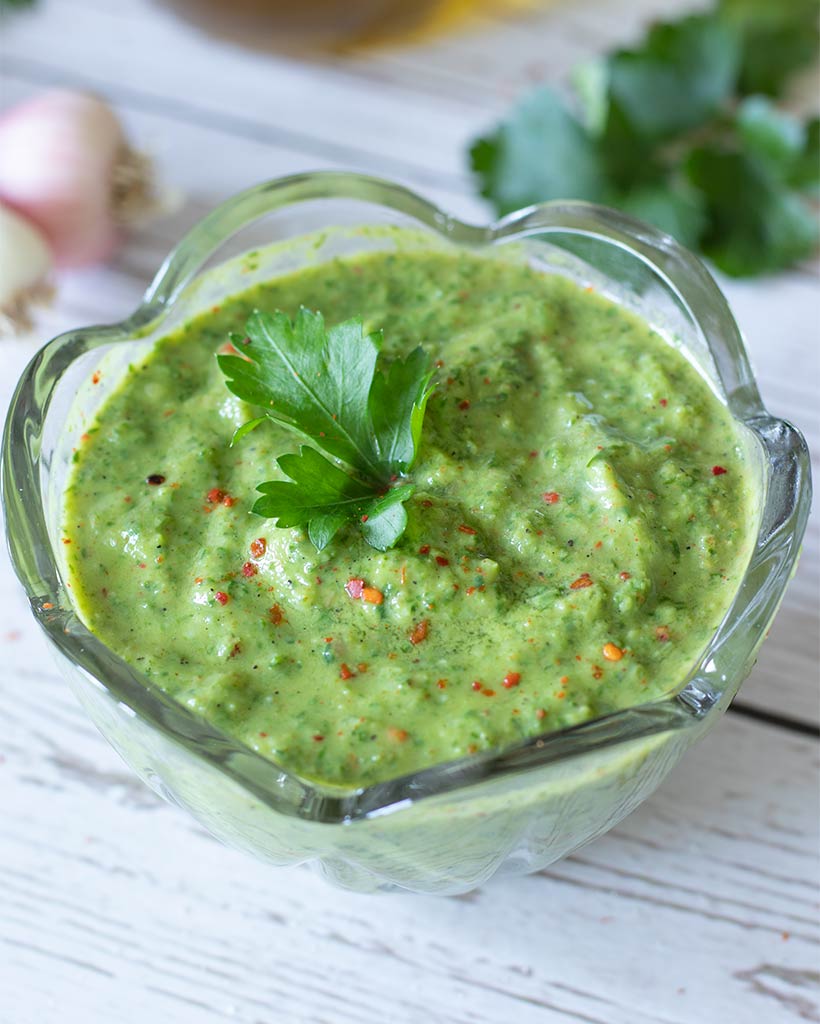 Super rich and creamy

Vegan and vegetarian

Gluten-free and dairy-free

Quick and simple

Antioxidant and anti-inflammatory

Natural detoxifier

Perfectly green!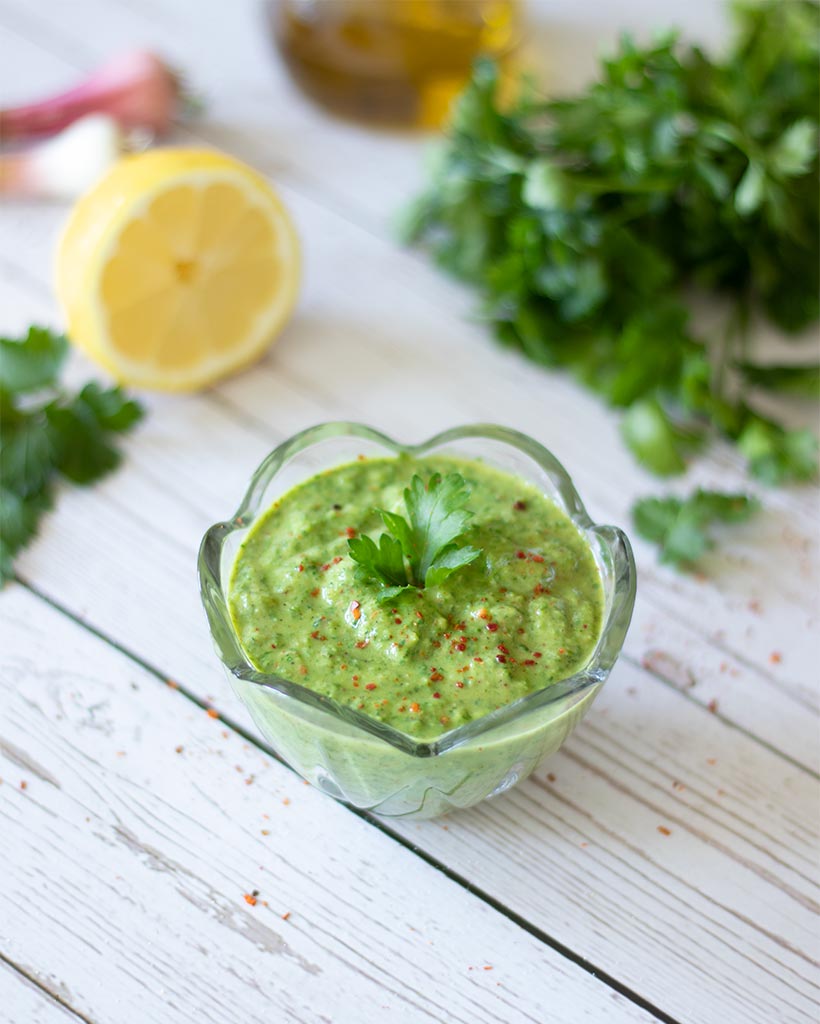 Love this parsley vegan dip? Pin it for later!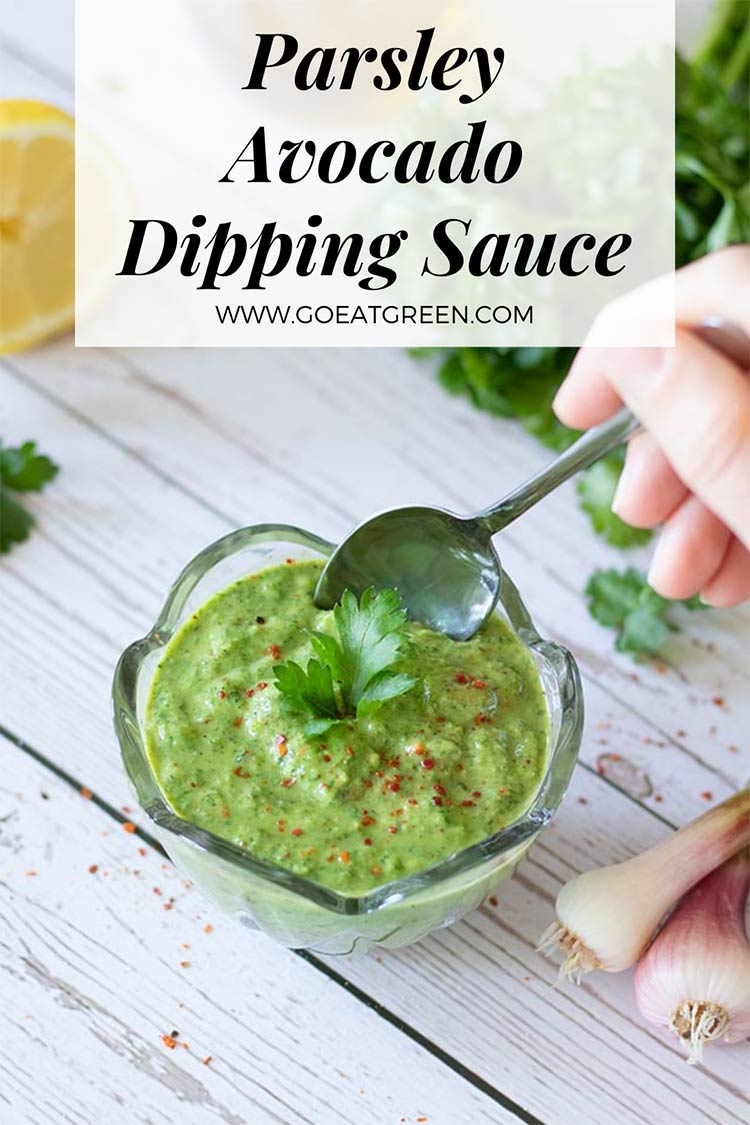 Made this Mediterranean parsley avocado garlic dipping sauce? Please rate it, leave a comment below, and share your photo on Instagram with the tag @go_eatgreen and hashtag it #go_eatgreen. I would love to hear about your experience and your comments just make my day!
Love, Marinela💚