This recipe for roasted baby potatoes is extremely easy to prepare as a tasty side dish. Simple meal prep to perfectly complement your lunch or dinner.
Have a bunch of mini potatoes that are stored in your pantry and need using up? Are you looking for yummy new potato recipe ideas?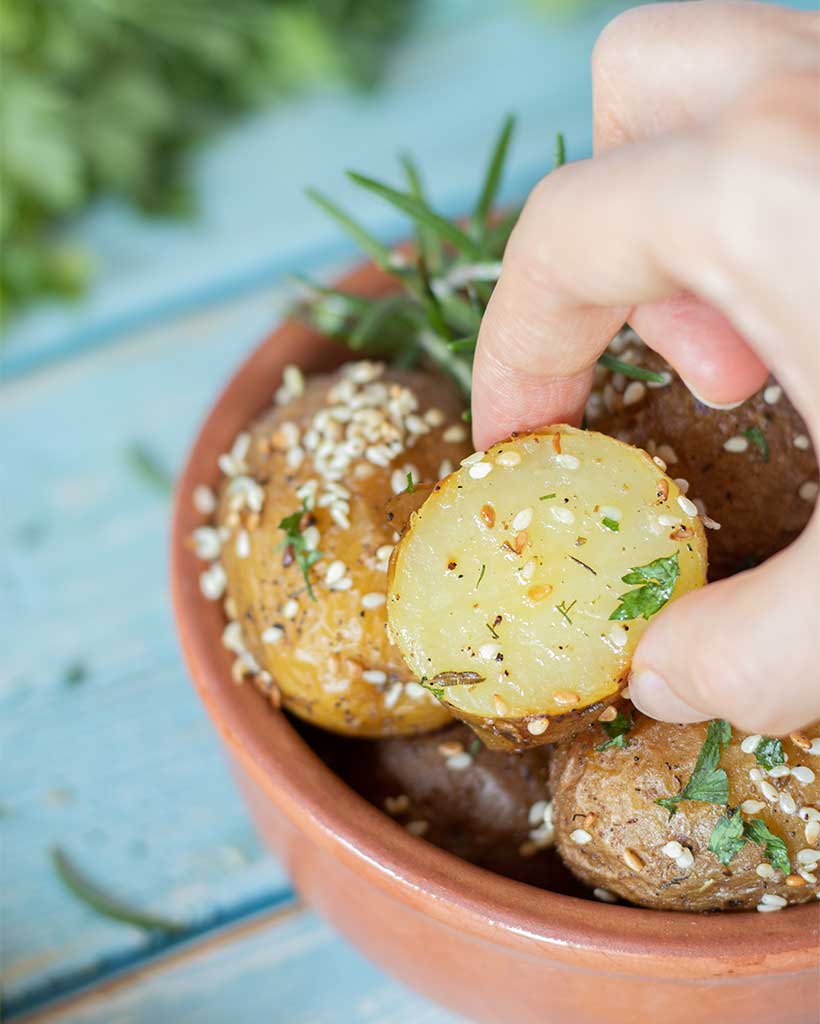 Today I'm sharing with you my favorite go-to recipe for roasted mini potatoes you can eat any time of the year! These whole roasted baby potatoes will surely win your heart forever!
They are vegan, vegetarian, naturally gluten-free, and incredibly filling. What else could you ask more?
Easy recipe for roasted baby potatoes
You could always rely on potatoes whenever you are in a hurry and need a quick side. That's why I came home yesterday with a 7-pound bag of potatoes 🙂 Not only are potatoes an excellent source of healthy carbs, fiber, and antioxidants, but they are cheap and worldwide available for a reasonable price.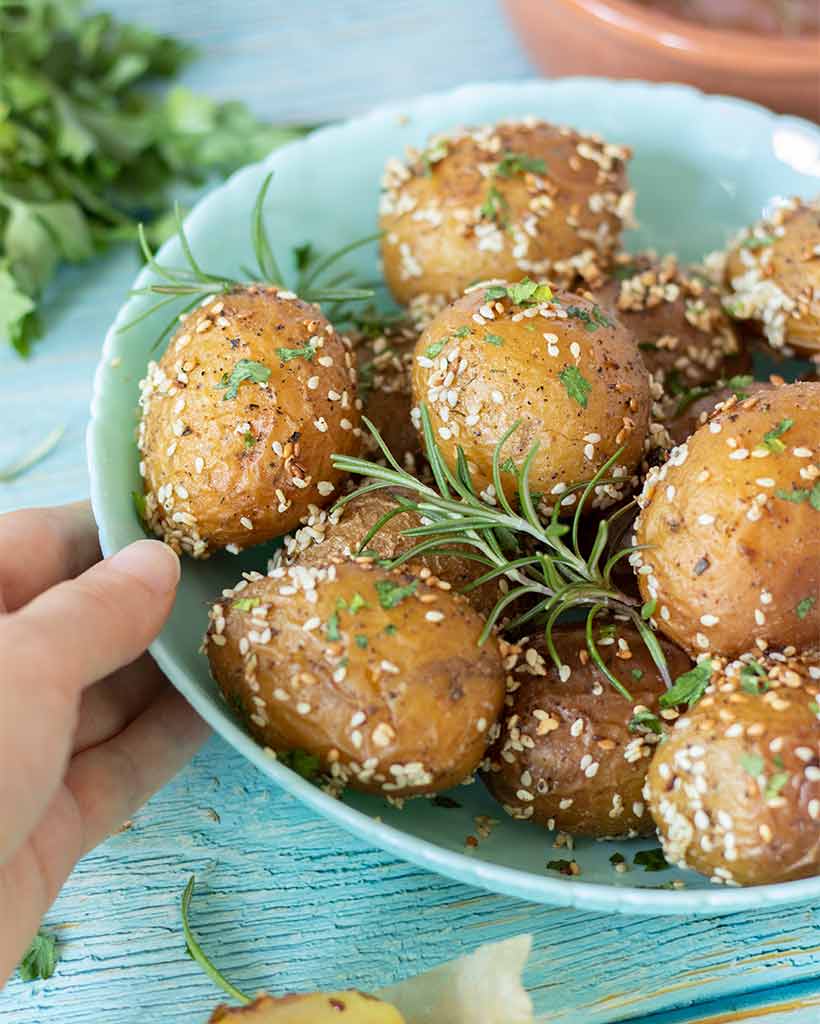 These oven-roasted baby potatoes are a great way to take ordinary new potatoes to a whole new level! Couple them with this creamy homemade avocado dip (ready in 5 minutes!) and you'll have the most nutritious, savory budget-friendly meal. Do you know what goes really well with these crispy baby potatoes? Meatless zucchini fritters! You must try them. But wait, don't forget your big bowl of colorful, fresh salad too! Can you think of a more delicious weeknight dinner?
Roasted baby potatoes in oven
There are so many different ways to cook potatoes. They are so versatile! You can enjoy them baked, fried, mashed, or you can make a flavorful potato salad with them! To achieve the perfect crispiness, golden-brown color, and super soft and creamy texture on the inside we'll first boil and then roast them in the oven. These herby potatoes baked with fresh rosemary require so little meal prep. No peel and no chop required! A delightful year-round appetizer I'm sure everyone will love.
Crispy Roasted Mini Potatoes Ingredients
This nutrient-dense veggie dish requires minimal effort and a handful of wholesome, plant-based ingredients. Often simple, uncomplicated recipes are the best! Do you agree with me?
Here is what you'll need: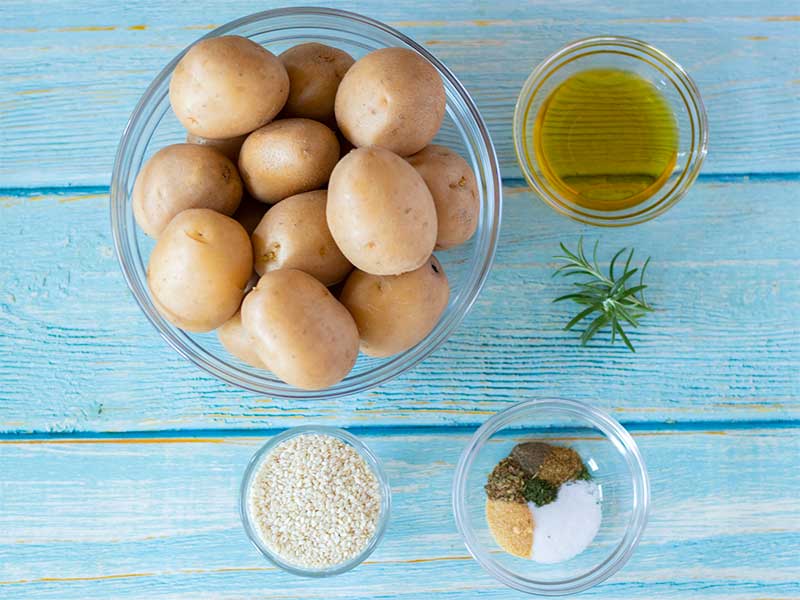 Baby potatoes (choose small potatoes with a thin, delicate skin so you don't need to peel them)
Extra virgin olive oil
Spices and herbs: fresh rosemary, salt, black pepper, cumin powder, dry garlic, dried oregano, dry dill, freshly ground black pepper
Sesame seeds
As always, you can find the full recipe with a list of ingredients with measurements in a printable recipe card at the end of this post.
Baking baby potatoes (the easy way)
Time needed: 40 minutes
How to roast baby potatoes in the oven?

Here it is, a step-by-step guide (with pictures, of course) for you to cook the best herby roasted mini potatoes with fresh rosemary and other spices. The taste is unbeatable, a full explosion of flavors and crispiness. They are a carb lover's dream! And a real crowd-pleaser, too!
Boil the potatoes

Wash your baby potatoes thoroughly under cold water. Don't peel them (the skin becomes crispy after roasting - so much better than french fries!). You can scrub them with a vegetable brush if you want them to be extra clean. Place them in a large pot, cover them with water, stir in ½ teaspoon salt. Bring to a boil, then reduce to medium and cook for 10 minutes, then drain the water.



Prepare the spices

In a large bowl, mix the olive oil, sesame seeds, spices, and herbs. Add boiled potatoes and toss everything together gently with a spoon. Mix them well to be evenly coated. If some of the seasoning mixes remain, pour it over potatoes when you transfer them on a baking sheet.



Roast baby potatoes

While you are preparing the seasonings, preheat the oven to 392°F / 200°C. Spread the potatoes to a large baking sheet lined with parchment paper and roast them in the oven for 25 minutes or until golden brown.



Serve and enjoy

Transfer roasted mini potatoes in a large serving bowl, garnish with fresh chopped parsley or dill and enjoy it immediately while still warm. This easy recipe is perfect for an elegant brunch, weeknight dinner, or a quick meal for unexpected guests.


Q&A for the best recipe for roasted baby potatoes with fresh rosemary
Can you roast baby potatoes whole
Yes, you can roast small potatoes whole, with or without boiling them first. If you boil them before roasting, that reduces the roasting time and gives the potatoes a super soft and hearty texture on the inside while making them crispy on the outside.
Is it necessary to peel potatoes?
Can you cook potatoes without peeling? In my opinion, there is no need to peel your baby potatoes because they will provide you with extra fiber. This will make you feel fuller and satisfy your hunger longer.
Are roasted potatoes healthy
Absolutely! Roasted baby potatoes with rosemary and sesame seeds are the healthiest way to cook potatoes. Baked potatoes are the most nourishing, low-fat, and low-calorie foods we can eat. They are very good for you, a great food idea to help you hit your weight-loss goals. Avoid adding butter, ghee, or cream cheese to them.
How to store roasted potatoes
Let the potatoes cool completely, store them in an airtight container and keep them in the fridge for up to 2 days. You can reheat any leftovers in an oven, microwave, or frying pan.
I don't recommend you freeze baked potatoes because they will change the texture and will become watery after thawing.
What kind of oil do you put on potatoes
For this recipe, I used extra virgin olive oil to give it an extra gorgeous flavor and a heart-healthy boost. You can use any vegetable oil as well.
Can you roast baby potatoes without boiling
Yes, you can put your potatoes directly in the oven after seasoning, but keep in mind that the cooking time will be prolonged for 10-15 minutes.
What is the best way to store baby potatoes
Always keep your baby potatoes in an open basket or paper bag in a dry, cool, and dark place. Never keep them in the refrigerator or freezer.
Are baby potatoes healthy
The whole little potatoes are healthy and good for you, both their skin and flesh. You can eat the entire potato and enjoy its benefits without guilt. This versatile vegetable is rich in powerful antioxidants, plant fiber, iron, Vitamin C, Vitamin B6, and potassium. Plus, they are an amazing source of "good carbs", naturally low in sodium, and 100% cholesterol-free. That's why everyone loves this easily affordable starchy staple.
More potatoes recipe ideas
📖 Recipe
Best Recipe for Roasted Baby Potatoes (Easy Side Dish)
This recipe for roasted baby potatoes is extremely easy to prepare as a tasty side dish. Simple meal prep to perfectly complement your lunch or dinner.
Equipment
Large pot

Strainer

Big bowl

Baking sheet

Parchment paper

Spoon
Ingredients
1

kg

(35 oz) baby potatoes

washed well, unpeeled

2

tablespoon

olive oil

extra virgin

4

tablespoon

sesame seeds

1 ½

teaspoon

salt

divided (½ tablespoon for boiling and 1 teaspoon for roasting)

1

teaspoon

rosemary

fresh, finely chopped

½

teaspoon

dry garlic

½

teaspoon

dried oregano

⅛

teaspoon

cumin powder

⅛

teaspoon

freshly ground pepper

⅛

teaspoon

dry dill

6-7

cups

water

for boiling the potatoes
Notes
Choose potatoes that with approximately the same size so they can cook evenly,  at the same rate.
For this recipe, it's best to use small potatoes with thin skin and waxy flesh.
It will depend on the size of your baking sheet, but see that you leave some space between potatoes so they can be roasted properly and be crispy, rather than being only steamed.
Nutrition
Calories:
303
kcal
Carbohydrates:
46
g
Protein:
7
g
Fat:
11
g
Saturated Fat:
2
g
Polyunsaturated Fat:
3
g
Monounsaturated Fat:
7
g
Sodium:
906
mg
Potassium:
1101
mg
Fiber:
7
g
Sugar:
2
g
Vitamin A:
14
IU
Vitamin C:
49
mg
Calcium:
125
mg
Iron:
3
mg
Don't forget to pin or share this post so you'll have this recipe for roasted baby potatoes ready when you need it!
Made this recipe for roasted baby potatoes? If yes, please rate it, leave a comment below, and share your photo on Instagram with the tag @go_eatgreen and hashtag it #go_eatgreen. I would love to hear about your experience and your comments just make my day!
Follow me on Pinterest for more easy and delicious vegan recipe ideas.
Love, Marinela💚