Best quinoa patties without eggs or breadcrumbs. No cheese included! A simple recipe for crispy quinoa cakes that are vegan, vegetarian, gluten-free, super healthy, and incredibly flavorful.
Meet the tastiest and easiest way to eat your veggies: Eggless Quinoa Patties!
You can enjoy these gluten-free patties as a quick appetizer, high-protein snack, and side, or a filling lunch or dinner alongside a fresh salad or creamy dip. So versatile and so good!
They're kid-friendly, easy to make ahead for meal prep, and freeze well, too!
If you are looking for ways to use leftover quinoa keep reading because I'm sure you are going to love this quinoa patties recipe.
What is Quinoa Pattie?
Quinoa pattie is a meat-free pattie made from nutrient-dense ingredients like quinoa, fresh veggies, nutritional yeast, and GF chickpea flour. It provides you with lots of fiber and essential nutrients that are actually good for you. It could be a great addition to your clean healthy eating plan. Also, it's a perfect filling for burgers or pita bread.
Simple High-Protein Quinoa Patties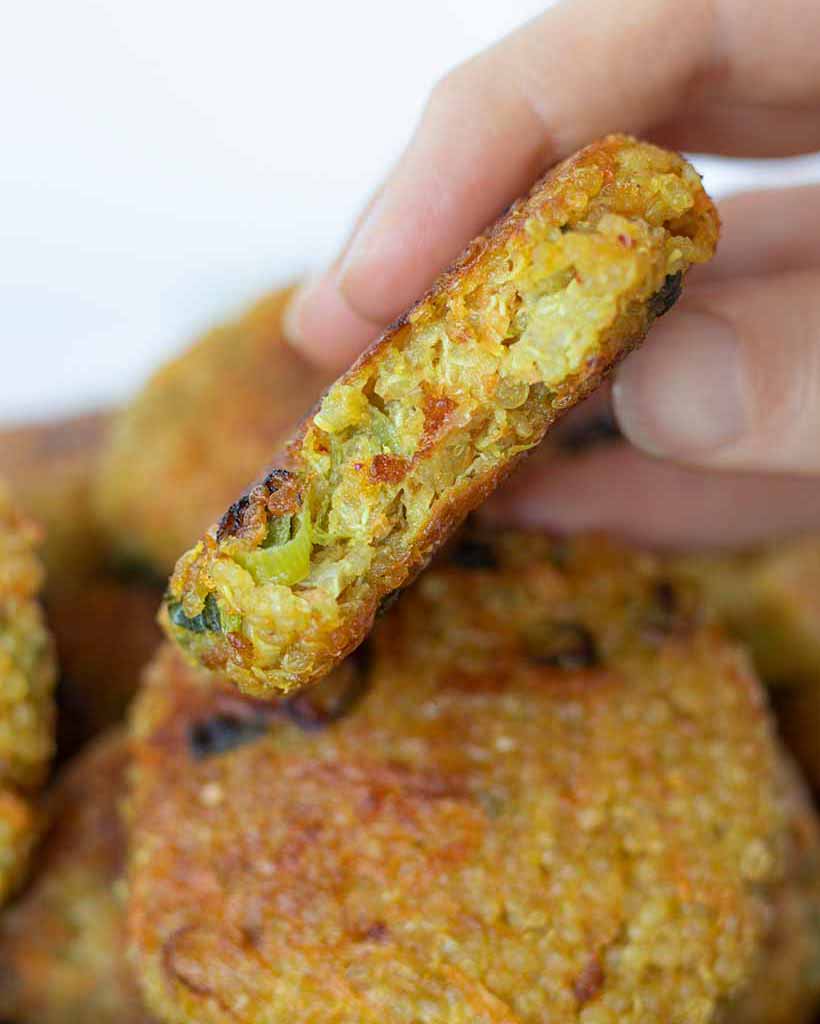 Did you know quinoa is one of the best sources of protein, especially if you are following a meatless diet? These wholesome tiny grains are rich in COMPLETE plant protein and are surprisingly nutritious.
I admit I love my chocolate quinoa bowl I eat for breakfast but I didn't realize quinoa can taste so good in a savory recipe like the one I'm going to share with you today.
Protein-packed snacks can be a wonderful option when hunger hits but you don't have time to prepare a meal. These meatless quinoa veggie patties are an easy way to consume a significant amount of protein in a deliciously appetizing way. These are one of the best satisfying savory snacks you could imagine.
Mmm, getting protein on a clean eating diet has never been so yummy!
Ingredients for Quinoa Veggie Patties
You'll need a few accessible and inexpensive staples to create these golden patties made without meat and eggs. Here are the ingredients:
Cooked quinoa
Green onions (scallions)
Green garlic
Carrots
Chickpea flour
Nutritional yeast
Spices: kala namak salt (for a unique eggy flavor if you like, if not use regular sea salt), ground cumin, turmeric powder, red pepper flakes
Water
Oil for frying
As always, you can find the full recipe with a list of ingredients with measurements in a printable recipe card at the end of this post.
Time needed: 50 minutes.
How to make quinoa patties without eggs?

Cook quinoa

First, in a fine mesh strainer rinse well quinoa under cold running water. Drain well. Combine 1 cup of quinoa with 2 cups of water in a small saucepan. Bring it to boil over medium-high heat, then reduce the heat to achieve a gentle simmer. Cook for 10-15 minutes or until quinoa has absorbed all the liquid. Remove from the stovetop, cover it with a lid and let it steam for 5 minutes. Set aside and let it cool.
If you're using pre-cooked quinoa skip this step.



Prepare "chickpea egg"

Next, mix ⅓ cup water with ⅓ cup chickpea flour until you get a thick texture without clumps.



Finely chop your veggies and make the mixture

In the meantime, chop scallions and green garlic finely (as thin as possible for the best texture). Also, finely shred your carrots.
In a big bowl, mix cooled quinoa, "chickpea egg", vegetables, nutritional yeast, and spices.
Use your hands to mix everything together well. Check the saltiness level and add more salt to taste, if needed.



Form patties and fry

Using a ¼ cup measure form little patties with your hands and flatten them sightly.
Heat a non-stick frying pan, lightly greased with sunflower oil, (I used 4 tbsp) over medium to high heat.
Once hot, fry your quinoa patties for 3-4 minutes, flip and cook for 3-4 minutes more, or until the patties are golden brown on both sides.



Serve and enjoy

Serve immediately while still warm or cold paired with a vibrant pasta salad, vegan tuna salad, or dip them in vegan mayo, creamy avocado dip, or homemade hummus.
Store any leftovers refrigerated in an airtight container for up to 3-4 days or freeze in a freezer-friendly container for up to 2 months. If frozen, thaw before reheating.


Vegan Quinoa Patties - FAQ
How to bind quinoa patties?
Chickpea flour mixed with water will act as a perfect binder for this recipe for gluten-free quinoa patties. It wonderfully replaces an egg and emulates its binding quality to maintain the structure of our protein patties.
How many calories are in quinoa patties?
One veggie pattie is packed with nutrition and contains only 86 calories. It can be a healthy addition to your diet, don't you think?
Can you freeze quinoa patties?
Sure, if you have any leftovers you can freeze your patties in freezer-friendly containers or bags for up to 2 months. Thaw before reheating using an oven or microwave.


Can you buy quinoa already cooked?
Yes, pre-cooked quinoa can be found in many grocery stores but it depends on the country you live in. Buying ready-to-eat quinoa is convenient if you have a busy schedule and want to save some time. Alternatively, you can easily cook your own in just 15 minutes. Follow the steps explained above or in the recipe card at the end of this post.
How long will quinoa keep in the fridge?
If you opt in to cook your own quinoa, you can store it in the refrigerator, in an airtight container for 4-5 days.
Why you'll love these quinoa cakes? They're:
Made with minimal ingredients
Egg-free
Easy to customize
A wonderful alternative for traditional burger patties
Budget-friendly
An excellent make-ahead snack for any occasion
Irresistibly tasty!
What to serve with quinoa patties?
More Vegan Patties Recipes
📖 Recipe
Did you try these gluten-free quinoa patties? If yes, please rate it, leave a comment below, and share your photo on Instagram with the tag @go_eatgreen and hashtag it #go_eatgreen. I would love to hear about your experience and your comments just make my day!
Follow me on Pinterest for more easy and delicious vegan recipe ideas.
Love, Marinela💚