Jump to Recipe
Need oat flour for a recipe? Today we are going to make easy DIY oat flour that's inexpensive and incredibly versatile. Learn how to make fresh whole-grain flour at home in 2 minutes or less!
Making homemade gluten-free flour from rolled (old-fashioned) oats is a simple process that requires 1 ingredient, and 1 high-speed blender, and 1 quick step. It really is the best healthy substitute for all-purpose flour to use for your cooking and baking needs.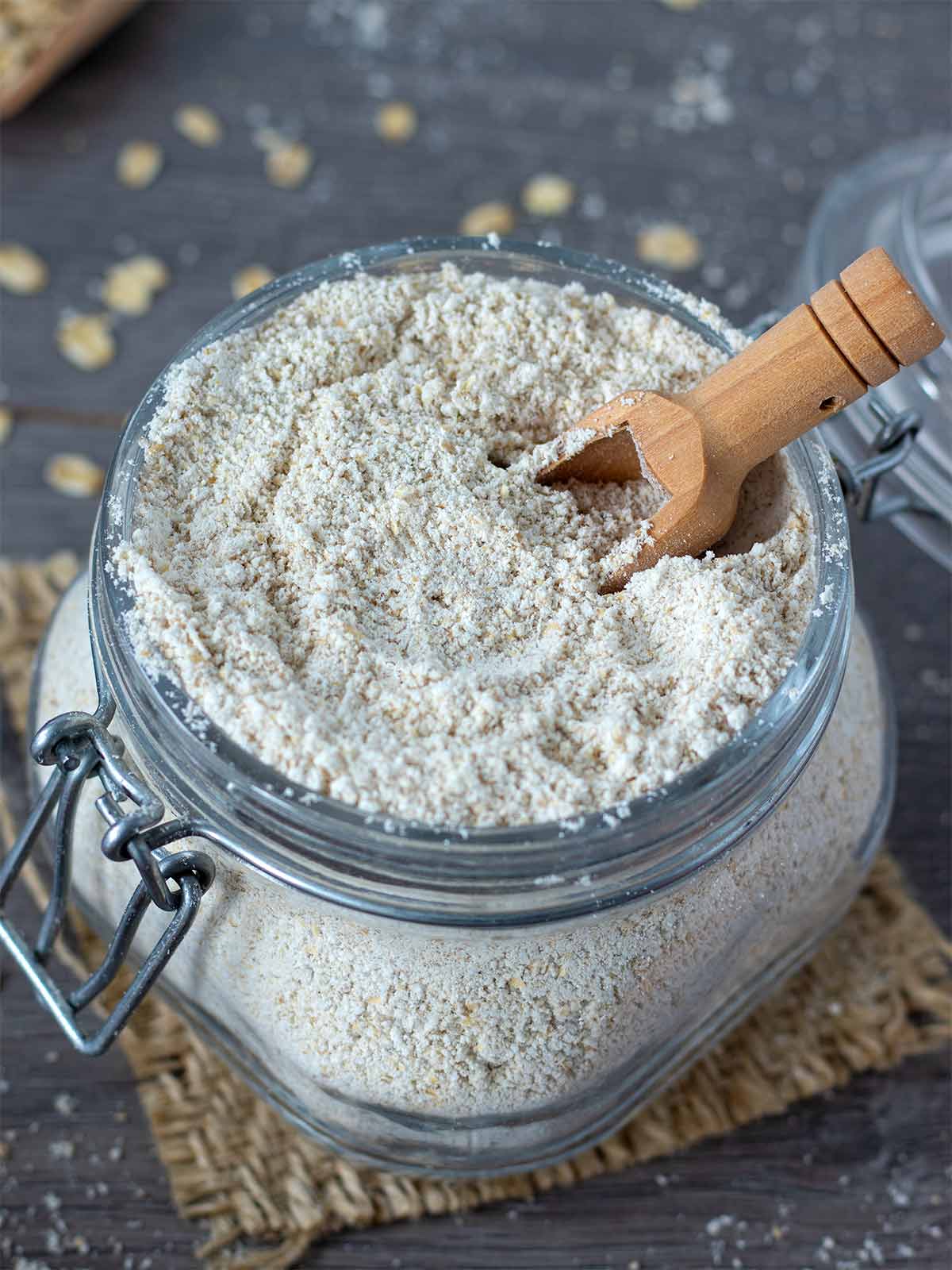 If you are oatmeal lover, you certainly enjoy these hearty grains regularly or maybe every single day (like I do). From homemade oat milk, and creamy overnight oats to a protein-packed oatmeal smoothie and everything in between, oats are a fantastic weight-loss-friendly addition to anything.
But did you know that you can turn that bag of rolled oats sitting in your pantry into flour, too? You just need to put them in a blender or food processor and blitz for a few seconds until you get a soft, fine powder. I'm sure you won't buy that pricey store-bought flour ever again.
Jump to:
What is Oat Flour
Oat flour is a nutrient-dense flour made from ground rolled (aka old-fashioned) oats. Moreover, this wholesome gum-free flour with a delicately nutty flavor has an impressive nutritional content. It's packed with good carbohydrates, high-quality plant protein, dietary fiber, and various vitamins, minerals, and antioxidants. It clearly offers considerably more nutrition benefits compared to white flour.
Ingredients
You'll need only one plant-based ingredient to make this recipe:
Rolled (old-fashioned) oats - make sure to use certified gluten-free if you are following a gluten-free diet
As always, you can find the full recipe with a list of ingredients with measurements in a printable recipe card at the end of this post.
How To Make Oat Flour From Scratch
Add oats to a clean, dry jug of a high-speed blender or food processor.
Blend for 15 seconds to 1 minute (this will depend on your appliance). Stop to check if it's coarse and blitz a few times more until you get a fine, powder-like consistency. Be careful not to over blend or it will get clumpy.
How Long Does Oat Flour Last
Stored in an airtight container, in the pantry, homemade oat flour lasts for up to 3 months. I like to use a sealed glass mason jar. Make sure you keep it in a dry, cool, and dark place for maximum freshness.
Substitutions
If your recipe calls for oat flour but you don't have rolled oats at hand, you can substitute them with unflavored quick oats or instant oats, as well.
Top tips
Before blending the oats, make sure that the blender cup is clean and dry to avoid any clumps and undesired texture.
Even though you can use quick or instant oats for this recipe, it's best to make your flour from plain, unflavored rolled oats for the greatest nutrition.
If you are using a blender with a wide base you may need to add more oats so they can be ground properly into a smooth flour.
While blending, stop to check if they are any unprocessed oats. Shake the blender cup and blitz again until everything is nicely blended.
1 cup rolled oats yields almost 1 cup of flour (1 cup minus 1-2 tablespoons of flour). The end result depends on how finely you ground the oats.
If you are using oat flour to make any baked goods like muffins, pancakes or waffles let the batter rest for 5-10 minutes before using it in the recipe. This allows the flour to absorb the liquid, making the batter thicker and the baked goods lighter and fluffier.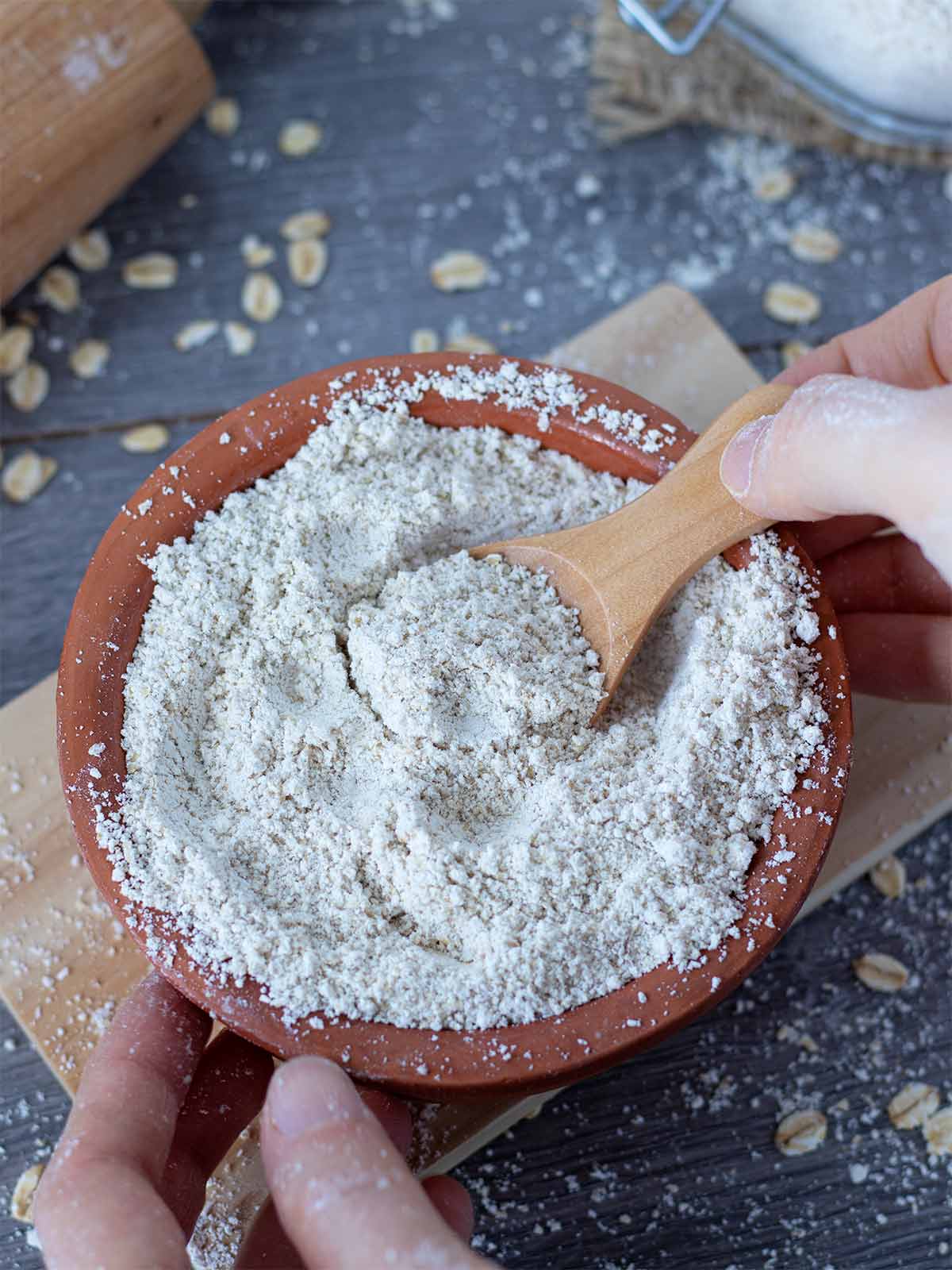 FAQ
Does oat flour have gluten
Oats are naturally gluten-free. Oat flour is a great gluten-free option only if you are using certified gluten-free oats. This means that they are processed separately and do not contain traces of gluten from other grains or nuts.
Is homemade oat flour healthy
Homemade oat flour boasts a surprisingly powerful nutritional content. It's rich in soluble fiber (beta-glucan), plant-based protein, and heart-healthy fat. Plus, it's an excellent source of manganese, phosphorus, copper, zinc, calcium, magnesium, vitamin B1, and Vitamin B5. In addition, it may help reduce blood sugar, lower cholesterol levels, and relieve constipation. It would definitely be a wonderful addition to your diet.
Can it be eaten raw
Yes, you can safely eat oat flour without baking/cooking it first. For example, you can mix it in your smoothie glass or enjoy it in your no-bake desserts.
Will oat flour rise
Since it doesn't contain gluten, oat flour doesn't rise the same way that all-purpose flour does when used in baking recipes. It will depend on the recipe, but you may need to add extra baking soda, baking powder, or another leavening agent to ensure the proper rising of your baked goods.
Is it cheaper to buy or make oat flour
Absolutely cheaper while super easy to make! You can buy inexpensive rolled oats and quickly make your oat flour without any gums or other artificial ingredients.
How to use oat flour in recipes
What can oat flour be used for? You can use it for many recipes like muffins, cookies, pancakes, banana bread, crisps, or waffles. It's a great alternative to traditional wheat flour especially for making sweet recipes.
Healthy Vegan Oat Recipes
📖 Recipe
Did you try to make oat flour at home? How did you use it? I'm curious to know and I would greatly appreciate it if you have a minute to rate the recipe and leave a comment below. You can also share your photo on Instagram with the tag @go_eatgreen and hashtag it #go_eatgreen. We would love to see your creations! Thank you for sharing your experience with us, we are so grateful you are here 🙏
Follow Go Eat Green on Pinterest for more easy and delicious vegan recipe ideas.