This banana-baked oatmeal recipe is perfect for healthy meal prep and is utterly delicious. It truly is the ideal vegan & gluten-free breakfast idea that will please absolutely everyone.
Here is our favorite way to eat our morning oats and bananas - baked oatmeal that looks and tastes like a dessert cake!
Not only is this sweet oatmeal banana bake incredibly rich, moist, and hearty, but it's full of plant protein, fiber, and healthy fats. Besides that, it's so filling, satisfying and full of flavor. I could eat it every single day (seriously). Hope you'll love it as much as I do, too 🙂
Moreover, this simple oatmeal recipe is so versatile, you can bake it for a cozy breakfast, nourishing brunch, an indulging dessert, or a snack, you name it!
Is there any better way to start off the day? I'm pretty sure you'll never want to skip your breakfast again!
Oatmeal Banana Bake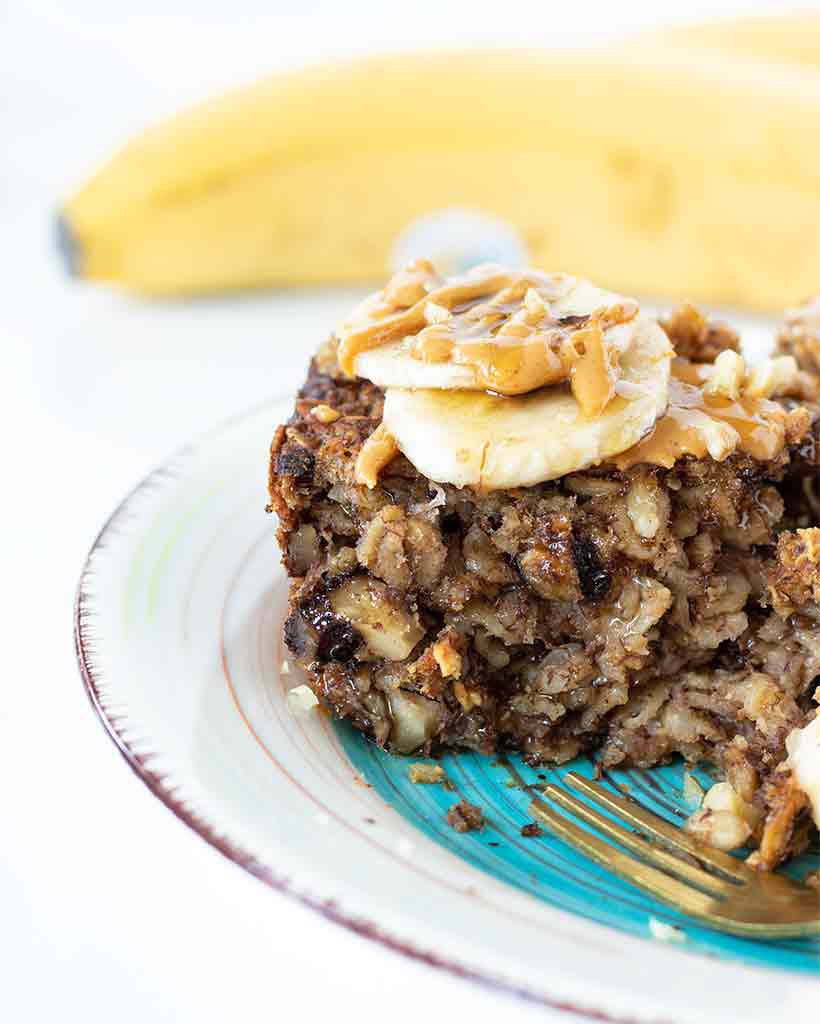 But guess what?
You need no sugar, no egg, and no flour to make this peanut butter banana-baked oatmeal recipe. It works fantastically for busy mornings, as well. You can bake this yummy breakfast treat ahead of time and refrigerate/freeze it for later. It's beyond easy to make! Although it takes 45 minutes to bake it will actually take just 10 minutes or less to prepare.
Bonus? It's refined sugar-free, dairy-free, egg-free, and freezer-friendly.
Plus, it's the most perfect way to use up ripe and overripe bananas. Try our fluffy chocolate chip banana muffins or the weight-loss apple cookies, for delightful ways to use overripe bananas.
Peanut Butter Banana Baked Oatmeal Ingredients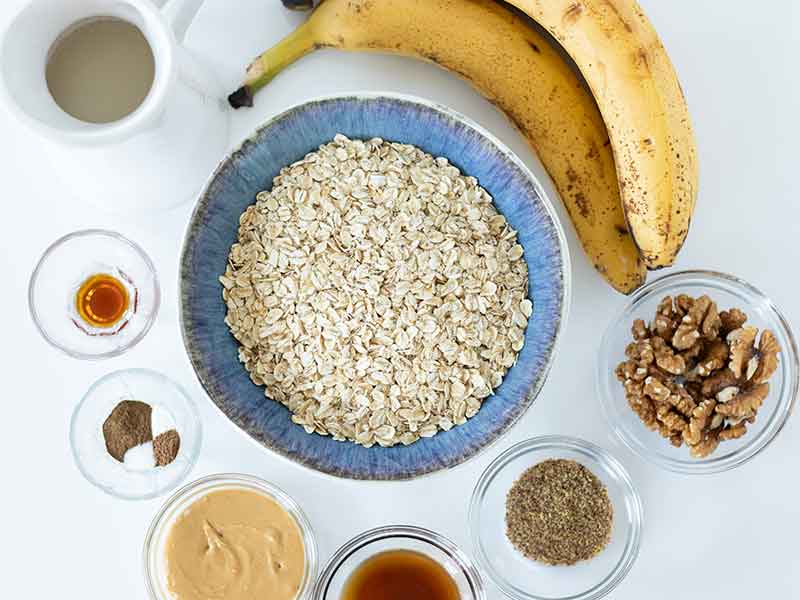 You'll need a few wholesome and inexpensive ingredients to make the best oatmeal banana bake at home. Here they're:
Ripe/Overripe Bananas (the riper, the better)
Old-fashioned/Rolled Oats
Peanut Butter (learn how to make creamy homemade PB, it's easy!)
Walnuts (yes, we need a pleasant crunch here)
Oat milk (or any plant-based milk)
Ground flaxseed (flaxseed meal)
Pure Maple Syrup
Pure Vanilla Extract
Ground Cinnamon & Nutmeg
Baking soda and salt
As always, you can find the full recipe with a list of ingredients with measurements in a printable recipe card at the end of this post.
Time needed: 55 minutes.
How do you make vegan banana-baked oatmeal without eggs and sugar?

Mash bananas and mix wet ingredients

First, mash the bananas with a fork (you'll need about 2 full cups). In the meantime, preheat the oven to 356°F / 180°C. Lightly grease an 8-inch square baking pan with neutral oil. I used sunflower oil. Set it aside.
Next, in the bowl with the mashed bananas add the milk, peanut butter, maple syrup, and vanilla extract. Mix it all together until well combined.



Mix dry ingredients

In a separate bowl, mix rolled oats, chopped walnuts, ground flaxseed, cinnamon, nutmeg, baking soda, and salt. Stir well to combine.



Make the batter

After that, stir the dry ingredients mixture into the bowl with the wet ingredients. Transfer the batter to the greased baking pan and bake at 356°F / 180°C for 45 minutes.



Serve and enjoy

Finally, serve warm or refrigerate (after completely cool) and enjoy it cold. I love adding a generous drizzle of peanut butter, or maple syrup on top. Yum!
Store cooled baked oatmeal in the fridge in an airtight container for 3-4 days. You can reheat it before serving if you like. In addition, you can freeze any leftovers for up to 3 months. Wrap sliced oatmeal squares in aluminum foil and place them in a freezer bag.


Is baked oatmeal healthy?
Absolutely! Vegan-baked oatmeal without sugar is an excellent choice for a nourishing breakfast or brunch. It's a good source of carbs, fiber, protein, and heart-healthy fats. The combination of all nutrient-dense ingredients used will surely make you feel full longer and keep your energy levels high.
Is baked banana oatmeal good for weight loss?
One of the best ways to start your day is to eat a well-balanced breakfast meal. It'll definitely fill you up and boost your metabolism. Due to its highly nutritious whole food content, this eggless banana bake will successfully satisfy your hunger and fuel your body with nutrients so you will be unlikely to reach those high-sugar, processed snacks later on.
Can you make baked oatmeal ahead of time?
Sure, this baked oatmeal with bananas and peanut butter is perfect for time-saving and meal prepping. You can make it ahead and enjoy it throughout the week. Just make sure you store it immediately after cooling it in the refrigerator or freeze it for a longer period of time.
Can I freeze banana oatmeal?
Yes, you can freeze any leftovers for up to 3 months. Wrap sliced oatmeal portions in aluminum foil and place them in a freezer bag.
Can you bake mashed bananas?
Certainly! Mashed bananas act as a binding ingredient in many baking recipes (I use them instead of eggs), provide a tender and moist texture for baked goods, and give a unique aroma to them. They really are so amazing, that's why we love them so much!
Are oatmeal and banana a good combination?
I would say beyond good! Oatmeal, banana, peanut butter, and walnuts are a fantastic combo that even picky-eaters approve of.
Can you substitute steel-cut oats for rolled oats in baked oatmeal?
No, steel-cut oats require a more liquid and a longer cooking time than rolled oats. Thus, for this recipe, they aren't an alternative to old-fashioned oats.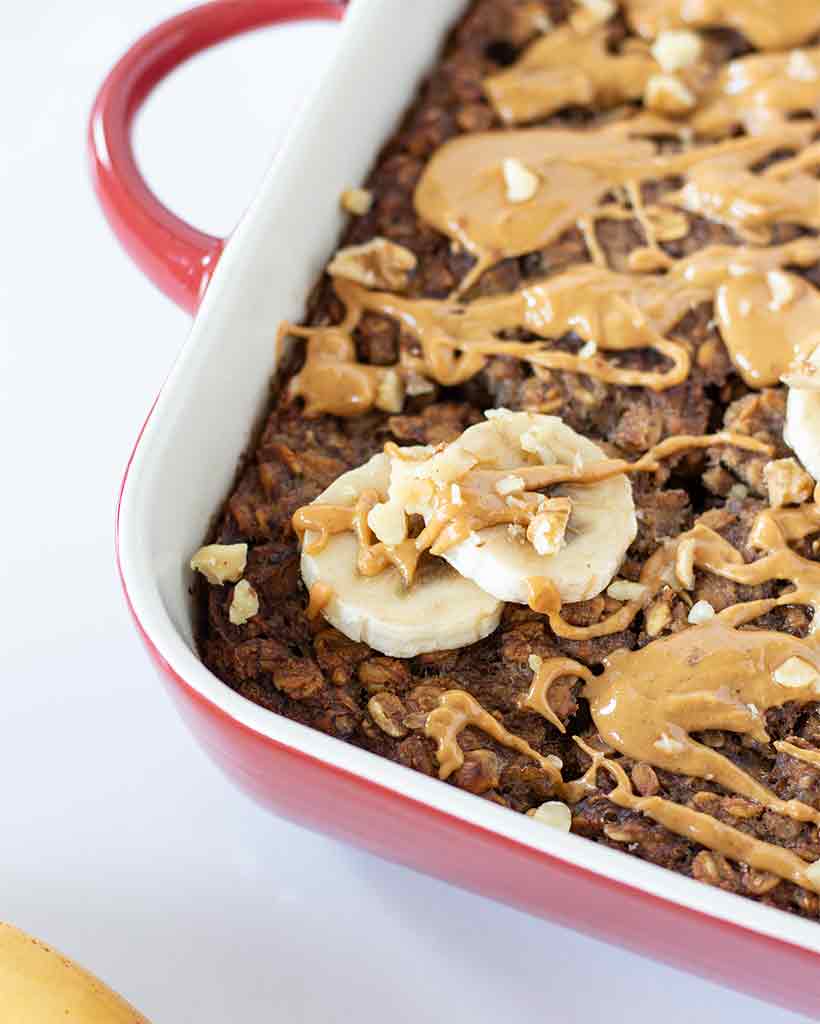 What to do with excess ripe bananas? Here are some ideas:
How do you serve baked oatmeal?
You can top it with fresh banana slices, and chopped walnuts, or drizzle it with creamy peanut butter, maple, or agave syrup. A spoonful of homemade Nutella makes it really special, too.
Why You'll love this Banana Bread Baked Oatmeal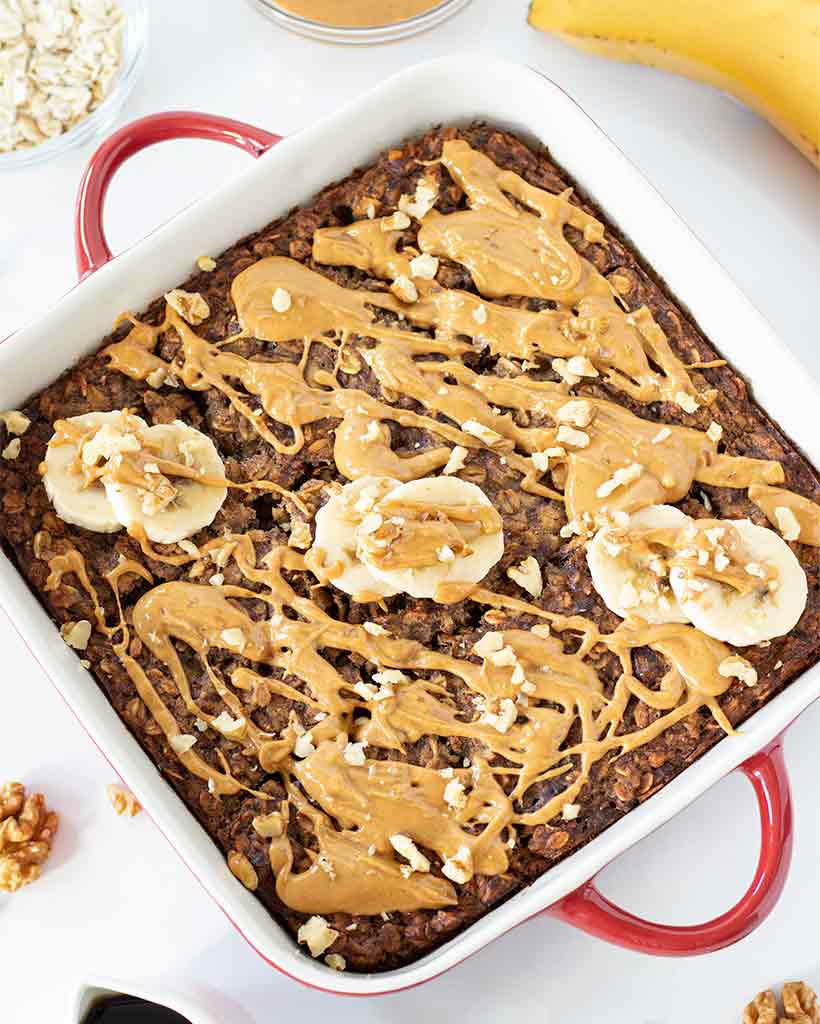 Naturally sweetened (but not overly sweet)
Comforting
Studded with walnuts
Kid-friendly
Allergy-friendly
Crunchy
SO scrumptious!
More Sweet & Easy Vegan Breakfast Recipes for You
📖 Recipe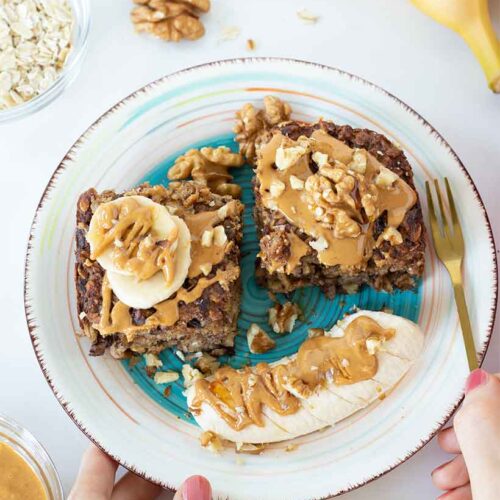 Healthy Vegan Banana Baked Oatmeal Recipe (No Sugar)
This banana-baked oatmeal recipe is perfect for healthy meal prep and is utterly delicious! It truly is the ideal sweet vegan & gluten-free breakfast idea that will please absolutely everyone.
Equipment
1 8-inch square baking pan

2 Mixing bowls

1 Fork
Ingredients
Wet ingredients
3

ripe bananas

mashed, about 2 cups

¾

cups

oat milk

or any plant-based milk

¼

cup

creamy peanut butter

4

tablespoon

pure maple syrup

1

teaspoon

pure vanilla extract
Dry ingredients
2

cups

old fashioned/rolled oats

½

cup

walnuts

raw, finely chopped

1

tablespoon

ground flaxseed (flaxseed meal)

1

teaspoon

ground cinnamon

¼

teaspoon

ground nutmeg

1

teaspoon

baking soda

¼

teaspoon

salt
Notes
Since the sweetness of this recipe depends on the sweetness of bananas we use, it's best to use ripe/overripe bananas. Keep in mind that this banana bake isn't overly sweet, if you prefer it sweeter add a tablespoon or two more maple syrup.
You can totally omit the walnuts for a nut-free vegan baked oatmeal.
You can use any dairy-free milk of choice although I don't recommend coconut milk because it'll affect the flavor.
Nutrition
Calories:
229
kcal
Carbohydrates:
32
g
Protein:
6
g
Fat:
10
g
Saturated Fat:
1
g
Polyunsaturated Fat:
5
g
Monounsaturated Fat:
3
g
Sodium:
229
mg
Potassium:
313
mg
Fiber:
4
g
Sugar:
13
g
Vitamin A:
68
IU
Vitamin C:
4
mg
Calcium:
64
mg
Iron:
1
mg
Did you try this banana-baked oatmeal recipe? If yes, please rate it, leave a comment below, and share your photo on Instagram with the tag @go_eatgreen and hashtag it #go_eatgreen. I would love to hear about your experience and your comments just make my day!
Follow me on Pinterest for more easy and delicious vegan recipe ideas.
Love, Marinela💚