This quick oatmeal smoothie recipe is just for you if you want to start your day strong so you can accomplish your daily tasks with much productivity and less effort.
Moreover, this peanut butter banana oatmeal smoothie is packed with plant-based protein, gut-friendly fiber, healthy fats, and carbs. Also, it is vegan, dairy-free, naturally sweetened, and amazingly flavorful.
It is a great option if you are looking for a simple drinkable meal that will definitely keep you full and satisfied for hours. In addition, it will hydrate your body, boost your energy levels and significantly aid your digestive health.
It is a blessing to start your day with a portion of clean God-given food that is both nutritious and delicious!
Tasty Oatmeal Energy Smoothie
Oats tend to get a really bad reputation. Many people assume that they are tasteless and boring. However, I can assure you they are far from it. Their plain taste is what makes them a wonderful base to experiment on.
I am sure that my no-bake tahini cookies, these 3 ingredients chocolate chip oatmeal cookies, or this timeless moist banana bake will totally change your mind.
If you are tired of plain oatmeal for breakfast, let me introduce you to the most delicious way to enjoy your oats - one of the healthiest grains on earth. On today's menu list, we have a unique oat smoothie mix with a cozy flavor and ultra-creamy texture.
You can skip the classic oatmeal bowl and instead start your morning with this thick oatmeal energy smoothie. Undoubtedly, this is the easiest and fastest healthy drink you can make in minutes!
Plus, this tasty oatmeal smoothie without yogurt is a real treat. It tastes just like an indulgent dessert in a glass! Kids and adults alike will love this decadent smoothie mix.
If you are into easy make-ahead recipes that require no cooking at all check out my inexpensive weight-loss overnight oats recipe.
It's oats o'clock, so let's make this gorgeous oatmeal drink!
Healthy Oatmeal Smoothie Ingredients
This easy recipe for oatmeal smoothie calls for a few wholesome ingredients I am sure you already have in your pantry:
Rolled / Old-fashioned oats
Banana
Plant-based milk (I used homemade oat milk)
Chia seeds
Ground cinnamon
Carob powder
Pure maple syrup (optional)
As always, you can find the full recipe with a list of ingredients with measurements in a printable recipe card at the end of this post.
Time needed: 5 minutes.
How to make banana oatmeal smoothie with peanut butter and cinnamon?

Blend the ingredients

Place the oats, banana, peanut butter, chia seeds, cinnamon, carob powder, and oat milk in a blender and blend until you get consistency with a silky smooth and creamy texture. Taste and add additional sweetener (maple syrup or agave syrup) if you like to make your smoothie sweeter.

Serve and enjoy

Pour your smoothie into a glass or jar and enjoy immediately. You can top it with homemade granola, or a drizzle of creamy peanut butter if you like, to make it even richer. Enjoy!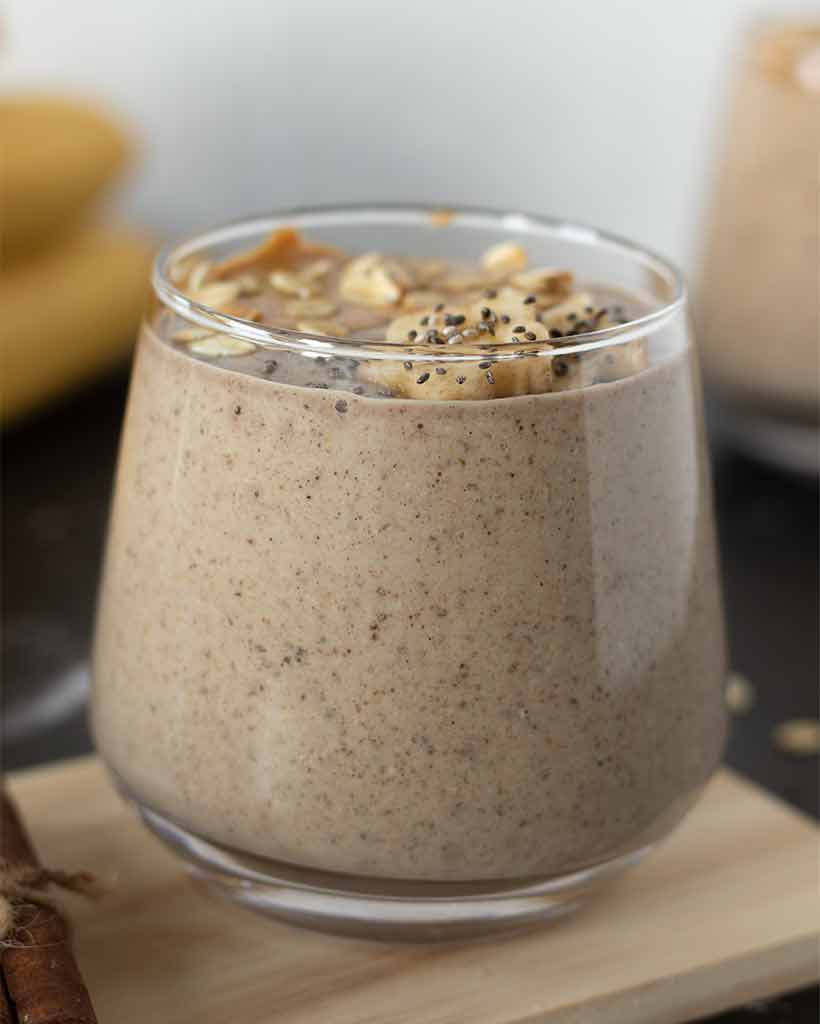 FAQ
Can you store your smoothie for the next day?
Yes, you can store your smoothie in an airtight container in the fridge for up to 24 hours.
Is it OK to put raw oats in a smoothie?
Sure, raw oats are completely safe to eat. You can put raw oats in your smoothies to boost their nutritional content and make them more filling. Uncooked oats are entirely edible and are a great addition to any smoothie. Just be sure to use unflavored oats, since pre-flavored packages of oatmeal can contain added sugars and various preservatives. My advice - always check the labels to see what you are buying.
Do you need to soak oats before blending?
No, you don't need to soak oats before blending them into a hearty smoothie. For a smoother texture, you can first put them in the blender alone and blitz a few times until they are finely ground. Or you can directly throw them in with the rest of the ingredients and blend everything together until you get the desired consistency.
What oats are best for smoothies?
Rolled oats are always my first choice for my smoothie blends even though quick (instant) oats work well, too. Because steel-cut oats have a thick and chewy texture it is better to save them for your oatmeal bowls.
Is oatmeal smoothie healthy?
Absolutely! This oatmeal smoothie is packed with essential nutrients your body needs for energy, and vitality. It provides you with important plant compounds like healthy carbs, soluble fiber, proteins, vitamins, minerals, and powerful antioxidants. These micronutrients have enormous benefits for your health. They can aid reduce your cholesterol and blood sugar levels, protect your skin, may relieve constipation, and can help you stay full longer.
Is oatmeal smoothie good for weight loss?
Of course, this oatmeal smoothie recipe is perfectly suitable if you want to follow a balanced diet and lose weight. Oats are a classic staple for weight loss that is both cheap and endlessly customizable. Combined with the other healthy ingredients this quick banana-oat smoothie mix supports fat loss and weight maintenance.
What is the best time to drink a smoothie?
I believe morning is the best time to drink your yummy smoothie. Smoothies are a fantastic way to start your day off and fill your body with TONS of nutrients. Besides that, smoothies can be an awesome pre or post-workout snack or a light meal replacement whenever you need it throughout the day. You can enjoy your nourishing smoothie literally any time you love and need it.
Why You Will Love This Vegan Oatmeal Smoothie
Ultra thick
Comforting
High-protein
Portable
Refined sugar-free
Warmly spiced
Perfectly sweet
So good!
Into Oats? Check Out These Easy Oat Recipes:
Don't forget to pin or share this post so you'll have this tasty recipe for oatmeal smoothie ready when you need it!
Did you try this easy oatmeal smoothie recipe? If yes, please rate it, leave a comment below, and share your photo on Instagram with the tag @go_eatgreen and hashtag it #go_eatgreen. I would love to hear about your experience and your comments just make my day!
Follow me on Pinterest for more easy and delicious vegan recipe ideas.
Love, Marinela💚