Jump to Recipe
Easy recipe for coffee smoothie with banana, oats, and peanut butter. This weight-loss-friendly coffee drink is ideal as a healthy breakfast or protein post-workout snack. Learn how to make the best banana coffee smoothie at home!
This cold morning drink is vegan, dairy-free, and surprisingly nutritious, perfect to be enjoyed as a simple yet balanced meal. Bonus? An incredibly creamy texture, rich coffee flavor, and a loving hint of chocolate.
Do you love the smell of freshly brewed coffee in the morning? At the same time, are you considering a big smoothie lover like me?
If yes, then this thick and chilly breakfast smoothie will surely make you rise up in anticipation and excitement. Definitely, this luscious concoction that packs tons of nutrition will give you a quick energy boost to power your day and make you feel full and satisfied longer.
Let's whip up this yummy coffee shake that tastes like my chocolate banana PB smoothie but with a special coffee touch!
Jump to:
Coffee Smoothie Ingredients
You'll need 9 wholesome ingredients to make this velvety coffee oats smoothie. I'm pretty sure you already have them in your pantry. Here they're: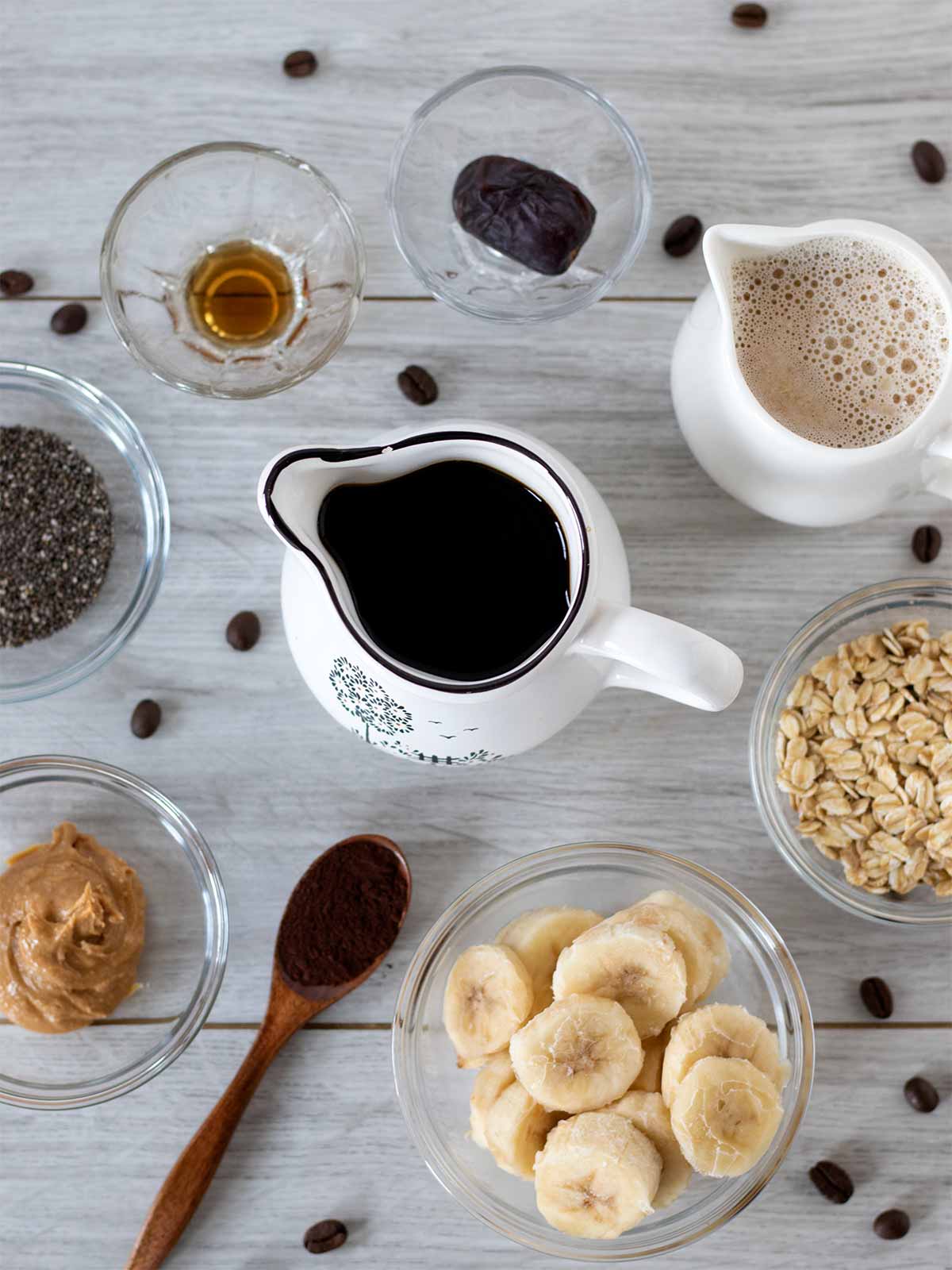 Brewed coffee - adds a delicious coffee aroma. Don't forget to let it cool first. Instead of brewed coffee, you can make ½ cup of strong instant coffee, too.
Frozen banana - for natural sweetness and thick texture. If you prefer a coffee smoothie without banana swap it with ½ avocado or ½ cup of frozen cauliflower.
Rolled (old-fashioned) oats - an exceptionally good source of high-quality protein, fiber, and healthy carbs. Oats will make our smoothie creamier and more filling.
Chia seeds - why not add a tablespoon of "super seeds" to our protein coffee smoothie?
Natural peanut butter (or nut butter of choice) - another excellent source of plant protein and essential nutrients that are good for you
Cacao powder (unsweetened) - for a rich chocolate flavor
Pure vanilla extract - enhances all flavors
Plant-based milk - I used homemade oat milk, feel free to use your favorite
Date - optional (but highly recommended), for natural sweetness to make your smoothie delightfully tasty
As always, you can find the full recipe with a list of ingredients with measurements in a printable recipe card at the end of this post.
How To Make Coffee Smoothie
First, brew your coffee. Let it cool completely at room temperature. Another option is to make a cup of strong instant coffee according to the package directions.
In a high-speed blender, combine all the ingredients and blend on high until a smooth and creamy consistency is achieved. Add more milk or cold water to thin your smoothie.
Serve immediately and enjoy!
This smoothie is great to make ahead, as well. Simply make it the night before and keep it in the fridge overnight. Also, you can store it in the refrigerator for up to 3 days. Feel free to double or triple the recipe and enjoy it with your family and friends.
Substitutions
Here are a few suggestions to add more nutrition to this creamy coffee drink:
Brewed coffee - if you don't feel like making a fresh pot of brewed coffee you can make ½ cup of strong instant coffee. If you don't have time for that, you can use store-bought cold brew, as well.
Frozen banana - No banana? No problems! Swap frozen banana with half an avocado, ½ cup frozen cauliflower, or vegan yogurt to achieve a silky-creamy texture.
Rolled oats - you can substitute them with instant oats. Steel-cut oats don't work for this recipe.
Peanut butter - although peanut butter will give you the biggest protein punch, you can use cashew butter, almond butter, or refined sugar-free Nutella instead.
Chia seeds - add flaxseed meal, hemp seeds, or pumpkin seeds (pepitas) in place of chia seeds.
Dates - if you have a sweet tooth but you are not fond of dates you can naturally sweeten your smoothie with a tablespoon of pure maple syrup, date syrup, or agave nectar.
Storage
This coffee oatmeal smoothie is great to make ahead. You can store it in an airtight container in the fridge for up to 3 days. Otherwise, you can freeze it in a freezer-friendly container for up to 2 months.
Top tips
Use frozen banana. Always use a frozen banana to keep your smoothie cold and thick. You can use ice only if you make your coffee oatmeal smoothie without banana.
Adjust the coffee/milk. Feel free to use more coffee and/or milk if your smoothie is extremely thick and creamy. Actually, I love to enjoy it by spoonful with its irresistible ice-cream-like texture. Yum!
Modify the sweetness level. Add one more date or ½ - 1 tablespoon of maple syrup or agave nectar to adjust the sweetness to your taste.
Add protein powder. You can blend in your favorite protein powder to add in extra protein, so it will keep you feeling fuller longer.
FAQ
Can I put ground coffee in my smoothie
Yes, coffee grounds are edible and it's totally safe to add them to your smoothie if you desire (in small quantities, of course). They are packed with powerful antioxidants and caffeine and can boost your mood and energy fast.
What can you add to smoothies for caffeine
There are a few different options you can add caffeine to your smoothies. You can use brewed or instant coffee, green or black tea, or matcha powder. Caffeine is a stimulant that increases your energy levels and speeds up your metabolism while helping you stay focused and alert.
Why Make This Recipe For Coffee Smoothie
Nutrient-rich
Caffeine infused
Weight-loss friendly
Chocolaty
Satisfying
Perfectly sweet
Full of unique coffee flavor!
More Healthy Breakfast Smoothies
📖 Recipe
Did you try this easy recipe for coffee smoothie? What type of coffee did you use? I would greatly appreciate it if you have a minute to rate the recipe and leave a comment below. You can also share your photo on Instagram with the tag @go_eatgreen and hashtag it #go_eatgreen. We would love to see your creations! Thank you for sharing your experience with us, we are so grateful you are here 🙏
Follow Go Eat Green on Pinterest for more easy and delicious vegan recipe ideas.