This 5-Minute chocolate avocado smoothie is the best healthy breakfast idea for you today! It's quick and easy to make with only 5 simple ingredients. Doesn't taste a bit like avocados and is naturally gluten-free, dairy-free, and sugar-free too. This ultra-rich and creamy smoothie is the perfect dessert or post-workout snack. Yum!
When I was a kid I used to love chocolate milkshakes. I remember me and my sister would make milkshakes full of dairy milk, biscuits with lots of sugar, and a ton of processed chocolate syrup. It was so tasty at the moment but afterward made me feel bloated and drained of energy.
Chocolate Avocado Breakfast Smoothie
Inspired by my chocolate cravings, I came up with this delicious smoothie with a creamy, velvety texture. It's almost like a pudding! Actually, if you want pudding, just decrease the amount of milk. Here I combined my love for avocados and cocoa to create this rich and decadent smoothie recipe. This incredibly nourishing drink has an addictive chocolate flavor. Perfect full meal breakfast smoothie. It's soo good!
If you are suspicious about its flavor, don't worry. I assure you that you can't taste the avocado in it. It's a luscious mix of banana and cocoa powder coupled with maple syrup. So sweet and chocolaty yet totally guilt-free and healthy! I sweetened this smoothie with maple syrup but you can definitely omit this ingredient if you don't prefer that extra sweetness. Or maybe add some dates or agave syrup instead.
Time needed: 5 minutes.
How to make an avocado chocolate smoothie?

This chocolate banana and avocado smoothie tastes just like a vegan milkshake. It's a full nutritious meal for breakfast to start your day with energy and a good mood.

Blend all ingredients

Place all ingredients in a blender or Nutribullet. Use 1 avocado, 1 banana, 2 tablespoon raw cocoa powder, ⅛ cup maple syrup, and 1 ½ cup of cashew milk (use any plant-based milk of choice, maybe try this homemade almond milk or oat milk). Next, blend until smooth and creamy. Feel free to adjust the amount of milk to achieve the desired thickness.



Serve immediately

Serve your banana avocado chocolate smoothie immediately, dividing it into 2 big glasses. Sprinkle your energy boost smoothie with chocolate flakes or sliced banana. Enjoy it for breakfast, healthy dessert, or post-workout snacks. Store it covered in the fridge for up to 1 day.


Tips for making the perfect smoothie
Always put the liquid, and high moisture ingredients into the blender first. This will allow the blades to move easily and keep your blender from jamming up.
If you prefer thinner smoothies, add more dairy-free milk or water. However, if you like it more thick and creamy decrease the amount of it.
In order to make your smoothie sweeter, add maple syrup, agave syrup, or dates. Also, be sure to always use very ripe bananas. This will add that additional sweet flavor and make your smoothie tastier.
These tips apply to all smoothies not just to this avocado chocolate smoothie.
Healthy Ingredients for Decadent Chocolate Avocado Morning Smoothie
Avocado

Banana

Organic Cocoa Powder

Plant-Based Milk ( I used homemade Cashew Milk)

Maple Syrup
Is avocado smoothie good for you?
This smoothie is filled with nutrients that naturally boost your energy and wellbeing. In fact, it is made with SUPERFOODS like avocado and cocoa, plus it contains no sugar at all. Moreover, avocados are rich in healthy, monosaturated fats that protect against heart disease and lower your blood pressure. Also, they are an excellent source of fiber, potassium, folate, Vitamin K, and various important nutrients. At the same time, cocoa powder contains important compounds like polyphenols that can hugely benefit your health. It's particularly abundant in flavanols which have powerful antioxidants and anti-inflammatory effects. Polyphenols are antioxidants that help reduce inflammation, regulate blood flow, and improve cholesterol and blood sugar levels.


How to know when an avocado is ripe?
The best way to check if an avocado is ripe is to give it a gentle squeeze. It should feel a little bit soft but not mushy. Ready-to-eat avocados may have a deep green color, but the color can vary so the best way to go is by touch and feel its firmness.
This velvety avocado banana chocolate smoothie is:
Quick, Easy, and Simple to make in 5 Minutes
Sugar-free, Dairy-free, Gluten-free
Healthy and Nutritious
Rich Chocolaty Breakfast, Dessert, or Snack
Sweet and Creamy
Dangerously addictive and delicious!
📖 Recipe
Craving more healthy breakfast smoothies?
Don't forget to pin or share this post so you'll have this chocolate avocado smoothie recipe ready when you need it!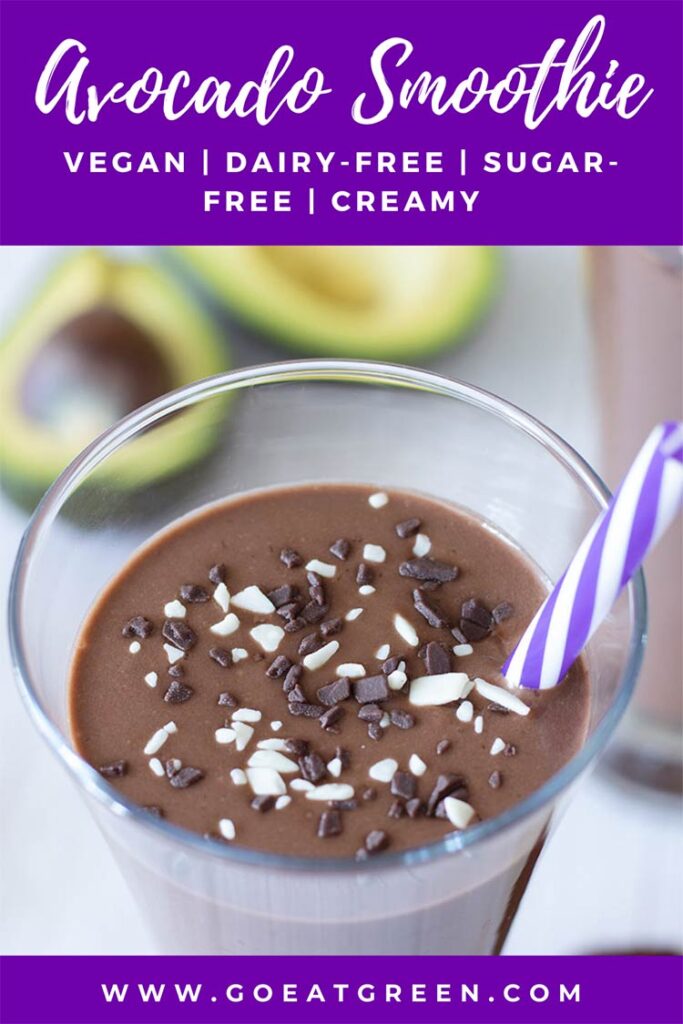 Made this rich chocolate avocado smoothie? If yes, please rate it, leave a comment below, and share your photo on Instagram with the tag @go_eatgreen and hashtag it #go_eatgreen. I would love to hear about your experience and your comments just make my day!
Follow me on Pinterest for more easy and delicious vegan recipe ideas.
Love, Marinela💚