Jump to Recipe
Chocolate avocado pudding - tasty and healthy vegan mousse with a creamy and silky texture, dairy-free, and naturally sweetened dessert idea.
What can you make out of avocados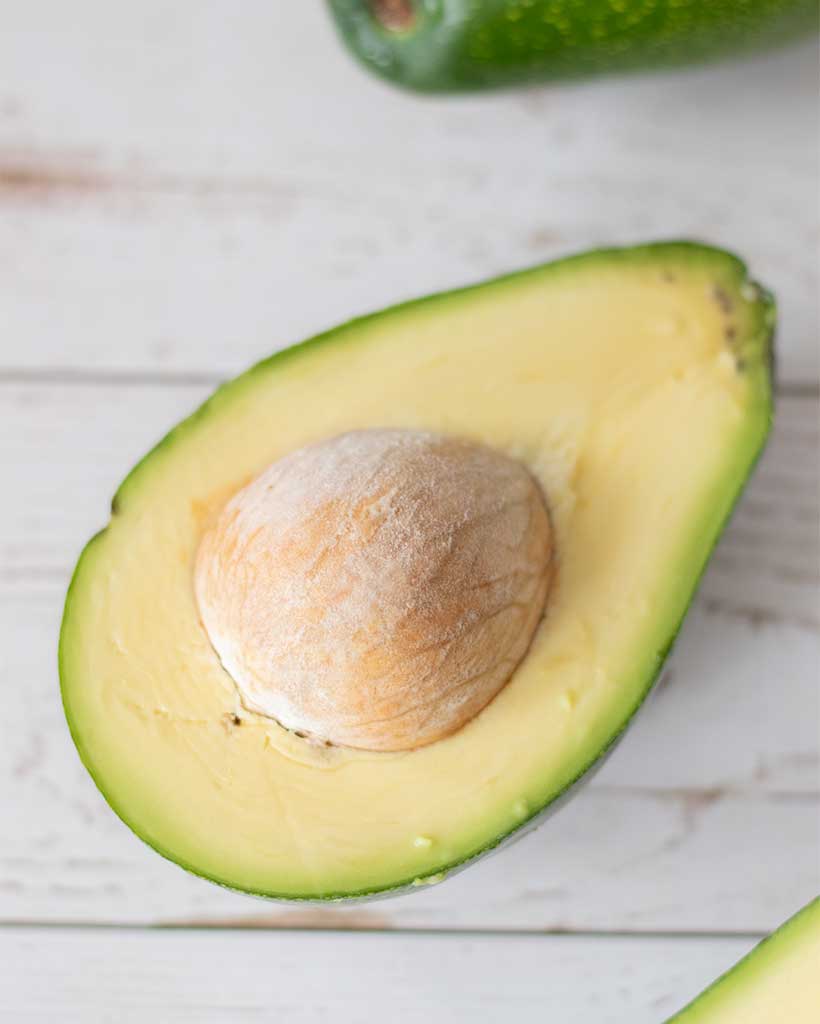 Hello avocado lovers! You may ask yourselves, "What can I do with leftover avocados?"
And when you think of avocado recipes, what's the first thing that comes to your mind? Guacamole? How about an avocado dip? What about a fresh and flavorful strawberry avocado salad? Or maybe a comforting green pasta dish? Perhaps a non-dairy chocolate avocado breakfast smoothie?
The possibilities are endless.
What about a delightful chocolate avocado pudding without dairy or refined sugar that tastes like ice cream?
Yup, you heard me right. Let's feel the magic of avocados by eating the most decadent avocado pudding that melts in your mouth.
Simple Chocolate Avocado Mousse
I love easy avocado recipes. That's why today, we are going to make something pleasantly sweet, surprisingly simple, and easy to make in less than 10 minutes. This avocado chocolate mousse is incredibly delicious and so good for you. It's rich, smooth and so velvety you can't even taste the avocado in it. Plus, it's the most nutritious dessert idea you'll certainly love.
If you are like me, you undoubtedly adore making easy no-bake, clean dessert recipes that require a few simple ingredients, minimal effort that aren't time-consuming at all. Today's recipe for avocado chocolate mousse meets all the criteria. Yay!
Use up all those ripe, ready-to-eat avocados stored in your fridge and make the best quick and yummy treat you and our family will absolutely love.
Grab your spoon and dive into this addicting chocolate-flavored homemade pudding. But don't forget to share it with your friends, too!
What is avocado pudding made of?
To prepare this vegan avocado cacao mousse you'll need 5 inexpensive and budget-friendly, everyday ingredients. I'm sure you already have it in your kitchen. This luscious pudding is made with clean and wholesome, all-natural ingredients that will make you feel energized and happy at the same time. Here they are:
Ripe avocados

(preferably chilled, for creaminess and extra thick texture)

Raw cacao powder

(for a lovely rich chocolate flavor and a burst of antioxidants and other highly beneficial nutrients)

Dates

(for an intense natural sweetness and rich caramel taste and color)
Plant-based milk of choice (nicely blends everything together)

Pure vanilla extract

(this secret ingredient carries a sweet fragrance and enhances the aroma of this chocolate mixture)
As always, you can find the full recipe with a list of ingredients with measurements in a printable recipe card at the end of this post.
No cook instant chocolate pudding
Time needed: 10 minutes.
How to make a chocolate avocado pudding?

Avocados never tasted so good! This avocado mouse without coconut cream, gelatin, and even without chocolate chips is easy to make it is to eat. Let's turn your avocados into this mouthwatering perfection.

Combine all ingredients

In a blender or food processor combine all ingredients together. Blend until silky-smooth and creamy. I recommend you to chill the avocados ahead of time so you can enjoy the pudding right away, nicely cold and creamy.
If your dates are dry, soak them in warm water for 5 minutes before using them in this recipe.
If necessary, stop and scrape down the sides. Depending on the size of your avocados, you may need to add more dairy-free milk to help the mixture blend well.

Taste the pudding

Taste and see if you need to add more dates (to make it sweeter) or cacao powder (to make it even more chocolatey). Blend again, until the mixture is smooth.

Enjoy

Transfer in small glasses, jars, or whatever container you wish, and enjoy it chilled in the fridge for at least 20 minutes. You can skip the chilling step if your avocados and milk are already cold.
Serve it topped with fresh or frozen raspberries, strawberries, banana slices, chocolate flakes, or nuts.
Why is avocado pudding good for you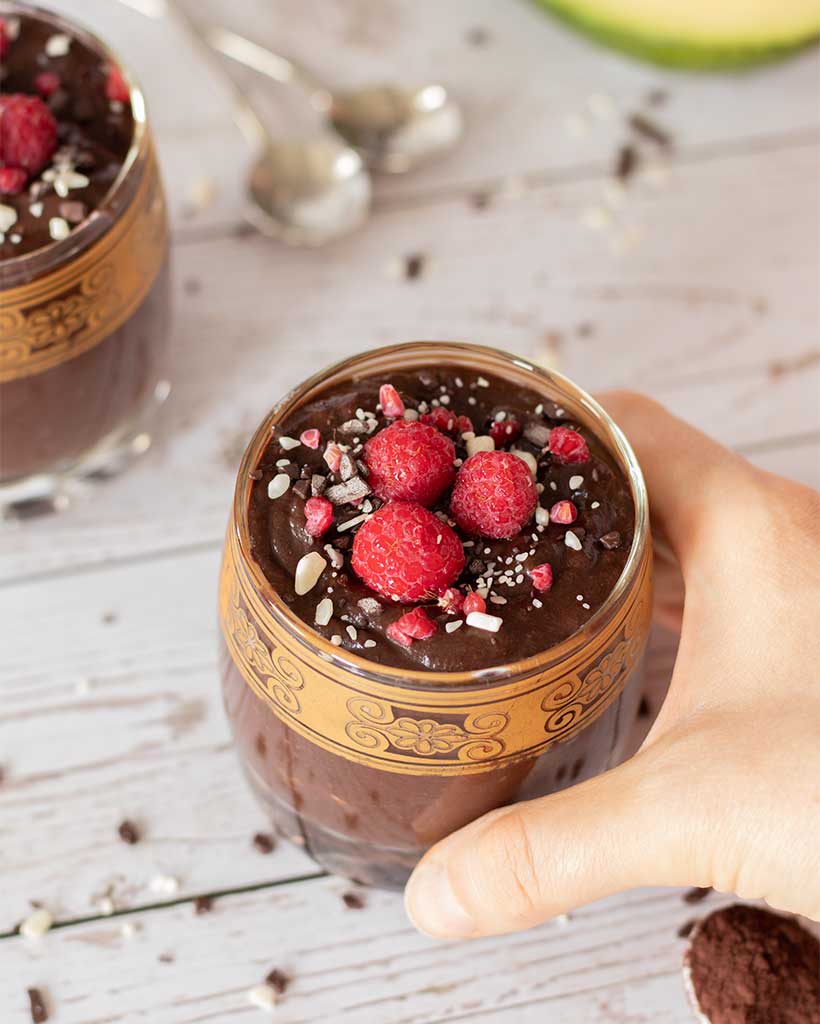 Unlike premade store-bought puddings that are loaded with artificial flavorings, dyes, and other chemicals, this homemade avocado pudding is made with whole, organic ingredients, all good for you without exception. It's loaded with healthy monounsaturated fats which greatly benefit your heart and cardiovascular system, lower cholesterol, and triglyceride levels, and helps dramatically increase the nutrient absorption from all the other plant foods. In addition, avocados, raw cacao, and dates are amazingly rich in powerful antioxidants, fiber, and other beneficial nutrients your body needs to function properly on a daily basis.
FAQ about this chocolate pudding recipe
Can avocado be eaten as a dessert?
Absolutely! This unprocessed avocado mousse will become your go-to dessert recipe. Trust me, you won't even taste the avocado in it. This avocado mousse recipe is an avocado lover's dream! It's the ultimate option for dessert, snacks, breakfast, or whenever you yearn for something delicious to satisfy your chocolate cravings in a healthier way.
Should you refrigerate avocados
Yes, you can refrigerate ripe and uncut avocados in the fridge, to keep them fresh, until you use them. The cold temperature slows down the ripening process. But if you buy unripened avocados, don't store them in the refrigerator because they won't ripen properly. For them, it's best to be stored at room temperature until they ripen and be ready to be eaten.
How long will avocado mousse last
Since avocados tend to oxidize really fast, I don't recommend you to make this pudding ahead of time. You can whip it up in a matter of minutes, so it's best to make it and enjoy it right away. You can store it in an airtight container, covered, for up to 1-2 days, but keep in mind that it won't retain the same flavor and the taste of the avocado will become noticeable. This chocolate-infused avocado dip is not freezer-friendly, too.
Can I make this vegan pudding without a blender?
Of course! You can mash the avocados and dates with a fork, add the remaining ingredients, and get the most irresistible no-blender avocado mousse. Impress your kids or guests with this effortless and fancy sweet dish. Every spoonful is a pure indulgence.
Is this vegan dessert weight-loss-friendly?
Who doesn't love guilt-free treats? This popular dessert perfectly balances the flavor of superfoods, like avocado (which is 100% cholesterol-free) and cacao powder, and the luscious dates which are packed with natural fructose. Also, it contains no refined sugar, no eggs, no butter, no gelatin. Satisfy your sweet tooth and get all that sweetness without any guilt. Yum!
Why you'll love this vegan chcocolate avocado mousse. It's
Gluten-free

Super healthy

Kid-friendly (kids are guaranteed to LOVE this pudding)

Antioxidant-rich

Mood boosting treat

Seriously addicting
More must-try lazy vegan desserts
📖 Recipe
Made this vegan chocolate avocado pudding? If yes, please rate it, leave a comment below, and share your photo on Instagram with the tag @go_eatgreen and hashtag it #go_eatgreen. I would love to hear about your experience and your comments just make my day!
Follow me on Pinterest for more easy and delicious vegan recipe ideas.
Love, Marinela💚