These 5 ingredient chocolate coconut date balls are an easy, no-bake vegan make-ahead dessert idea. Healthy gluten-free snack for kids.
I make these chocolate coconut date balls almost every week along with this breakfast almond pulp cake. That's because I always make my own homemade almond milk, so I must use the leftover pulp. Only zero food waste recipes are permitted in my kitchen and you must give this one a try!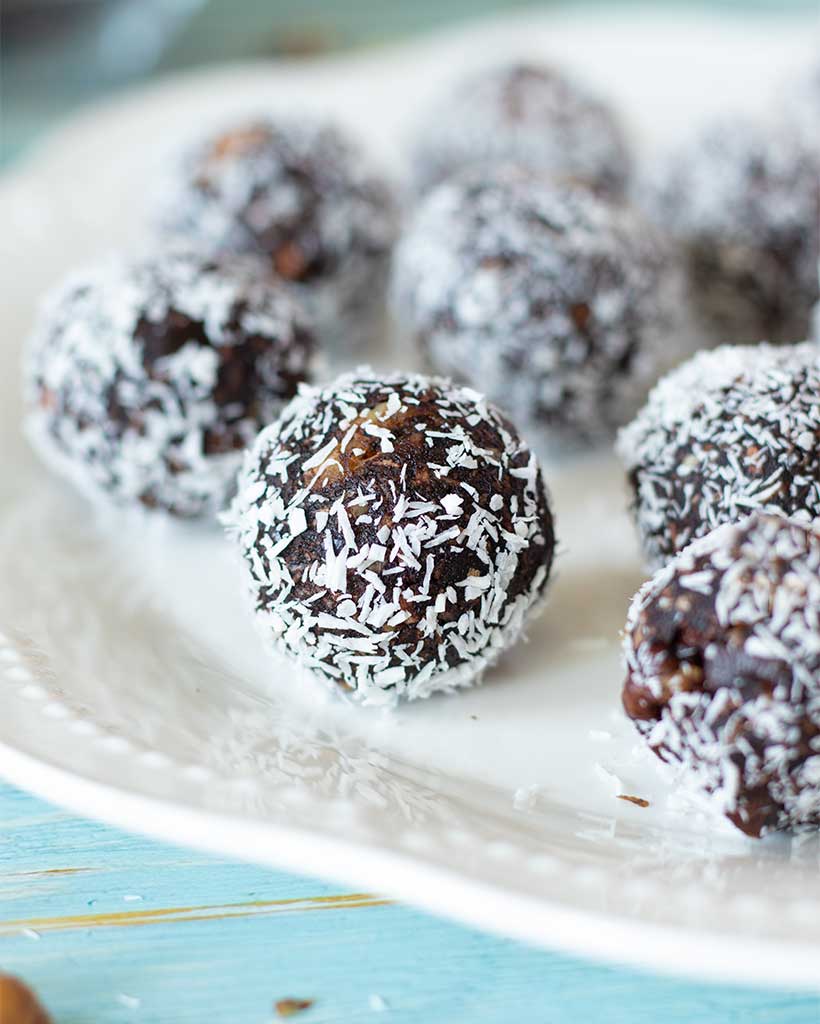 These nutritious energy balls ready in 15 minutes make the best midday snack or after-lunch treat. These adorable date balls with coconut flakes don't last long in my home. All family loves it!
What's more, these bite-sized healthy snacks are vegan, dairy-free, gluten-free, and refined-sugar-free. Ohh, I forgot to mention that they are totally guilt-free too, just like these quick luscious dark chocolate hearts!
Are Coconut Date Balls Healthy?
This simple 5 ingredient recipe that yields the most flavorsome energy balls is packed with a variety of nutrients that are actually good for you. They are perfectly filling and satisfying, sweet enough to satisfy your sweet cravings to indulge yourself in any time of the day.
Coconut nutrition benefits
High in manganese, mineral that is vital for bone and brain health and many of your body's enzime systems
Rich in copper and iron which help form red blood cells
High in plant fiber and healthy fat which promotes blood sugar control
Helps you to improve cholesterol levels and decrease belly fat
Contains disease-fighting antioxidants that protect your cells from damage
Very high in fiber and powerful antioxidants (prevent the development of certain chronic diseases)
Successfully prevent constipation
May improve brain function thus promoting brain health
May promote and ease naural labor and help facilitate contractions (due to the compounds tannins)
They are one of the best natural sweeteners (a healthy substitute for white sugar)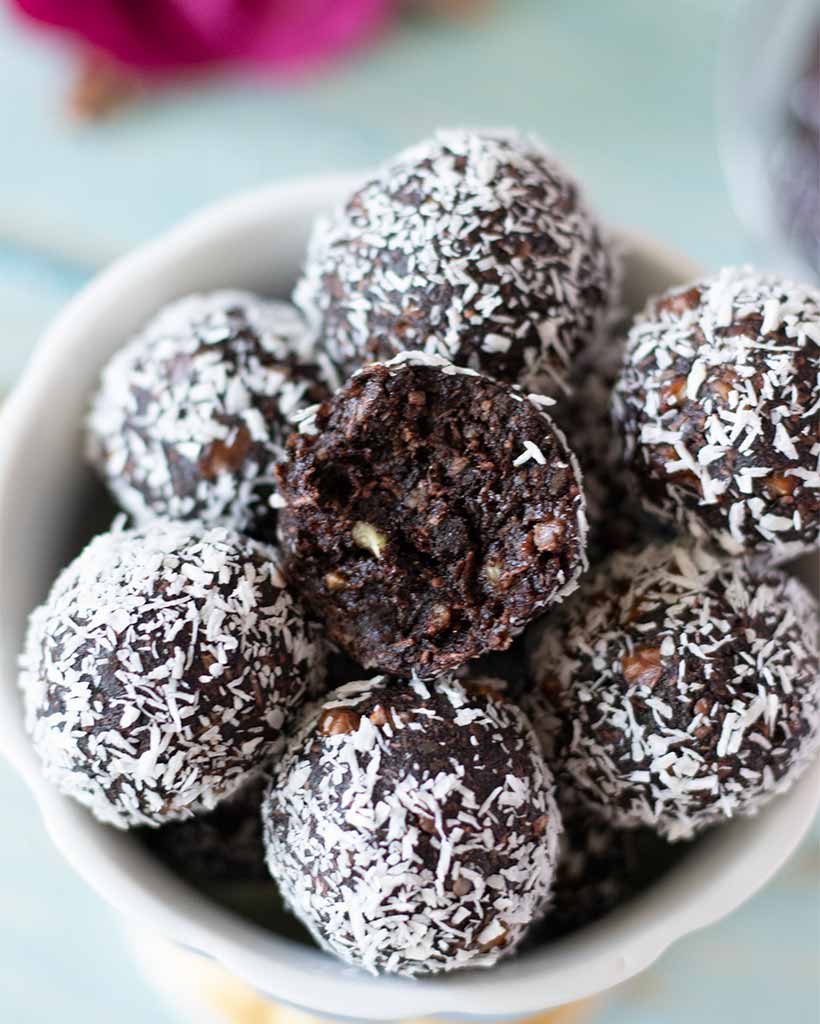 Cacao powder benefits
Packed with natural antioxidant named polyphenols which help you reduce inflammation, lower blood sugar, and improve your cholesterol levels
Rich in flavanoids which improve nitric oxide levels and blood vessel functon thus helping you greatly reduce your blood preassure naturally
May lower the risk of heart attack and stroke
May reduce the stress levels in your body and improve your mood and reduce anxiety and depression
What are the health benefits of walnuts?
Good source of healthy monosaturated fats, omega 3 fatty acids and protein
Excellent source of various vitamins and minerals like: copper, folic acid, phosphorus, vitamin B6, manganese, vitamin E
Decrease the LDL (bad) cholesterol and triglyceride levels
May improve brain health
Contain several boactive components that have anticancer properties
Coconut Date Balls Recipe Ingredients
These sweet bites of deliciousness that melt in your mouth are made with plant-based, non-dairy ingredients you probably have in your pantry right now. No eggs, butter, flour, or refined sugar. Here they are:
Dates

Unsweetened desiccated coconut flakes

Cacao powder

Raw walnuts

Vanilla extract
As always, you can find the full recipe with a list of ingredients with measurements in a printable recipe card at the end of this post.
Time needed: 15 minutes.
How to Make Chocolate Coconut Date Balls aka Energy Balls

This GF coconut date ball recipe is super easy to make! You can make them with or without a food processor. And you don't need to wait for them to firm up in the freezer. You can enjoy them immediately.

Chop up the walnuts

I like date balls with coconut flakes to have a more crunchy texture. That is why I chopped the walnuts separately.

Process all ingredients

Next, put dates, desiccated coconut flakes, cacao powder, and vanilla extract in a food processor. Process until all is well combined and you get a paste-like texture.
If your dates are not soft enough, make sure to soften them first. Put them in a bowl and cover them with hot, boiling water. Let them soak for 5 minutes. If you do this step make sure to completely drain the dates otherwise the mixture won't be sticky but too wet and the balls won't form well.

Roll the energy balls

Finally, add finely chopped walnuts to the mixture and form your date-walnut-coconut energy balls. I measured them with a tablespoon and got 18 pieces. You can make them bigger if you like. Roll each ball in coconut to coat the outsides.
Store them in the fridge for up to 7 days in an airtight container.
Can you freeze coconut date balls?
Absolutely! These no-bake coconut date balls are freezer-friendly. Put them into a freezer-safe container and store them in the freezer for up to 2 months. Just defrost them at room temperature before you enjoy them.
Are date rolls good for you?
Yes, they certainly are a guilt-free vegan dessert full of healthy fats, protein, and fibre. In my opinion, they are the most delicious on-the-go morning or afternoon pick-me-up snack. These tasty energy bites are perfect to eat before or after a workout. They will give you the energy your body needs and ward off any sneaky sugar cravings.
Can you make vegan date balls without a food processor?
Of course, you can! Simply soak the dates do 5 minutes in hot water, strain them well and mash them with a fork. Add raw cacao powder, desiccated coconut flakes, vanilla extract, and finely chopped walnuts. Mix all ingredients together with your hands until they all well combined and shape into balls.
I hope you'll love these flavorful date cacao coconut balls. They are:
Refined-sugar-free

Kid-friendly

Weight-loss friendly

Nutty

Crunchy

Travel-friendly snacks (uper portable for picnics)

Yummy grab-and-go snacks for kids and adults
More Vegan Dessert Recipe Ideas
Don't forget to pin or share this post so you'll have this chocolate coconut energy balls recipe ready when you need it!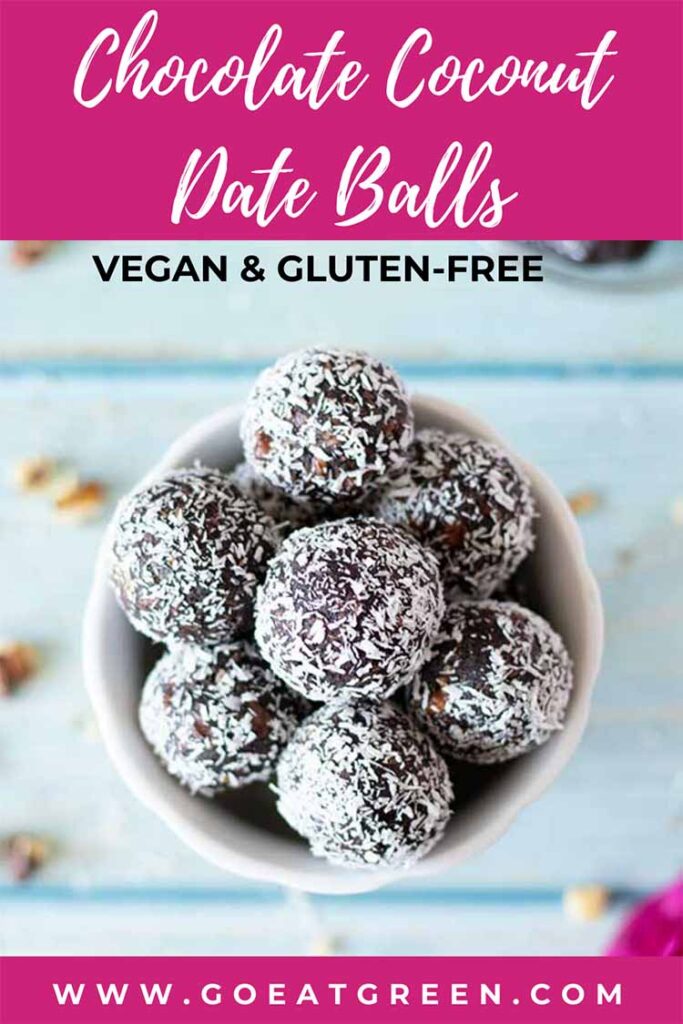 Made this quick coconut date balls recipe? If yes, please rate it, leave a comment below, and share your photo on Instagram with the tag @go_eatgreen and hashtag it #go_eatgreen. I would love to hear about your experience and your comments just make my day!
Follow me on Pinterest for more easy and delicious vegan recipe ideas.
Love, Marinela💚