This recipe for date balls without coconut is perfect if you have a busy schedule but you need a quick snack or dessert to keep you energized and productive. All you need is just 5 simple ingredients, 10 minutes, and 1 food processor to make the best homemade date balls ever.
What's more, these rich date chocolate balls are vegan, gluten-free, dairy-free, refined sugar-free, and unbelievably delicious. We love easy recipes that require no baking, no sugar, no oil, and no dairy, or butter. Just like our superfood spirulina energy bites or these crunchy coconut date balls.
Our goal remains always the same, to create plant-based recipes that are both nourishing and tasty.
Homemade Date Chocolate Balls
On a warm late spring day like this, what could be better than scrumptious no-bake date truffles?
The season for raw, bake-free desserts is finally opened! As the weather gets warmer, it's good to take a break from the oven. Don't you think?
Last week was my cousin's prom party. We made a big batch of indulgent bite-sized energy balls with different flavors and textures. But definitely, this recipe for walnut-date chocolate balls was the winner. Everyone asked for it! I was pleasantly surprised, I confess.
So I thought why not share it with you, as well? It's good to have a simple pantry dessert recipe on hand.
Why not treat yourself and your loved ones with these luscious chocolate bites, too? Do you know what's the best part? They have no added sugar which means they're totally guilt-free and absolutely satisfying!
Moreover, these mouthwatering date balls with walnuts are great for any occasion possible. Whether you are looking for a healthy pre or post-workout snack, a decadent afternoon dessert, an impressive food gift, or just to whip up something sweet in a pinch.
Truly, these small healthy snacks are the sweetest way to finish up your meal. Plus, you can make them ahead and enjoy them later throughout the week whenever you need a fast nutritious bite.
Why buy expensive energy balls when it's cheaper and easy to make them at home? They are way better than the store-bought: inexpensive, nutrient-dense, and irresistibly flavorful.
Now, let's make them!
Date Balls Ingredients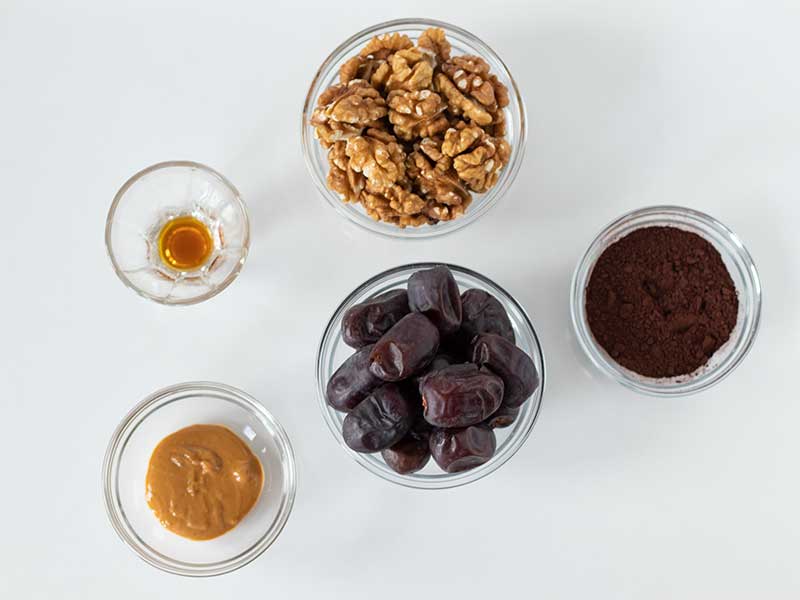 This recipe for date balls features a yummy combination of:
Dates
Walnuts (raw)
Cacao powder (unsweetened)
Vanilla extract
As always, you can find the full recipe with a list of ingredients with measurements in a printable recipe card at the end of this post.
Time needed: 10 minutes.
How do you make date chocolate balls without coconut?

Process walnuts

First, finely ground your walnuts in a food processor or high-powered blender. Do not overprocess them otherwise you'll get a butter-like consistency.



Combine all ingredients

Next, add pitted dates, cacao powder, peanut butter, and vanilla extract. Process on high until a sticky dough is formed.
If your dates are not soft enough, soak them for 5 minutes in a bowl with hot, boiling water. Then pat them dry. If your dates are soft and fresh you can skip this step.



Form small balls and enjoy

After that, scoop out about 1 tablespoon of the mixture and roll small balls with your hands. I got 17 small bite-sized date balls but you can make them bigger if you like.

You can roll each ball into cacao powder or ground walnuts to coat the outsides.
Store any leftovers in an airtight container with the layers separated by parchment paper for up to 7-8 days in the fridge or freeze in a freezer-friendly container for up to 2 months. Enjoy!


Vegan Chocolate Date Truffles - FAQ
Are date balls healthy?
Absolutely! These vegan date chocolate balls are packed with plant fiber, disease-fighting antioxidants, healthy fats, and carbs. Because they are full of good-for-you nutrients they can be an excellent source of energy to fuel your body. Also, they can boost your brain health, promote digestion, lower blood pressure, and support heart health. Since these power balls are made with organic, real food ingredients they are a fantastic weight-loss-friendly snack to be enjoyed every day.
How do you store date nut balls?
Store your date energy balls in one layer (or separated with parchment paper if layered in 2 layers) covered, in an airtight container in the refrigerator for 7-8 days. Additionally, you can freeze them in a freezer-friendly bag or container for up to 2 months. Thaw before eating.
How many calories are in a date ball?
One date ball contains 78 calories.
Can I make them without a food processor?
If you have a high-powered blender just pulse the walnuts until you grind them into a fine meal. If your blender is struggling to make a sticky dough consistency with all ingredients simply mash the dates with a fork and combine everything together in a bowl. Even if you cannot process the walnuts you can chop them finely. In this way, you'll get crunchy chocolate balls.
Why You'll Love These No-Bake Vegan Balls. They're:
Kid-friendly
Naturally sweetened
No coconut, no oats recipe
Allergy-friendly
Picky eaters approved
Easy to pack and enjoy on the go

Effortless

Wholesome
Crowd-pleasing
Wonderful lunchbox treats
Impressive
Full of flavor
More No-Bake Desserts (Easy & Delicious)
Don't forget to pin or share this post so you'll have this easy vegan energy balls recipe ready when you need it!
Did you try this vegan date balls recipe? If yes, please rate it, leave a comment below, and share your photo on Instagram with the tag @go_eatgreen and hashtag it #go_eatgreen. I would love to hear about your experience and your comments just make my day!
Follow me on Pinterest for more easy and delicious vegan recipe ideas.
Love, Marinela💚