Jump to Recipe
Learn how to make the best DIY peanut butter recipe from scratch, simple and easy! Creamy homemade peanut spread with deep and rich flavor.
I have seen peanut butter only in American movies while I was a kid. I haven't tasted it until a few years ago when I become obsessed with plant-based food and healthy recipes. Ever since I discovered it, I always have one jar in my pantry. There is nothing better than a spoonful of this freshly made peanut spread for morning breakfast, a delightful post-lunch dessert, or an after-workout snack. My favorite bedtime treat routine I simply love!
Is Homemade Peanut Butter Healthier than Store Bought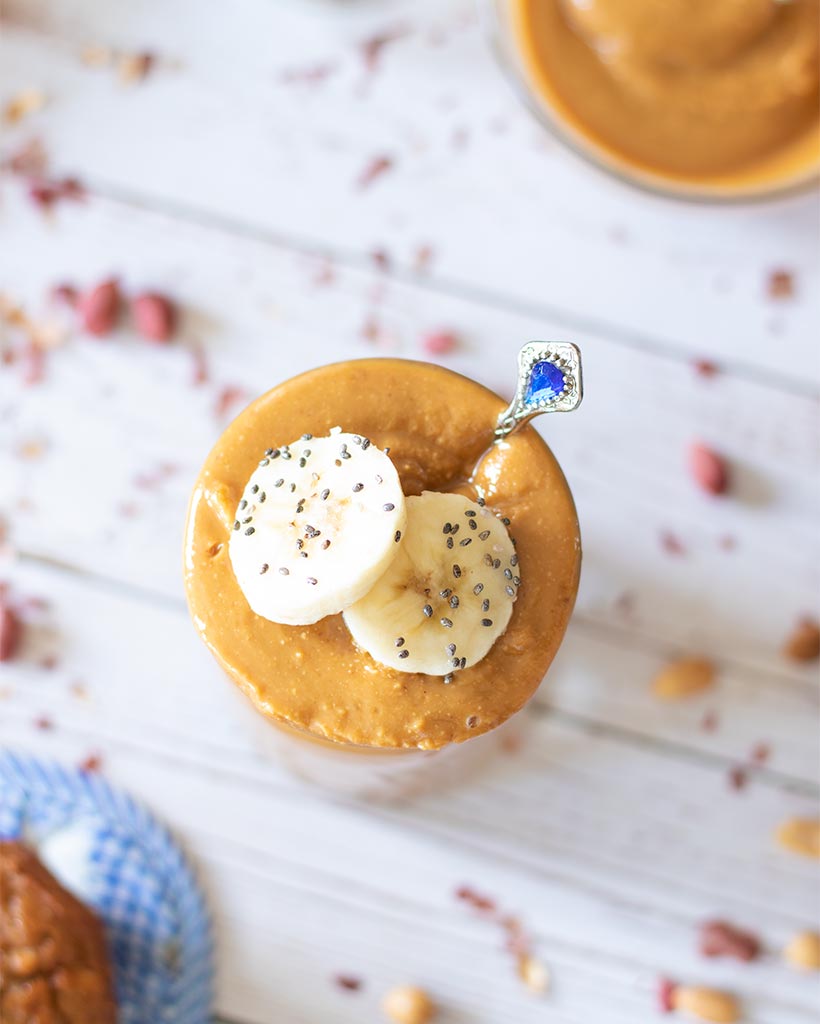 If you have followed me for a while, you know that I always try to make homemade versions of most kitchen staples instead of buying their processed store-bought versions. They are cheaper, healthier, and actually taste much better, too! That peanut aroma and flavor can't compare with their off-the-shelf counterparts.
I just love to slather it on banana, a slice of bread or apple, pretzels, or on my favorite muffins. I definitely recommend you try my best peanut butter balls recipe. Delicious, no-bake dessert. Oh, and so chocolaty!
The Ingredients
Peanuts (roasted, unsalted)
Vegetable oil (extra virgin olive oil, peanut or unscented coconut oil) - optional
Agave syrup (or maple syrup) - optional
Salt - optional
Time needed: 10 minutes.
How to make the best peanut butter recipe step-by-step?

Making your own DIY peanut butter is a quick and incredibly easy process. Let's make it!

Process the peanuts

Begin by placing 2 cups of roasted unsalted peanuts in a food processor or high-powered blender. If you have unroasted peanuts at home, first, you need to roast them in the oven. After that, process for 30 seconds to 1 minute, depending on the strength of your processor's motor. Stop and scrape the sides and the bottom while the motor is cooling off. If the equipment you use becomes hot and is struggling to work, let it rest and cool down. Process a few times for 30 seconds to 1 minute. At this moment, the peanut butter will look dry and chunky.

Add any sweetener and oil (optional)

Next, the butter will start clumping together and form a sticky ball. At this point, you can add any sweetener like agave or maple syrup, vegetable oil, and salt. Continue to blend and stop as necessary until the mixture becomes smooth and creamy. Taste and add more salt or agave if you like. The whole process should last for about 7-10 minutes.

Store your homemade peanut butter

Finally, transfer your peanut butter in a jar or storage container with a lid at room temperature for 3-4 weeks or refrigerate it for up to 3 months. Enjoy it immediately while still warm and super creamy.
How long does homemade peanut butter last?
Natural peanut butter covered with a lid should last for 3-4 weeks at room temperature or refrigerated for up to 3 months. If you keep it in the fridge and want to soften it, remove it from it for an hour before using it. You will know that it is not good to eat anymore if it smells rancid and spoiled.
Is it cheaper to make your own peanut butter?
Absolutely! It's not just cheaper but way healthier and tastier. Not to mention that it is sugar-free and made without any hydrogenated oils.
How long should I roast my peanuts for peanut butter?
Roasting peanuts for peanut butter is so easy.
Preheat the oven to 180 degrees Celsius / 350 degrees Fahrenheit.
Place raw peanuts on a lined baking tray.
Roast them for 10-15 minutes until the nuts are lightly brown and release that amazing peanut smell.
Toss them 2-3 times with a wooden spoon while roasting.
Check them frequently and be careful not to let them burn.
Allow them to cool before you use them in the recipe.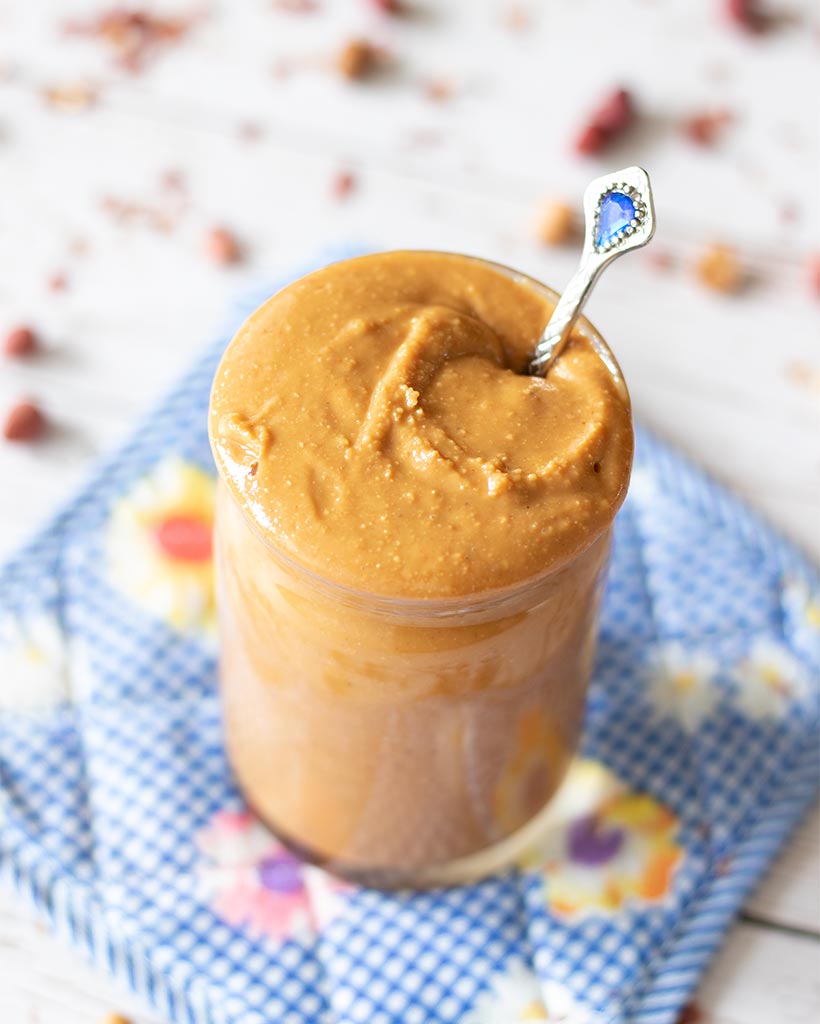 📖 Recipe
More easy breakfast recipes
Love this golden DIY spread? Pin it for later!
Made this peanut butter recipe? If yes, please rate it, leave a comment below, and share your photo on Instagram with the tag @go_eatgreen and hashtag it #go_eatgreen. I would love to hear about your experience and your comments just make my day!
Love, Marinela💚