Jump to Recipe
The best vegan blueberry muffins recipe! These vegan muffins with spelt flour loaded with blueberries are fluffy, sweet, and perfectly moist. You'll love these delightful blueberry muffins with sweet vanilla flavor, no one will guess there are no eggs or milk involved.
These 1 bowl banana-blueberry muffins are so easy to make! I had a few packs of frozen wild blueberries at home and decided to create something sweet and delicious, so I make these simple blueberry muffins. They are egg-free, dairy-free and so easy to make! The best homemade blueberry muffins made with spelt flour.
Because these easy vegan muffins are made with some common ingredients you probably have at home all you need is fresh or frozen blueberries and spelt flour to make this extremely delicious vegan breakfast or snack.
Time needed: 45 minutes.
How to make vegan blueberry muffins from scratch?

Make this easy recipe for blueberry muffins in a few simple steps:
Prepare the ingredients and the oven

First, start by preheating the oven to 180 C. Next, line a muffin pan with paper liners. If you don't have a muffin liner just spray the pan with cooking spray and set it aside.

Mix dry ingredients

In a medium-sized bowl mix spelt flour, sugar, baking powder, and soda.



Mix wet ingredients

In a large bowl first, mash 2 big ripe bananas, then add 2 flex eggs, sunflower oil, vanilla extract, gradually pouring the oat milk.



Combine all ingredients

Next, gradually add dry ingredients into to bowl with wet ingredients, stirring constantly. Mix until all is well combined. Don't overmix because overmixing prevents the muffins to be soft and tender. Once the batter is made, gently fold in the blueberries. Fill each cup with the mixture. I used 12 cup muffin tin and filled them to the full.



Bake the muffins

Bake the muffins for 30-35 minutes or until golden or insert a wooden toothpick into the center of your muffins. The toothpick should come out clean.

Serve and enjoy

Remove the muffins from the oven and let them cool for at least 15 minutes. Serve these simple vegan muffins immediately! It's hard to resist, they smell and taste so good! I doubt you'll have any leftovers but in case you have some, make sure they are completely cooled and simply store the leftover muffins in an airtight container at room temperature for up to 3 days. They do fine loosely covered for 2 days as well. Keep them in the refrigerator for up to a week.


Simple ingredients for this recipe:
Every bite of these super fluffy and moist vegan muffins bursting with blueberries is a real pleasure! They are an ideal dessert or snack
Spelt flour - this flour has slightly more protein and fewer calories than regular all-purpose flour. Also, it's rich in dietary fiber and healthy nutrients like vitamin B2, copper, manganese, phosphorus, zinc, and niacin. Spelt is a healthy whole grain that is more water-soluble than wheat which makes it easier for your body to digest.
Frozen or fresh blueberries - for the purpose of this recipe I used frozen wild blueberries but you can use whichever you have at hand. Wild blueberries are 33% more brain-healthy anthocyanins than normal blueberries. Additionally, they have a higher concentration of antioxidants, therefore, possess more anti-cancer and anti-inflammatory properties. But regular blueberries are a great alternative too if that is all that is available!
Oat milk or any plant-based, non-dairy milk - for making this recipe and getting the best texture of the muffins I recommend oat milk (it's so easy to make it at home in just 5 minutes!) but you can use any plant-based, dairy-free milk you have at home.

Ripe bananas

- 2 big ripe bananas (mashed)

Homemade flax eggs

- 2 homemade flax eggs. These vegan eggs are super cheap and easy to make at home. All you need is 2 basic ingredients: a flax meal and water. These eggs are an easy and simple egg replacement that works as a good binder in this muffin recipe.
Granulated (regular white sugar) - for a healthier sugar substitute I recommend coconut sugar.

Vegetable oil

- I used sunflower oil. However, if you want to eliminate the oil, the best alternative is to add the same amount of applesauce.
Pure vanilla extract
Baking powder

Baking soda
Can vegans eat blueberry muffins?
Absolutely! This easy recipe for fluffy blueberry muffins is vegan-friendly because it's eggless (uses flax eggs as an egg replacer) and dairy-free. So you can enjoy it without any guilt at all!
Can I use regular flour instead of spelt flour?
Since this blueberry muffin recipe is very versatile, yes, you can use regular flour instead of spelt. Although spelt and wheat have a very similar nutritious profile, spelt contains slightly more minerals and less phytic acid. Additionally, the gluten in spelt is more fragile and more water-soluble, which makes it easier to digest.
Can I make this muffins recipe gluten-free?
Of course, for gluten-free muffins, just use buckwheat or millet flour, or any gluten-free flour blend.


Can I make these vegan muffins oil-free?
Sure, for oil-free muffins, replace the oil with unsweetened applesauce.
What is the safest sugar substitute?
Even though this recipe for homemade eggless muffins uses a small amount of sugar (only ½ cup), you can substitute it with coconut sugar, agave syrup, or maple syrup if you want. Besides that, for the purpose of this recipe, be sure to use ripe bananas. It adds additional sweetness to the muffins.
What can I use instead of oat milk?
While I chose oat milk because it's thick and creamy, I think any other plant-based milk like almond milk, cashew milk, or soy milk would be fine as well.
Can I use fresh blueberries?
Yes, certainly. Even if I had naturally natural, wild blueberries and used them in this amazing muffin recipe, feel free to use regular fresh or frozen blueberries. The muffins will taste just as good!
Can I make sweet vegan bread from this recipe?
Absolutely yes! This recipe made from common, everyday ingredients is so versatile. Feel free to pour the batter from this easy recipe into a loaf pan and bake until golden or until an inserted toothpick comes out clean. You'll get the best light and fluffy sweet vegan bread. Perfect light breakfast or snack.
These easy blueberry-banana muffins are: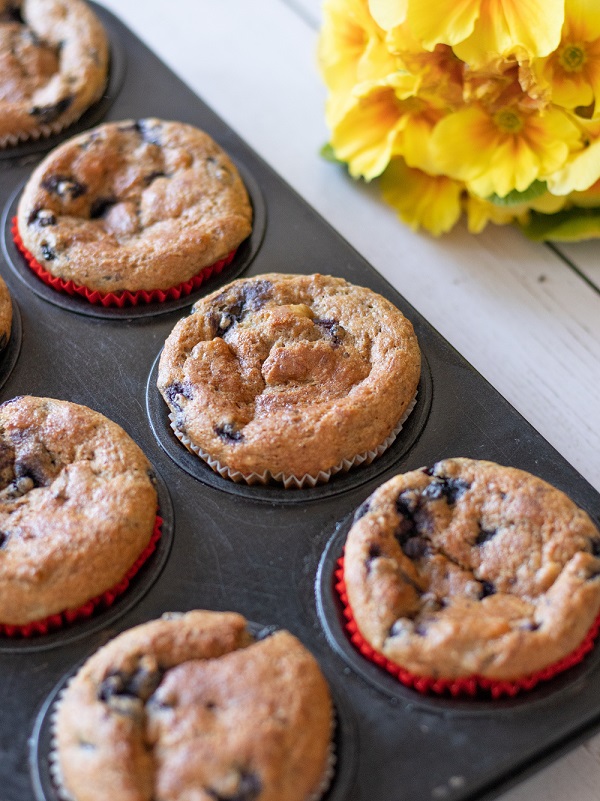 Quick and easy made in 1 bowl
Healthy
Dairy-free and egg-free
Vegan
Budget-friendly made with minimal, everyday ingredients
Perfect breakfast or snack
Timeless
So fluffy!
📖 Recipe
If you love this blueberry muffins recipe, you'll also love:
Love these Fluffy Blueberry Muffins? Pin it for later!
Made these vegan blueberry muffins? If yes, please rate it, leave a comment below, and share your photo on Instagram with the tag @go_eatgreen and hashtag it #go_eatgreen. I would love to hear about your experience and your comments just make my day!
Love, Marinela💚