Jump to Recipe
Learn how to make oat milk in just 5 minutes! This oat milk recipe is super quick and easy to make at home. And it always comes out perfect and creamy!
What is oat milk?
Oat milk is simply rolled oats blended with water and some natural sweeteners of your choice. My favorites are dates and pure vanilla extract just to give the milk a more intense flavor. Then you should strain your milk and voila! You made your delicious and creamy milk!
Time needed: 5 minutes.
How to make oat milk?

Quick and easy, naturally sweet, homemade milk in 5 minutes.

Blend

First, add the oats in fresh, cold water together with the dates, vanilla extract, and a pinch of salt. If you have a powerful speed blender, blend for about 30 seconds or until the mixture looks creamy. Be sure not to over-blend so your milk heats and becomes slimy and gummy.


Strain

Next, put a fine mesh strainer over a big jar or a bowl and pour the mixture through it. Don't press the pulp to get more liquid because that will make the milk slimy. If you use a nut milk bag, don't squeeze it to avoid producing more slime. However, for making oat milk, I think it is better to use a strainer or sieve.


Strain again (optional)

If you want to get that super smooth and creamy oat milk, wash the strainer and then pour the strained milk through it again. This step is optional, but it improves the texture a lot and yields extra smooth oat milk.


Chill and enjoy

You can use the milk right away or transfer it to a sealed container, chill it in the fridge and enjoy it later. Add it to your coffee, cocoa, smoothies, granola, or use it in your favorite baking recipes.

Healthy ingredients for making this milk: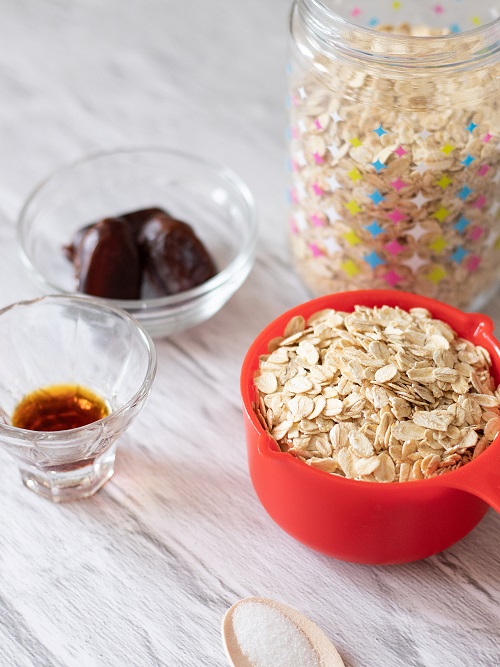 Rolled oats (gluten-free rolled oats)
Fresh cold water (use less or more depending on the thickness you want to achieve)
Dates for sweetness (or use agave or maple syrup)
Pure vanilla extract
A pinch of salt (to enhance the flavor of the milk)
Is oat milk lactose-free
Yes, homemade oat milk is a plant-based, non-dairy, lactose-free alternative to cow's milk. It's easy to make, vegan-friendly, dairy-free milk. It's a safe option you are lactose intolerant or have dietary restrictions and allergies to milk and lactose.


How to make oat milk not slimy
These are my tips for getting the best homemade oat milk that isn't slimy:
- Use only ice-cold water (because heat will make the oats more starchy and sticky)
- Don't over blend the mixture (if you blend the ingredients for too long, they will heat up and become slimmer too)
- Don't press hard when straining the milk or don't over squeeze if you use a nut milk bag or cheesecloth. Just be gentle, you don't want to squeeze out more starchy residues.
- Don't soak rolled oats beforehand. Soaking the oats ahead of time produces a more slimy effect.


Which oats to make oat milk
Rolled oats are the best option to make delicious and creamy homemade oat milk. Be sure to always choose rolled oats that are certified gluten-free.



Why does my milk separate
It's normal if your homemade milk separates when stored in the fridge. Just shake well before using it or pour it without shaking, leaving the pulp at the bottom. Try it and find what works best for you.


How to use oat milk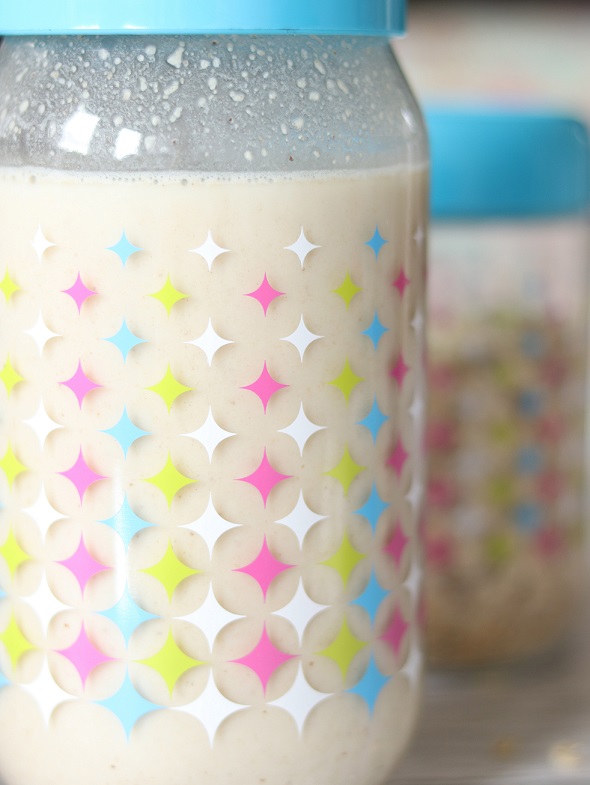 There are so many ways you can use your dairy-free milk. This quick oat milk recipe is perfect when you are in a hurry for healthy, plant-based milk. If you omit the dates and vanilla, you can use it in any vegan savory recipes or as a thickening option for stews and soups. The sweet version is amazing when used in your smoothie, protein shakes, coffee, tea, or cocoa. It would be great if you pour it over your breakfast cereals, overnight oats, and granola. Alternatively, use it in any baking recipe that requires regular milk like pancakes, muffins, banana bread, or any cake recipe.
How long does it last
You can keep this easy DIY milk for up to 4-5 days in a sealed container, in the refrigerator.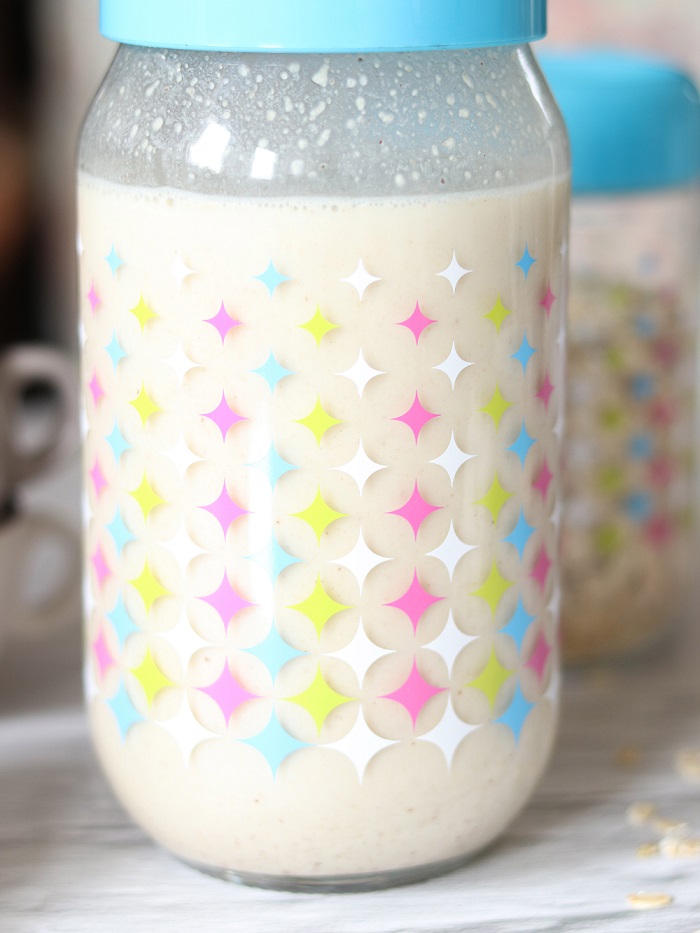 📖 Recipe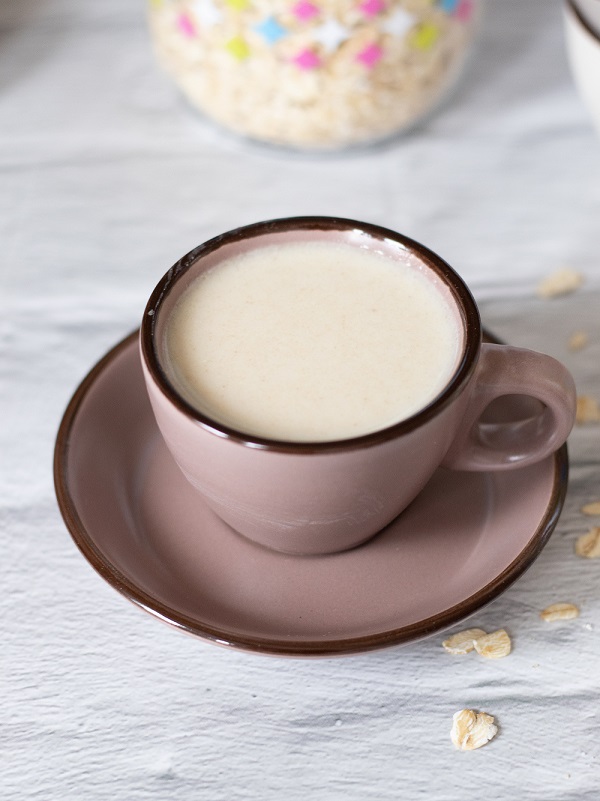 Try these dairy-free milk recipes
It's fun to make your homemade dairy-free milk recipes. Despite oat milk, I love to make my own almond milk or cashew milk. To point out, they are a cheaper and healthier version of store-bought plant-based milk. Additionally, they don't contain added sugar or chemicals. They are made of natural and healthy ingredients and are so much affordable!
Now, when you know how to make oat milk, did you try this recipe? If yes, please rate it, leave a comment below, and share your photo on Instagram with the tag @go_eatgreen and hashtag it #go_eatgreen. I would love to hear about your experience and your comments just make my day!
Love, Marinela💚