Jump to Recipe
Here is the best recipe for apple cookies-quick and easy to make in 1 bowl and 6 ingredients. No dairy, no sugar, no oil, no flour vegan fall dessert (only 86 calories).
Craving something sweet and tasty but also low in calories and sugar? Looking for some sugar-free and wholesome oatmeal cookies recipes requiring minimal ingredients?
Look no further! Infuse your home today with a warm apple and cinnamon fragrance by baking these simple homemade oatmeal cookies!
These hearty breakfast cookies with banana, apple, and pumpkin seeds are excellent as an on-the-go morning meal with a glass of almond milk or cashew milk, a cozy cup of tea, or coffee. I greatly enjoy them with a big cup of hot turmeric latte (ready in just 5 minutes) on these cold fall mornings.
Also, these soft and chewy apple cookies make an yummy brunch, guilt-free treat, or a delightful grab-and-go snack.
Hmm, maybe a plant-based diet isn't so hard... So, skip all junk sugary foods and bake these beauties instead! They are ready in 30 minutes or less. And taste like an apple pie, really!
Speaking of vegan fall dessert recipes, have you tried my popular apple cake yet? It's my family's favorite. This super moist and fluffy cake is made without sugar, eggs, or butter. You should save it for your clean eating, light dessert list.
Healthy Cinnamon Apple Oatmeal Cookies
Today I'll show you how to satisfy your sweet tooth in a healthy (and delicious) way without compromising your wholesome diet, healthy lifestyle, or weight-loss goals.
These fast apple oatmeal cookies are highly nutritious and so filling. They are packed with good-for-you ingredients your body needs daily. In fact, these apple cookies are loaded with plant fiber and protein, essential vitamins and minerals, and are rich in powerful antioxidants. Reap the benefits of all these vital nutrients packed in the form of flavorful, no guilt cinnamon apple cookies.
Recipe for Apple Oatmeal Cookies (The Ingredients)
All you need to make these naturally sweetened autumn cookies without frosting or icing is a few pantry staples I'm sure you already have in your kitchen. They are gluten-free, dairy-free, egg-free & oil-free. All unprocessed, organic natural God-given food that feeds not just your body, but your mind and soul. Here is what you'll need:
Fresh apple

(I used Red Delicious, but any kind of sweet juicy apple shoud work)

Bananas

(for a natural sweetness)

Whole rolled oat

s (for that nutty texture)

Flax egg

(ground flax seed and water, to make them eggless)

Raw pumpkin seeds

(for a slight crunch)
Ground cinnamon (for a warming and comforting aromatic note)
As always, you can find the full recipe with a list of ingredients with measurements in a printable recipe card at the end of this post.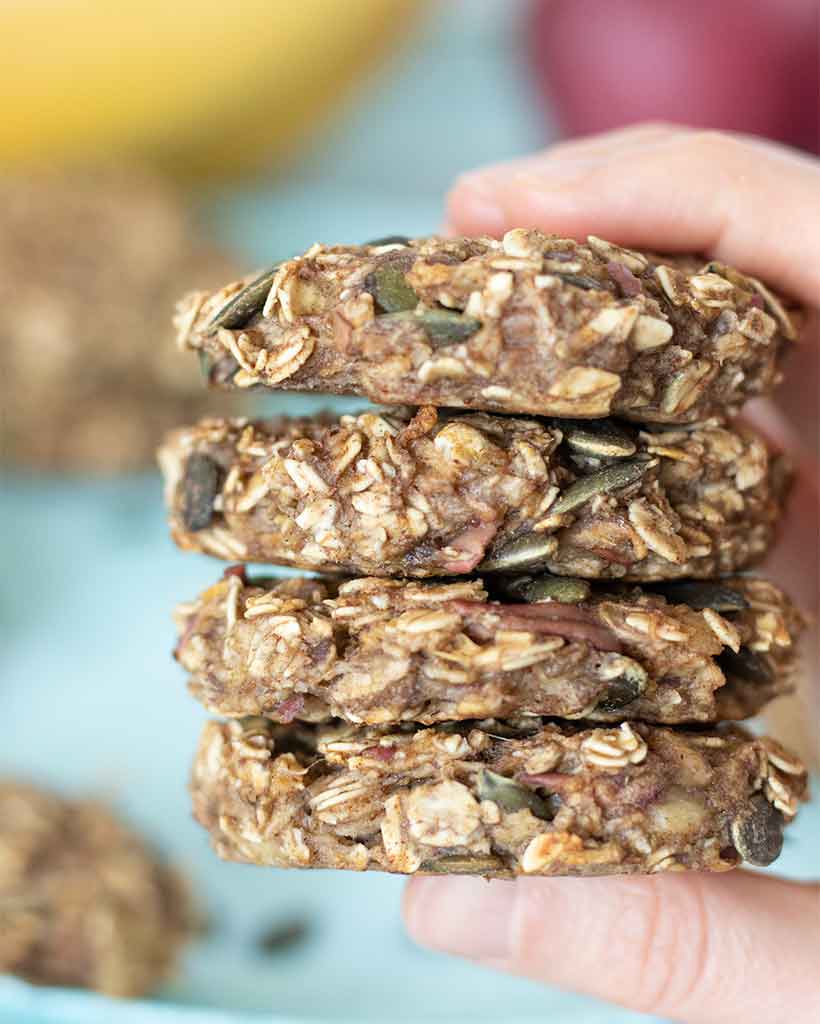 Time needed: 30 minutes.
How to make apple cookies from scratch?
Here is a step-by-step guide on how to bake the best oatmeal cookies (no chill time required). These cookies are so simple, even total beginners can make them. Whip them up ahead of time and have them on hand as a lunchbox snack for work or school.

Prepare flax egg and mash bananas

First, prepare your flax egg (mix 1 tablespoon flax meal with 3 tablespoon water).
In the meantime, preheat the oven to 356°F / 180°C. Line a large baking sheet with parchment paper.
In a bowl, mash the bananas. Add the flax egg and cinnamon. Mix it well.



Add other ingredients

Next, add grated apple, rolled oats, and pumpkin seeds. Mix again until everything is combined.



Bake

Use a ¼ measuring cup to scoop the batter and drop it onto a prepared baking sheet. Use your fingers to flatten it slightly. Bake for 20 minutes. Transfer your cookies on a wire rack and let them cool for at least 10 minutes.



Enjoy your apple cinnamon cookies

Now, your soft breakfast cookies are ready to be devoured. Enjoy them with a cup of tea, coffee, or a glass of non-dairy milk. You could spread them with creamy peanut butter (awesome combo!) Keep them for 2-3 days, refrigerated, in a sealed container. Store cooled cookies in a freezer-friendly container in the freezer for up to a month.


What apple is best for cookies?
Since we won't use any added sugar in these quick apple cookies it would be best to use an apple with a sweet flavor like Red Delicious, Gala, Fuji, Golden Delicious, or Honeycrisp apple.
What's the secret to soft cookies?
The simple answer is the amount of moisture. The higher the moisture, the more tender and chewy cookies will be. In addition, baking time is very important, too. Don't overbake them. 20 minutes are enough to bake until they are just set.
Why you'll love these breakfast apple oatmeal cookies? They are:
Plant-based

Flourless

Sugarless

Packed with oats

Soft-baked cookies

Studded with protein-packed pumpkin seeds

Low-fat & Gluten-free

Fiber-packed

Best power cookies for kids
More Easy Sweet Breakfast Ideas to put You in a Good Mood
📖 Recipe
Made this easy recipe for apple cookies? If yes, please rate it, leave a comment below, and share your photo on Instagram with the tag @go_eatgreen and hashtag it #go_eatgreen. I would love to hear about your experience and your comments just make my day!
Follow me on Pinterest for more easy and delicious vegan recipe ideas.
Love, Marinela💚