Jump to Recipe
You are going to love this 5 minute Golden Milk Recipe. It's ultra creamy and warming. So soft and luscious!
Craving something soothing and relaxing before going to bed? Maybe some creamy wake me up drink besides coffee? Find comfort in this easy, vegan, dairy-free, and naturally sweetened Golden Milk Recipe. This turmeric milk latte is the perfect warm and creamy drink you need today. It'll boost your mood and nourish your body.
Moreover, this bright yellow drink is done in just 5 minutes. Start your day with this healthy weight-loss drink that will easily boost your metabolism. This creamy turmeric latte will certainly brighten up your busy day. It also makes a pleasant relaxing afternoon or evening coupled with a good book.
What is Golden Milk?
Golden Milk or Turmeric Milk Latte is a simple mix of dairy-free hot milk and ground turmeric. This healthy beverage is a traditional Indian drink known as haldi doodh. It's been part of Indian culture for centuries. Additionally, it's popular for its healing, anti-inflammatory, and antioxidant properties. This is largely thanks to curcumin found in turmeric powder which is the main ingredient in this delicious recipe.
Common terms for this soothing bedtime drink
Haldi Doodh

- This is the original name for golden milk since it originates from India.
Turmeric Milk - Due to the main ingredient in this recipe, turmeric powder, this also is a popular term for its name.

Golden Milk Latte

- This wellness creamy drink is made with warm plant-based milk mixed with turmeric powder. That is why some people refer to it as golden milk latte, golden latte, golden turmeric latte, or turmeric latte.
Golden Turmeric Milk Ingredients
Plant-based, Dairy-free Milk (I used homemade Cashew Milk)

Ground Turmeric Powder

Maple Syrup (You can use any sweetener of choice, for example, agave syrup, coconut sugar, or stevia)

Fresh Ginger (use ground ginger if you desire)

Cinnamon Sticks (or ground cinnamon)

Ground Nutmeg

Black Pepper
Time needed: 5 minutes.
How do you make a Golden Milk from scratch?

I think you'll agree that there is nothing better than a warm and healing drink in a form of Golden Milk. It's especially beneficial and healing in cold and flu season.

Combine all ingredients

I used homemade cashew milk for preparing this creamy vegan Golden Milk recipe. However, you can use any plant-based milk like coconut milk or almond milk. Firstly, combine all ingredients in a medium-sized saucepan. Heat over medium for 4-5 minutes, stirring frequently so that all spices combine well. I don't recommend you boil the milk. Rather just bring it to a gentle simmer and serve immediately or store it for later. Extended high heat destroys some of the beneficial characteristics of turmeric. However, a small exposure to heat actually helps increase its absorption and solubility.



Serve your golden milk and enjoy

Serve immediately, dividing it between two cups. Leave the cinnamon sticks and the piece of ginger behind. You can drink it any time of the day but I find it to be especially comforting and relaxing before bed. Enjoy it warm or cold. It's a perfect morning pick-me-up or cozy afternoon drink.


What milk should I use?

Traditional recipe for Turmeric Golden Milk is made with cow's milk. But we will use cashew milk to make this homemade healthy drink. Feel free to experiment and use your favorite dairy-free milk. If you don't have any, here are some quick and easy recipes for homemade almond milk, cashew milk, and oat milk as well. Boiled oat milk gets thick very quickly. If you choose it for making this recipe, you'll get a golden milk-pudding version. So fun and yummy!
Can golden milk help you sleep?
A cup of warm turmeric milk at night can be highly beneficial for your sleep and rest. This anti-inflammatory and immunity-boosting milk may help you relax and improve your mood and sleep. That is why it is best when drunk before bedtime. In fact, turmeric can even help you alleviate the symptoms of depression and anxiety.
Can golden milk be stored?
You can make your golden milk in advance. Simply store it in a mason jar or airtight glass bottle in your refrigerator for up to 2 days. You can simply reheat it before drinking. In that case, you can make a double or triple batch in advance so you can enjoy it several nights in a row.
Benefits of Golden Milk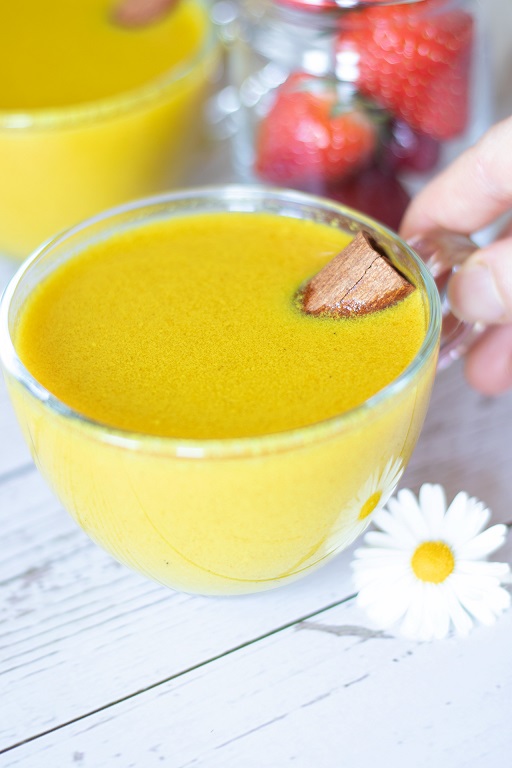 Golden milk is a delicious and easy to prepare drink that will provide you with an array of health benefits. Here are some of them:
The key ingredient in golden milk is turmeric. This golden yellow spice contains curcumin. Curcumin is a compound that is used in Ayurvedic medicine due to its powerful antioxidant properties. This golden milk recipe also contains ginger and cinnamon. They are two other natural antioxidants. For this reason, this vegan turmeric milk that is rich in antioxidants helps you protect your cells from damage, disease, and infections.
May help reduce inflammation and joint pain. To repeat, the active ingredients in this golden latte like turmeric, ginger, and cinnamon, are strong anti-inflammatory ingredients. They have no side effects, unlike many pharmaceutical drug substitutes.
Curcumin may reduce symptoms of depression and anxiety. At the same time, it improves your overall mood and body health.
May reduce your risk of cancer. All spices used in this golden turmeric milk may offer great benefits in this regard. They can protect your body from cancer and many other diseases.
This easy golden drink has strong antibacterial, antifungal, and antiviral properties. The healthy ingredients used to prepare it may protect your body from infections and strengthen your immune system. That is thanks to their antioxidant and anti-inflammatory qualities.
This simple vegan beverage may improve your digestion. Turmeric can greatly contribute to healthy digestion. Ginger may also help you relieve delayed stomach emptying. They can help you reduce indigestion symptoms.
May improve memory and brain function. This delicious sugar-free drink is good for your brain too. It can help you preserve your memory and reduce the decline in your brain function.
Is Turmeric latte caffeine-free?
Absolutely! Although it is called latte, this vegan-friendly drink is coffee or caffeine-free. So, feel free to enjoy it any time of the day.
Why is there black pepper in Golden Milk?
Turmeric, coupled with freshly ground black pepper substantially increases the absorption of curcumin in your body. To point out, a bioactive compound called piperine is found in black pepper. It significantly helps your bloodstream easily absorb all beneficial nutrients from turmeric powder.
I believe you'll LOVE this Creamy Golden Milk Recipe. It's:
Warm and Comforting

Turmeric and ginger-infused

Dairy-free, caffeine-free, sugar-free

Anti-inflammatory and Antioxidant rich

Vegan-friendly, Paleo-friendly

Super Healthy and Healing

Perfectly Creamy and Sweet
Easy Recipe Ideas to Pair with this Creamy Golden Milk
Healthy Spinach Banana Muffins
Delicious Chocolate Carob Cake
Love this golden turmeric milk? Pin it for later!
Made this golden milk recipe? If yes, please rate it, leave a comment below, and share your photo on Instagram with the tag @go_eatgreen and hashtag it #go_eatgreen. I would love to hear about your experience and your comments just make my day!
Follow me on Pinterest for more easy and delicious vegan recipe ideas.
Love, Marinela💚