Jump to Recipe
Learn how to make the best almond milk recipe from scratch in less than 10 minutes! This healthy plant-based milk requires only 2 inexpensive and easy-to-find ingredients.
Once you'll try it I promise you'll have no need to buy some store-bought milk ever! It's vegan, fresh, delicious dairy-free milk you'll love! This is the best almond milk recipe that you'll make over and over again.
Why Should You Make Your Own Almond Milk
Before I go vegan the milk was an important part of my diet, so I needed to find the best non-dairy milk substitute asap. This vegan, dairy-free milk became my favorite, healthy alternative for cow's milk.
Making creamy almond milk at home is super easy and cheaper than the store-bought version of it (most importantly, there are no chemicals, additives, or sugar added). You know exactly what's in it.
Also, it's a nutritious, high calcium drink with a pleasant creamy texture. It's an excellent choice for all who follow a vegan diet and are intolerant or allergic to dairy products.
Time needed: 4 hours and 10 minutes
How to Make Almond Milk at home (step by step)

Soaking the almonds

The first step starts with soaking the raw, ground almonds in fresh and cool water overnight or for at least 4-6 hours. Drain the water completely, rinse thoroughly the almonds, and put it in a blender with fresh cool water. You can peel them, but it's not necessary. For this recipe I peeled them.



Blending the mixture

Blend until the almonds are completely broken down and the liquid is smooth. You can add dates, agave, or maple syrup for sweetness, as well as vanilla extract and a pinch of salt (to enhance the flavor).

Straining the milk

After blending the mixture, the final step is to strain the milk. Pour the milk through a nut milk bag into a deep bowl or jar, squeeze to extract the remaining liquid. If you don't have a milk bag you can use any plastic strainer with fine mesh or cheesecloth, the result is the same.
Finally, pour the almond milk into an airtight storage container and place it in the fridge for up to 3 days.



And that's it! You made your deliciously creamy, lactose-free milk in minutes! You can serve it immediately and enjoy it cold or hot, your choice!
How to store the almond milk
This homemade almond milk will last for up to 3 days in the refrigerator. I recommend you to make a small batch of it because it's best when consumed fresh. It's so easy and simple to make there's no need to make it in large quantities.
What to do with the leftover almond pulp
But wait, don't throw away the almond pulp, I have the best almond pulp recipe cake. It's natural, sweet, gluten-free, the perfect vegan dessert for today!
Also, you can use the almond pulp for all kinds of smoothies, homemade granola, cake, or muffin batter, even to dehydrate it, blend it again, and make an almond meal as well.
How to use and serve almond milk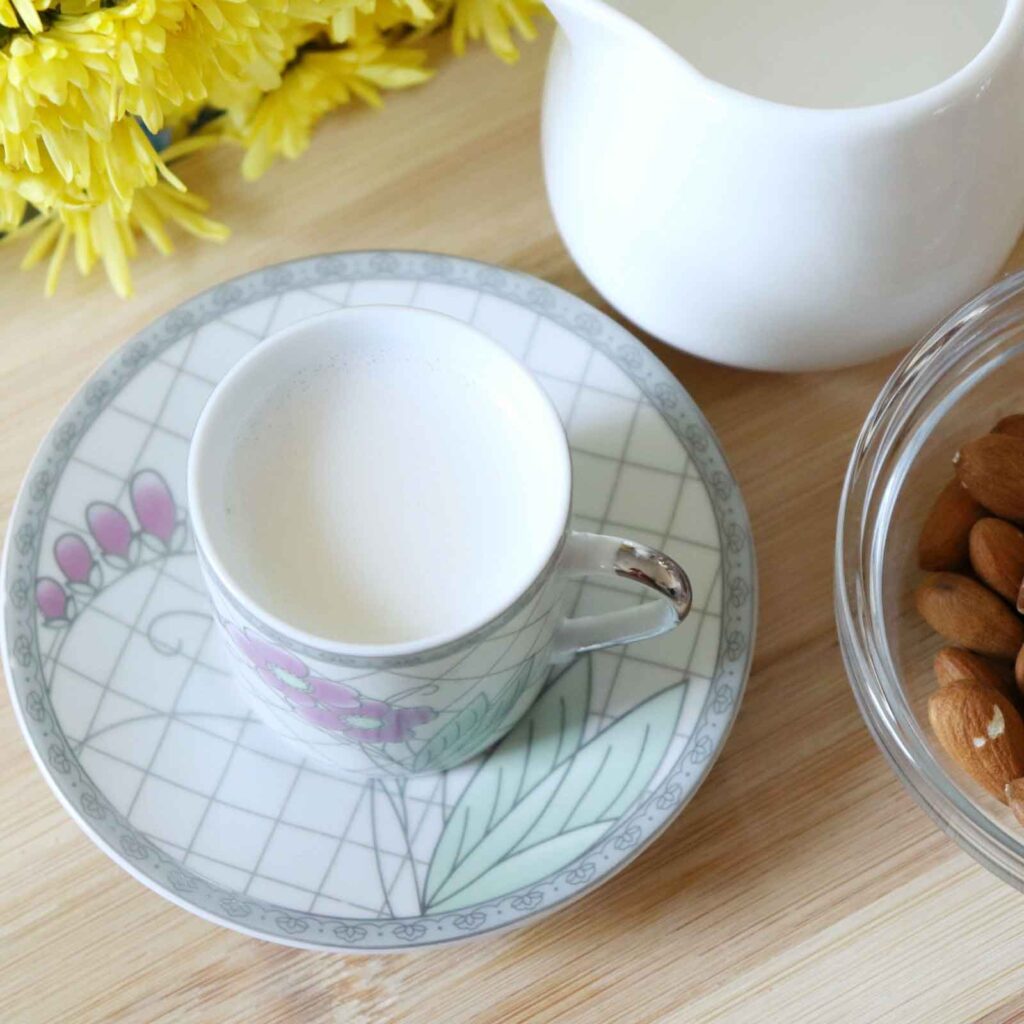 It tastes so good straight from the blender, but it tastes even better when it chills in the fridge.
You can splash it over your cereal, add it to your coffee or tea, make dairy-free rice pudding or ice-cream, put it in your smoothies for a creamier texture, use it in dressings, soups, sauces, as a milk replacement in any baked foods, doughs, cakes any recipes you make.
Almond milk is also a good substitute for cow's milk when cooking vegan pancakes, vegan brownies, or your freshly baked homemade bread or pie.
You can consume it plainly, chocolate or vanilla, which one you prefer? You can totally adapt it to your preference, just by simply using less or more water.
How to make almond milk taste better?
If you want to make your vegan almond milk even tastier you can add a spoonful of maple syrup, agave syrup, or a few dates. This is to add sweetness. Also, you can add a teaspoon of pure vanilla extract to make it more flavorful and aromatic. A pinch of salt will enhance the taste, too.
Is almond milk healthier than regular milk?
What a wonderful vegan beverage that's an affordable alternative for regular milk! It's vegan-friendly, light, cholesterol-free, and the best choice for those who are lactose intolerant or don't want to consume milk at all.
You can enjoy it cold or hot!
This refreshing homemade milk provides you with important health benefits:
Good Source of Magnesium

Perfect for people who are Lactose Intolerant

Low in Calories and Carbs

High in Antioxidants

Rich in Vitamin E (may slow the progression of cognitive diseases)
More Homemade Dairy-Free Milk Recipes
Learn how to make vegan cashew milk or oat milk (not slimy) at home. It's super easy, not complicated at all!
📖 Recipe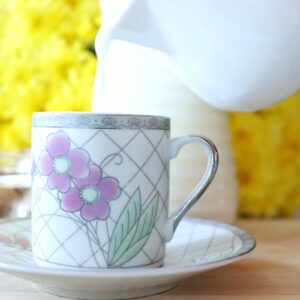 How to Make Almond Milk
Delicious, creamy, homemade almond milk that's so simple, easy-to-make and entirely versatile! Not only it's the best vegan substitute for cow's milk, but also it's healthier and cheaper!
Ingredients
1

cup

raw almonds

the best almonds are organic, raw almonds

4

cups

cold fresh water (or filtered water) plus extra for soaking

use more or less water depending on how thick creamy

1

tablespoon

agave syrup, or more to taste

optional / you can use 1-2 soft dates (pitted) instead of the agave nectar or you can omit it completely if you prefer it plain

1

teaspoon

pure vanilla extract

optional

1

pinch

fine sea salt

optional
Instructions
Soak the almonds overnight or for 4-6 hours. Place the almonds in a bowl and cover it with cold water. The longer the almonds soak, the creamier the milk will be.

Drain and rinse the almonds. Drain the soaked almonds (discard the soaking water) and rinse thoroughly under cool running water. You can either peel them or not.

Combine the almonds, fresh water and agave syrup in a blender or food processor. Blend the mixture plus any additional add-ins (optional) until the milk is smooth and creamy.

Strain the almond milk through a nut-milk bag, cheese cloth or any fine-mesh plastic strainer. Squeeze well to extract the extra liquid. Save the remaining almond pulp to use it in other delicious recipe.

Store the almond milk in a jar, bottle or any airtight container in the fridge for up to 3 days. Shake it well before drinking.
Nutrition
Made the almond milk recipe? Please comment below and share your photo on Instagram with the tag @go_eatgreen and hashtag it #go_eatgreen
Love, Marinela💚