Jump to Recipe
These Carrot Pineapple Muffins are easy to make, gluten-free, and healthy, perfect for morning breakfast or snacks. A simple recipe for a super moist, delightful treat!
So soft and full of flavor, yet filling and delicious! You would never be able to tell that these tasty bites are egg-free and dairy-free. They are particularly good for dessert together with this creamy golden milk latte. In fact, this fruit-veggie combination makes a delicious, pleasantly sweet snack for kids and picky toddlers.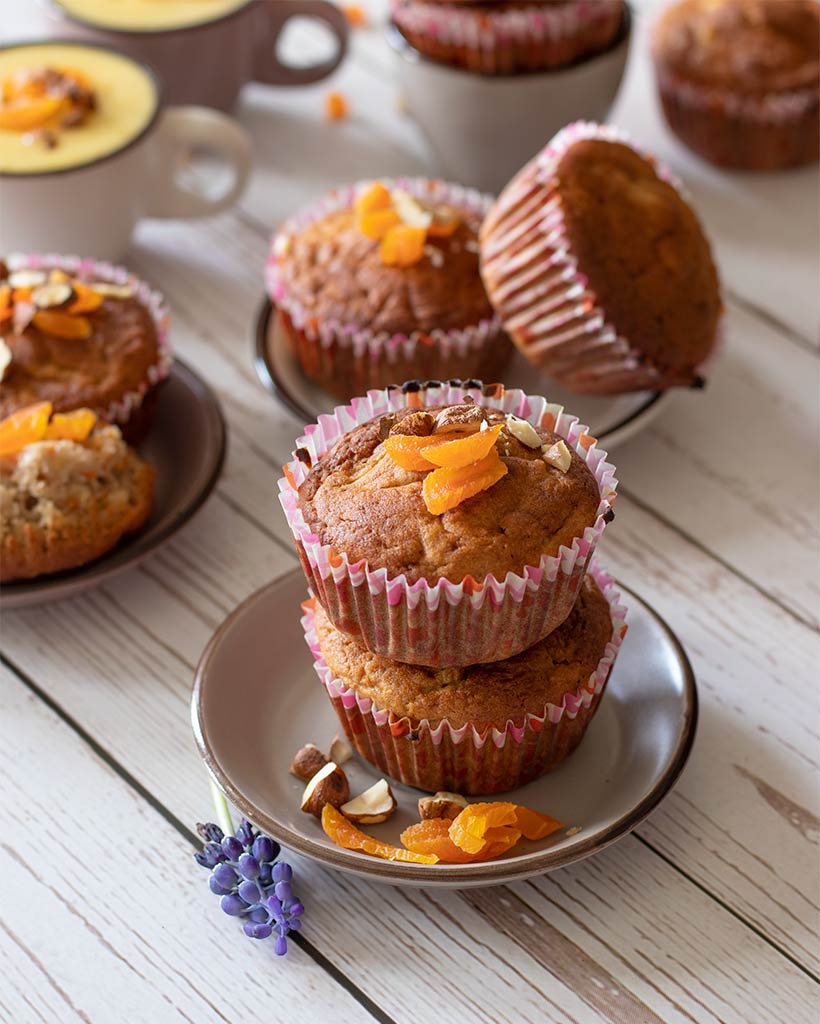 If you like carrot cake, you'll probably love these tender pineapple carrot muffins! Whip them up in no time and serve them with a cup of hot cocoa, tea, or plant-based milk. Freshly baked from the oven, they are a perfect gift for your friends and family. They are especially good to take to any parties, family gatherings, birthdays, or any occasion. I love packing these when we're going on trips instead of having to buy some highly-processed alternatives full of artificial additives.
Time needed: 35 minutes.
How do you make gluten-free carrot pineapple muffins from scratch?

These yummy, low-fat muffins are actually good for you! Loaded with plant-based nutrients and without gluten, they are a uniquely flavored treat that is great as a go-to breakfast, dessert, or snack. Also, they are entirely vegan, made without eggs or dairy, completely free of any animal products.

Prepare the ingredients and the oven

First, start by preheating the oven to 220 C. Next, spray the muffin pan with cooking spray and set it aside. You can line the pan with paper or silicone liners too. After that, rinse and grate 2 medium-sized carrots. You should fill one cup with grated carrots. Next, blend the pineapple chunks.

Mix dry ingredients

In a medium-sized bowl mix buckwheat flour, sugar, baking powder, and baking soda.



Mix wet ingredients

In another bowl add almond milk, olive oil, and blended pineapple.



Combine all ingredients

Next, gradually add dry ingredients into to bowl with the wet ingredients. Mix until all is well combined. Don't overmix because overmixing prevents the muffins to be soft and tender. Once the batter is made, gently stir in the grated carrots. Fill each cup with the mixture. I used 12 cup muffin tin and filled them to the full.



Bake the muffins

Firstly, bake the muffins for 20 minutes at 220 C, then reduce the heat to 180 C and bake for another 10-13 minutes. Bake them until golden. You can insert a wooden toothpick into the center of your muffins to check if they are done. The toothpick should come out clean.


Serve and enjoy

Remove the muffins from the oven and let them cool for at least 10 minutes before removing them from the muffin tin. You can serve these easy-to-make homemade muffins immediately! It's hard to resist these delicate carrot pineapple muffins! I doubt you'll have any leftovers but in case you have some, make sure they are completely cooled and simply store the leftovers loosely covered at room temperature for up to 4 days. Keep them in the refrigerator for up to a week. You can enjoy them with dry fruits, like apricots and nuts of choice (I combined them with some hazelnuts). It's a perfect match!


Simple ingredients for this recipe
This quick recipe for healthy muffins uses common, everyday staples you probably have in your pantry:
Fresh pineapple

Carrots

Buckwheat flour

Almond milk (or any dairy-free milk)

Granulated sugar

Extra virgin olive oil

Baking powder and baking soda
How long do gluten free muffins last?
These extremely moist carrot-pineapple muffins are best when consumed fresh out of the oven. But if you have any leftovers, keep them loosely covered at room temperature for up to 4 days. In order to keep them for a longer period, allow your golden muffins to cool completely, then you can store them in an airtight container with paper towels and put them in your freezer for up to 2 months.
Is buckwheat flour good for baking?
I think buckwheat flour is a must-have ingredient in your gluten-free pantry. It has a light, super soft texture, and unique nutty flavor. As a matter of fact, buckwheat flour is the most nutritious, whole grain gluten-free flour you can use to bake your favorite baking goods like pancakes, cookies, muffins, or cupcakes. It's one of the healthiest gluten-free flours for every purpose. Furthermore, it has more protein, dietary fiber, B vitamins, magnesium, manganese, and other minerals compared to other types of flour.
Can I make these vegan muffins oil-free?
Sure, for oil-free muffins, replace the oil with unsweetened applesauce.

I hope you'll love these mouthwatering pineapple carrot muffins. They are:
Light and fluffy
Healthy
Vegan
Gluten-free
Kid-friendly
Simple
Hearty
Loaded with pineapple and carrots
Perfectly sweet
So satisfying!
📖 Recipe
In search of more delicious recipe ideas?
Love these irresistible tropical muffins? Pin it for later!
Made these fluffy carrot pineapple muffins? If yes, please rate it, leave a comment below, and share your photo on Instagram with the tag @go_eatgreen and hashtag it #go_eatgreen. I would love to hear about your experience and your comments just make my day!
Follow me on Pinterest for more easy and delicious vegan recipe ideas.
Love, Marinela💚