Jump to Recipe
These chocolate vegan no-bake tahini cookies are naturally sweetened with maple syrup and dates. Quick and easy gluten-free dessert recipe.
Who doesn't love chocolate cookies? But wait... Refined sugar-free? Flourless? Without butter or eggs? And you know what's best? You've no need to get near the oven! Seriously.
These decadent cookies without peanut butter (we'll use tahini paste instead) don't have to be baked. They are quick and easy-to-make, ready in a flash. Similar to these yummy grab-and-go chocolate coconut balls.
What is tahini
Tahini or tahina is a Middle-Eastern paste or spread made from ground, toasted sesame seeds. It looks like any nut butter like peanut butter or almond butter. But its taste is not similar at all. It has a nutty and savory flavor and is slightly bitter. You may not like it if you eat it on its own but you'll LOVE it once you pair it with other ingredients. I often pair it with cacao powder and must say that this blend is fantastic alongside other recipe ingredients. It's vegan, gluten-free, and very simple to make at home. It's the main ingredient used in hummus, sauces, dressings, or many baked goods.
Click here to learn how to make your own creamy tahini ready in less than 15 minutes.
Is tahini healthy
Tahini is a nutritious, good-for-you ingredient. I highly recommend you add to your everyday diet. Because it's made from sesame seeds it abounds with anti-inflammatory monounsaturated fats, vitamins, and minerals. In addition, it contains powerful antioxidants, called lignans which prevent your cells from free radical damage and help reduce disease risk.
Vegan No-Bake Chocolate Cookies with Tahini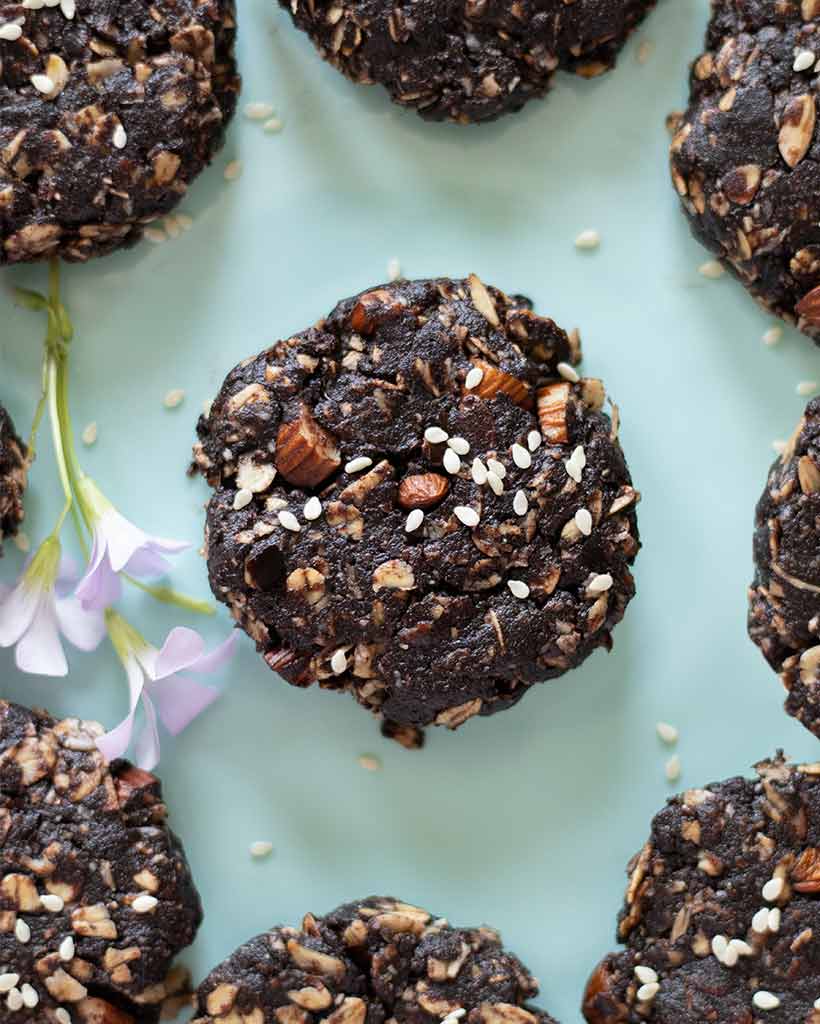 These tahini-date cookies are a real treat for any occasion. I'm sure everyone will love it. Our favorite ways to complete any summer meal. You can enjoy these healthy cookies for breakfast with your coffee or non-dairy milk. It's great to have them on hand as a healthy snack after an intense workout, too.
What do vegan no-bake tahini cookies taste like
Who said that you should deny yourself any dessert if you want to be lean and healthy?
Truly, these vegan cookies without refined sugar or processed ingredients hit the spot!
Not to mention that there are no weird or animal products here. These all-natural, raw cookies with a satisfying chocolate texture are simply irresistible. Tahini will give you that soft and creamy richness while oats and almonds add that unique crunchy texture.
Yes, these guilt-free treats you can make at home will surely satisfy your sweet tooth and chocolate cravings. Trust me, they will change your life, for the better, of course!
Vegan No Bake Cookies Without Peanut Butter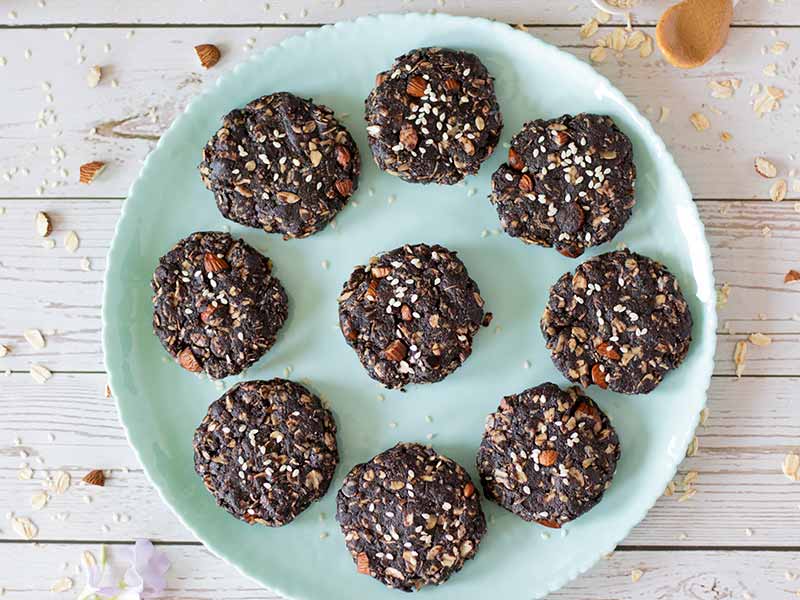 Although I love peanut butter (plain or in any kind of recipe), I made these incredibly tasty peanut-free cookies. Tahini is a wonderful substitute for peanut butter, so it's the perfect replacement to add. Well, if have a peanut allergy or know someone who is allergic to peanuts, this recipe is just for you. Not only that, but it's suitable for people with lactose intolerances, too. Surprise someone you love with these homemade luscious treats.
What are the ingredients for no-bake cookies?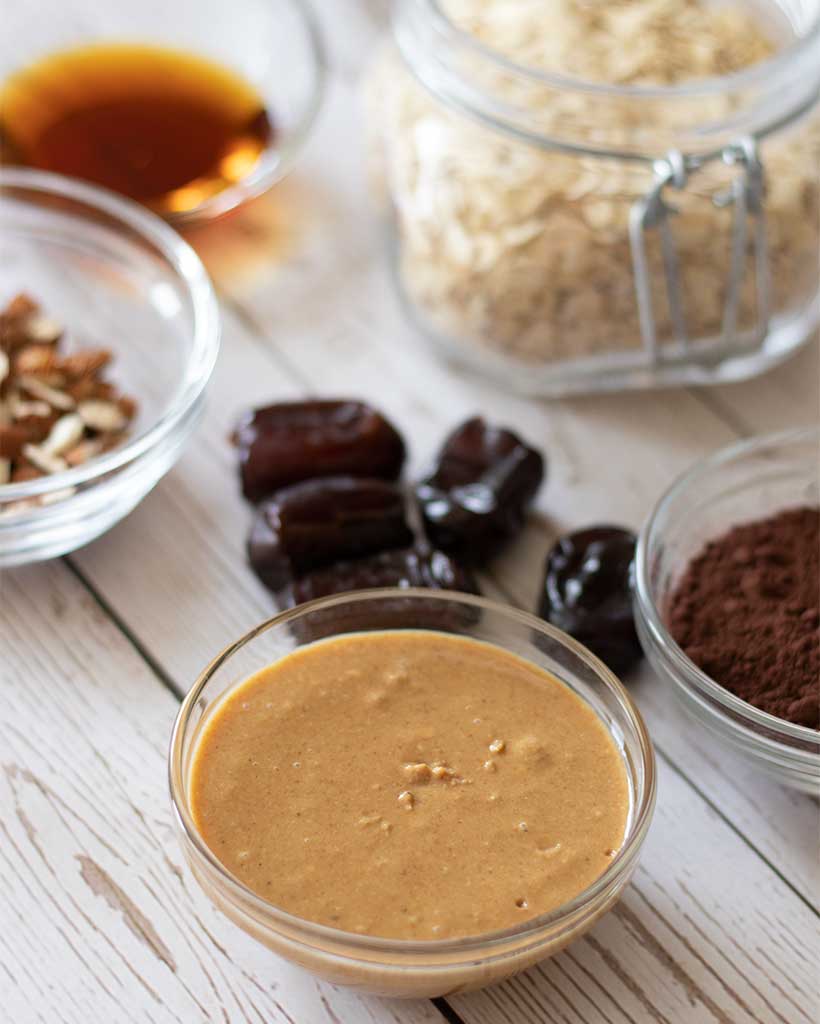 You need a few wholesome ingredients to make these low calorie cookies:
Homemade tahini or store-bought

Rolled oats (gluten-free or regular)

Dates

Raw cacao powder

Raw almonds

Maple syrup

Vanilla extract

Coconut oil
As always, you can find the full recipe with a list of ingredients with measurements in a printable recipe card at the end of this post.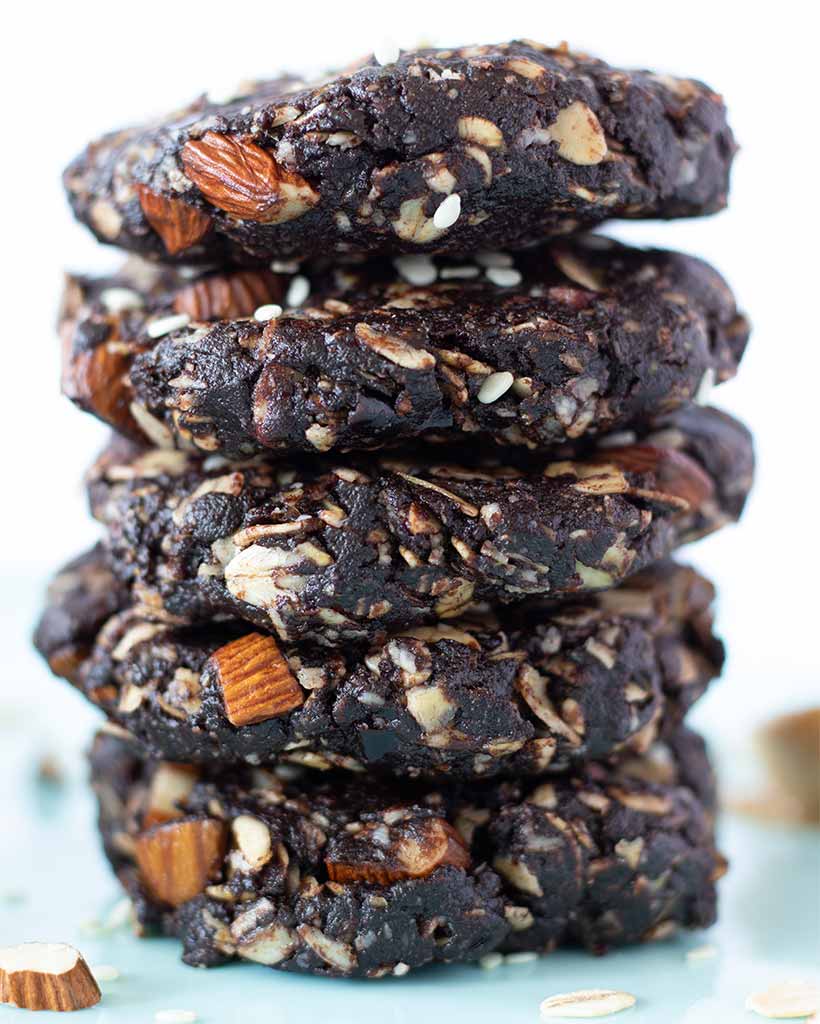 Time needed: 15 minutes.
How to make vegan chocolate tahini cookies?

These 1 bowl vegan cookies without eggs or sugar are ready in no time. They are rich, chocolatey and so indulgent! Here is a step-by-step process of how to whip them up in 15 minutes or less!

Soak the dates

To start, if the dates are not soft enough to be mashed, soak them in a bowl with boiling water for 5 minutes. After that, drain them well.

Chop up almonds

Next, coarsely chop up the raw almonds.

Mix all ingredients

Combine everything together: mashed dates, tahini, maple syrup, vanilla extract, coconut oil, rolled oats, and chopped almonds. Mix well with a spoon or clean hands. The mixture will be thick, just make sure everything is mixed well together.

Form the cookies

Using a ¼ cup or an ice cream scoop, roll the dough with your hands and flatten it into cookie rounds. Top with sesame seeds.

Freeze the cookies

Place your freshly made cookies onto a tray or flat plate lined with baking paper. Freeze for at least 30 minutes. Keep refrigerated as close as possible before serving.
Keep it in a sealed container in the fridge for up to a week or freeze it for up to 2 months.
Enjoy!
Healthy sweet snack for weight loss
Stop counting calories, forget the guilt and enjoy every single bite! These weight-loss-friendly cookies are pure indulgence! They are addictively flavorful, you can have just one! The good news is they are made entirely of whole foods and contain no sugar at all.
Storage
Serve those light cookies and watch them disappear in minutes. I doubt you'll have any leftovers but if you have, by any chance, keep them in the freezer stored in a sealed container for up to 2 months.
Hope You'll love this recipe for tahini cookies. It's:
Enjoyable for vegans and non vegans alike
Plant-based

Kid-friendly

Dairy and lactose free
Crowd pleasing dessert
Freezer-friendly
Weight-loss friendly
Easy to make ahead and save you some time
A family favorite!
Must try no bake vegan-friendly dessert ideas
Made these no-bake cookies with tahini? If yes, please rate it, leave a comment below, and share your photo on Instagram with the tag @go_eatgreen and hashtag it #go_eatgreen. I would love to hear about your experience and your comments just make my day!
Follow me on Pinterest for more easy and delicious vegan recipe ideas.
Love, Marinela💚