Jump to Recipe
This quick and easy dessert is seriously the BEST dessert EVER! Super easy to make and such a show-stopping dessert for any occasion! You'll only need 4 ingredients to make these delicious homemade chocolate hearts!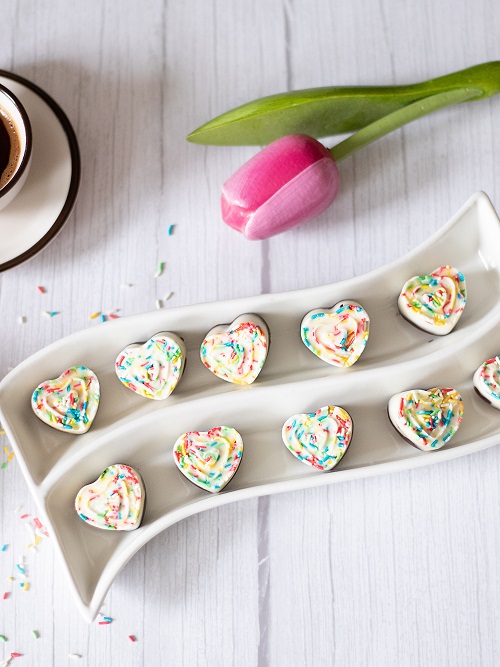 These ultra-rich and decadent chocolate hearts are made with vegan dark and white chocolate, coconut oil, hazelnuts, and rainbow sprinkles. They taste amazing and are so adorable and cheerful.
Quick and easy dessert to make at home
Homemade chocolate hearts are a quick and easy homemade chocolate heart candy recipe for one or for a big crowd (just double or triple the recipe). They are cute and easy to make for your kid's birthday or bridal and baby showers. Make them as a lovely gift for your mother for Mother's Day. At the same time, these beautiful candy hearts with rainbow sprinkles and two kinds of chocolate are a perfect gift for someone special. So adorable! Also, these sweet, no-bake chocolate hearts are a perfect treat for just any occasion.
Time needed: 40 minutes.
How to make this quick and easy dessert?

Melt the chocolate

First, make a double boiler. Fill a small pot with about ½ of water and heat over low-medium heat. The water should steam but not boil. Then, put a bowl with the chocolate and coconut oil on top of the pot. So the bowl will rest inside the pot but its bottom should not touch the bottom of the pot. Gently stir all the way until the chocolate is smooth and melted. Melt two types of chocolate in different bowls so they do not mix thus preserving their pure color.





Pour the chocolate into a silicone mold

Generously fill the bottom of each heart of the silicone mold with some rainbow sprinkles. Pour first white chocolate, put one hazelnut in the center of each heart, then pour melted dark chocolate. I use a small spoon to fill the heart molds. These molds are flimsy, so it would be a good idea to put them on a pan or tray that fits your freezer. To achieve the perfect chocolate consistency, feel free to add or subtract coconut oil. If the chocolate is too thick and not quite shiny add more coconut oil. In that way, it will be easier to pour it into the candy silicone mold.





Freeze chocolate hearts

Put the silicone mold with melted chocolate to set in a freezer for at least 30 minutes. Or wait until hardened. That will depend on the temperature of your freezer.





Enjoy your homemade chocolate hearts

Once hardened, remove the chocolate hearts from the mold and enjoy them with a cup of coffee with your loved ones.


Ingredients for homemade chocolate hearts
You'll only need a few ingredients to make this no-bake, homemade quick and dessert - delicious chocolate hearts:
High-quality vegan chocolate (dark and white)
Roasted hazelnuts
Unflavored coconut oil
Rainbow sprinkles
How do you melt dark chocolate at home?

Chop or break the chocolate into small, even pieces. Add the coconut oil. Melt the chocolate over low-medium heat using a double boiler because it burns easily. Stir it frequently until it is completely smooth and fully melted. Be sure that your work utensils are completely dry before melting the chocolate. Never expose melted chocolate to water because it will cause the chocolate to seize.

How long do chocolate hearts last?

You can keep chocolate hearts in a sealed container, in the fridge, for about a week. Depending on the type of chocolate and the amount of coconut oil you use these chocolate hearts can be quite melty if you keep them at room temperature. So it's better to keep it refrigerated.

This quick and easy homemade dessert is:
Simple snack to make at home (made with few ingredients)
Without eggs
Without milk
No-bake quick dessert for one or a crowd
So delicious!
📖 Recipe
If you are looking for another simple, no-bake dessert ideas try these:
Made this quick and easy dessert recipe? Please rate it, leave a comment below, and share your photo on Instagram with the tag @go_eatgreen and hashtag it #go_eatgreen. I would love to hear about your experience and your comments just make my day!
Love, Marinela💚