Jump to Recipe
Peanut Butter Stuffed Dates are the ultimate no-bake dessert and healthy kid-friendly snack. This easy-to-make treat is made with only 2 wholesome ingredients and some optional toppings.
Perfect as a special homemade food gift for family and friends or quick sweet bites for picnics, potlucks, birthday parties, or any special events.
Moreover, this recipe is vegan, refined sugar-free, gluten-free, highly nutritious, and incredibly delicious.
Homemade Peanut Butter Stuffed Dates
If you read my blog you already know I'm a big date lover. Soft, caramelly dates are featured as the main ingredient in my simple raw desserts recipes like these Scrumptious Date Balls, Flourless Chocolate Brownies, or Spirulina Energy Bites.
I love blending them in my morning smoothies like my Coffee Smoothie or Chocolate Protein Smoothie and use them as a natural sweetener, as well.
Delectably rich & chewy dates stuffed with naturally creamy peanut butter topped with dairy-free chocolate chips (or chopped dark chocolate), crispy pomegranate seeds, and chopped peanuts sprinkled with sea salt to enhance the flavor are an ideal morning pick-me-up or post-workout snack for an energy boost.
What's more, these no-cook stuffed dates with peanut butter are not complicated to make with real whole foods you can feel good about.
I'm sure kids would be glad to help you with the prep of these super yummy power bites! Who needs those sugary snickers bars when you can make luscious morsels that melt in your mouth? Yes, they are completely guilt-free, too!
Jump to:
Ingredients
You will need minimal pantry staples to make these effortless peanut butter dates:
Dates (I used plump, tender Mazafati dates)
Natural Creamy Peanut Butter (make sure it's made with peanuts only, without sugars or added oils)
Toppings (optional)
Mini Dairy-Free Chocolate Chips
Finely Chopped Dark Chocolate
Peanuts (finely chopped)
Pomegranate seeds (arils)
Coarse sea salt
As always, you can find the full recipe with a list of ingredients with measurements in a printable recipe card at the end of this post.
How To Make Peanut Butter Stuffed Dates
Pit the dates. With a sharp knife, slice each date lengthwise, carefully, without cutting all the way through it. Open it and remove the pit.
Stuff the dates. Using a small spoon fill the inside of the dates with creamy peanut butter (I love making my own)
Put on toppings and enjoy. Top your peanut butter-stuffed dates with mini vegan chocolate chips, chopped dark chocolate, fresh pomegranate seeds, or finely chopped peanuts. You can sprinkle a dash of coarse sea salt to enhance the flavor.
You can enjoy them right away or refrigerate them for an hour to become firmer. Store them in the fridge in an airtight container (separate layers if need be with parchment paper) for up to a week. Alternatively, freeze them in a freezer-friendly container or bag for up to 2 months.
Variations
Here are some substitutions you can make for this recipe:
Peanut Butter - instead of peanut butter you can use cashew butter, almond butter, or homemade Nutella. For a nut-free version, you can try sunflower butter or tahini.
Other Topping Ideas - besides the toppings mentioned above, you can use chopped walnuts, hazelnuts, pistachios, lightly toasted pepitas, or sesame seeds. For a vibrant pop of color, you can use chopped dried fruits like cranberries, cherries, or apricots as an alternative to pomegranate seeds.
Make It Extra Chocolatey - before filling the dates, mix in 1-2 teaspoon cocoa powder in the bowl with peanut butter to elevate its chocolate richness. Or you can melt some chocolate squares and dip each individual date into the creamy chocolate mixture.
Nutty - after stuffing them with peanut butter, put one whole almond or hazelnut in the center of the date and gently press the sides of the date.
Storage
Store your peanut butter-stuffed dates in an airtight container in the refrigerator for up to a week. Use parchment paper to separate layers if needed. Also, you can freeze them in a freezer-friendly container or bag for up to 2 months. Let them defrost first before serving.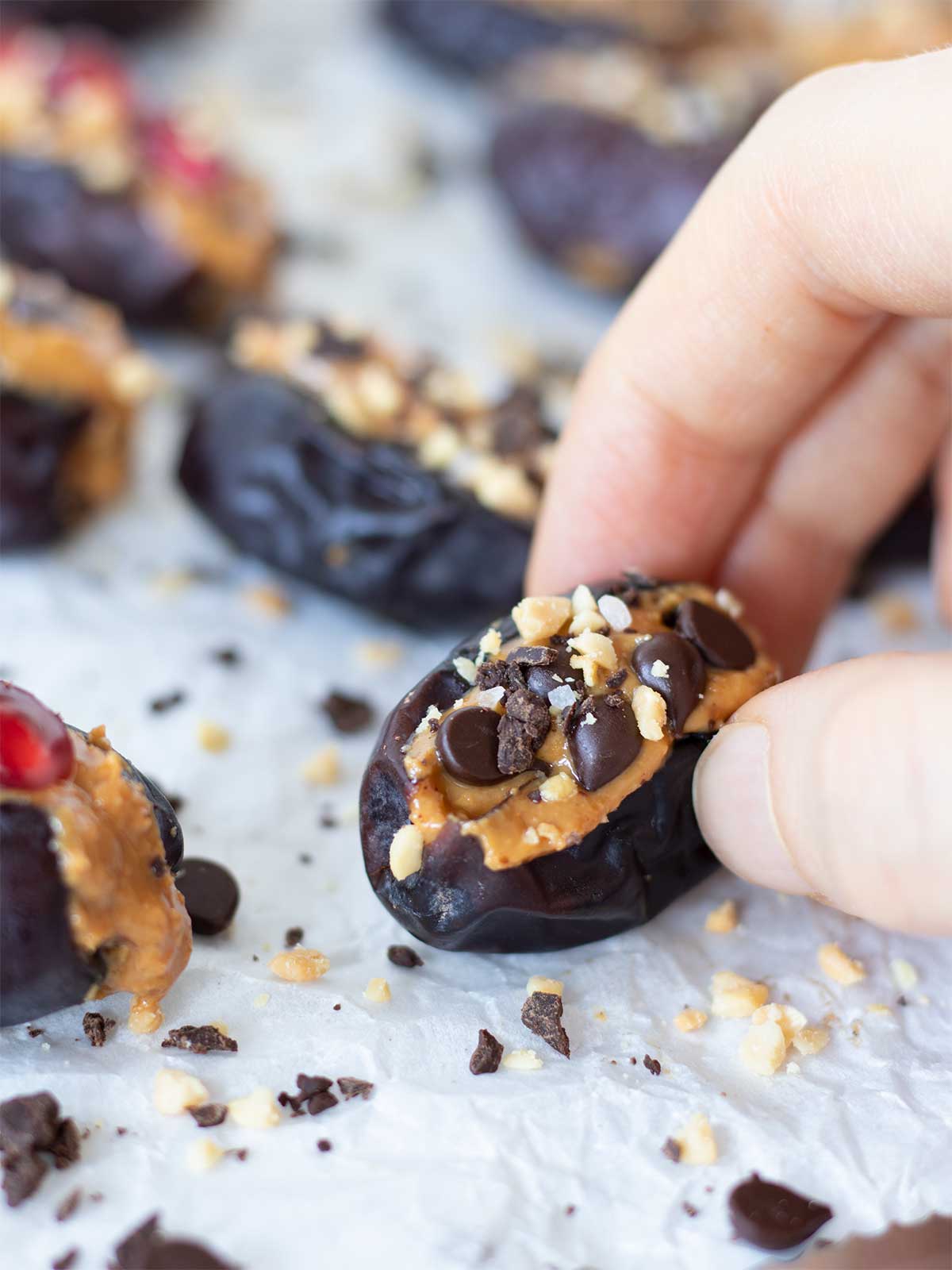 Top tips
Try to find soft, plump dates with chewy caramel-like flesh to make an easy cut and stuffing.
If your dates are too sticky, refrigerate them for an hour to make them easier to handle.
If your peanut butter (or any nut butter you will choose) is too hard microwave it for 30 seconds or place it in a small saucepan on the stovetop (stirring constantly) at low heat. You can add a little oil if you like to make it soft and spreadable.
On the other hand, if your peanut butter is too runny simply put it in the fridge to chill and firm slightly.
Whatever toppings you will choose, make sure to chop them finely or use small pieces (like mini chocolate chips) of them for adorable presentation and easy handling.
FAQ
Are peanut butter and dates healthy
Pure peanut butter (without added oils or sugars) is an excellent source of plant protein and heart-healthy fats. Moreover, dates are high in fiber and disease-fighting antioxidants that are highly beneficial for your overall health. However, these two foods with impressive nutritional profiles contain a substantial amount of calories and should be enjoyed in moderation.
What goes well with dates
Dried dates are naturally sweet and amazingly versatile. You can pair this flavorful snack with dark chocolate, peanut butter, tahini, cashew butter, almond butter, roasted hazelnuts, almonds, walnuts, or pecans.
Are dates good for weight loss
Yes! Since dates are packed with fibre, have a low glycemic index (they are absorbed and digested slowly), and can significantly boost your metabolism they can be a great addition to a weight-loss diet.
Plus, they can promote feelings of fullness, satiate your hunger, and reduce the cravings for sugary snacks. They are a wholesome midday snack if you consume them in moderation, of course.
How many dates per day should you eat
It depends on various factors such as your daily calorie intake, physical activity, or your personal weight goals. Generally, eating 2-3 dates per day is recommended if you don't have any date allergies or other health conditions. Otherwise, it is advisable to check out with your dietitian before incorporating them into your diet.
More Easy Date Recipes
Here are my all-time favorite recipes using dates:
More No-Bake Dessert Recipes
Looking for other no-bake dessert recipes like this? Try these:
📖 Recipe
Did you make this peanut butter-stuffed dates recipe? What toppings did you use?
I would greatly appreciate it if you have a minute to rate the recipe and leave a comment below. You can also share your photo on Instagram with the tag @go_eatgreen and hashtag it #go_eatgreen. We would love to see your creations! Thank you for sharing your experience with us, we are so grateful you are here 🙏
Follow Go Eat Green on Pinterest for more easy and delicious vegan recipe ideas.