Jump to Recipe
Chocolate quinoa breakfast bowl is naturally gluten-free, high protein, and refined sugar-free. Healthy vegan breakfast that tastes like a dessert.
The best way to start your day off? Need a simple grab-and-go breakfast that's not boring and all family will love? This unique protein-rich dark chocolate quinoa breakfast bowl will surely hit the spot! Couple it with some refreshing smoothie so you can get that energy boost you need to fuel you through the day.
Wait, who says you can't have chocolate for breakfast?
Good morning chocolate lovers!
What is Quinoa Bowl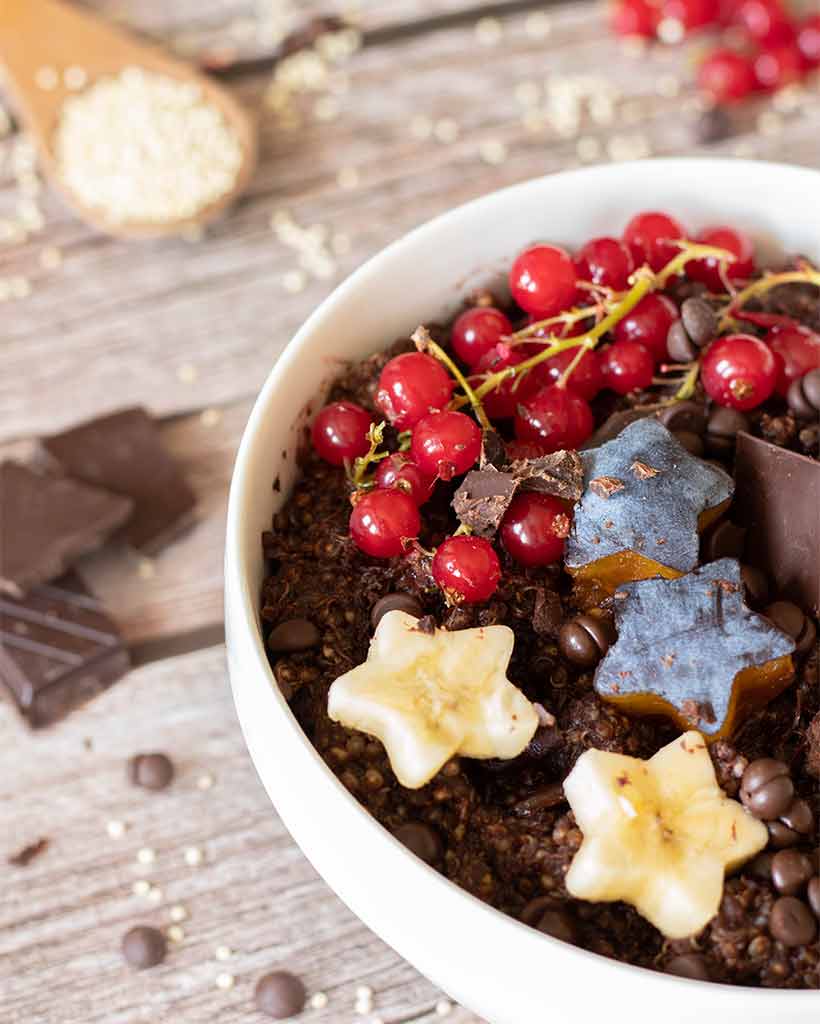 This hot chocolate quinoa breakfast bowl is the ultimate nutrient-dense, chocolate-flavored meal prep you'll make again and again. You'll be surprised how filling and satisfying this hearty dish is!
Even better, it's animal-friendly, weight-loss-friendly, and incredibly tasty! Just like this no-cooking chocolate chia pudding.
Did I mention it's dairy-free and egg-free, too?
My sister said it's one of the few quinoa recipes she absolutely loves and enjoys eating which makes this recipe s picky-eater-approved. Isn't that awesome?
Quinoa is so versatile! Check out this vibrant Mediterranean salad if you prefer savory quinoa recipes.
Easy Vegan Quinoa Bowl aka Quinoa Porridge
Start your day with this extremely delicious, protein-packed, and nourishing meal. These 1 pot quinoa bowls are truly special, amazingly quick, and easy to prepare in 25 minutes. Or you can make it ahead, save time and enjoy it in the morning before going to work or school.
You can enjoy it as a light brunch, easy weeknight dinner, or sweet treat, as well. This heartwarming dish is a pure indulgence.
Ingredients for High-Protein Quinoa Bowl
To make this homemade high-protein energy breakfast you'll need only a few wholesome, no-animal ingredients. I'm sure you already have them in your pantry, so you don't have an excuse to make this scrumptious quinoa bowl today. All you need are pantry staples like:
Quinoa
Plant-based milk (I used homemade almond milk)
Raw cacao powder (unsweetened)
Maple suryp
Pure vanilla extract
Dark chocolate (optional)
Pinch of salt

Fruits, nuts or seeds of choice for topping
As always, you can find the full recipe with a list of ingredients with measurements in a printable recipe card at the end of this post.
Best Vegan Chocolate Quinoa Breakfast Bowl
Time needed: 25 minutes
How to make a chocolate quinoa breakfast bowl?

You can make your own power breakfast that bursts with chocolate flavor super fast - in just 25 minutes. Here is a step by step process of how to cook your quinoa to prepare the most indulging.

Prepare and toast quinoa

Place your quinoa in a fine-mesh strainer. Using your fingers, rinse it well under fresh, cool water. Drain it. Heat a small saucepan on medium-high heat. Add rinsed, drained quinoa, stirring frequently. Let the water evaporate and lightly toast for 3 minutes. This will enhance its nutty flavor.

Cook quinoa

Add non-dairy milk of choice and a pinch of salt to toasted quinoa seeds. Stir to combine. Bring to a boil, then reduce the heat to low and let it simmer, uncovered for 12-15 minutes, stirring frequently with a wooden spoon. If it stops simmering, increase the heat to medium-low. Be careful and don't let the milk spill over. Adjust the stove temperature to maintain that gentle bubbling.

Let it absorb all the liquid

Once the liquid is absorbed and the quinoa is soft, turn off the heat and let it sit covered for 3-5 minutes.

Mix all ingredients together

Add raw cacao powder, maple syrup, and vanilla extract into the cooked quinoa and stir well to combine. Taste and adjust the sweetness desired. Add more milk if you prefer the texture thinner. Also, add an additional tablespoon of maple syrup or cacao powder for a more intense and sweeter chocolate flavor.

Add toppings and enjoy

Serve it topped with squares of vegan dark chocolate, banana slices, and fresh or frozen berries. I topped mine with red currants, plums, banana slices, dark chocolate squares, and chocolate chips (an extreme chocolate lover here:) ). It's best to be eaten while still warm and fresh.
Keep any leftovers (cooled, stored in an airtight container) in the fridge for 2-3 days. Reheat with additional plant-based milk in a small saucepan and enjoy.
Are quinoa bowls healthy
Absolutely! These quinoa bowls are perfect for breakfast but you can eat them as a sweet treat any time of the day too. The main ingredient here is quinoa which is considered a SUPERFOOD due to its impressive nutrient content. It's important to note that this pseudo-cereal grain is one of the few plants that contain sufficient amounts of all essential amino acids that our bodies cannot make on their own. That means it's a complete source of plant-based protein which makes it an excellent choice for people who are on a vegan or vegetarian diet. These quinoa dessert bowls are packed with antioxidants and fiber, refined sugar-free, and naturally gluten-free. Hence people with gluten or dairy intolerances can safely eat these healthy quinoa bowls.
Is Quinoa Good for Losing Weight
This small and mighty seed can be a wonderful part of a balanced, weight-loss diet. Eating healthy grains, like quinoa, may help you boost your metabolism and burn belly fat faster. Because it's loaded with fibre, minerals, and protein, this low-calorie, nourishing food is surprisingly filling. Moreover, it promotes the feeling of fullness, keeps hunger under control, and significantly reduces calorie intake. To conclude, consuming this superb grain is completely acceptable and good for you. It'll sustain your body's well-being, fill you up and increase your energy and mood.
Easy Back to School Chocolate Quinoa Breakfast Bowls for Kids
Breakfast is especially important for young people. A solid, nutritious meal can make a big difference in maintaining good health, improving memory, concentration, and academic success. This creamy quinoa porridge with intense chocolate flavor is a great idea for kids to start the day and stay focused in school classes. Skip the pre-made, store-bought stuff! Make it ahead (to avoid the morning school rush) and let your kids enjoy it before school or pack it in their lunchbox for later. This is the ultimate kid-friendly breakfast recipe idea your kids will surely love!
FAQ about Quinoa Bowl Meal Prep
Do I need to soak quinoa before cooking?
Since its cooking time is really fast, it's unnecessary to soak it before cooking. My advice is to always rinse it well first in order to remove the bitter, soap-like coating saponin and cook it right away. No need for soaking.


What milk to use?
To prepare these quick quinoa bowls you can use your favorite dairy-free milk. I always make my own vegan milk at home: almond milk, oat milk, or cashew milk. It's fun to make and so much cheaper, you should try it too!
How to keep quinoa bowls leftovers?
Allow the quinoa to cool completely before storing it in an airtight meal prep container. Keep it in the refrigerator for 2-3 days. Add the desired toppings right before serving. You can eat it cold or warm. Reheat with additional plant-based milk in a small saucepan and enjoy.
What to put in these chocolate quinoa breakfast bowls?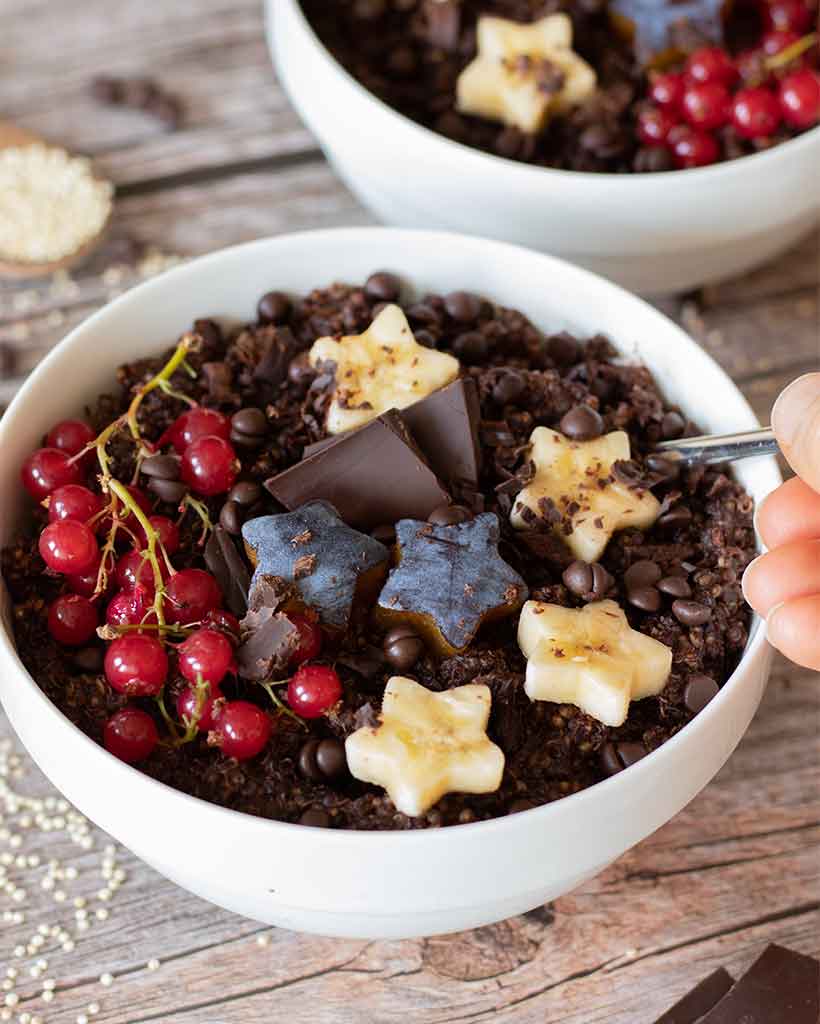 You can add different toppings to these decadent quinoa bowls:
Sliced banana, strawberries, fresh plums, blueberries, raspberries, any fresh or frozen fruit you like
Nuts and seeds of choice: hazelnuts, almonds, walnuts, pupmkin seeds or hemp seeds
Roughly chopped dark chocolate or mini chocolate chips
Dates, raising, dries cranberries
Coconut flakes
A dollop of peanut butter or almond butter
Coconut cream
A drizzle of maple syrup, agave syrup or more almond milk
I hope you'll love these vegan chocolate quinoa breakfast bowls. They are:
Cozy

Non GMO and gluten-free (perfect recipe idea for people with celiac disease)

Soy-free

Guilt-free food

Budget-friendly

Low-glycemic index food (great option for people with diabetes)

Clean eating meal

Infused with chocolate flavor

So comforting!
In search of more vegan & gluten-free recipe ideas? Try these:
📖 Recipe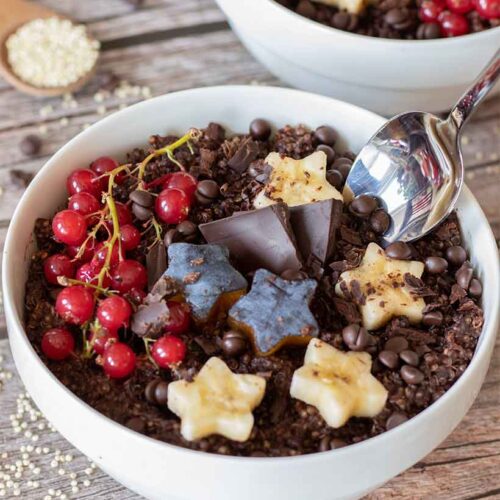 Vegan Chocolate Quinoa Breakfast Bowl (Tastes like a Dessert!)
Chocolate quinoa breakfast bowl is naturally gluten-free, high protein, and refined sugar-free. Healthy vegan breakfast that tastes like a dessert.
Equipment
Small saucepan

Wooden spoon

Fine mesh strainer

Bowls
Ingredients
1

cup

white quinoa

cooked

2

cups

dairy-free milk (I used almond milk)

4

tablespoon

maple syrup

you can use agave syrup or date syrup

4

tablespoon

unsweetened, raw cacao powder

1

teaspoon

pure vanilla extract

1

pinch of salt
Toppings (optional)
1

sliced banana

optional

1

sliced plum

optional

4

squares vegan dark chocolate

optional

2

tablespoon

vegan dark chocolate chips

optional
Notes
If your quinoa bowl is not sweet enough to suit your taste just add more maple syrup or any sweetener of choice.
Add additional milk if you prefer your quinoa porridge to be thinner and no so thick.
For storing: Allow the quinoa to cool completely before storing it in an airtight meal prep container. Keep it in the refrigerator for 2-3 days. Add the desired toppings right before serving. You can eat it cold or warm. Reheat with additional plant-based milk in a small saucepan and enjoy.
Nutrition
Calories:
924
kcal
Carbohydrates:
136
g
Protein:
20
g
Fat:
36
g
Saturated Fat:
16
g
Polyunsaturated Fat:
5
g
Monounsaturated Fat:
11
g
Trans Fat:
1
g
Cholesterol:
4
mg
Sodium:
350
mg
Potassium:
1387
mg
Fiber:
18
g
Sugar:
53
g
Vitamin A:
185
IU
Vitamin C:
8
mg
Calcium:
442
mg
Iron:
12
mg
Made this vegan chocolate quinoa breakfast bowl? If yes, please rate it, leave a comment below, and share your photo on Instagram with the tag @go_eatgreen and hashtag it #go_eatgreen. I would love to hear about your experience and your comments just make my day!
Follow me on Pinterest for more easy and delicious vegan recipe ideas.
Love, Marinela💚